I'm having the BEST…DAY…EVER.
It's the middle of the work week, and I'm on a boat; the sun beats down mercilessly as we search for the coveted permit, tarpon, and bonefish. I am laughing uproariously with my guide and friend Alexander Gomez, and new best friend, Captain Michael Peralta. Despite being the saltiest guest ever (I mean, could the fish avoid me any harder?!) – I'm having a blast fishing – something I never thought I would ever do willingly. Yet by day's end, I'm in love, grateful that I had a chance to watch the masters at work fly fishing.
Passion
The moment I mentioned to Alex that I was interested in doing this story, his enthusiasm was off the charts. Never mind that the entire conversation lasted a minute and took place inside a bar after downing way too many Belikins. He did not forget, and as a matter of fact, neither did I. He was excited to introduce me to his mistress: the sea – and his enthusiasm was infectious. I couldn't wait to see him in action, so we set a date.
Then the north winds hit. One day after the next turned into another postponement until finally, I bit the bullet and left the office mid-week to go fishing (OMG, alert the presses!). It was the best Christmas present ever. Thanks to El Pescador Fishing Lodge, Alex was able to get Captain Mike to join us, so he could give me his full attention, and get me to at least reel in one of the three protected flats species: permit, bonefish or tarpon.
Natural Instinct
As the least experienced fisherwoman on earth, reef, deep-sea or flat, the entire day is a lesson. I'm amazed at the men's keen sight and instinct. There is no doubt about it, their grace as they make their way around the boat, Captain Mike easily balancing on the platform as he poles gently through the low waters in the Bacalar Chico area.
Alex is at the bow of the moving boat, fishing pole in hand and looking around with intent.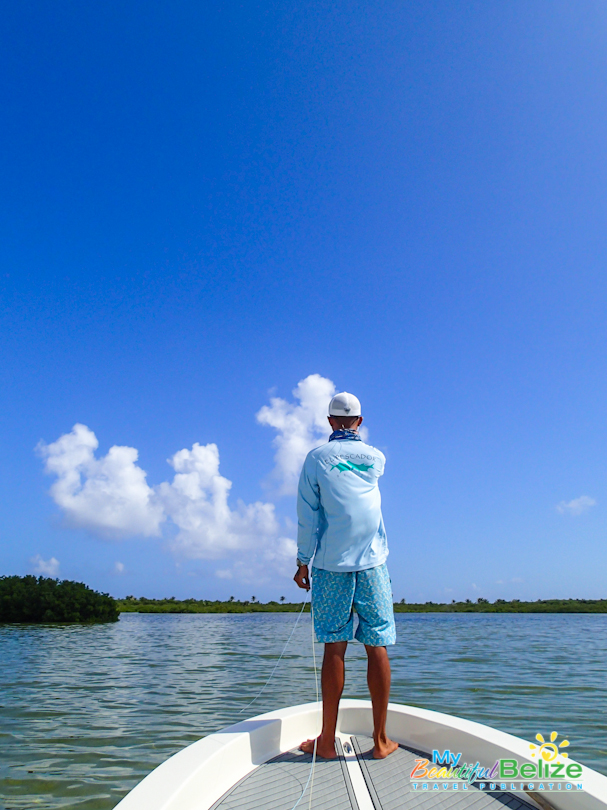 I'm seated, waiting for something to happen, because all along the way, Alex has been telling me of the various spots with guaranteed permit sightings. We had passed the bonefish and tarpon spots but would return to them. For now, it's permit time.
Their eyes roam all across the waters while I'm looking at the rolling waves, almost hypnotized by the undulations. Just as I start to wonder if my face will take on a killer tan line like the guys', Alex excitedly points to a spot just ahead. I look and see ripples of waves, the same I'd noticed closer to the boat. They were not the same. Clearly, years of being on the water, raised by a fisherman father and grandfather, a lifetime spent in the embrace of the silken Caribbean had taught these guides all the subtle nuances. It's ingrained in them. I keep looking at where he's pointing, and suddenly black tails flash under the sun, their glint sudden and gone as quickly as it came.
The boat heaves with action, as Mike secures it while Alex begins prepping to cast. It's our first attempt and having zero experience with casting, I'm apparently going to reel them in instead. I obviously have a long way to go, but I'm enthusiastic and ready for whatever. Alex casts out and I study the movement closely, wondering if I'll ever be able to do it myself someday. It's a waiting game on the flats, and despite a sighting, the fish were not biting. Not ready to give up, we move through a variety of spots and stalk. We're as quiet as possible, not wanting to spook any of the potential catches, and I'm reminded of my grandfather's stories of hunting. They would be gone for a few days, camped out deep in the Maya Mountains, stalking their prey as silently as possible, only firing when one was in sight. It was the same on the water, a waiting game, a silent stake-out under the sun, eyes trained on the waters for just one subtle movement before a line is cast in hopes of reeling in the prey.
We don't give up, but we decide to move to a different spot. The boat is coasting along when suddenly Captain Mike swerves the boat with a shout. I'm slack-jawed – HOW did he notice? Once again, I'm humbled as I realize that while words may be my forte, they will never come close to detailing the passion and instinct that these men, and their counterparts, have on the water.
I do finally catch glimpses of ripples and sudden movements, and even join them in the water as they stalk on foot, casting and reeling in, but there is no bite. "I told you I'm salty," I laughingly tell Alex. He grins as he agrees, "Estas bien salada!" I take no offense, as I am the equivalent of a banana on a fishing boat – already resigned to the fact that there shall be no grand slam that day.
Instead, we move on to a channel flanked by mangroves, where I'm told the bonefish await. I learn so much more about mangroves while we plot our next move, as Alex has a passion for all that is the waters and its inhabitants. When the hook is set and the line is cast, I get to hold the reel. It had to be tortuous watching me botch the simple act of reeling in line, but eventually, I actually feel a tug. Any slump I'd felt at my previous failures is gone, and I'm excitedly pulling, tugging, letting the fish pull back…then tugging and reeling again. Eventually, the bonefish draws insight and I can't believe it – my first catch! Well, technically, it was a joint effort but still, I'm pretty proud.
We take the requisite photo of my tiny fish and I, then it gets released with a million apologies on my behalf. We try one more cast and I feel another tug…I land a tiny snapper that we quickly release, and then it's time to go looking for the tarpon. From everything I've read and heard, they can get pretty big (I'm talking 200-pounders) so I'm beyond curious to see what will happen.
We cruise into gorgeous turquoise waters, all part of the Hol Chan Marine Reserve, and Mike and Alex explain that the entire area we're trolling is like a "Tarpon Highway". I'm envisioning schools of them just whizzing by – oh, how naïve I am! Like with the permit, it's a waiting game, and I've been instructed to keep an eye out for a certain movement that Mike describes as a bit of a slow, elongated shadow moving with purpose. He poles the boat around as I start straining my eyes, and far in the distance, we realize there's another fishing boat. The hunt is on for tarpon, and I'm hoping against hope we at least sight one. After an agonizingly long wait, we have to accept that one bonefish may be my only catch of the day. I'm more than happy with that score, as it means I just have to return to the flats. I decide to wash away my bad fishing luck by jumping into the water for a quick swim before returning to El Pescador Lodge.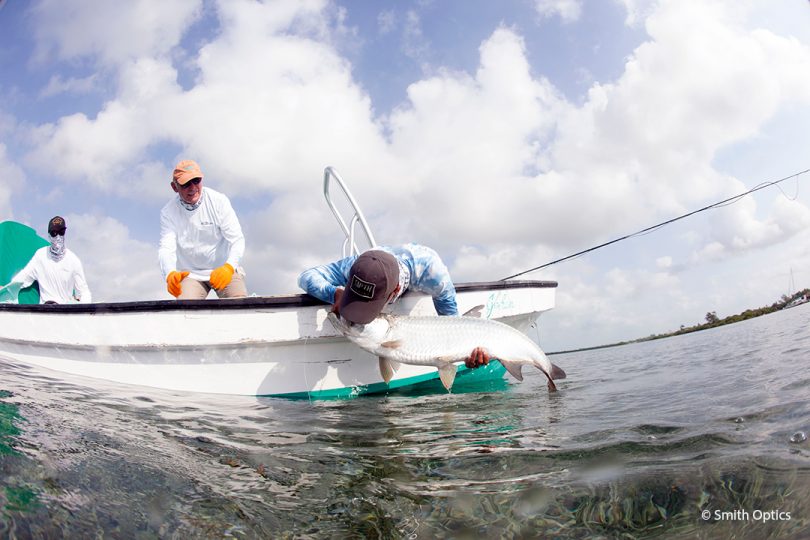 On the boat ride to the lodge, I think back to one of the first things Alex told me as the trip started. Fly Fishing is a sport, and one of the most challenging in his opinion. When I questioned his reasoning, he said, "In other sports, you challenge humans, and they eventually break down. In fly fishing, you challenge Mother Nature, and she fights back." I may not have gotten to fight the big one, but I learned that Mother Nature taught me to sit still, listen, really look, and when she did give me something, to appreciate the value of her bounty.
About El Pescador Lodge
El Pescador was one of the many entities in Belize that worked tirelessly to enact legislation that brought about the protection of the bonefish, permit and tarpon species in Belize. The law was made official on September 26, 2009, designating the three species as 'Catch and Release' fishing only.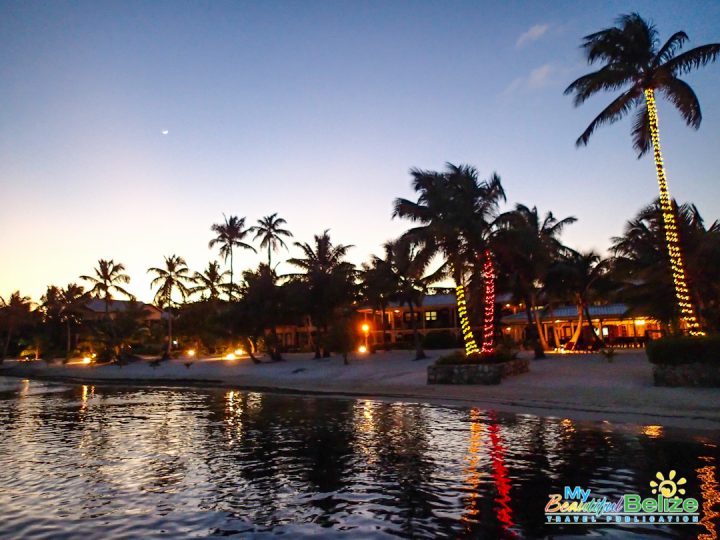 El Pescador is the premier fishing lodge in Belize, located in North Ambergris Caye. With access to hundreds of miles of fishery, experienced guides – many who span generations, your fishing expedition in Belize is in excellent hands.
Their lodge is located beachside along a gorgeous expanse of white sand, and after a day of fishing, there's nothing better than a refreshing beverage, a dip in the pool, or a game of pool inside by the bar. Comfortable rooms and fresh cuisine on-site make for the perfect fishing getaway.
Contact them at 501-226-2389 or online at www.elpescador.com / [email protected].