2020 is often described as the crazy year that brought the world to a screeching halt. Borders were closed, flights were grounded, and suitcases were left unpacked. For most of the year, traveling was just not an option. The cause of all this; the COVID-19 pandemic. Luckily, 2021 is slowly seeing the world getting back on track. As the world enters the vaccination phase of the virus, lockdowns are ending, and travel restrictions lifted.
Be it for business or that vacation we all so desperately need after months of staying at home, each day traveling is becoming easier. As they say, COVID-19 is not going anywhere; we must learn to live the new norm with increased health and safety regulations.
Belize started welcoming international guests on October 1, 2020. Since then, our travel regulations have continuously evolved, making it easier to visit the country. Under the Belize Tourism Board's (BTB) most recent travel regulation update, COVID-19 tests are no longer needed if a visitor is fully immunized. For those not vaccinated yet, the PCR test required timeframe has increased from within 72 hours to 96 hours of travel and 48 hours for the rapid test.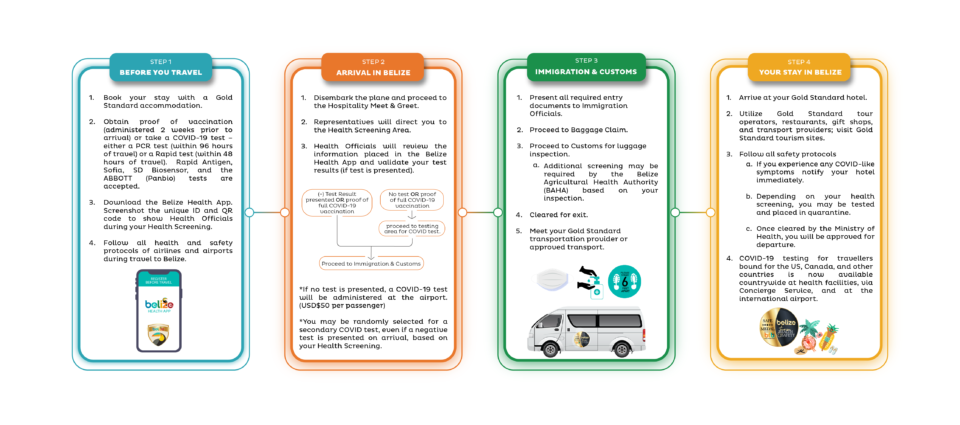 If you are among those who have already received the COVID-19 vaccine, all you need to do is bring along an Official Vaccine Card reflecting the receipt of the dual or single-dose vaccine at least two weeks before arrival.
If you are traveling as a family, children under the age of five are not required to present a negative COVID test; however, those five years and older must present a negative COVID test.
Once you arrive in Belize, there are still some additional measures you need to comply with, such as the mandatory use of facemasks in public spaces, enforcement of physical distancing measures in public spaces, and capacity restrictions at restaurants (currently 50%).
Tourists must stay at a certified Gold Standard accommodation but can move freely within their destination. A list of Gold Standard hotels can be found at https://www.travelbelize.org/health-safety
Another important note is that a curfew is currently in effect from 10PM to 4:59AM daily.  Persons are not permitted to be in any public space during this time and risk a fine if found in contravention of the regulation.
It is important to note that the Center for Disease Control and Prevention (CDC) still requires a negative COVID-19 test from all passengers arriving in the United States. Canadians also require negative tests to re-enter their country. But do not fret; getting a test in Belize is relatively easy, as all major municipalities have testing facilities available. Find a COVID-19 testing site nearest to your travel destination through this link https://www.travelbelize.org/node/28166.