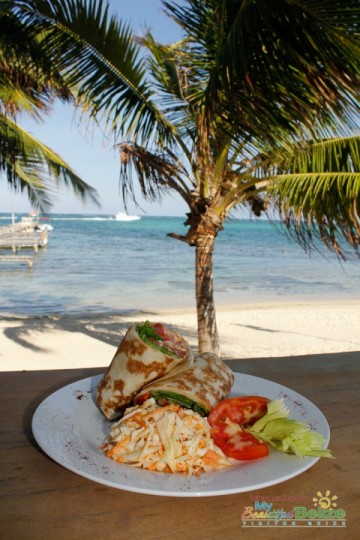 It is known as the place to go to for great live music, ambiance and refreshing drinks. It is the party palapa in town; but did you know that it also serves delicious food? Yes, Fido's is also a place where you can find excellent grub – beyond bar fare, beyond quick wings and tacos (which they also serve, and are super scrumptious). At Fido's, you get freshly prepared, quality seafood for lunch or dinner.
As a treat, we were invited to taste some of the delicious dishes that come out of the kitchen, all prepared under the watchful eye of Chef Julie and manager Tony. It was early afternoon, and the sun had been shining beautifully all day, so as it headed west, it cast a warm glow on the beach, and from where we sat, we could definitely understand the draw to Fido's. Not only do you get fed and watered properly, but the view is breathtakingly glorious as well. Sailboats meandered on the turquoise sea, moving along with the wind, which refreshed us as we sat and sipped some pineapple juice (we promise there was no alcohol, yet).
My partner in crime for the evening was Josh Jones, our lucky, lucky intern whose hardest task was photographing delicious food, then helping me consume it. Interns have it hard. Heh.
Our first dish was a refreshing, crunchy shrimp wrap. A ginormous tortilla wrapped around a hearty serving of vegetables and shrimp, it is a perfect lunch item that is fresh and flavorful. Josh loves fish and chips, so he was particularly excited to take a bite of the best in the Caribbean (as rated by TripAdvisor®). He was utterly delighted by the beer battered filets of fish, served with crunchy fries and creamy tartar sauce. Fast gourmet – that is definitely a great way to describe lunchtime at Fido's. The food is "fast" but the choice selections of ingredients and their excellent preparations make for a veritable feast.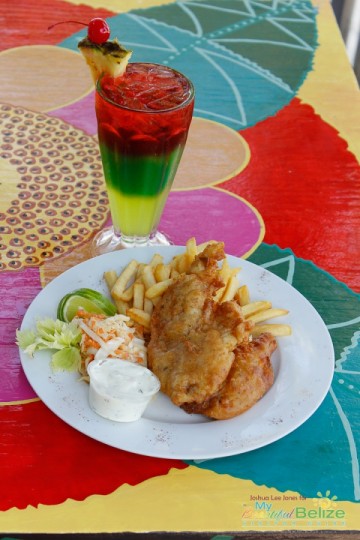 Not wanting to miss out on the goodies, we try the dinner items as well: coco loco shrimp and Malaysian snapper. The coco loco shrimp dish is a bed of rice and fresh steamed vegetables accompanied by deliciously plump shrimp coated in a butter, wine and coconut milk sauce. D-I-V-I-N-E. Absolutely delicious – not too rich, not too creamy, but just right. We sat in silence for a few minutes, devoting our undivided attention to the dish. It certainly was a favorite, but it was not the last item on the menu! That was reserved for the Malaysian snapper: a fresh snapper fillet caught that morning by local fishermen, had been grilled then topped with a blend of papaya and ginger. At once refreshing and spicy, the flaky fish had flavor and heat. A few sips of the tri-color Maya Dragon cooled our taste buds from the spice of the ginger- and what do you know – we dug right back in, enjoying the burst of flavors of this unique dish.
While sating our appetites, we noticed many people sipping on fruity cocktails or chugging back Belizean Belikin beers, and of course, ordering from the menu. And why not?! Fido's offers delicious fare, great entertainment and smiling service. While we may have been thinking of Fido's as a place to party, there were others who had discovered its good – fast gourmet – food. And now, having tasted it, we know that Fido's truly offers the best of all worlds!
You've gotta check it out for yourself!! Just head over to the largest palapa on the island, either by beach or through Front Street. You can also call 226-3176 and place your order, but when you have the option to enjoy the killer view they've got, wouldn't you rather head there and stay a while?! Thought so. See you there!