Relax.
That is a word that I used to take so seriously, I would sleep on it for 12-18 hour stretches on the weekend. If napping was a contest, I'd be in the finals for sure – right next to teenagers, cats and newborn babies. Somewhere along the way, life kind of slapped me upside the head, and horror of horrors, I was up by 8AM on Saturdays, with laundry done and hanging by noon. Who was this person, and what the heck happened? How could we get relaxation back into my vocabulary?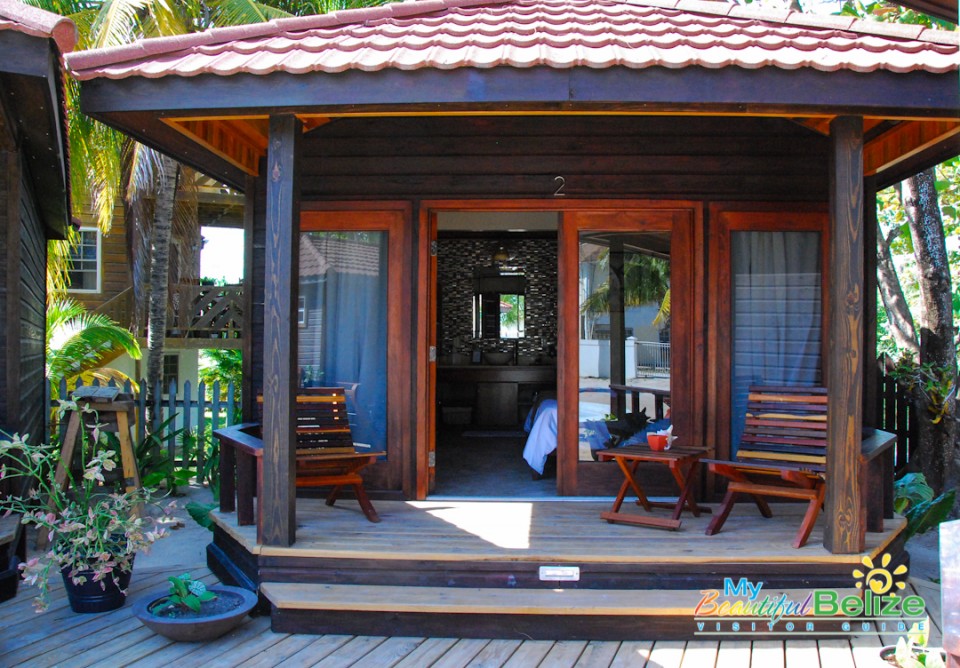 Enter Rachel, Marlene (Mar) and Rob of Daydreamin' Bed and Breakfast in Tres Cocos. They recently opened the most adorable B&B, and would you believe my luck? My hubby and I were invited to stay overnight in one of the cute casitas! I did not have to be told twice – my bags were packed and out the door so fast!! A quick boat ride on board the Coastal Xpress dropped me off right at the Palapa Bar dock. No more than a minute later straight down from said dock, and I was on the grounds of Daydreamin'.
Mar greeted me at their on-site coffee house Marbucks with a deliciously cold caramel Frappuccino, which I sipped on and refreshed with before I got the grand tour of the place. Let me tell you, from the outside, the cluster of cabañas is adorable, especially with the pool smack dab in the center of the deck. But on the inside?! So luxurious!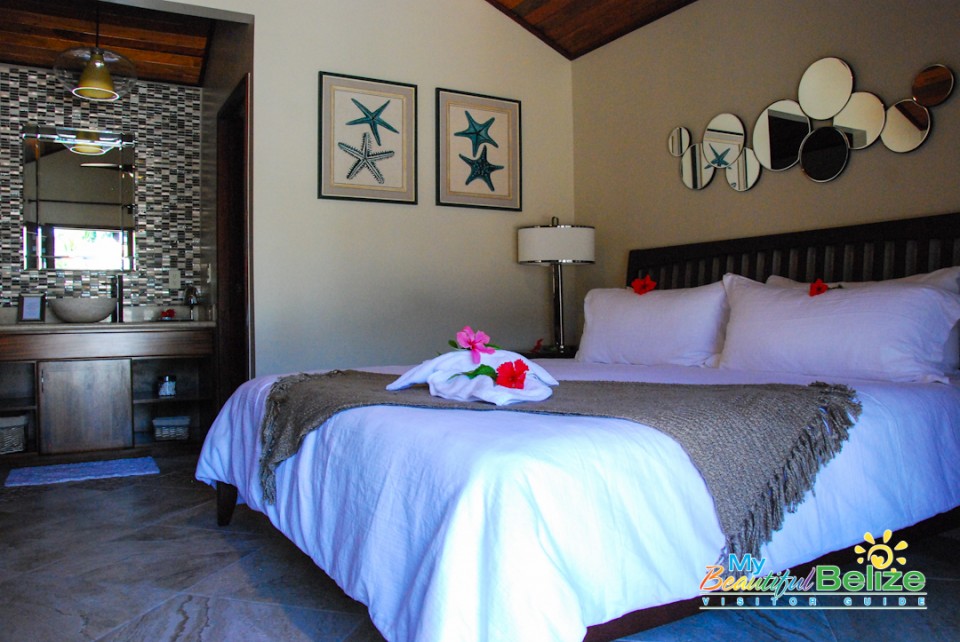 We're talking gorgeous bed (with requisite floral arrangement), sumptuous towels and sheets, really – so much attention to detail in every piece that decorated the room. This is not your average beach cottage.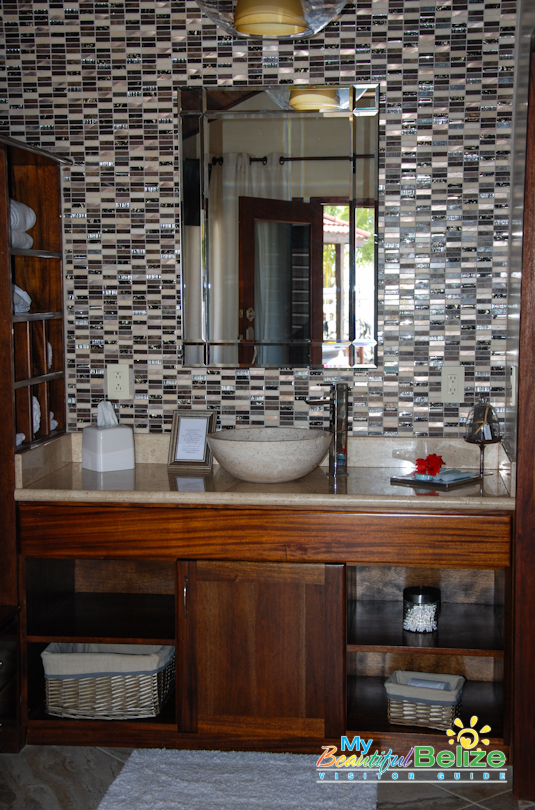 The tile work, the colors, the art and bedside lamps, and the furniture – all combined to make one gorgeous getaway. Big sliding doors and windows were draped with gauzy curtains that swayed in the breeze. Oh romance!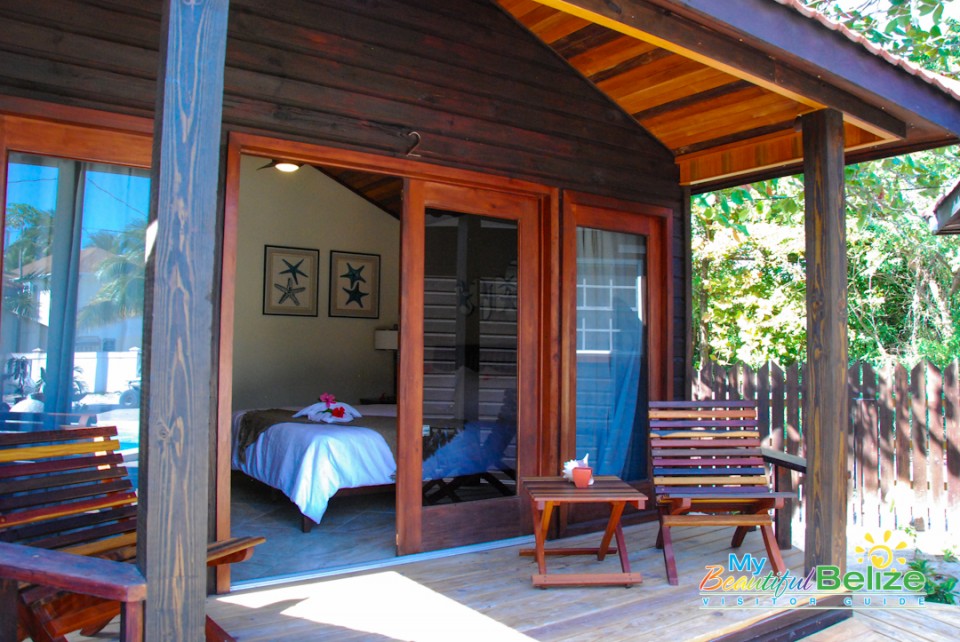 The kid in me wanted so badly to throw herself on the bed and make blanket angels. The adult in me took the pictures she needed, then promptly flopped on the bed and tested the sheets (glorious) and pillows (heavenly). Bedtime was going to be spectacular!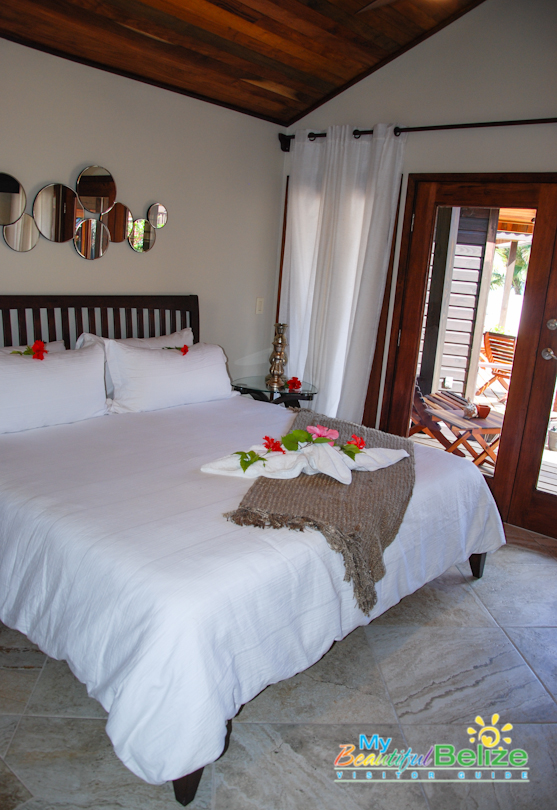 With its location so close to the Palapa (one of the best bars on the island), it was easy to figure out how my evening would be spent: sipping margaritas and enjoying the palapa ambience while shooting the breeze with my new friend Rachel! When my hubby joined us later that evening we even had dinner there! I was certainly looking forward to the Sunday breakfast that Mar had promised though, so it was bedtime for us so morning could arrive faster!
A solid eight hours of sleep later, and I woke up on my own, no alarm necessary. Refreshed, and thoroughly rested, I stumbled to Marbucks for some coffee. I may have woken on my own, but coffee is still a priority! Mar adds a shot of Baileys to the coffee for a proper jolt of "Good Morning!" Back in the room, I get back in bed and sip on coffee, easing down on the glorious pillows. Hubby is awake too, and we both contentedly enjoy our morning coffee in bed, remarking how calm and quiet it is in the room. Outside I'd seen a few people gathered for the new Sunday brunch special: mimosas and quiche, but in our room, we can't hear any chatter.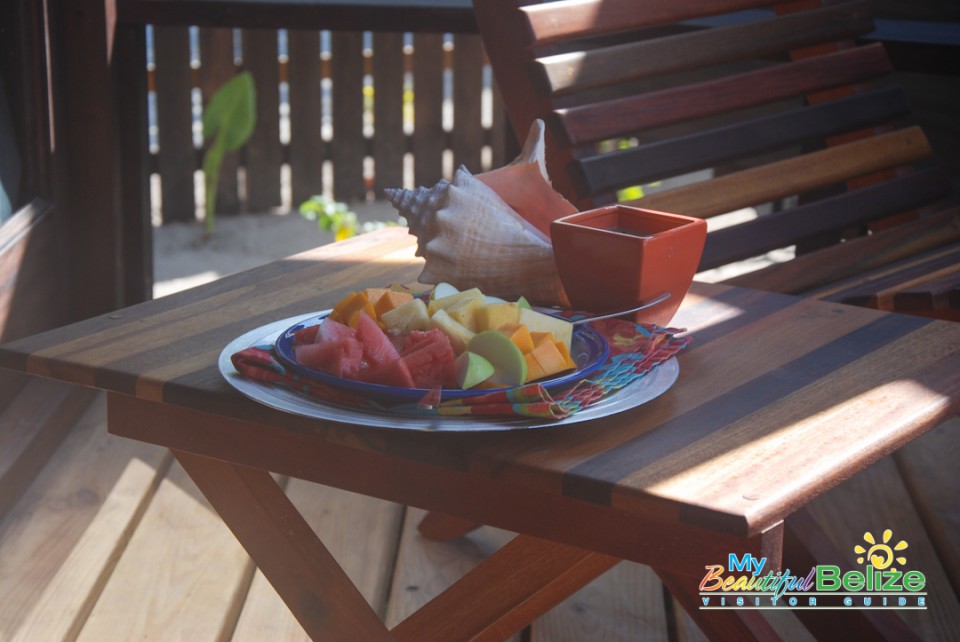 A knock on the door alerts us to our fruit salad. Yes, coffee and fruit first thing in the morning, followed by our breakfast of choice. The morning's offerings included a Greek omelet, a cheese omelet, or quiche. I opted for the Greek omelet and hubby chose the cheesy omelet with bacon on the side. Of course, we could not pass up the chance for mimosas! Why not go all out? After all, we were on a mini-vacation – okay fine, mini-honeymoon!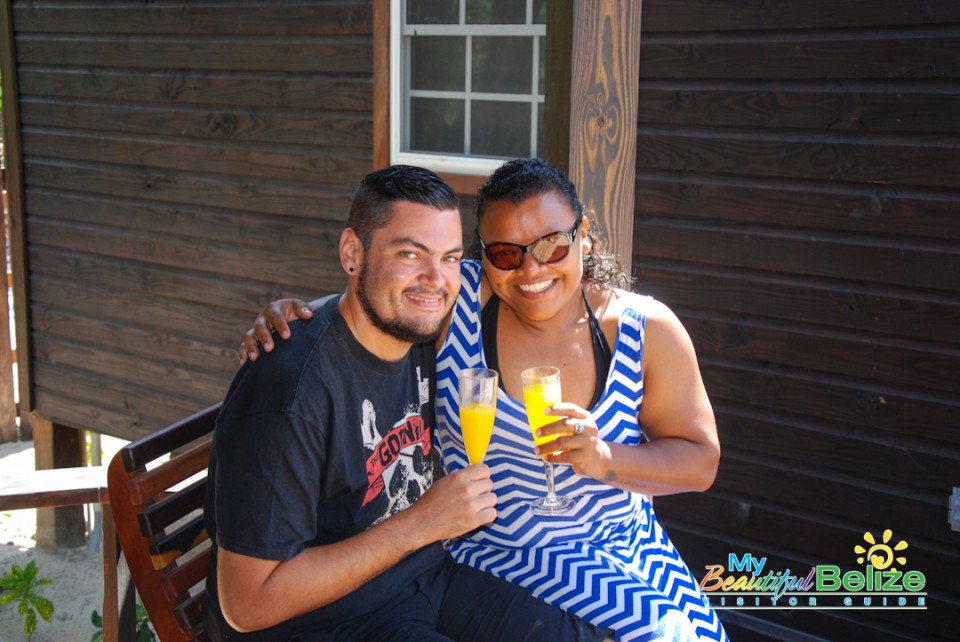 While breakfast was being prepared, we changed into our swimwear with all intentions of enjoying the pool and deck – like proper tourists. Right on time, as we stepped out on the porch to wait for breakfast, Mar arrived with a tray loaded with yummy goodies! We dug into some truly superb omelets and of course, the mimosas were refreshing and tasted like another!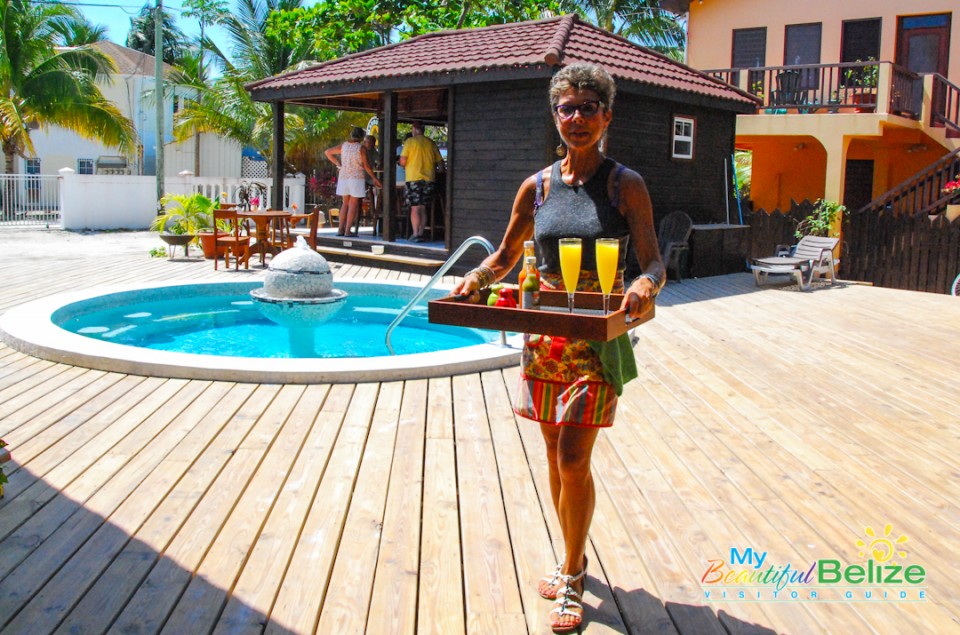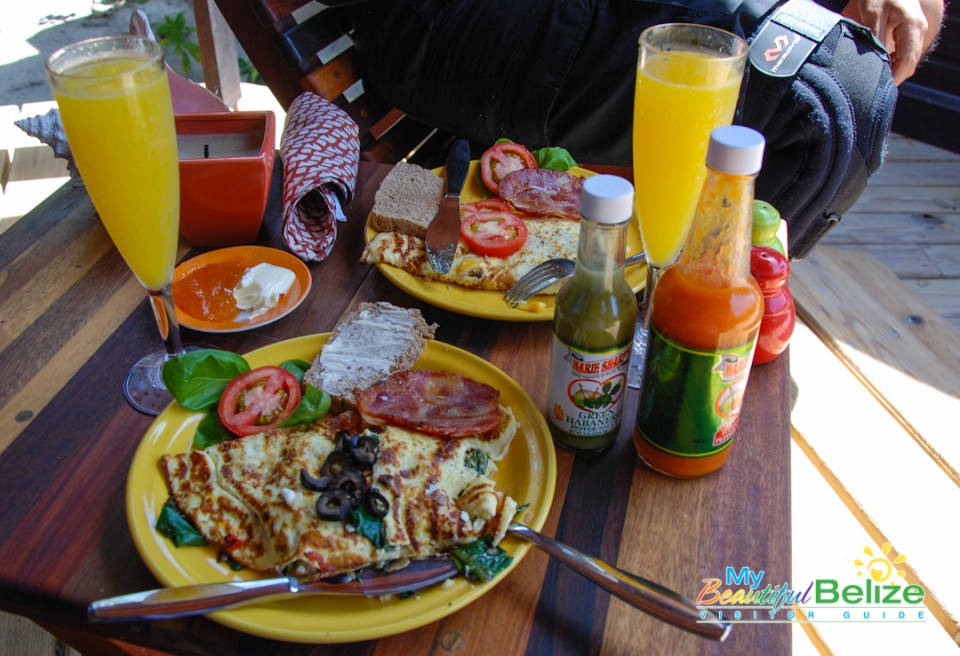 Above us in the big trees around us, birds twittered and called, while the breeze cooled the heat from the morning sun. I could quite easily see myself just staying on the porch or in the pool all day if allowed.
Beside me, Pookie said, "How long have you been at the paper?"
"Ten years in April. Why?" I asked, curious as to the turn of conversation.
"Well, this is the first time I've seen you so relaxed."
There it was; proof from the one person who's put up with my neurotic self for almost 12 years. I am pretty sure I've relaxed on other occasions, but this one had been a long time coming. I am happy to report that as I swam in the pool, played with Tony, Molly and Loosey the dogs, then moved to the inner tubes while sipping on Belikins, relaxation was the key word of the day.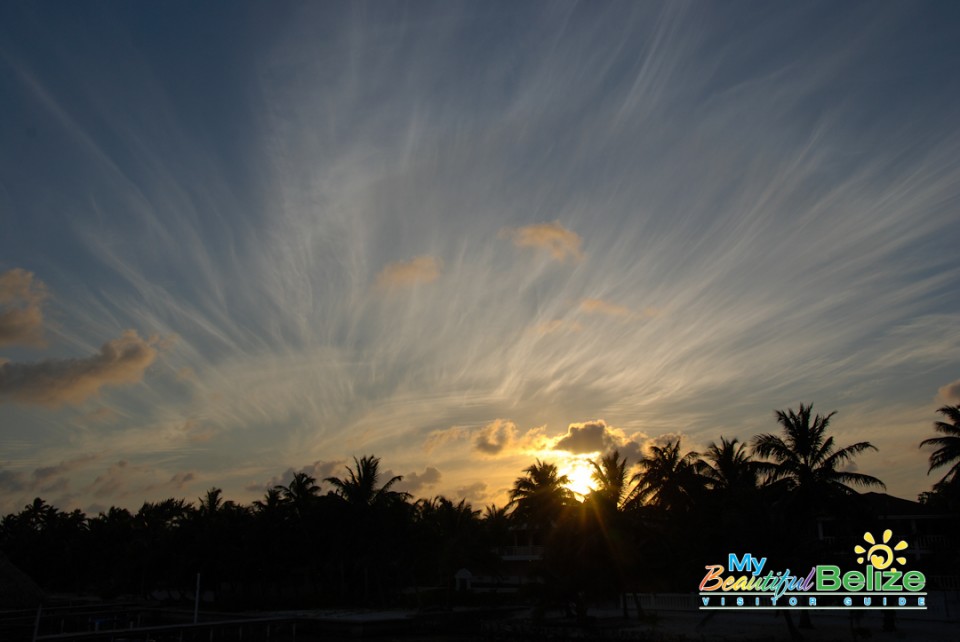 We took the boat back to town sun-kissed and happy, enjoying the last rays of sun as it set spectacularly. Our getaway was much needed, much enjoyed, and the service was fantastic. We may have been going home, but we certainly felt like we'd just left home too. Thank you Mar, Rob and Rachel!
To book your own little getaway, where you can daydream your days away, email them at [email protected]. Located in the Tres Cocos area in North Ambergris Caye, just down across from Palapa, Daydreamin' B&B awaits you!