It's the New Year! Yup, we survived 2015 and to celebrate such an achievement we are toasting to the closing of a spectacular chapter and the beginning of a new one on La Isla Bonita. In classic San Pedro style, we will not be toasting with champagne but rather with a few iconic cocktails from some of our island's fabulous bars. From creamy and sweet, to sweet and sour, we've compiled a list that will surely please any palate.
Our first stop in the must-do 2016 booze tour is the Truck Stop. The talented bartender at the newly inaugurated shipping container food park and beer garden, Orville, fixed us up one of their best sellers: the VIP.
This drink consisted of vodka infused pineapple juice and fresh soursop juice. Doesn't that just sound heavenly?
Properly initiated, we made our way to another new installation at North Ambergris Caye: The Dive Bar! There, bartender Tua serves us up their house Coco Loco. This one is a classic drink across the island, but the different preparation methods make each one unique.
Tua uses gin, coconut water, mint, lime juice plus a secret ingredient, all shaken, not stirred, to make an exceptionally refreshing drink. Cheers!
Time for the third drink! We headed on over to Coco Locos Beach Bar, just north of Sir Barry Bowen Bridge to sample bartender Sarika's Mango Tango. A combination of white rum, coconut rum, mango juice and cranberry juice, the Mango Tango definitely packs a kick.
Needless to say the combination of three distinct cocktails had us feeling pretty happy!
With our journey up north complete, we head down south to Crazy Canucks Beach Bar. There owner Rob and bartender Ronny await us with their specialty drink, Bacalar Chica, all ready for sampling. This drink is for those ginger lovers!
A combination of either white rum or vodka, a secret ginger syrup and a splash of ginger ale makes for one tasty cocktail!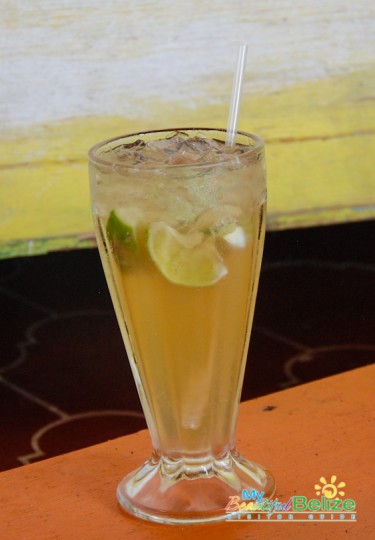 Our palates appreciate this refreshing drink, and suddenly, we were rejuvenated, ready to taste test some more, you know, for you, our loyal readers!
Things really got turned up at Palapa Bar. Now relocated to the Wet Willy's Dock, and still featuring our favorite bartenders, Ivan, Abner and Dennis, the Palapa makes us want to have two drinks instead of one! The skillful Ivan prepares for us two of Palapa's specialties, the Kiwi Cooler and the Banango.
While the Kiwi Cooler is more of a light, refreshing cocktail, the Banango is a creamy decadent treat. But both are prefect to sip while admiring San Pedro's beautiful coastline!
Next up, we stumble over to Caprice Bar and Grill for some Dragon Fruit Margaritas. Oh! How I love this pretty purple drink, and the tequila in it! Prepared by Edwin, the Dragon Fruit Margarita is a Caprice specialty and I highly recommend everyone try it!
Our last stop is over at the Nook Restaurant and Cocktail Bartique located on the beach! We meet up with Nook's owner, Erin who tells us how their specialty drink came to be. We may have gotten the story, but by then, the ingredients list became fuzzy; we have to say though, that Breaking Amish is one spectacular cocktail. And the story behind it is even more so!
Don't these drinks sound like they deserve a try? I don't know about you, but I will be sampling many of these drinks throughout 2016 – especially since according to my horoscope, 2016 will be my most sociable year yet!