For so many people, Sundays equate to family, fun and relaxation. To me, Sundays are sacred (#blessed). It is a day to slow down, and preferably a day when someone else does the cooking. Naturally, the choices usually range in the barbeque region, or some variation of Belizean lunch. But when one takes Sunday as seriously as I do, waking up close to mid-day often means we're still in the mood for breakfast, and a hearty one at that. Thankfully, Caprice Bar and Grill has begun offering Sunday brunch specials.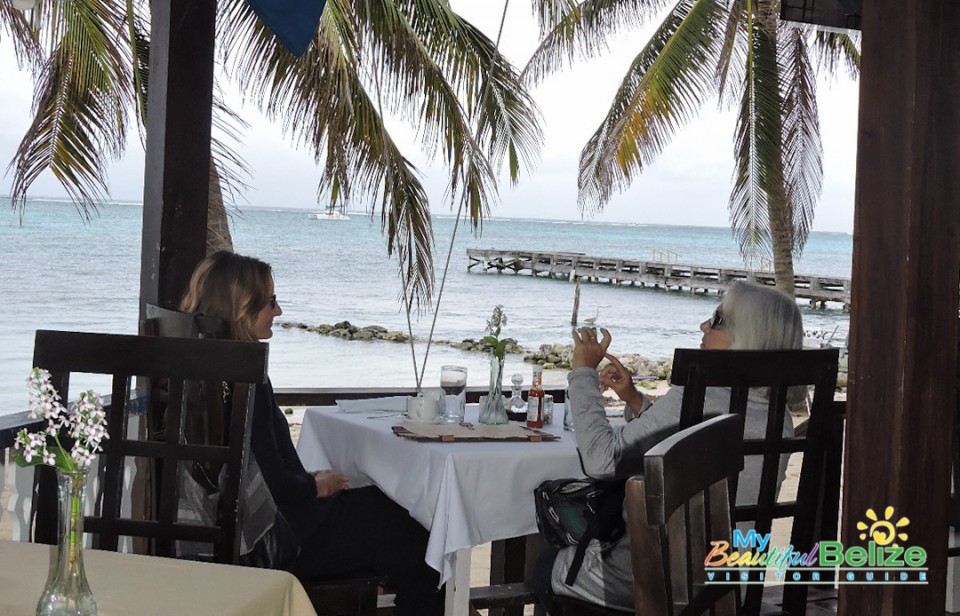 As if their fabulous Happy Hour(s) from 3-6PM on weekdays wasn't enough, they draw us in on the weekend too: that banner featuring a luscious image of Eggs Benedict has teased and tempted us for weeks from our office across the street.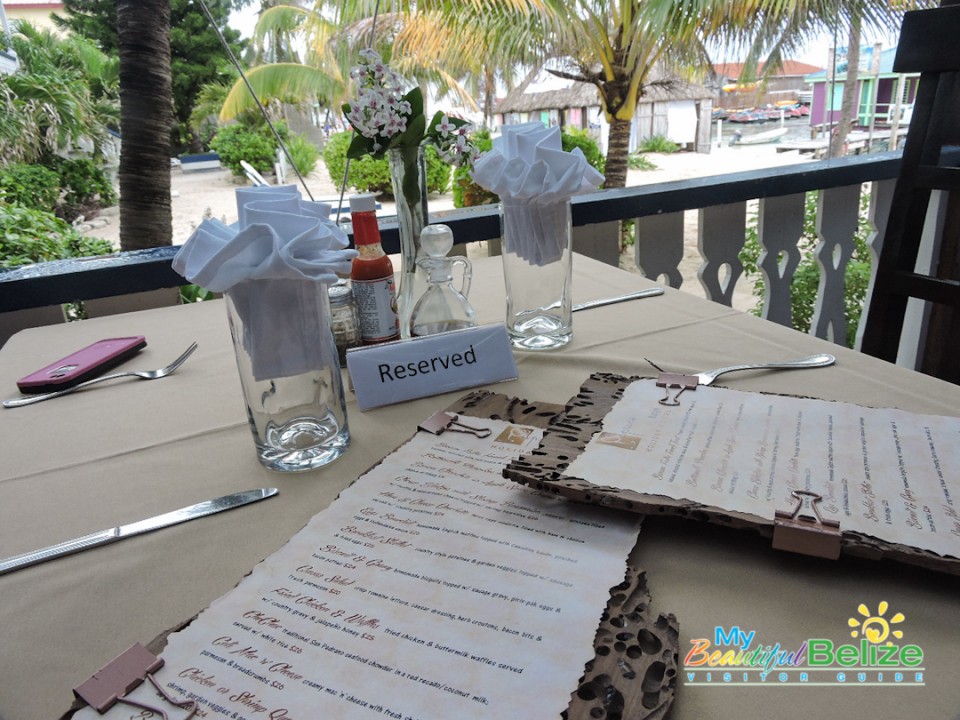 Enough was enough, it was time for Tamara and me to venture to their scenic deck and drink in the gorgeous views – and their crisp mimosas.
From their fabulous menus to the delectable items up for choosing, we were in foodie heaven.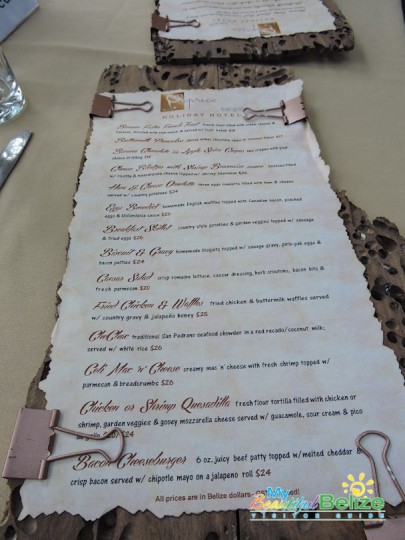 How could one choose between classics like Bananas Foster French Toast, chocolate chip pancakes, omelets, biscuits and gravy…or…ooooh…Eggs Benedict, and Chicken and Waffles? Oh my! Our decision was made – Bennies and chicken and waffles, plus Apple Spice Crepes for dessert.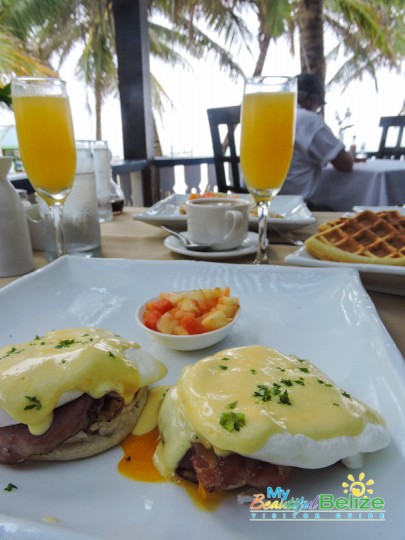 Patricia brought over hot coffee, which we sipped while enjoying the beautiful beach scene before us. Once we'd met the caffeine levels required for proper function, we proceeded to order a mimosa each, as we waited for breakfast to arrive. Crisp and refreshing, the mimosas went down a treat, and just in time, our meals arrived to make us even happier.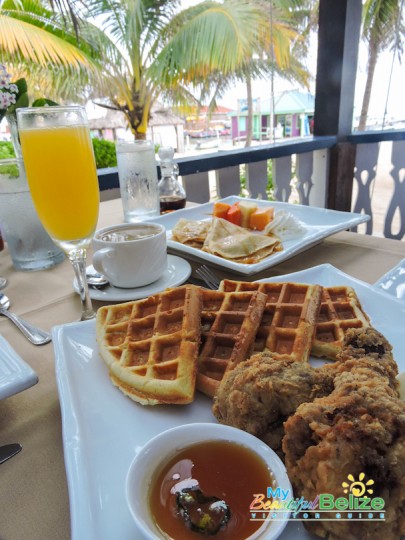 Creamy and indulgent, the Eggs Benedict were as fabulous as we'd hoped. Chicken and waffles were a delight – crispy fried chicken and warm buttery waffles drizzled in syrup just seemed made for each other. With a dollop of whipped cream, each bite of crepe and spiced apple slice provided the perfect sweet finale to a wonderful morning.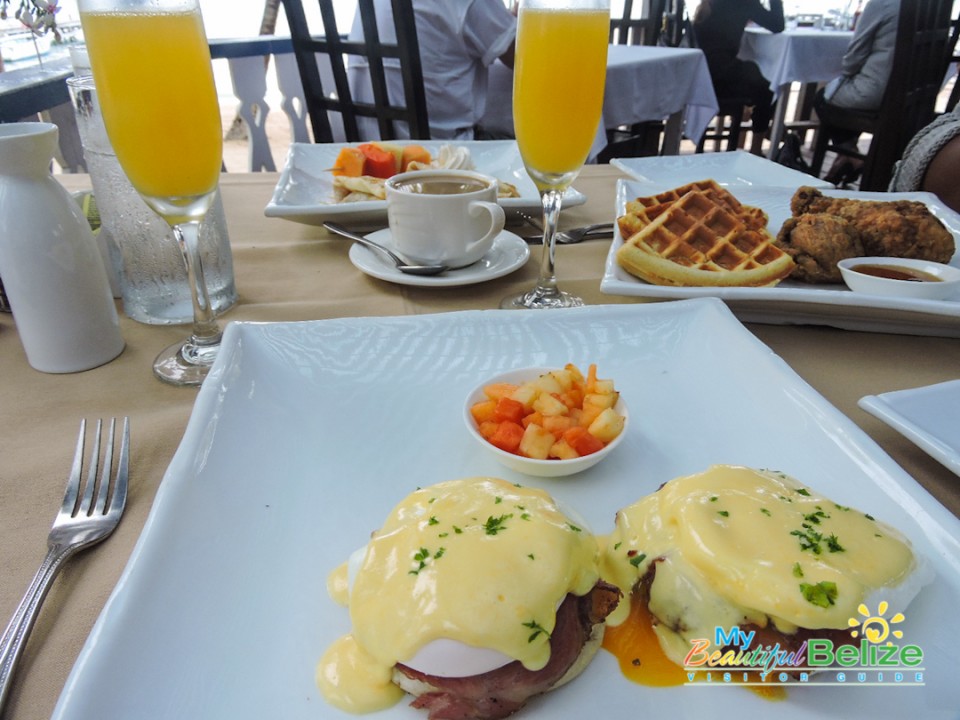 I could certainly get used to this kind of fabulous Sunday treat!
Sunday Brunch at Caprice runs from 10AM – 2PM, on Barrier Reef Drive at the Holiday Hotel. You can call 226-2014 to make your reservation. We highly recommend brunching on the deck for both delicious food and views!