On a small island like Ambergris Caye, secrets are hard to keep, especially when it comes to a secluded beach that no one knows about! So is the case with a lovely area off the beaten path that once only the locals knew about, and only adventurous souls braved the challenging roads to get there. Those days were just a few years ago, and now this escape, almost eight miles north of San Pedro Town, is a must-do destination for a day of endless beach fun. The turn-off road to Secret Beach is now one of the best maintained on the island, and a half dozen beachside bars and restaurants line the western shore of the caye. Here fun in the sun while bathing in shallow, crystal clear waters and sipping on umbrelled cocktails is the epitome of island ambiance.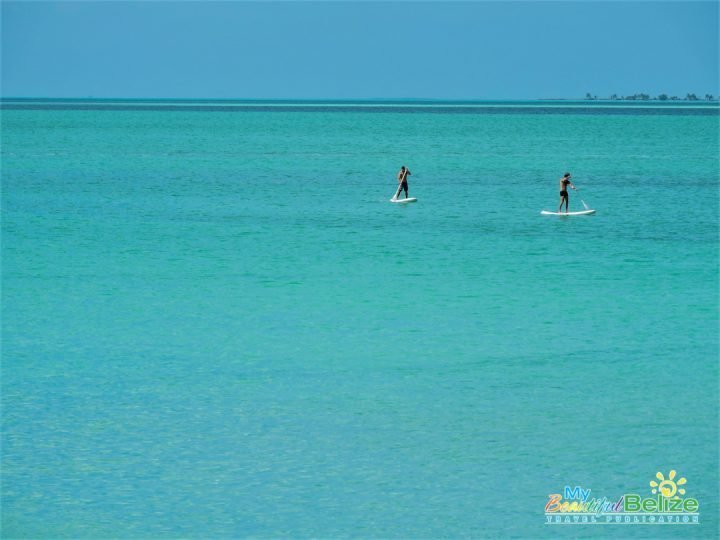 While each establishment along the beach is rich with tropical charisma, Maruba Beach Klub takes it up a notch with not only a cool vibe, tasty food, and delicious libations, but also a full-service spa that overlooks the gorgeous Caribbean seascape.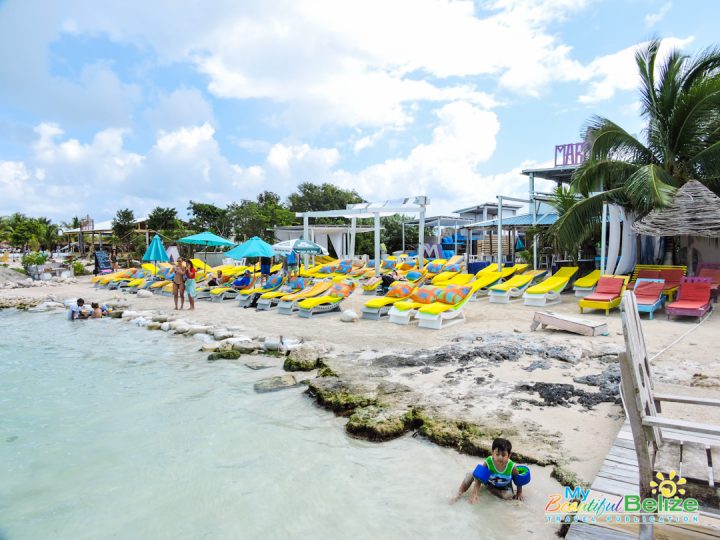 Established by David Hauptli and longtime hospitality and wellness gurus Alexandra and Franziska Nicholson from the renowned Maruba Resort Jungle Spa in Maskall Village in the Belize District, the sisters have been treating guests to unforgettable accommodations and wellbeing experiences for decades.
Situated on the second floor above their bar and restaurant, the spa is an open area overlooking the gorgeous expanse of azure waters and enjoys a cool and refreshing breeze. In the front area, guests can enjoy a casual spa experience where the space is less private than the usual studio spa you may expect, and lively music rises from the bar. It's a setting where you'll want to keep your bathing suit on while skilled therapists massage your worries away and the ocean breeze soothes your senses.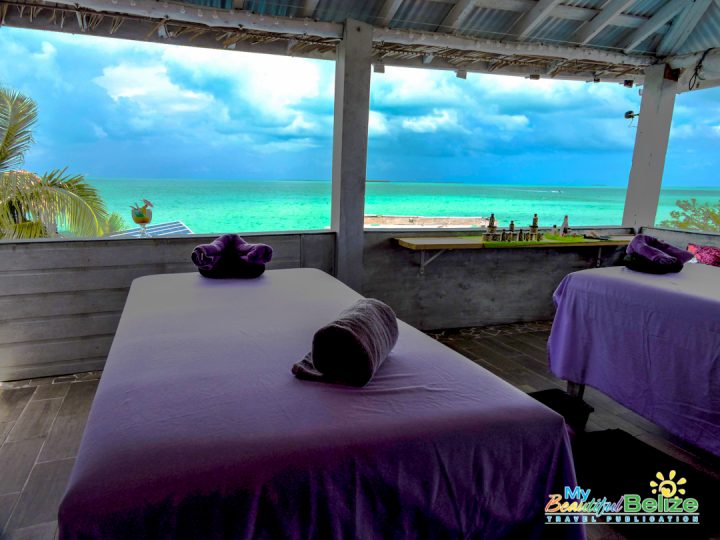 This front area is also where they offer facials, manicures, and pedicures. For those wanting a more private experience they also have a separate massage studio for individuals or couples who prefer a more secluded, peaceful environment. Guests can choose a deep tissue, Swedish, Aroma, Maruba Mood Mud massage or even a Maruba Molasses scrub.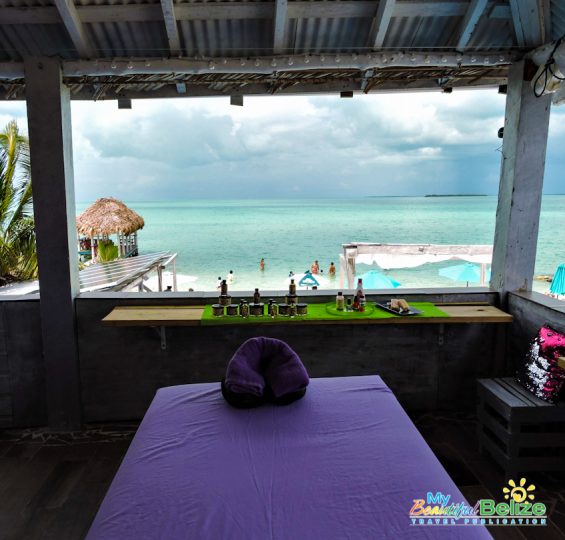 Unique to Maruba Beach Klub is their own natural Maruba Therapy products that include Mood mud masks for face, body and hair, honey moisturizers, assorted body scrubs, soaps, oils, and therapy bath teas. These all-natural treatments are used for massages, tropical wraps, seaweed, body wraps, facial treatments, and aromatherapy. Mud has been used for centuries as a natural health and beauty treatment, and their six different Mood Muds not only detoxify and exfoliate dead skin cells but restore minerals and firm and smooth the skin.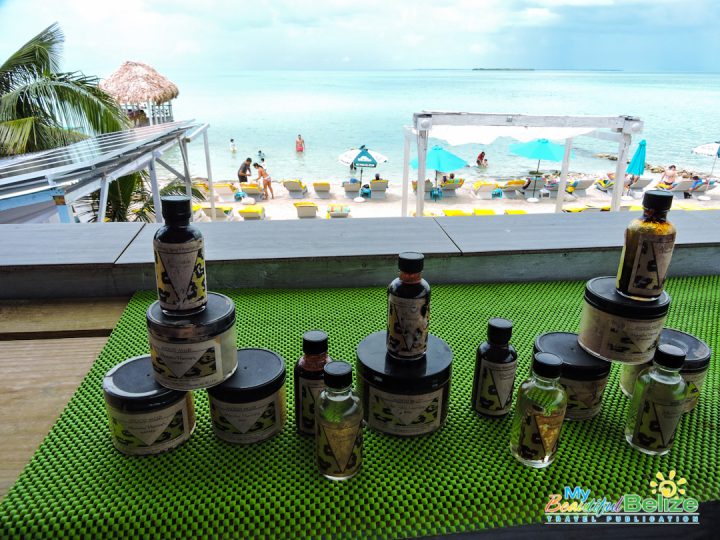 Each Mood Mud possesses restorative components such as arousing strength and health, treating skin disorders, stimulating healing, absorbing and destroying negativity, inspiring truth and peace, and encouraging self-improvement, eloquence, and intelligence. Are you looking for something truly unique? A Maruba mud bath will leave your skin feeling silky smooth, and your body relaxed and rejuvenated.
There's more to Maruba Beach Klub than just pampering the soul as they do a great job of indulging your belly and quenching your thirst as well! Be sure to try their colorfully layered Maruba Punch or one of their champagne cocktails served with a split of Freixenet and fresh frozen sorbet. One of my favorite snacks? Chicken fingers fried in tempura batter and served on a stick, so crispy and light, super yummy! Or instead of a juicy burger, you can take a healthier route and enjoy one of their vegan dishes.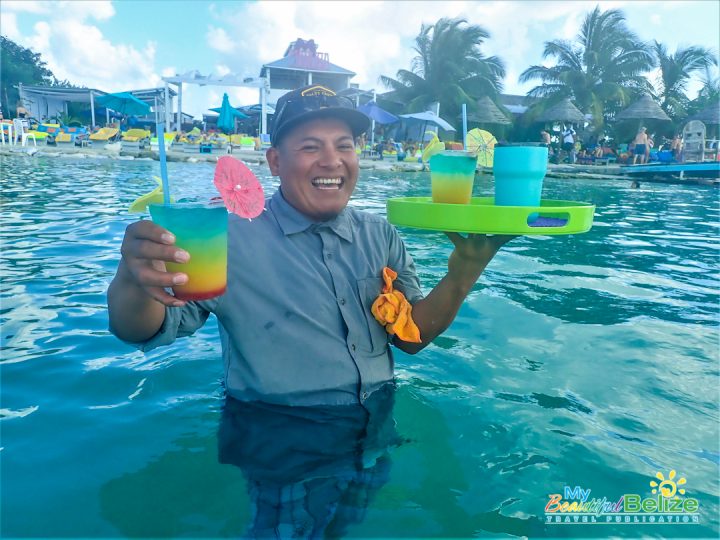 Maruba Beach Klub is open daily from 8:30am until 5pm, and if you prefer not to drive there via golf cart, they can arrange transport via land or boat. You can find them on Facebook or call 610-3779 to book transport or a spa treatment.