Thai massage – my only recollection of a Thai massage was in 2006. It has certainly been a while since, so I absolutely had to march myself down to the Thai Spa at the Fairdale Plaza. I needed to get some twisting, turning, stretching and adjusting happening.
I met the friendly and gentle Chanthra Yaemwaenkaew who instructed me to put on a traditional Thai outfit. It was full white, loose and cool. Hmmm, this was definitely different; I was intrigued. Outfit on, I indicated that I was ready. Already, I had visions of lying face-down and feeling a few stretches and tugs, all designed to make my body pliant and relaxed.
It did start off with some soothing massage in various pressure points, Chanthra kindly asking what level of pressure I felt most comfortable with. Even though my computer shoulders were screaming for deep and intense, I wimped out and asked for medium pressure. After I had decided, it was time to lay back and await snore-inducing bliss.
So you can imagine my surprise when I was instructed to sit up and stretch my hands out. Then up. Then back. Then, she asked me to cross my legs as best as I could. Have you seen my legs? The last time they crossed, my dress size was in the single digits! Now the closest they get to crossing is at the ankles! But I tried nonetheless, and Chanthra was right there, working on making me the squishiest pretzel possible.
According to the research I conducted after my massage (because isn't that how we all do it?) – Thai massage can mean any variety of things. I may have been introduced to a tamer version of Thai massages before, but Chanthra ensured I got an energizing, rejuvenating method that put me through a variety of yoga-like positions. As it turns out, I was undergoing the Ancient Thai Massage (which does not involve oil) – and well, had I read the fine print, I would have known it involved stretching. But what a happy surprise!
And even when I did lie back, there she was, a tiny, compact and lithe person immersing her entire body into the massage. She balanced on my back, pulling my arms back as her feet pushed into my calves, and my hips, and bent knees at one point. Really, it was the most intense workout I'd had in ages, yet I could feel my muscles being stretched and molded into submission. A real relaxation was seeping into my being, despite the intensity of movement that was taking place. I really should just let myself trust the experts – they know what works!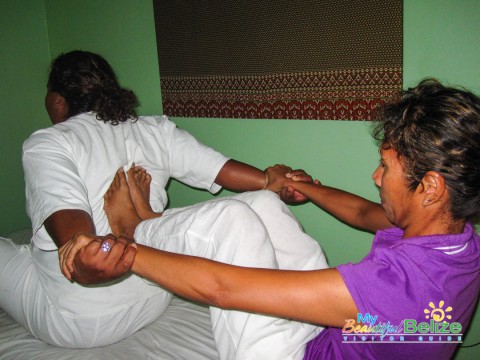 The one move that I certainly was familiar with was the cobra move. And when my fingers and toes and ears and knuckles had been tended to (it was intense), I was pliant enough to get into position for the ultimate move. Arms behind me, chest up, and head thrown back with Chanthra guiding and pulling along – whee! I had been twisted and pulled and tugged into submission, and even though I was calm and peaceful, I did not need to remain on the table for a quick nap. Instead, I walked out refreshed and ready to take on the rest of my day.
Chanthra Yaemwaenkaew of Thai Spa is herself a wonderful spirited therapist, with a gentleness about her that belies her real strength and gift. To see her, you would not know that she had basically taken me on and pummeled my body into submission, and in one session, had sent stress and sore muscles running for the reef. Those talents have not gone unnoticed, for even though she has branched away from the Francis Ford Coppola resorts (Blancaneaux Lodge and Turtle Inn), she is still in demand for her unique work. I can give you her number – you know you want to check this unique experience out!
206-2622 or 635-9284, or emailing [email protected] will lead you right to Chanthra's calm Thai Spa located on Coconut Drive at the Fairdale Plaza complex.