If you want to buy or sell a home or property, you've probably heard from people that "having the right agent by your side can make or break your home buying or selling experience." And we must agree!
When considering real estate in Belize, working with someone who knows the local area and market will ensure a stress-free experience. Your agent is your expert guide, who will invest their time to ensure you have a smooth journey throughout the buying or selling process.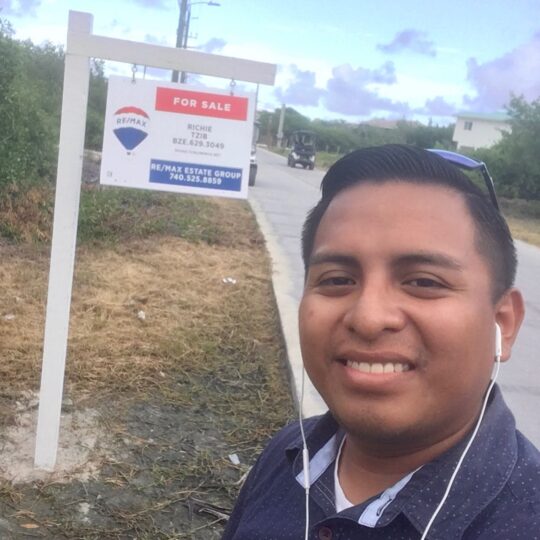 There are plenty of reputable local agents on Ambergris Caye, one being Richie Tzib. Richie was born and raised in San Pedro Town and has seen the island's development first-hand. With his real-life experience, he helps those who want to make the right move in investing, "With a drive to serve and please my clients, I work to make your dream a reality." A real estate agent with RE/MAX Real Estate Group, Riche has been offering his services for many working under the guidance of industry professional Jason Turley. Richie can provide insight into living on this beautiful island as a local.
Apart from the immense knowledge of the area local agents offer, Richie also brings other benefits. Real estate agents like Richie have surrounded themselves with a circle of regional industry experts who can help you beyond just buying and selling property. He will get the job done, from recommendations on contractors to assistance dealing with government agencies and even just answering questions regarding daily life on Ambergris Caye!
When your realtor lives in the community where he works, it's easier for him to assist you with viewings. He also has access to more exclusive listings and can get you viewings before they hit the market. Richie is usually the first to know about a property before it hits the market. You will also feel more at ease if you are selling your home or property but don't live on the island, as your local realtor will take care of everything needed to get you the best deal. Richie has worked in the industry and can secure the best value for all parties.
In the complex Real Estate Industry, agents are valuable guides, so be sure to find the right one that fits your needs. Contact Richie via phone at +501-629-3049, by emailing [email protected], or by visiting www.richieofbelize.com
This was a paid sponsorship.