Sushi…for someone who could have happily lived off of vegetables and fruit all her life, I'm surprisingly (slightly) obsessed with sushi. This Japanese food item has been adopted (and adapted) worldwide – even on Ambergris Caye, where it's considered quite a treat. Sticky rice, seaweed wraps, a variety of seafood, vegetables and sometimes, even fruit, are base ingredients for some of the most beloved rolls. At Las Terrazas' O Restaurant, Chef Papi has started a delightfully delicious Friday night sushi special, and well, you know I just had to swing by and test a roll or ten!
With my partner in crime Janelle, we drove up the delightfully smooth paved road north past the bridge to our destination, the beautiful Las Terrazas resort. Chandra greeted us warmly, escorting us to a pavilion near the pool, where the sounds of Any and Pupo echoed beautifully.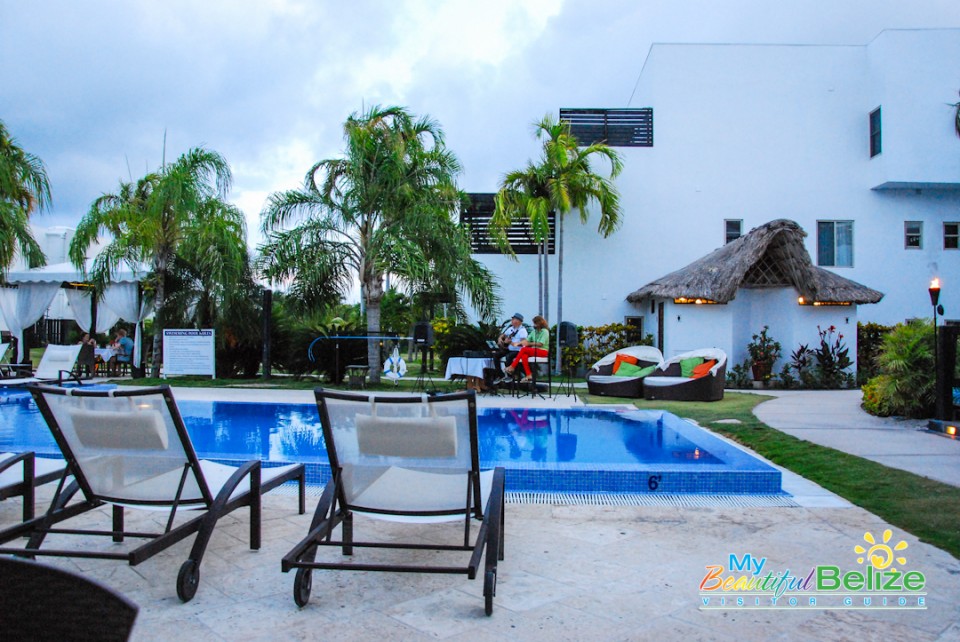 Our server for the evening, Edvin, took excellent care of us as we settled in, a refreshing drink in hand as we perused the sushi menu.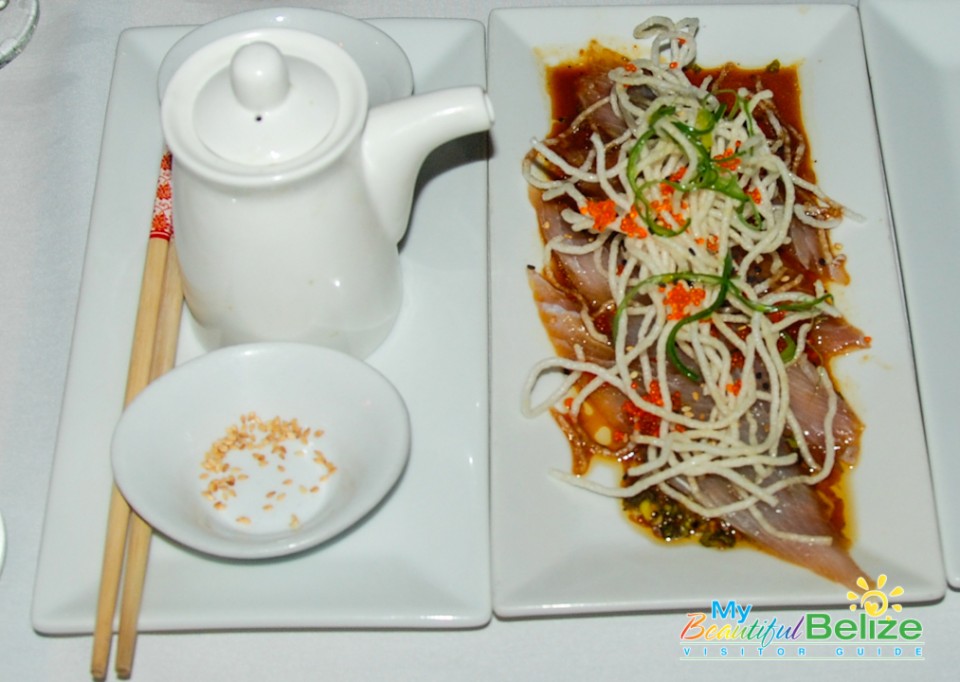 We were intrigued at the list, especially when we happened on one that incorporated the lionfish! The Predator sounded most interesting, and, since we are all about doing our part for the environment, we decide to give that a try, along with a few other delicious-looking options. Chef Papi joined us for a bit, then highly recommended we start with the Cobia sashimi. Thinly sliced fresh cobia fish over a sauce of sesame seed oil, soy, ginger, scallions, a little lime juice and topped with fried rice noodles and Tobiko caviar and seaweed salad. I would say that was quite the introduction to our fabulous dining experience! So much flavor on a dish…Janelle, my little "I don't like fish that much" companion seemed to have no problem downing some cobia! She was so impressed, she couldn't wait for the next course!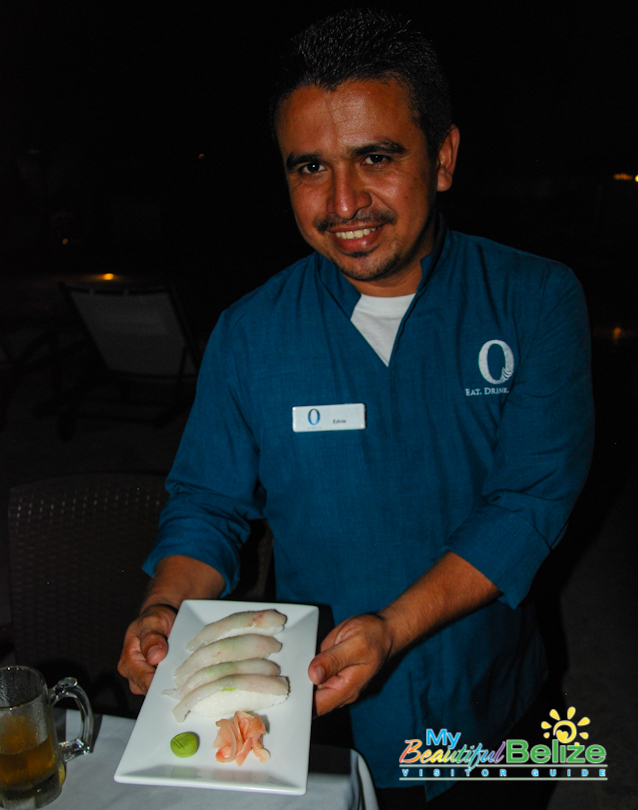 We were delighted to move on to the Lionfish Nigiri. This is of course, different from The Predator, but also does its part to eliminate those prolific little suckers from our waters! Sticky rice is topped with filets of lionfish, and I dipped each roll in a combination of soy and wasabi for some good eating! This is definitely a delicious way to get rid of lionfish! Another good way is by eating The Predator! The Lionfish is lightly seasoned and seared, then rolled up with pickled ginger and seaweed salad for some good eating!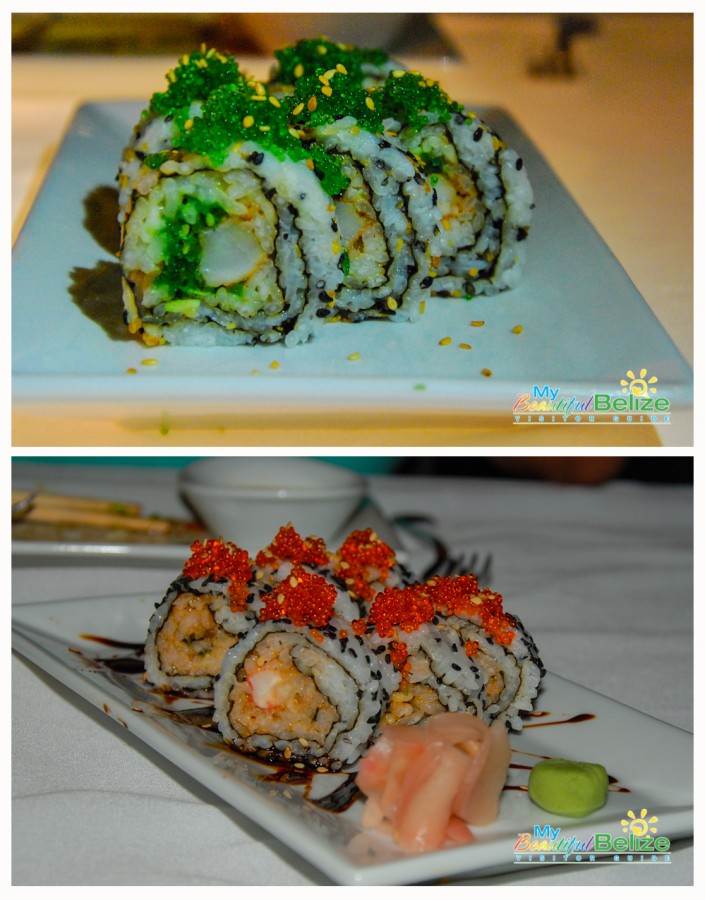 We laughed at the description of the Hurricane: everything but the kitchen sink! It sure was tasty, and primed us for the spicy tuna. Janelle needed another beverage after that roll – it was definitely a sneaky spice, but I loved it. To cool down our palates, we were served the Philly. This is one roll I recommend for those starting out their sushi journey. It has elements that are familiar (cream cheese and avocado), accompanied by flavorful fish like smoked salmon. Newbies will also enjoy the crispy Tempura Shrimp roll, which is presented cleverly on the plate for you to enjoy. Hey, playing with your food can be fun!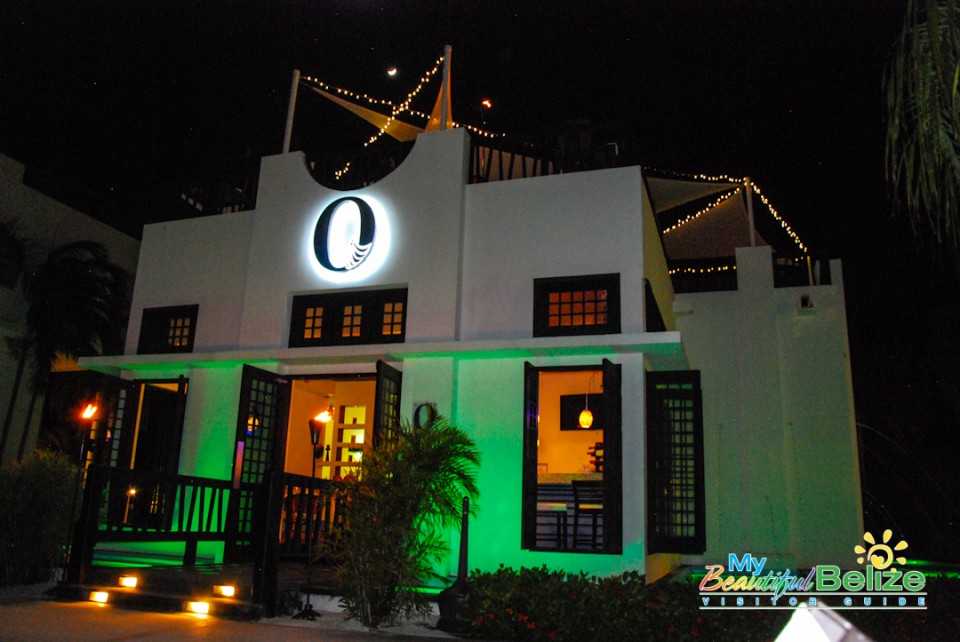 In fact, while we were seated at one of the most beautiful resort grounds with live music in the background, we couldn't help but acknowledge what a wonderful time we were having. O Restaurant's menu also contains other fabulous dishes besides sushi, and any night of the week is a guaranteed delicious time! But if you're looking for something fun and different to kick off your weekend right, Friday night sushi is definitely one way to start!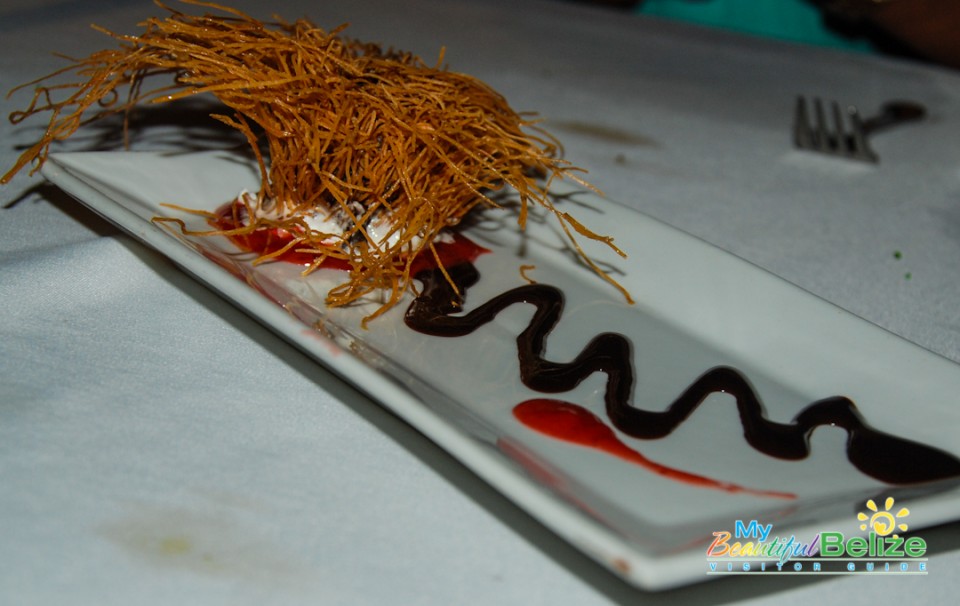 For reservations, be sure to call 226-4249. Sushi is the Friday special, but the menu is a delight – so check them out any day of the week!