It's not every day you go on the adventure of a lifetime, one you have dreamed about for years, and hoped to add to your list of top ten cool things you've done in your life…and when the dream becomes a reality it can almost be surreal. Such was the vibe as I boarded a small boat on the Macal River, deep within the Mountain Pine Ridge Forest Reserve and traversed the waterway to Scarlet Macaw territory in the Chiquibul National Park. As if this wasn't exciting enough, I was with one of Belize's most respected champions for wildlife, and birder extraordinaire, the one and only Roni Martinez.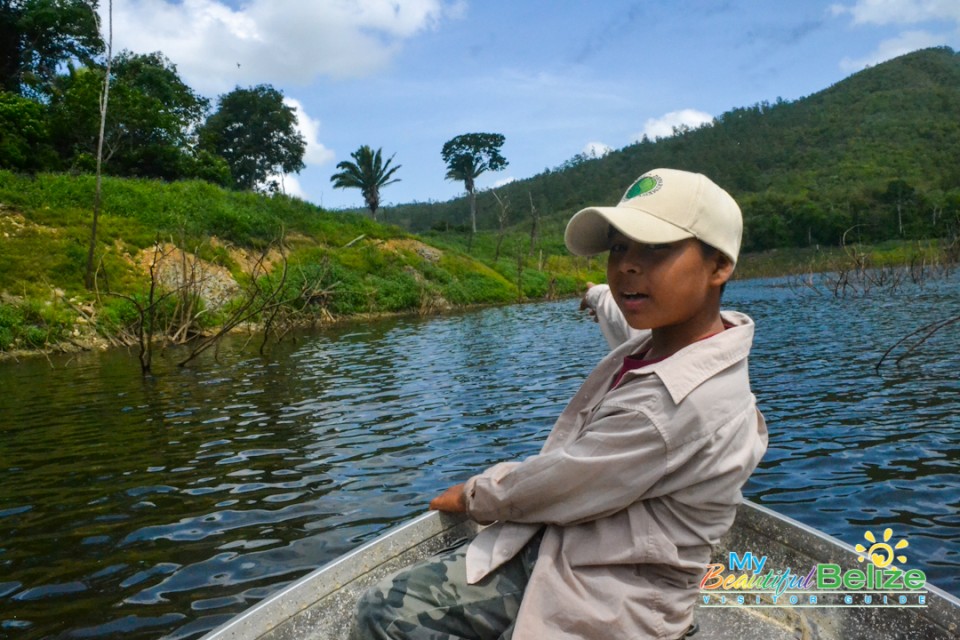 Martinez is also the co-founder of the Scarlet Six Biomonitoring Team which is dedicated to protecting endangered species in their habitat, and in this case our imperiled Scarlet Macaws. Along with Roni's adorable young son Aleem, our able captain/guide Luis, and my co-worker comadre Mary, I couldn't be in better company.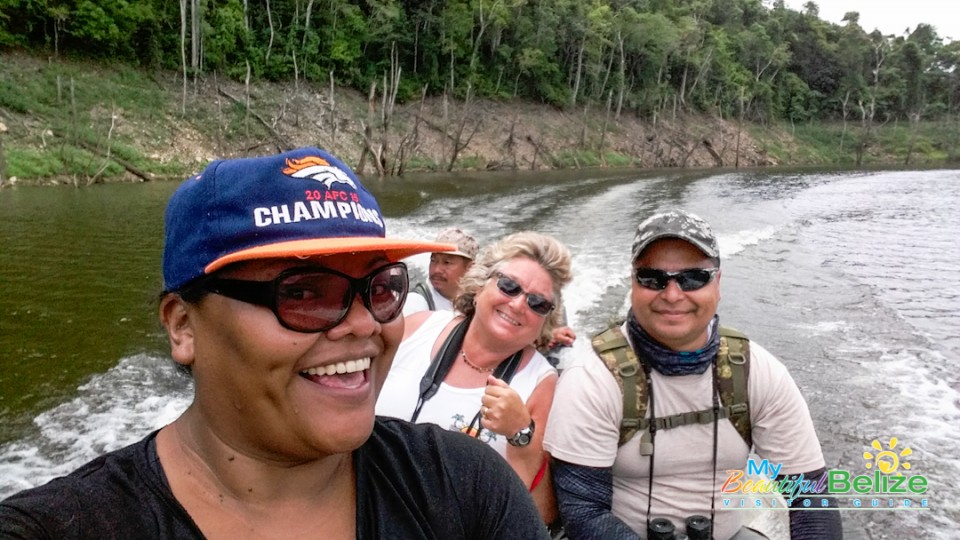 Once a free-flowing river, the Macal is now a lazy tributary thanks to the Chalilo Dam that was completed in 2006. The bare arms of sentinel trees stand testimony to a habitat that once was, looming in waist deep water along the flooded banks in lifelike postures. Some are up in arms in surprise, while others gesticulate "beware, here be dragons!"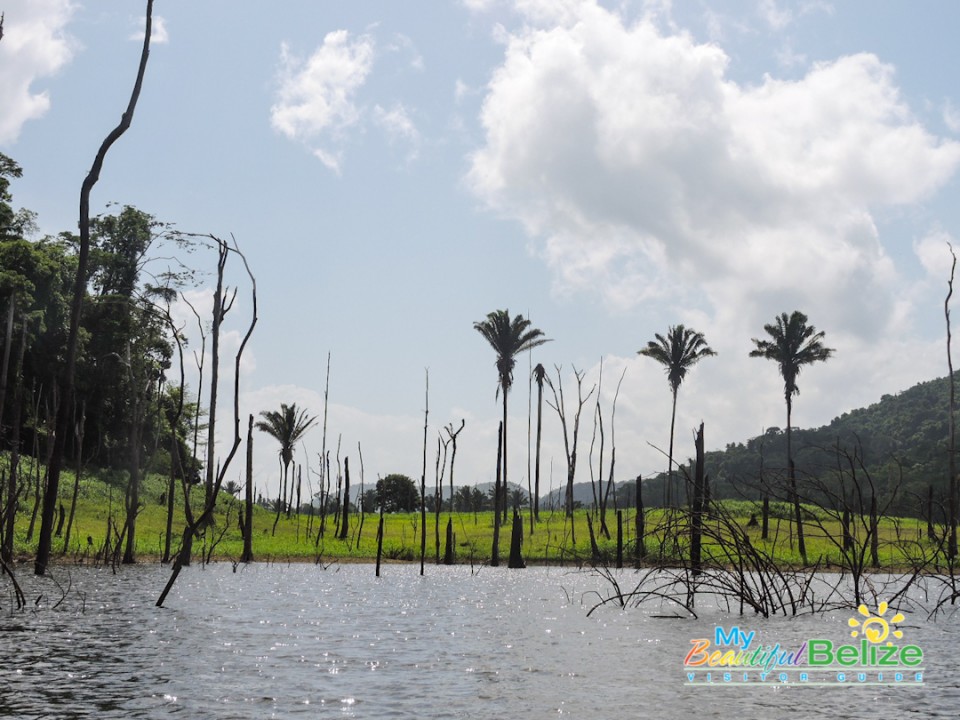 When the boat motor is slowed to admire a bird along the way, the sound of jungle silence is enchanting. The stage is set; we are entering the magical Chiquibul.

Before we reach the nesting area for the macaws we are escorted by a variety of avian ambassadors. Gorgeous Tiger Herons show off their stripes, while kingfishers and even a black hawk leads the way.
We spot a large Morelet's crocodile sunny on the shore, and dare we hope to spot a jaguar or tapir too? As we search the landscape for wildlife, I wonder, how many eyes are returning our gaze?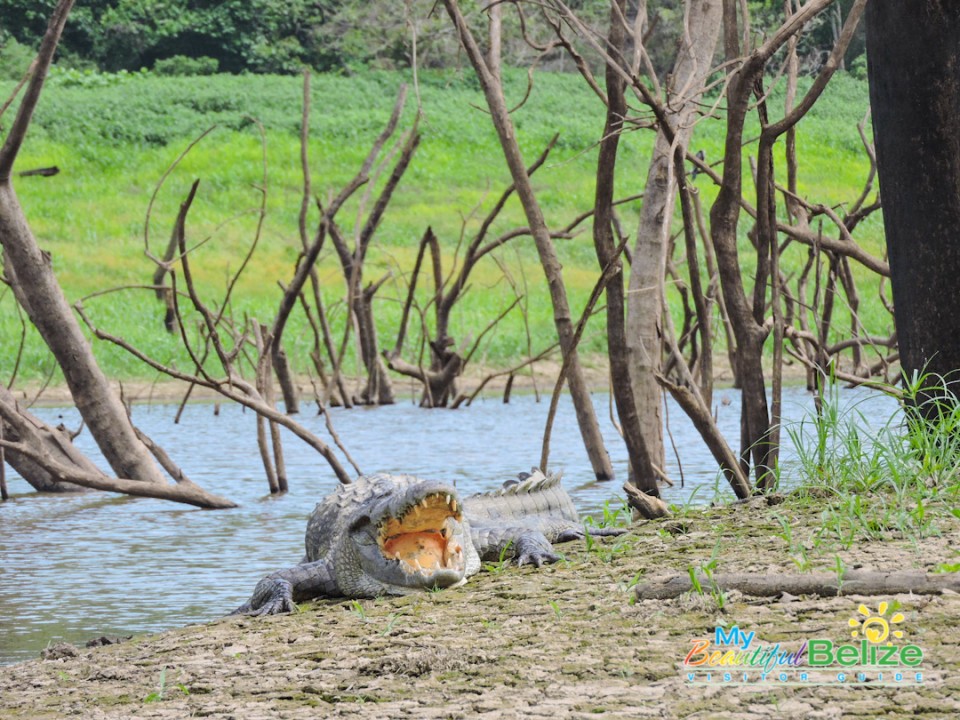 And then we hear it…the cacophony of squawking Scarlet Macaws! What a racket they make, but thank you for letting us know where to look for you pretty parrot!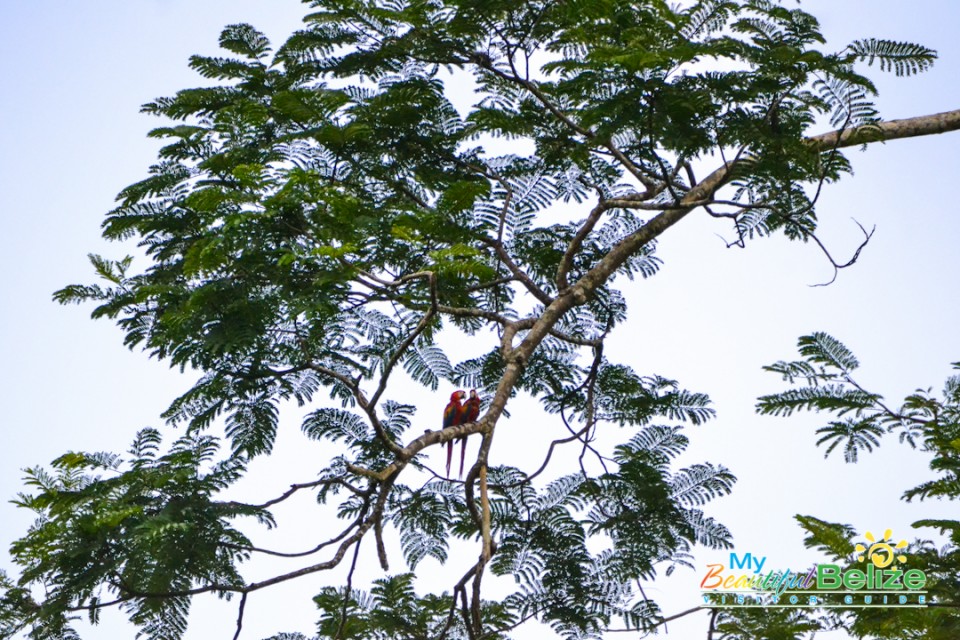 In a distant tree, we see flashes of bright red, blue and yellow, and then we spot a pair of beauties on a branch. Using binoculars for a better look, we count several busy parrots in the same tree, at least six of them, what an amazing sight!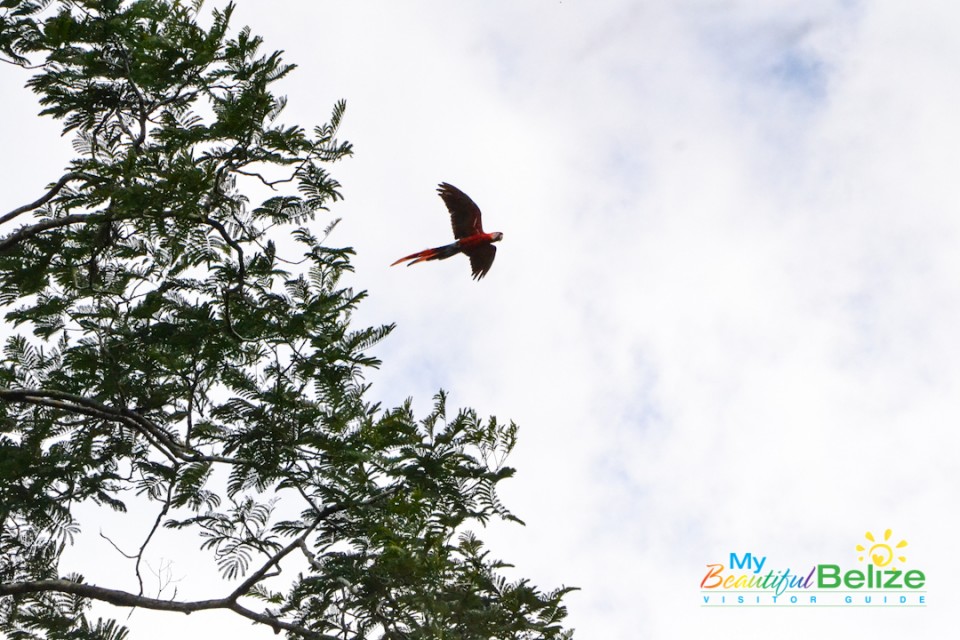 As we make our way along the Raspaculo Branch of the river, Roni knows just where these endangered parrots are nesting, as they are carefully monitored by the Scarlet Six team and the co-managers of the Chiquibul National Park, Friends of Conservation and Development organization. During nesting season, which is May through August, they carefully watch the nests 24-hours-a-day, and pitch nearby camps where team members and volunteers are on the lookout for poachers, which in the past have been devastating for the macaw population. For years, the nests were raided for the illegal pet trade, a practice that baby parrots rarely survive. Now that poachers know these nests are guarded, Roni is happy to report that over the last few years poaching has been drastically reduced.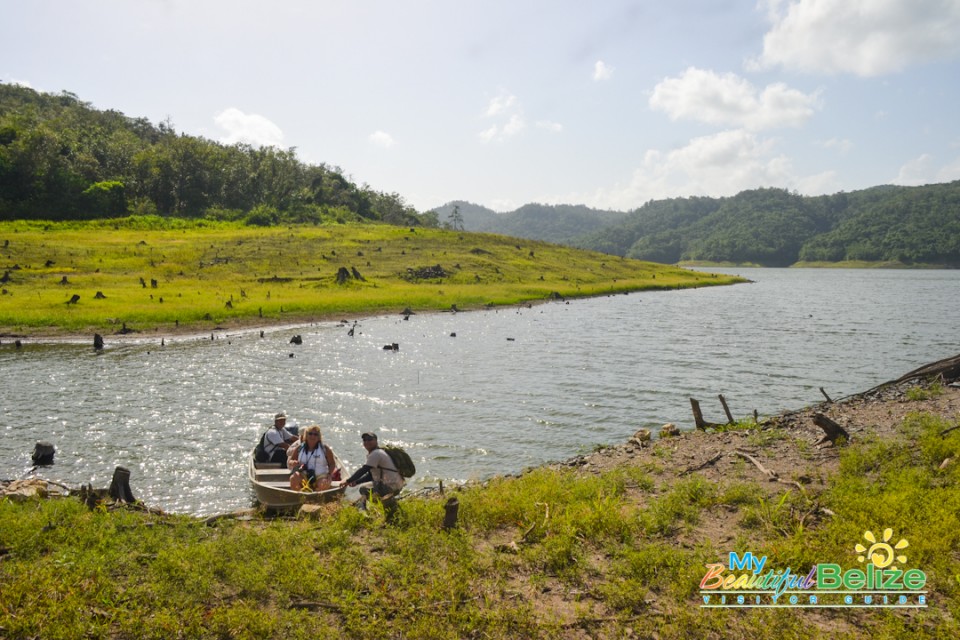 Our boat journey continues as we scour the trees for more parrots. We disembark at one nest to get a closer look at doting parents, while a baby pokes his head out of a heart-shaped hole in the tree. What a handsome family they make, and what a rare moment to witness such wild beauty.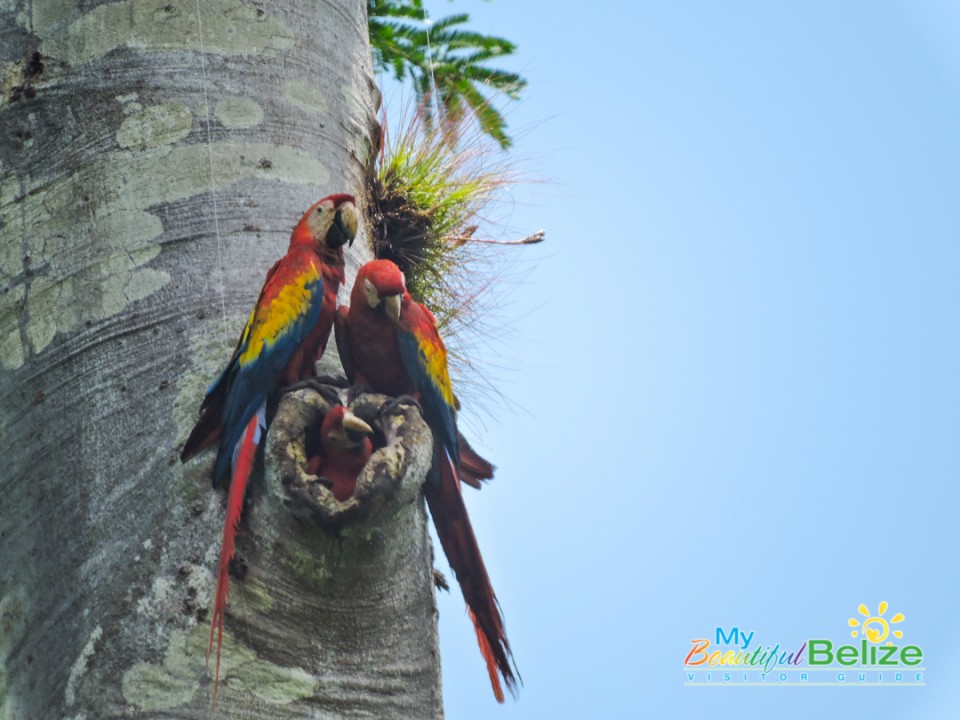 I could have spent the rest of the day admiring this happy household, but our adventure takes us to a nesting tree camp where we get a look at what it's like to live in the jungle for weeks at a time. This is hammock camping at its best, with a makeshift kitchen under a tarp for meals.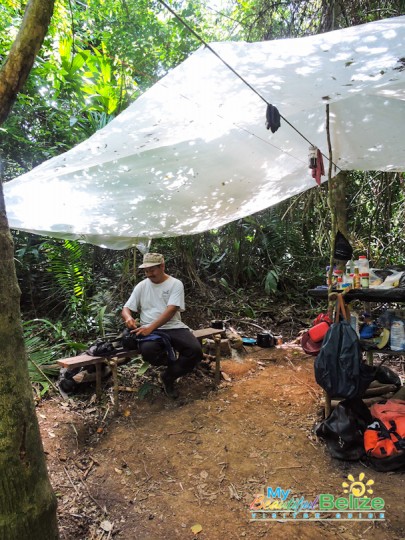 I can only imagine the jungle sounds at night, and even though it is hot, humid and buggy, I decide to add this to my "must do" list someday!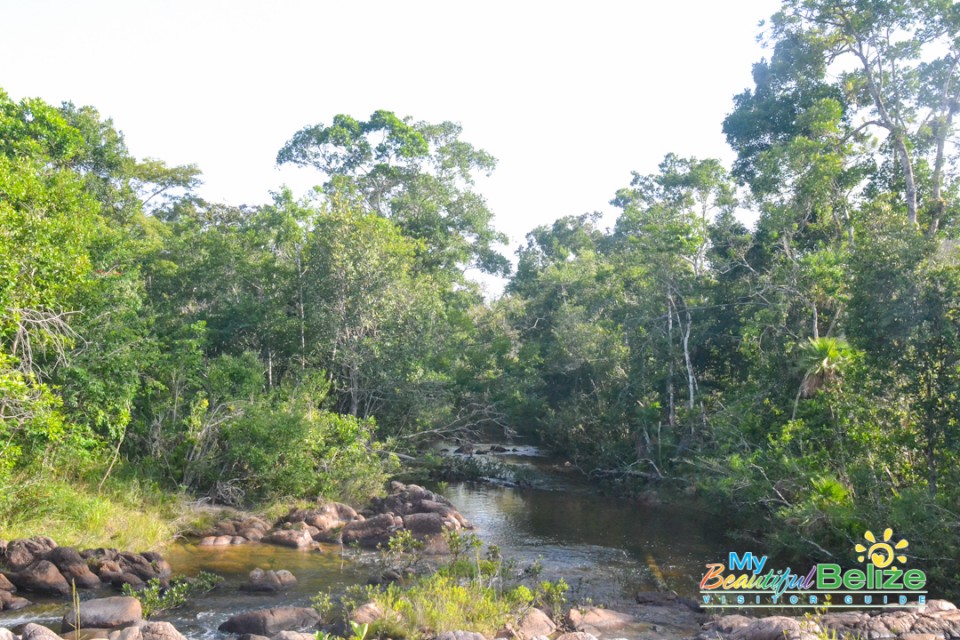 On our return, we stop for a sack lunch on the river bank, and my friends explore a blue hole cenote a short walk into the jungle. As I sit alone, immersed in the sights and sounds of the jungle, squawking macaws fly above me. I count my blessings…such a special day, a dream realized, such a blessing that there are people out there who work so hard to protect our wild heritage, and such a privilege to bear witness to their dedication.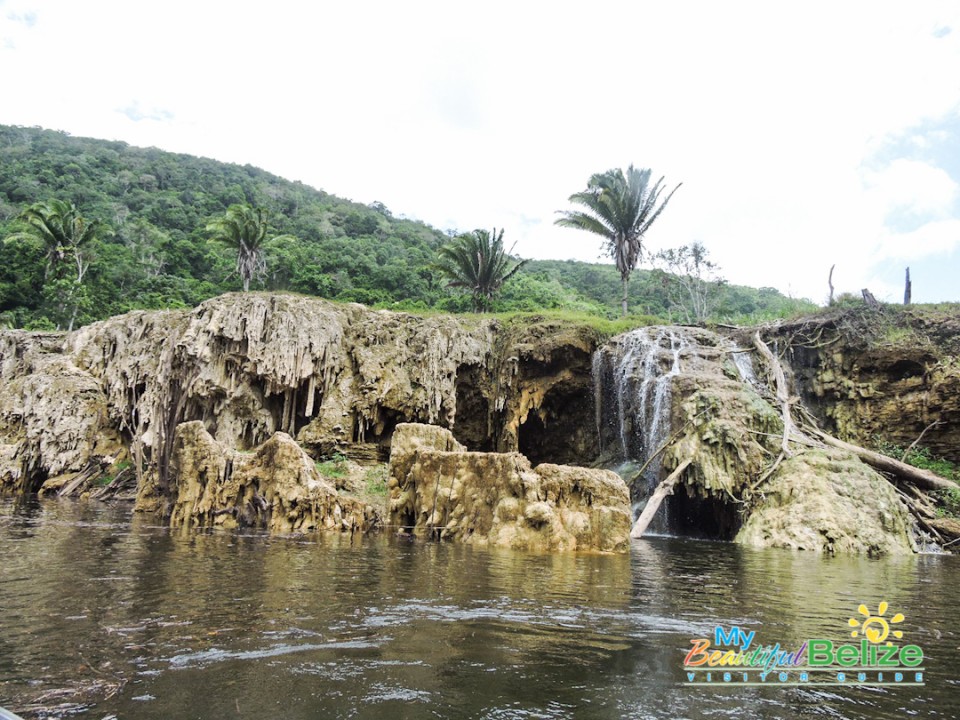 Just a week after our adventure, Hurricane Earl blew through Belize with a vengeance. I couldn't help but worry about our feathered friends in Chiquibul. Roni was delighted to confirm that not only were the birds ok, but they had successfully fledged before the storm. He also reported that this year there was no incident of poaching. What great news for the dwindling number of Scarlet Macaws in Belize, and how fortunate future generations of Belizeans and visitors will be to marvel at their beauty.
For more information about the Scarlet Six Biomonitoring Team and how you can arrange a tour of Chiquibul with Roni, please visit their Facebook Page.