The magnificent Scarlet Macaw is one of the rarest jewels of Belize. To see one in the wild is an unforgettable experience. With this in mind, I decided to learn a bit more about these beautiful yet critically endangered creatures.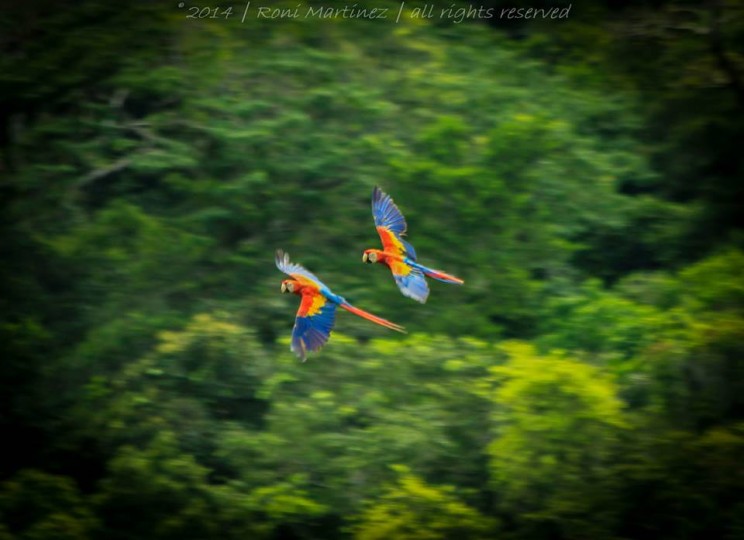 I sought help from my trusty old friend "Google" and quickly typed "Scarlet Macaw". The result was appalling: the first article on the search list read "The Scarlet Macaw Parrot can make a great pet"!
That is when it hit me, these birds are critically endangered is because of humans. Victims of human greed, they are poached so that some family can have an 'exotic' bird.
Yes, they are beautiful, but so much more so flying free! Scarlet macaws are brightly colored birds with feathers ranging in color from yellow to blue to mostly red. They can fly at speeds of up to 35 miles per hour and can grow up to 35 inches in length.
Scarlet Macaw are found in the high elevation forests from Mexico to Brazil nesting in holes they make in the trees. They are not solitary birds and prefer living in large groups. The best sight is a flock of these iridescent creatures flying happily overhead, in stark contrast to the blue of the sky, and green of the forest, their natural habitat.
In Belize the macaws call the Chiquibul National Park and the Cockscomb Basin Wildlife Sanctuary their home. With under an estimated 200 macaws left in Belize, the nesting population is under threat from poaching for the illegal pet trade. Thankfully there are several organization devoting their time to protect this amazing species.
Such organizations include Friends for Conservation and Development (FCD) and Scarlet Six Biomonitoring Team (S6).
They work diligently to raise grant funding, protect and ensure this species does not cease to exist in Belize.
Scarlet Macaws were created to soar in the skies over lush tropical forests, not to be locked up in an ivory cage! Enjoy them in the wild.