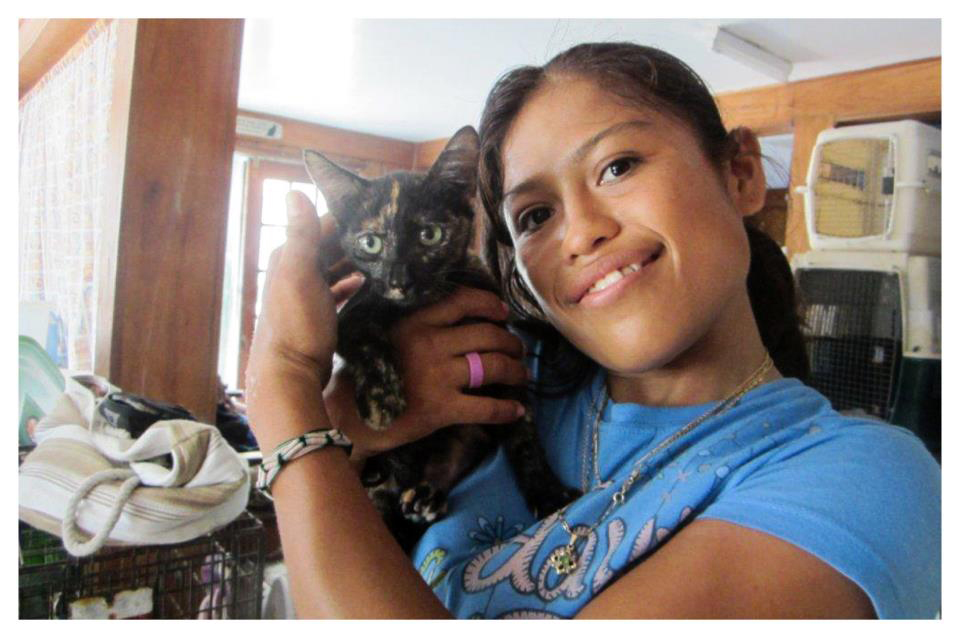 Some of us are just suckers for a furry face. As kids we were the ones who often frustrated our parents by bringing home stray cats, adopting dogs, rabbits, turtles, even snakes and rescuing baby birds. Whether you have been a lifelong lover of creatures large and small, or discovered animal love as a late bloomer when some wet-nosed-fuzz-ball of a dog panted his way into your heart, chances are while on vacation you will end up missing your pets. Considering your animal magnetism, you may also find yourself wondering about the dogs and cats you see wandering the streets of San Pedro.
As in many developing countries, the practice of spaying and neutering pets to prevent unwanted animals is not widely followed here in Belize. Fortunately for many of these "un-owned" animals who live a tough life living out of garbage cans and are locally regarded as "potlickers", San Pedro is home to the Saga Humane Society. Founded in 1999, Saga is the island's only non-profit veterinary clinic, conducting ongoing spay/neuter and vaccination campaigns, animal adoption and public education programs. Manned by veterinarian Dr. Baptist, manger Ingrid and volunteers, the organization is funded by donations, clinic income and fund raising events. From monthly "cook-off's" to Halloween pet costume contests and pet photos with Santa at Christmas, this group of critter loving folks work hard to offer medical care and shelter to animals in need while subsidizing veterinary care to low income families. Saga (named after the first dog treated by the humane society) also works closely with the San Pedro Town Council in humanely collecting and euthanizing problematic animals when overpopulation is an unfortunate occurrence. With education and community involvement Saga is slowly making a difference in San Pedro, but as with any non-profit organization, funding and volunteers are what they (and those wide-eyed hungry little creatures) depend on.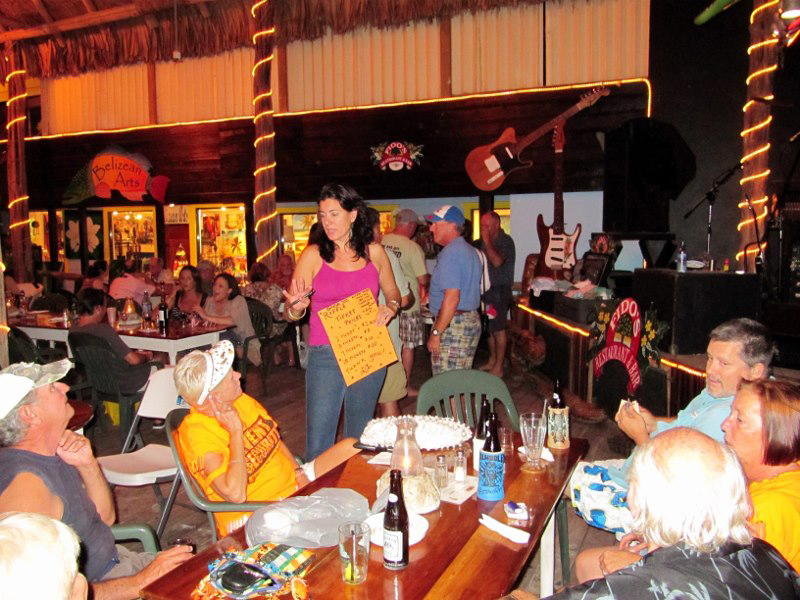 If you are a traveler who likes to get to know a community on a local level when visiting, there are ways in which you can help the humane society that you may not have imagined. While you are enjoying a walk on the beach why not take a Saga canine companion with you? The dogs who spend their days in a kennel are eager to stretch their legs and the more practiced they become on a leash the more adoptable they are. Saga manager Ingrid can fix you up with the right Fido for your walk and the enthusiastic, tail wagging reception you will get is super cute and very rewarding. If you are more of a cat person, you can socialize with the kittens (yes, beyond adorable) and cats inside the two new outdoor catteries recently donated to the facility. Interaction with people is really important to these animals and the time you spend with them makes them better prepared for a new home when adopted.
So now you are thinking, there's no way I am going to go and play with a fluffy kitty or a dog that instantly loves me without wanting to take it home, right? Well, why not? Amazingly enough you CAN take more than a woodcarving and a tan home as an island souvenir! How many people can boast that they are the proud parents of a Belizean Potlicker? You will be sure to be the envy of your friends and neighbors when they meet the new addition to your family, and these critters make wonderful pets, somehow they seem to know when they have lucked out! From potlicker to princess, Saga has many "happy tails" of cats and dogs that are now living large in the land of plenty, from US destinations such as Alabama and Massachusetts to Canada, these island creatures are now ex-pats somewhere else.
Saga is very helpful in assisting with the adoption process. The first thing they recommend is contacting your airline regarding their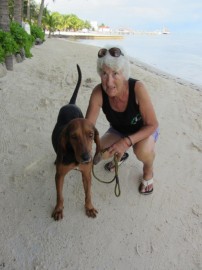 regulations on traveling with animals. Often there are weather embargos. Depending on temperature extremes your pet may or may not be allowed to travel on a given day. You will need to check with the airline the day that you plan to travel to determine if temperatures are within the required parameters and make sure well in advance that your pet has a reservation. You also need to determine the size of carrier you will need to transport the animal in.
The good news is there are no quarantine requirements for cats and dogs traveling from Belize to the USA or Canada. US customs do require that the animal be vaccinated for rabies one month prior to its arrival to the US, but considering all Saga pets are current with their vaccinations this should not be a problem. If that is not the case, your pet may be subjected to quarantine time within your home, which isn't so bad either. All adopted pets need to be spayed or neutered before going home with you.
One happy pet owner who took an adopted dog home to Canada wrote on the Saga website, "My six year old daughter and I fell in love with Toby instantly. We talked about getting a beagle for years and here was a sweet one who needed a home. Adoption was remarkably easy. We went to Saga Humane Society and they prepared the rabies and health certificate…I called the airline, made arrangements and we flew home. We're so happy to have Toby…he's simply our baby and a great addition to our family."
If adopting a new pet is not on your travel plans there are other ways you can help. The organization can always use leashes and collars and at the Saga website www.sagahumanesociety.org there is a wish list of items they need, as well as how to sponsor a pet or donate to the organization. If you are here when they are holding one of their delicious and fun "cook-off's" just attending is a great way of supporting them, not to mention the great food and fun folks to socialize with. Saga Humane Society (The Saga Society Foundation Inc) is a USA registered non-profit 501 (c)(3) organization and donations are tax deductible.
If you want to spend some time with some of the most grateful and adoring dogs and cats around, pay a visit to the Saga Humane Society located on Sea Star Street. They are open Tuesday through Friday 9am-noon and 1-5pm and Saturdays 9am – noon. Their phone number is 226-3266 and email is [email protected]. You can also visit their Facebook page and website to see photos of the pets that are available for adoption. But beware…they are all pretty darn cute and you just might find yourself with a new furry addition to the family…nothing wrong with that!