With an invitation to sample one of the island's newest restaurants, three ladies piled into the purple love bug (aka golf cart) and headed out for an evening of delicious cuisine. We had no idea what to expect, other than the promise of a fine dining experience – tablecloth dining at that – the perfect outing for us girls on a Friday night!
Judyann and Tom Horton took their time working on Black Orchid's concept, perfecting the building, its offerings and a menu that will not overwhelm one with choices, but rather, guarantees that any dish ordered will satisfy. With a thatched roof, eclectic décor (there's a faux ruin against one wall, plus a variety of ethnic masks and wood carvings), and even privacy nooks, Black Orchid has much to offer the discerning consumer.
But, as most of our evenings start, we kicked things off with cocktails. Bartender Kenny brings out three signature cocktails for us to sample and decide on. The Black Orchid, named for its visual presentation: a mix of liquors/liqueurs that create an 'orchid' floating in the cocktail. It is not too sweet, but at once creamy and refreshing. The Fire Coral is a pretty blend of strawberry daiquiri and piña colada: fresh macerated strawberries are reduced to a syrupy consistency, and it blends in beautifully with the coconut/pineapple blend. Janelle, our newest reporter declared it her instant favorite. "It's like sipping strawberry jam!" Indeed, each sip brought with it a hit of the fresh strawberries to mix with the creamy colada – super delicious, almost dessert-like. Yummy!
And just when we thought we had found the one, the last cocktail arrives for us to taste and approve: the Key Lime Pie Martini. Yes, a liquid version of the popular dessert is now available! It is gorgeous – with its lime and pie flavors that combine to make you feel as though you were drinking dessert. And we hadn't even started dinner yet!! What a glorious welcome that was – we couldn't wait to see what was on the menu after those testers!
Our server Julie had brought over menus for us to peruse, and with the bacon-wrapped stuffed mushrooms and shrimp dip begging to be picked, we place our appetizer order. We browse the menu further, appreciative of the fact that it is not overwhelming with choices. Immediately calling our name is the lasagna, which promises to be fresh and flavorful. The spicy shrimp looks good too – who can resist spicy seafood?! With the meat-lover's favorite, Ribeye steak with traditional mashed potatoes and vegetables, our dinner order is complete and we sit back to enjoy our appetizers.
The mushrooms arrive first – and we get ready to dig in. Even if you aren't a fan of mushrooms, it's really hard to resist a fresh mushroom stuffed with cream cheese, wrapped with bacon and grilled/seared to a delicious crisp. The bacon adds tons of flavor and the earthy mushrooms are the perfect receptacle for the creamy cheese and bacon fat – what a delicious 'healthy' bite.
The bowl of shrimp dip arrives and we eagerly dig in with the warm, crispy bites of bread. The dip is super creamy and cheesy, with succulent bites of shrimp that positively hop onto the bread. Yum!! Between bites, we discuss what else we could do if we had access to vats of this warm, cheesy dip, and the thought of bathing some fettuccine noodles in this creamy concoction is the winner. But just as it was served, slathered on buttery bites of crisp bread, it is a wonderful way to start our food journey at Black Orchid.
Three main dishes arrive as we're polishing off the appetizers, our taste buds quivering in anticipation of the culinary delights that await us. A beautiful Lasagna Boat, tempting Spicy Shrimp in sweet-hot sauce and two glorious hunks of red meat (Ribeyes) grace our table. Where to begin?
Why with the first bite of course. The lasagna is made with fresh, handmade noodles, layered with cheese, meat and marinara sauce with some vegetables sneakily tucked in to add a variety of flavors. It is not heavy at all, rather, the lasagna is a satisfying testament to each ingredient's flavor and freshness. Even Janelle, little Miss "I hate vegetables" found herself polishing off every bite: "It's so good!!"
By now, you know how we do it, everyone sneaks bites of each other's dish – and next up on my agenda was tackling the very tempting, saucy shrimp. A ring of battered and fried shrimp in a golden sauce surrounds fluffy white rice. The shrimp is crisp and sweet, with a wonderful spicy kick tempered by the rice. Honey and pepper have never tasted so good combined! Whatever the secret ingredient is, the shrimp shows it off magnificently, and it's all I can do to control myself from taking the dish for myself.
But what awaits me? Two beautifully grilled rounds of Ribeye steak, with the classic char marks that just beg you to dig in. Cooked to a medium rare, the steak is perfect for a meat-lover. The marinade has penetrated and each bite is flavorful, but the meat is what shines through – carnivores rejoice! The smashed potatoes and vegetable medley are the right accompaniments to the juicy steaks, letting them shine and offering bites of comfort in between each bite of beef.
We all agree we have made the perfect choices – for that evening – but now our mission is to try the other items on the menu! Our next visit will have to include a taste test of the fettuccine Alfredo, or maybe the teriyaki chicken – there is a variety in flavors waiting to be explored! Judyann has insisted that despite our (very weak) protests, we must try the desserts. The key lime pie martini sounds about right, but we must be good and stick to the actual dessert menu!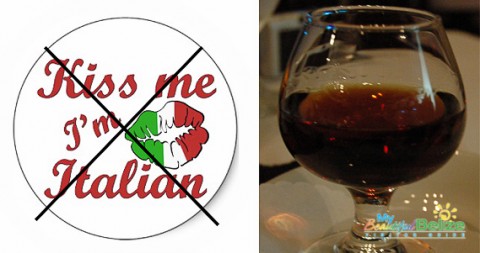 Our dessert orders included raisin rum ice cream, lemon bar pie paired with Gilbert's Tawny Port (aren't I getting all fancy having port with my dessert!) and an Italian Kiss (no, they don't have handsome Italians at the ready to kiss you…I am sure you can put in a request, but it'll cost you!)
The ice cream comes in from Ladyville, and is handmade, creamy goodness! Not overwhelmingly sweet, the cooling ice cream melts pleasantly, and quite 'rummily'. Delicious and actually a light finish to the meal. One could order just a slice of lemon bar pie, but Black Orchid offers dessert pairings, which, frankly, is a most excellent idea! Have a bite of super delicious, sweet-tart pie and sip some warm port. It is such a good combination, I believe port is going to be a fixture in my life (with or without dessert).
Tamara's Italian Kiss is, alas, not the handsome Italian I envisioned, but rather, a liquid dessert. How would she have ever explained a kissing Italian anyway? It was far less complicated really, to have a Courvoisier with a bit of Chambord –quite potent and warming.
Black Orchid made for super happy bellies all around, and with eyelids drooping, we had to figure out how to make it back home without falling asleep halfway home. Such delicious food, good drinks and fun company are the perfect ingredients for a long, delicious nap afterward! With dreams of coming back to try the other items on the menu, and perhaps revisit a few of our favorites, we make our way to the cart and drive home, happy, satisfied customers.
Black Orchid Restaurant is open Tuesdays through Saturdays, from 9am till 9pm, and on Sangria Sundays, from 9am – 2pm. Can you imagine a sunny Sunday spent out on their patio, sipping sangria and digging into a Seafood or Chili Omelet? Even a quick lunch stop will have your taste buds singing, so the next time you take a leisurely drive down south, past the croc/WASA pond, be sure to stop in at Black Orchid – you will love it! Call for reservations at 206-2441.