Belize, the only English Speaking country in Central America, provides the perfect vacation destination for English speaking tourists. Bordered to the north by Mexico, south and west by Guatemala, most residents of Belize are bi-lingual, encouraging a broader spectrum of visitors. With its melting pot of cultures and customs, towering Mayan Mountains, ancient Mayan Structures and endless cavern systems, Belize offers a truly unforgettable experience.
Ambergris Caye, the country's largest island is one of Belize's premiere tourist destinations. With the world's second largest Coral Reef running parallel to its shores a mere two miles out, Ambergris Caye offers diving and snorkeling experiences second to none. Even with the inevitable growth, residents of San Pedro, Ambergris Caye have managed to retain their warmth and keen sense of hospitality, which keeps visitors coming back.
When on Ambergris Caye, the choices for accommodations, food and things to do are endless. Royal Caribbean Resort, located along a palm-studded stretch of beach just 2 miles south of the centrally populated section of the town, prides itself in providing guests with a unique unconventional destination, an atmosphere of tropical simplicity.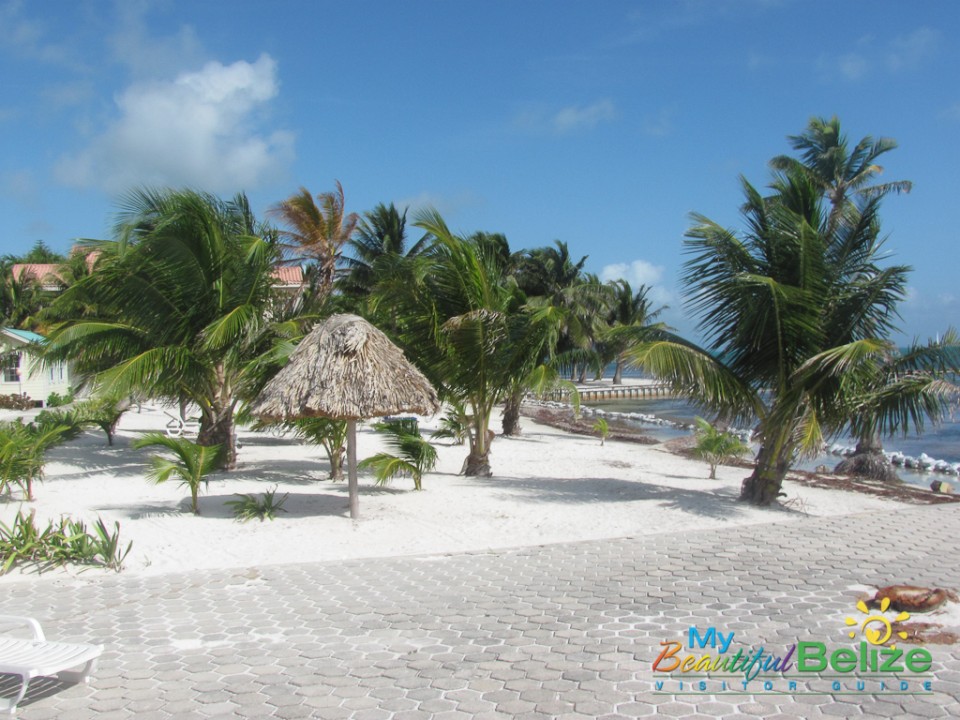 The location of this little piece of paradise is ideal for lovers or individuals simply trying to get away from the hustle of every day life. It is far enough to provide a feel of tranquility, but close enough for individuals wishing to enjoy the hype nightlife of the island to simply hop in a cab and be off to explore.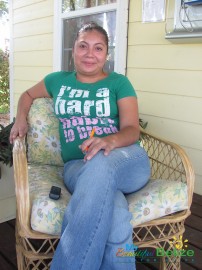 Getting to Royal Caribbean is a breeze. From either the airstrip or water taxi terminals, hop in a cab and in less than 10 minutes you are at your destination. Arriving at Royal Caribbean you are greeted by a smiling Almi Zul who happily checks you in and give you a short tour of the facilities.
40 individually placed casitas, fully furnished as cottages provide utmost privacy and quiet. Each unit is complete with a living room with cable TV, adjoining kitchenette complete with Microwave, Mini Refrigerator and Coffee Maker; and bathroom. Air conditioning and quiet ceiling fans complete each cottage. The cottages are designed to accommodate 2 and 3 individuals comfortably. One style contains a queen sized bed as well as a twin, while a second style contains only a queen sized bed.
You have a choice from one of three views: the swimming pool view, garden view or beach view. Royal Caribbean Resort boasts what could possibly be the largest fresh water swimming pool on the island. Located right off the sandy beach, this poolside area has ample space and is ideal for friends or vacationers to enjoy a day in the sun while taking refreshing dips.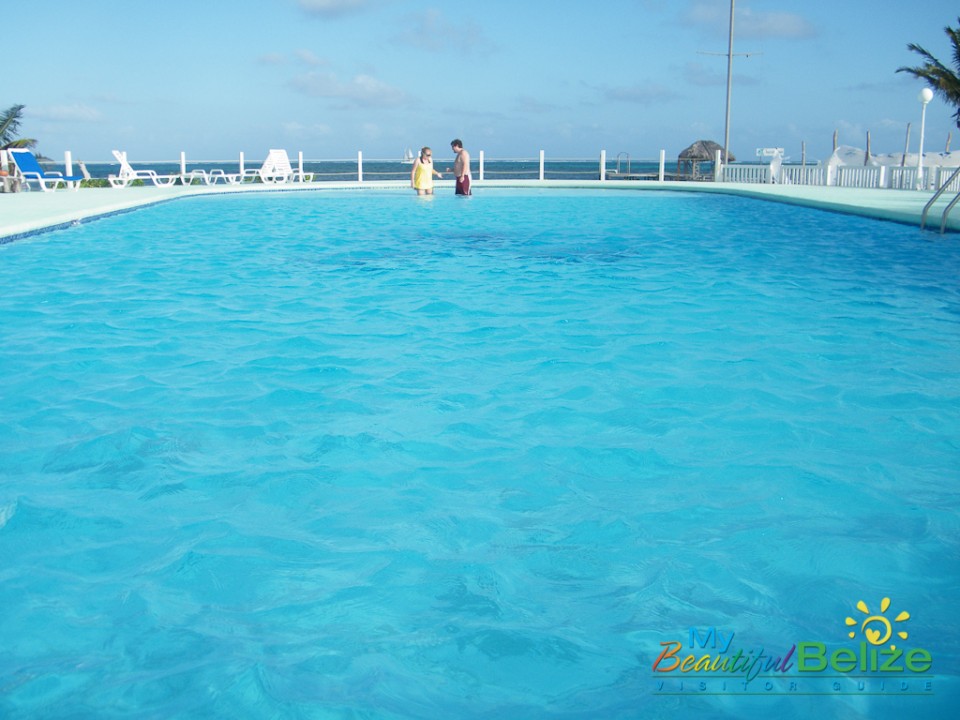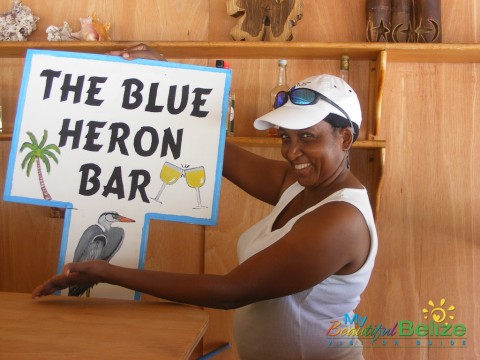 The very quaint Blue Heron Bar adjoining the swimming pool is a main attraction at Royal Caribbean, with bartender "Belize's Wanda Sykes"; as she has been dubbed by visitors and locals alike; serving up just about whatever drink you can think of. Located under a Palapa, this little bar provides shade as well as a constant blowing breeze, as you sip on your favorite cocktail and listen to soothing Caribbean music.
Royal Caribbean's location south of the island provides guests with views of colorful sunrises and breathtaking sunsets. With free Wi-Fi connection available inside or outside the office, visitors can keep in touch with friends and family back home, or simply update their Face book.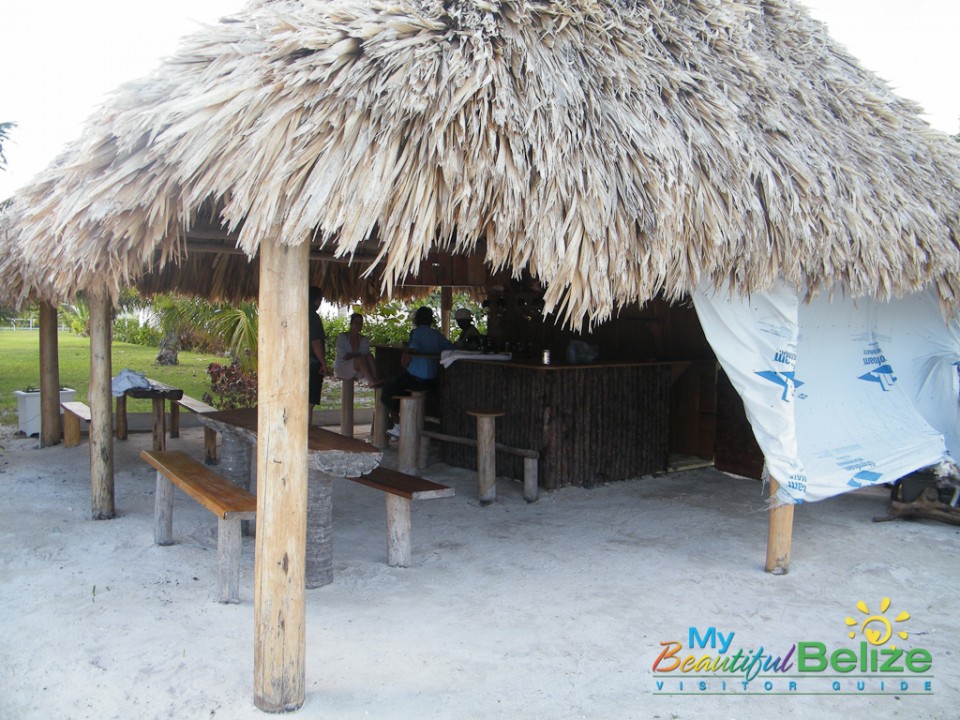 For visitors wishing to venture outside the grounds and explore the many fun filled attractions and activities available, a short visit to the office will afford guests a huge choice of activities that are easily accessible with the starting point at the end of the dock.
The friendly staff at Royal Caribbean is more than happy to arrange your entire travel experience.
From the exquisite underwater world that exists just a couple miles away to the monumental mountains and waterfalls, the staff at Royal Caribbean got it covered. Choose from snorkeling one of our two main snorkeling attractions off the Coral Reef. Turquoise water offers high visibility to view fantastic coral formations, huge sponges, schools of all varieties of tropical fish in every color, lobster, sea turtles, stingrays and nurse sharks.
A dive at one of the many diving excursions around the island or to the Atolls gives visitors a chance to not only view these under water wanders, but become immersed in it. Other activities that may be arranged through the office at Royal Caribbean Resort include Snuba, trips to the untouched rainforest of Belize's mainland to view beautiful temple systems of the ancient Mayan, Cave Tubing and Zip lining among others.
Royal Caribbean offers seasonal specials as well as specials for Belizean Citizens wishing to vacation in San Pedro and prides itself in being one of the few resorts on the island that offers all its amenities at very reasonable prices. For more information on how to book at Royal Caribbean Resort visit their website http://www.royalcaribbeanbelize.com, send an email to [email protected]; in the United States call or fax (888)400-3515 or in Belize call, 226-4220.