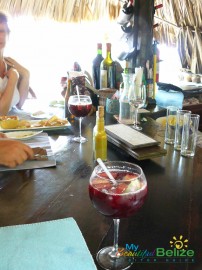 Tucked away in an oasis of foliage, Aji is a wonderful surprise. This intimate tapas bar offers delicious Spanish treats and refreshing drinks. With Spanish chef Hugo Meyer commanding the kitchen, one is guaranteed that something yummy will be brought to the table. Washed down with either red or white wine sangria, there is nothing better than a few hours in the Buena Vista area indulging oneself at Aji.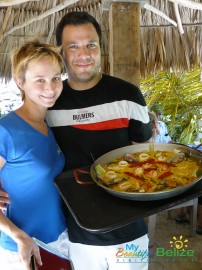 Our afternoon lunch at Aji began with a quick boat ride from town on the Coastal Xpress. After alighting at the dock, heading to the beach, a sign indicates we are in the right area. As we get closer, we see organic décor, using live trees, local beach-worn rock, and shells, all combined to create a wonderfully inviting entry to the restaurant. A short winding path leads us to the thatched palapa where we meet the lovely Victoria Wolski, one of the owners of the restaurant.
We are given a quick tour of the place, and we note that while there is limited seating, the place has been designed to give intimacy, privacy and space to diners, while still maintaining the fresh open-air feel. At night, sitting under twinkling lights strung above makes for a magical dining experience too. Our lunch plans included appetizers and a main dish to share. But if we're doing Tapas, it's best to start with sangrias, no?
Bartender Javier quickly prepares two sangrias, one red and one white, and we sip on the potent drinks while Chefs Hugo, Mario and Miguela work on our surprise appetizers. We are seated on the beachfront area of the restaurant, yet we feel as though we are in our own private oasis, surrounded by native trees and shrubs that give us natural coverage. Pretty soon, we see our dishes coming, and what delights they contained.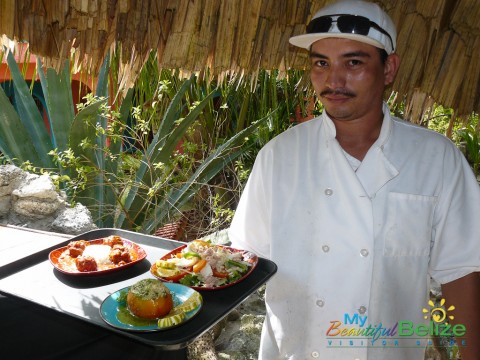 The first dish is Gambas al Ajillo – succulent shrimp have been simmered in olive oil, lots of garlic and chili peppers. Served with crunchy, toasted homemade bread, the Gambas are perfect to start off a meal. The tasty/spicy olive oil is perfect for dipping the toast in, and the soft, pungent garlic adds extra pizzazz with every bite. All too soon, we're done with the flavorful first tasting of Aji's offerings, but next up is the Tomate Relleno.
A large tomato is stuffed with rice, fresh veggies, tofu (something I've never tried before), then it's baked and drizzled with pesto. The Tomate Relleno is perfect for veggie lovers; it is bright, fresh and tasty. What a delightful appetizer to tease the taste buds! We're eager to enjoy more of the delights from Aji's kitchen, and we're very happy when Hugo brings out the seafood Paella! Yum!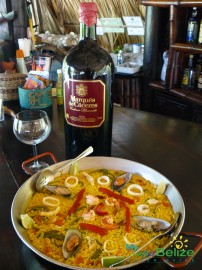 Paella is a traditional Spanish dish that starts off with rice, water and saffron, and as the rice simmers and cooks over low heat as vegetables, meats and seafood are added. The chefs have taken their time to prepare the dish, and we're greeted with shrimp, squid, conch and mussels, bright veggies on a bed of gorgeous saffron rice. With ginger-habanero sauce to add some spice to the dish, we indulge in bite after bite of delicious paella.
We don't think we have enough room, but when desserts come around, we suddenly find that space! Deliciously sweet-tart Key Lime Pie and rum-licious flan make our taste buds happy, the perfect indulgent ending to lunch. After, we sip some mojitos as we wait for our boat to take us home, and Victoria sits to chat with us for a bit.
Chef Hugo is originally from Spain, where he had a restaurant in Alicante, named Carpe Diem. With his experience in providing delightful dishes for discerning clients, it is natural he'd be at the helm of Aji as well. Victoria and Hugo met in Spain in 2006, and since Victoria traveled to Ambergris Caye for much of her life, it was only natural that Hugo visit as well. Pretty soon, the concept of Aji came about – the availability of fresh, familiar ingredients made the Spanish (Tapas) cuisine a natural choice. After opening in November of 2008, with only four tables, Aji has carried on the tradition of delicious food in an intimate setting. Seating is still limited, so reservations are highly recommended, especially for dinner (226-4047).
There are different specials on offer every day and a delicious Sunday brunch every week, with Eggs Benedict, Shrimp and Polenta, Frittatas, Continental breakfasts and even fruit and yogurts for the health-conscious. Of course, you don't want to miss their daily happy hour, from 1pm to 4pm. Select tapas are ½ off, plus beers are $4, wines are $10, and rums are $5. Aji's menu is extensive, with such items as Fritas del Mar, Ceviche, Artichoke Dip, Calamares a la Andaluza, Albondigas (yummy meatballs) plus salads like El Meyer (named after Chef and part-owner Hugo). There is heartier fare such as The Mediterranean Sandwich, Pesca y Papas (Fish and Fries) and more. Whatever your tastes, there is something for you at Aji, located at Buena Vista, nestled between Grand Caribe and Oceanside.