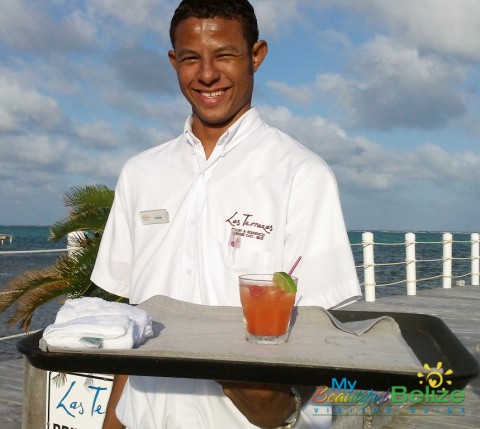 Las Terrazas Resort, located just a couple miles north of San Pedro Town, has accomplished a level of distinction that sets them apart from any other. With the perfect synergy of villa-style design, tropical landscaping, gorgeous infinity pool, and genial staff, Las Terrazas embraces the very essence of Caribbean charm. From the beginning of your stay when you are welcomed on their expansive dock, to the end when you sadly board the boat back to the airport, your island vacation at Las Terrazas is certain to go above and beyond your greatest expectations. My Beautiful Belize were invited guests at this luxury resort a few weeks ago and our visit has left us proclaiming enthusiastic praise and a burning desire to return again soon!
Upon arrival, via their transport boat, we are greeted by a smiling Ashner who offers us damp hand-towels for refreshing ourselves and a cool rum punch cocktail. Resort assistant manager Ovel Leonardo is also there to greet us and after a beaming Manuel receives us at the front desk we are escorted to our two-bedroom townhome to settle in. Our condo is beautifully appointed with an ample living room complete with a large, flat-screen TV and the kitchen that is a chef's dream-come-true. With hardwood cabinets, stainless steel appliances, granite countertops and fully stocked with dinnerware and cooking utensils your culinary options are endless. The cozy dining area off the kitchen seats six people and a large, spacious bathroom completes the main floor. On the second floor, the generous master bedroom opens out to an expansive walk-out balcony overlooking the beach and the nearby Barrier Reef. It is furnished for comfort with reclining patio chairs, end tables, and a covered semi-circle wicker daybed for lounging, perfect for the ultimate in relaxing. The master bath is an oasis in itself, hosting a large Jacuzzi tub as well as a spacious shower, private toilet room, and a sink area below a large window overlooking the Caribbean. The second bedroom has a pleasant private balcony that overlooks the pool and it too has a private bathroom.
Ovel treats us to a tour of the property where we have the opportunity to look at some of the other one, two, and three-bedroom accommodations. There are a total of 38 rentable units on the property with ten still available for sale. Each impressive unit maintains the same style and the penthouses have balconies that not only view the ocean but have hot tubs and plunge pools. All the units are decorated with deep colored hardwood furniture highlighted with warm tropical hues and each room invites comfort with uncomplicated style. From the bath to the balcony to the bedroom, you are tempted to immerse yourself in the quiet ambiance for hours on end. Of course, all units are air-conditioned and offer unlimited high-speed internet along with many other amenities.
Within the embrace of the surrounding villas, the infinity pool sits as the centerpiece, and intimate covered dining areas border the pool. This thoughtful layout, along with the super friendly and outgoing staff successfully creates a sense of community that you are instantly a part of. In no time you are relaxed and ready to fully enjoy your vacation experience. Of course, another vital part of one's holiday is cocktails and good eats, and "O" Restaurant, with its full bar, completes the Las Terrazas experience.
The Chef in charge of this exceptional restaurant is Jose Lemus and his team members are Nolvin Catalan and 2009 Taste of Belize winner Victor Nal. As a team they create Central American cuisine with a Caribbean flair, crafting the freshest local ingredients into culinary masterpieces. The restaurant has a fun and inviting marine décor and guests can dine inside or by poolside. The dinner menu offers tasty starters like corn tortilla and chicken soup and orange chipotle shrimp and entrees include gourmet pizzas, calzones, pueblo-style grilled chicken, oven-baked grouper, and fresh pasta dishes to name a few. They also offer a full breakfast and lunch menu, with something for everyone's taste. Bartenders Ronnie and Nigel and skilled mix-masters, and the cocktail menu offer a variety of favorites as well as creative new concoctions.
Our poolside candle-light dinner started with a creamy scallop soup that was subtly sweet and delicious. Our waiter Elder took great care of us and we were delighted when the main course of coconut ginger snapper with Creole shrimp, stir-fried veggies, and dual potatoes, (mashed and an amazing potato pastry puff) were served. The gourmet meal was followed by a decadent coconut breaded pineapple topped with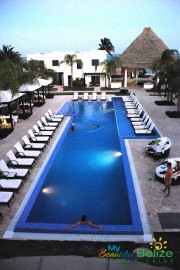 coconut ice cream and toasted shredded coconut. Every bite of our meal was an incredible taste sensation and one we will not easily forget.
When the fine qualities of divine food, exceptional beach-front accommodations, delicious pool, landscaped grounds, personable staff, and other amenities such as a spa, nearby dive shop, and endless land and water activities are combined the end result is a whole Las Terrazas personality that is easy to love. It is no surprise that the resort earned the Tripadvisor Travelers' Choice 2011 award and is rated one of the top 10 luxury hotels in Central and South America. If you are ready for an amazing island retreat there is no place better than the Las Terrazas Resort.
For more information please visit their website at www.lasterrazasbelize.com.