For those of us that call Ambergris Caye our home or vacation destination we know that we have the biggest play ground ever: the Caribbean Sea! With such an amazing place to play, we need some pretty amazing toys right? Well BIGSUP Belize is proving us with an activity that really should be on your to-do list: STAND-UP PADDLE BOARDING! Can I just be a typical girl and say my first thought was I'd be able to rock a cute bikini learning to paddle board? Yes? Thank you…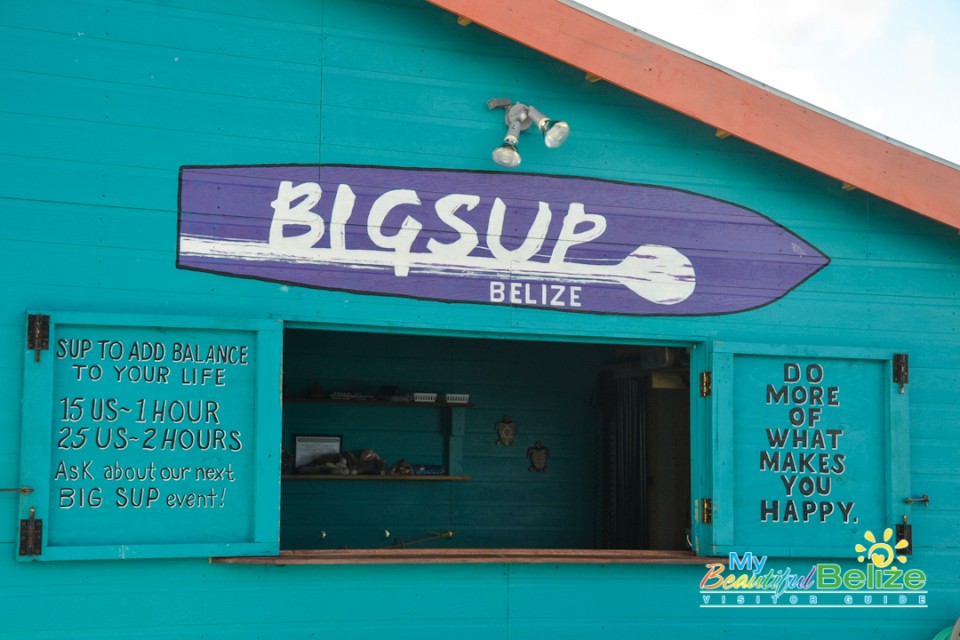 BIGSUP Belize is one of the newer businesses offering recreational activities in San Pedro, and boy did they hit the mark with the paddle boards!! Paddle boarding is a fun and relaxing way to enjoy the crystal clear waters of Belize. You don't even need much training to get on a board and paddle to the reef, but as newbies, of course I didn't do that!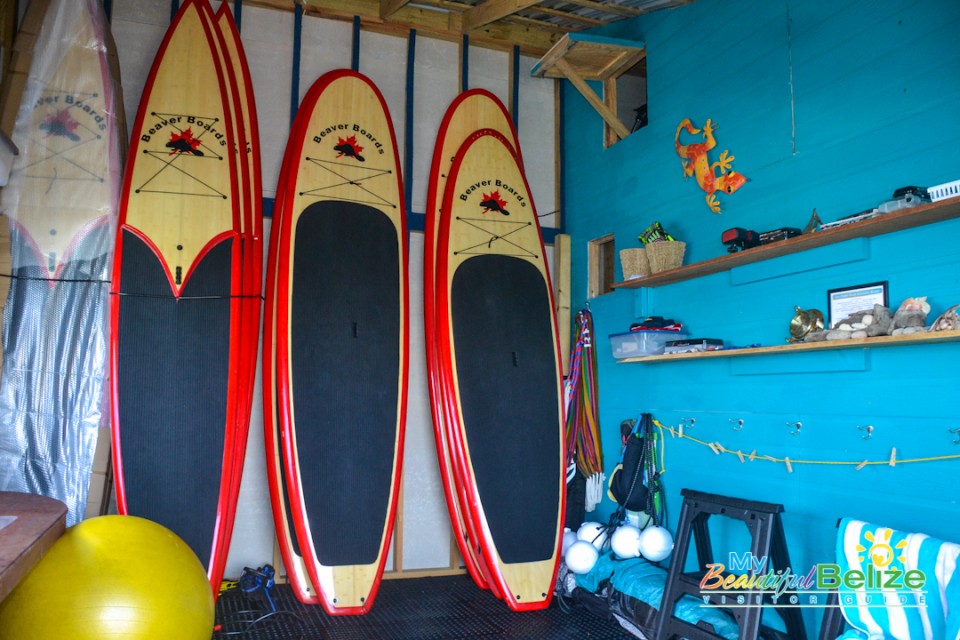 Desperately needing some vitamin SEA, Tamara and I decide to take on the challenge and see how far out we can paddle board. After we got our toes wet, we were introduced us to the variety of boards by Derek, owner of BIGSUP. (This next part will be a play on the beloved Goldilocks and the three bear 😉 We were like Goldilocks deciding which to pick) there's the 12'6" "Who's your daddy" board designed more like a racing board for touring in wind, choppy seas and going extremely fast: definitely not for us! Next up is the 10'6" "Bandit", which is a standard paddle board that can be used in all water conditions: but not for us either! Finally, there is the 11'6" "Sea2sky cruiser", a multi-task paddle board that offers length and stability that is perfect for beginners: and we have a winner!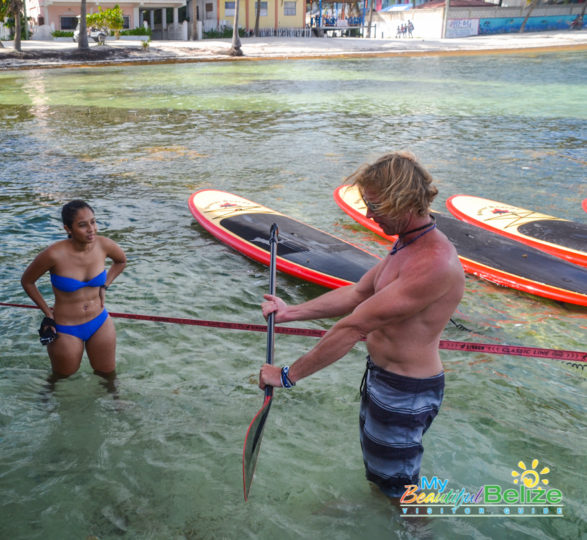 With our boards ready to go, Derek hands us paddles, and shows us the basic paddling techniques, then we are ready to go. We get in and find that it is quite easy, and unexpectedly, standing up on the board isn't that difficult. I mean, Tamara and I were up and standing in the blink of an eye…- well, sorta. It's truly an amazing experience, just cruising with the shining sun above us and the crystal clear (all colors of blue) water below us. For those with a bit more experience, it is only half a mile to the reef! I was already thinking of my next attempt.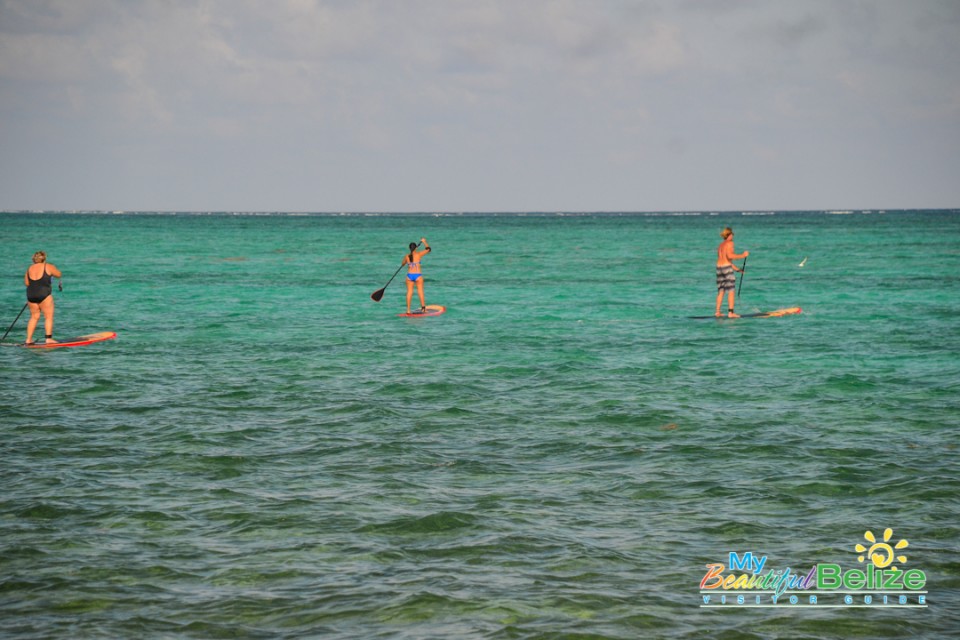 For the fitness minded, paddle boarding serves as a full body work out. Imagine that- you not only get to show off that beach body of yours, but you also get to work it out! Talk about a win-win situation!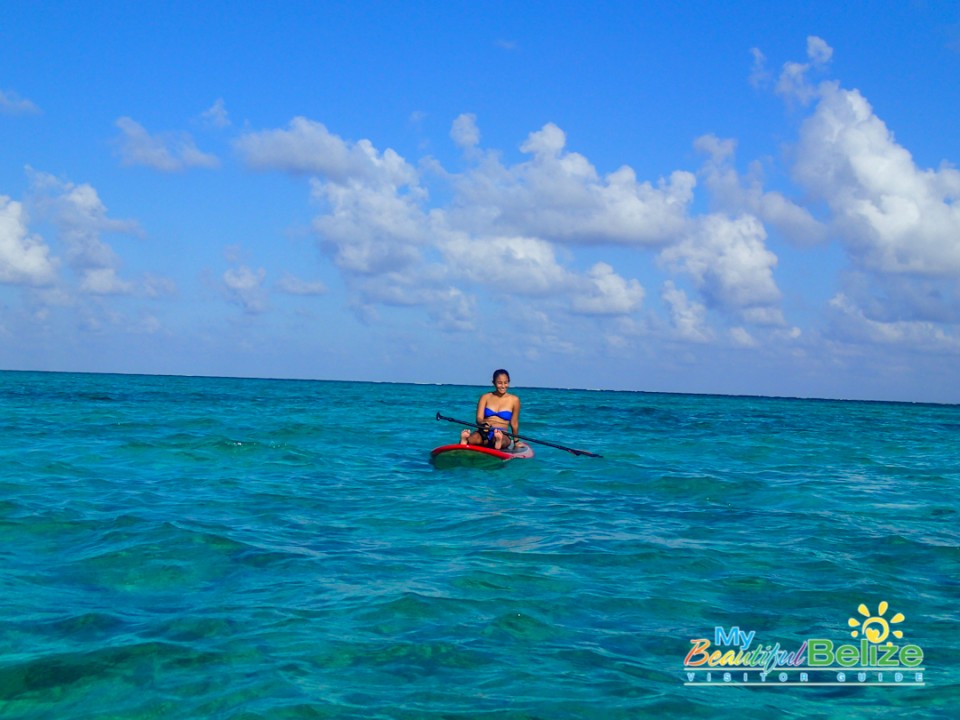 To try paddle boarding for yourself, visit BIG SUP located on the Chuck and Robbies' dock on Boca del Rio Drive. Or call 602-4447/605-8385, or email [email protected]/[email protected]. Visit their website at www.bigsupbelize.com for more information on prices and opening hours.