The common ingredient of coconut in Indonesian cooking makes Indonesian food very palatable to Belizean palates, though Indonesia is halfway around the world, requiring 30 hours of air travel to get there.
Belize and Indonesia established diplomatic relations in 2014, and Ministry of Foreign Affairs collaborated in Indonesia's initiative to bring the taste of Indonesian cuisine to Belize, by hosting an Indonesian Food Festival at the Samuel Haynes Institute on Mahogany Street in Belize City last Saturday.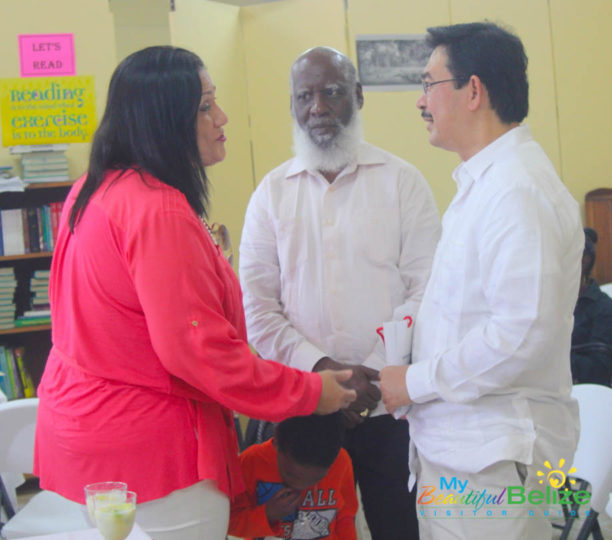 Indonesia's Ambassador to Belize The common ingredient of coconut in Indonesian cooking makes Indonesian food very palatable to Belizean palates explained that his country is an archipelago of 17,000 islands, with 262 Million people of 800 different ethnic groups! A chef from the Indonesian Embassy in Mexico City had accompanied the Ambassador, and he taught a sampling of Indonesian recipes to the Belizean cooks at the Samuel Haynes Institute.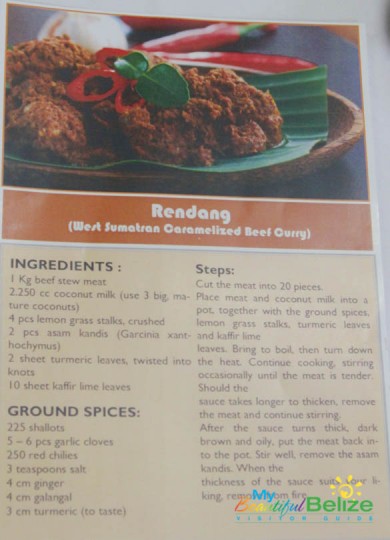 The chefs prepared "Rendang", a caramelized beef curry from West Sumatra. Start with 2 liters of coconut milk, the recipe recommends using 3 large coconuts. Add a kilo (two and a quarter pounds) of stewed beef, along with 4 lemon grass stalks, 2 sheets of turmeric leaves and 10 kaffir lime leaves. To this mixture add shallots (young spring onions), 5-6 'teeth' of garlic, 250 red chilies, grate in a thumb-sized piece of ginger, and some turmeric powder to taste. Cook until the meat is tender, then remove the meat and simmer to allow the broth to thicken to your liking. Serve!
Their "Urap" is a steamed shredded vegetable salad, which again contains shredded or grated fresh coconut. Other ingredients are bean spouts, carrots, cabbage, green string beans cut into one inch sections. The vegetables are steamed for a few minutes and then mixed with a spic paste made from garlic, red chillies, and inch of kencur and 2 ounces of sugar, 4 lime leaves finely shredded and salt to taste. The cooked vegetables are cooled and then mixed with the grated coconut and spices.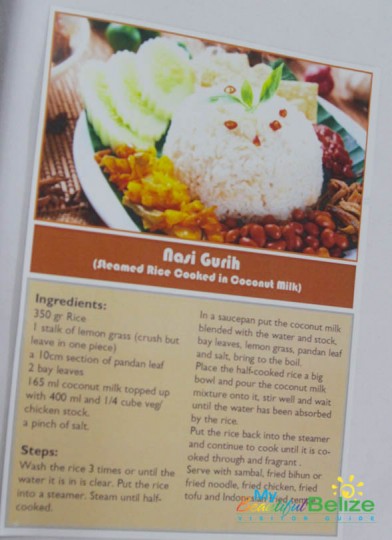 "Nasi gurih" is Indonesian for steamed white rice, cooked with coconut milk, tastes just like it never left Belize! It is the perfect accompaniment for "Sate Lilit Ayam", which is shredded or mashed chicken mixed into a paste with grated coconut and spices, and molded into a sort of sausage on bamboo skewers, which are then grilled. Delicious!
For dessert, there's "Es Teler" which is a cool fruit drink made from young coconut and ripe avocado, and condensed milk. Nothing alien here, just a unique, unfamiliar but tasty way of mixing the flavours of fruit, to which we are well accustomed.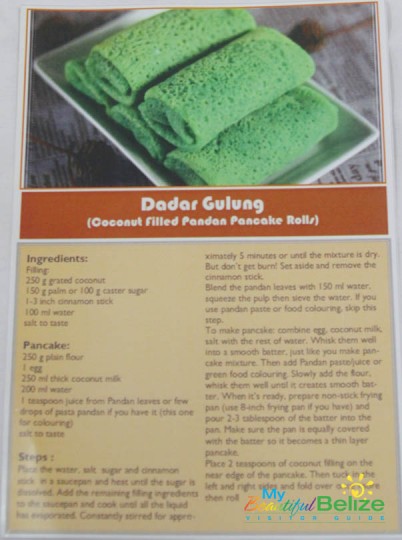 Another delicious dessert is "Dadar Gulang", a pastry made from flour pancakes colored green with the juice of pandan leaves (green food coloring makes an adequate substitute). The sweet coconut filling is made of grated coconuts, flavored with cinnamon and sweetened with sugar, very similar to our coconut tart filling. Two teaspoons are placed in each green pancake which are then folded and rolled into a green bar. All different to Belize, but yet somehow familiar.