Across the globe, there are non-profit organizations that are dedicated to conservation. Powered by selfless individuals who are dedicated to the cause nearest and dearest to their hearts, there are shining stars within the constellation of people who work hard to make a difference in this troubled world. Be it the preservation of endangered flora and fauna, to keeping native languages, cultures, music and the arts alive, each person is an essential cog in the wheel of conservation. Belize is blessed with many such organizations, and although it takes a collective group to accomplish the many challenges before them, often there are those who inspire others to share the same commitment. In this monthly series, we spotlight one of these outstanding individuals.
For as long as he can remember, birding extraordinaire and champion for the protection of Scarlet Macaws in the Chiquibul Forest of Belize, Roni Martinez has always had a connection with nature. But his passion went further than just appreciating the beauty of his wild environment, he wanted to know what made it tick. "I wanted to understand why certain plants only grew in one type of soil or why this bird only lives in this one type of habitat…it sparked a deeper interest in understanding nature, rather than just admiring it," Roni recalls.
Born in Orange Walk Town, Roni grew up between Belmopan and Benque Viejo. In 2004 this passion led him to work as a natural history guide at Francis Ford Coppola's Blancaneaux Lodge in the Mountain Pine Ridge area of the Cayo District. Originally honing a special interest in botany, especially orchids, Roni's world was rocked one day when he had the rare privilege of spotting a Harpy Eagle. It was an aha moment for Roni, and he jokes, "That darn Harpy…life hasn't been the same ever since! Seeing a Harpy in the wild just made me re-think what I admired more. Plants or Birds. At that time, I had not met many botanists, but I did get to know many birders, and that shifted my interest."
In 2008 Roni not only became a certified Tour Guide but gained a deeper knowledge of birds through an Audubon Advanced Bird Ecology course in Massachusetts, USA. By 2009, Roni became Blancaneaux's first Conservation Officer, a first for Belize! His position allowed him to work along with many different researchers and conservation NGOs who shared his passion for birds, wildlife, fauna, and conservation. Over the years, he volunteered in research and conservation projects involving rare species such as Orange-breasted Falcons with The Peregrine Fund, Solitary Eagles and Stygian Owls with the Belize Raptor Research Institute and Scarlet Macaws.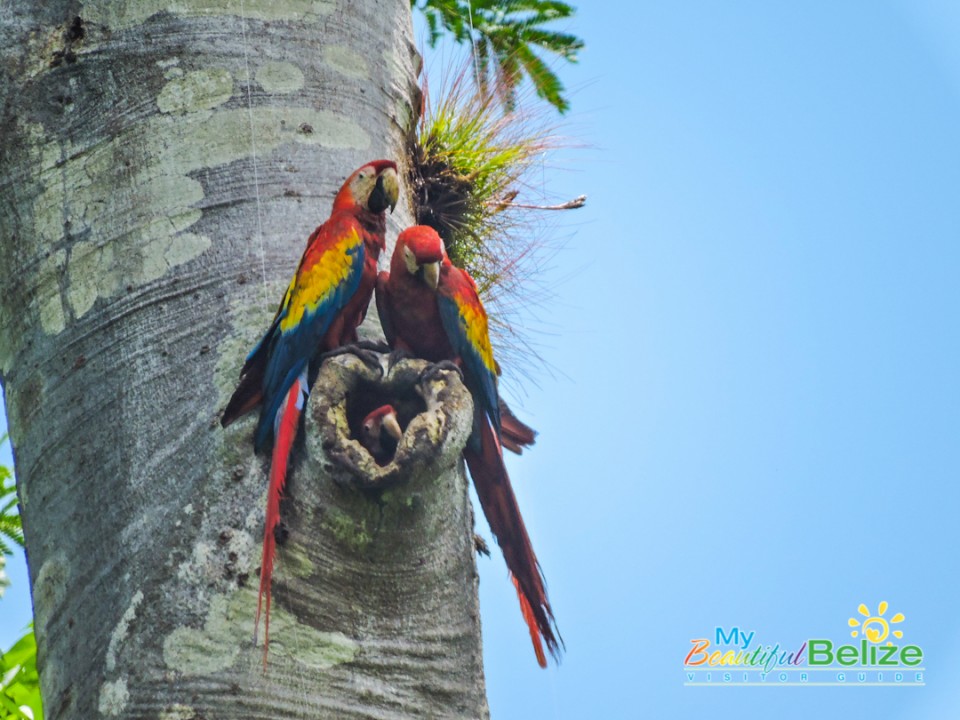 While monitoring Scarlet Macaws in the Chiquibul Forest, and discovering that almost 90% of the parrots were being poached, Roni along with Charles Britt founded the Scarlet Six Biomonitoring Team. Over the years the non-profit program (NGO), which collaborates with Friends for Conservation and Development, has experienced great success in reducing illegal poaching. The Scarlet Six Biomonitoring Team has evolved into the Belize Bird Conservancy and now works with many other NGOs around Belize, not only helping to protect Scarlet Macaws but also Raptors and Yellow-headed Parrots. Roni reflects there have been many challenges and rewards, but perhaps the best reward is inspiring young Belizeans to understand why they need to act now to protect some of their own birds. "When I see them really grasp the idea and start working towards it by spreading the word… to me, that is priceless," he says.
For the last twelve years, Roni has exclusively made his living from birding. He served as the Belize Raptor Research Institute President from 2010-2016, and his work with other conservation organizations has been crucial in maintaining a proactive effort in conserving biodiversity in Belize. He currently works with the Belize Audubon Society and assists with Bird Tourism and Terrestrial Technician in what he calls "all things bird." As a Bird Guide, Birding Consultant and Bird Guide Trainer, he doesn't prefer one over the other. "I like them all and I put each of them in their proportional place through the year. I get to do all of them, just at different points of the year."
Does he feel he is making a difference when it comes to rising conservation and preservation awareness we ask? "Yes. Because I can teach people how they can make money in their backyard while living in perfect harmony with nature. It would be great to get more women in Belize involved in Birds and Birding as it can be an amazing career. The beauty in Birding is that it's not extractive, so it's not depleted, you can make money forever from this, but because you need the habitat for this to continue, you also must advocate for habitat preservation," he responds.
Roni feels fortunate to have had many mentors through his birding career, including Lee Jones and Philip Balderamos in recent years, and in turn, he has become a mentor as well. His contagious passion has inspired countless Belizeans like Jonathan Urbina who have had the opportunity to work with him. "I first met Roni when working on the Peregrine Fund Orange-Breasted Falcon Project years ago. Roni pushed me to get my Tour Guide license, something I was reluctant to do. I got amazing training in Nicaragua thanks to him, and he believes in my skills; he thinks I am one of the best bird guides around hence his reason for hiring me when he has bigger birding tours," reflects Jonathan. "We both want to promote Belize as a Birding destination, he has excelled at it and he has asked me to be a part of it."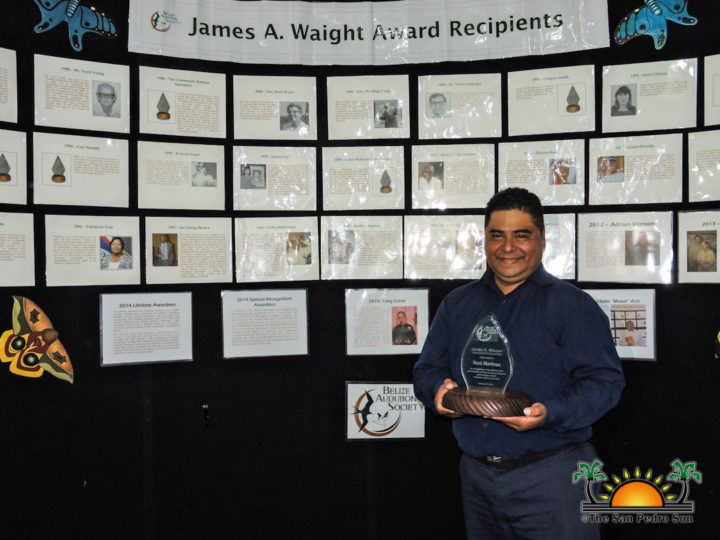 On February 16, 2018, the Belize Audubon Society awarded Roni with the prestigious James A. Waight  Conservation Award. Considered the greatest conservation honor in the country, Roni says that the recognition just makes him want to work even harder. "I have really big shoes to fill now," he excitedly commented after receiving the award.
When Roni isn't wearing one of his many feathered-capped jobs in the Belize Birding industry he lives in the tranquil village of San Antonio at the foothills of the Maya Mountains with his lovely wife Stephanie and their son Aleem.
To learn more about the Belize Bird Conservancy and how to contact Roni please visit www.belizebirdconservancy.org.