In its previous incarnation, Casa Picasso was known for its funky, artsy vibe and delicious nibbles. After a far-too-long hiatus, The San Pedro Sun is happy to report that Casa Picasso is back. If possible, the vibe is even more delightful. The walls are splashed with colorful artwork ranging from eclectic to classic which, along with cozy, intimate seating, allows you to enjoy truly amazing meals. New owners Adam and Jacqueline Feldman have breathed new life into the highly lauded restaurant. With the addition of an enthusiastic and talented chef, Tien Vo, plus a newly refreshed outdoor patio and revamped menu of cocktails and meals, Casa Picasso is set to shine artfully.
Upon the invitation of the Feldmans, The San Pedro Sun staff happily headed on over to enjoy what everyone else has been talking about. Twinkling lights lit the side patio by the entrance. Tall stools and tables provide outdoor seating to enjoy nibbles and pretty drinks under the night sky. As the heavens had been threatening to pour intermittently, we wisely chose to dine at the banquette in the gorgeous dining room. Our first stop before sitting is of course at the bar located at the entrance of the restaurant. There we meet people enjoying any of the various martinis that have swiftly become crowd favorites. For some, having a few small tapas along with delicious martinis or other mixed drinks is the way to go, seated at the bar taking in the delightful ambiance of Casa Picasso.
Our martinis included the tangy and refreshing Limeade, Espresso, Dirty Banana and Watermelon. Each drink was delicious – and potent – wow! We were off to a great start already! Jackie and Adam had prepared a variety of eats for us, so while we sipped and relaxed, servers brought out a selection of small plates laden with delicious spring rolls, Savin Rock lobster sliders, chicken satay with a delicious coconut-peanut dipping sauce, roasted button mushrooms with goat cheese and chili oil, plus Gambas a La Plancha (shrimp).
The Vietnamese spring rolls, made with super fresh, crunchy vegetables and seasoned pork strips are dipped in a divine Sesame-Hoisin sauce. For the non-carnivore, there was a vegetarian option as well. The chicken satay certainly lived up to its name (it's one of the most popular tapas) – especially dipped in the peanut and coconut sauce. Yummy! The mushrooms sautéed in chili oil had a pleasant earthy flavor that was tempered with the creamy goat cheese. Spicy succulent shrimp were deliciously seasoned and served grilled (a la plancha). But the unanimous favorite was the Savin Rock lobster sliders. Each bite was an explosion of buttery taste – the lobster was perfectly cooked, served between two slices of super buttery toasted buns, it was heaven to bite into them. (We recommend heading on over and get some of these before lobster season ends mid February!) Washed down with the refreshing martinis that magically showed up at our table (wink!), our first foray into the delights of Casa Picasso's kitchen certainly primed us for the main course. We could not wait!
Chef Tien Vo, who was born in Vietnam and raised in the USA, has been cooking for about 14 years, but considers himself a pro for only eight. He spoke to us at length about his experience in the kitchen with his mother and aunt, who ran a fish and chip place in Virginia upon arriving in the US. From making coleslaw, cooking the potatoes and cleaning the fish, Chef Vo worked from age 10 onward  honing his craft and learning from the best teachers. He then went on to the Marines for four years, where he worked in the kitchen as well, and from then, it was off to Culinary School. His life has been about cooking, and he has found adapting to different kitchens exciting. His use of spices, and keeping ingredients as local as can be, certainly shines through with the finished dishes. Lucky for us, Chef Vo has found Belize homey, saying that it reminds him of Vietnam. His adaptation of the ingredients available to the Belizean chef means items such as the Fish and Bell Pepper Trio served alongside a creamy lobster risotto.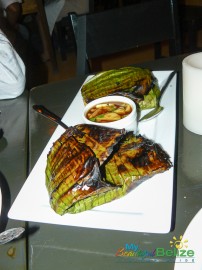 The filet of fresh fish is layered over a trio of red, yellow and green peppers and corn, then wrapped in banana leaves. The bundle is baked and steamed to flaky perfection, served with a sweet tamarind sauce. The fish is light, the perfect accompaniment to the creamy risotto. Delicious chunks of lobster have been mixed into the sticky, flavorful Arborio rice, creating decadent bites.
Following up this delicious duo was the Malaysian pork ribs with sticky rice. Gorgeous hunks of ribs have been cooked to fall-off-the-bone perfection, seasoned with indescribably complex flavors that make each bite even more delicious than the previous. The sticky rice adds a layer of comfort to the plate, and we're all soon reduced to monosyllables of "Mm". What delights indeed! Casa Picasso is certainly back. There are definite changes, but oh, for the better indeed!
With full, pleasantly sated tummies, we sit back and slowly sip on our martinis. The Espresso is a rich, decadent coffee-like drink that really is not your average morning coffee – it is sooo much better than that. It is delicious, almost dessert-like. Everyone has agreed on the Espresso as a favorite, and we're all happily imbibing when dessert appears.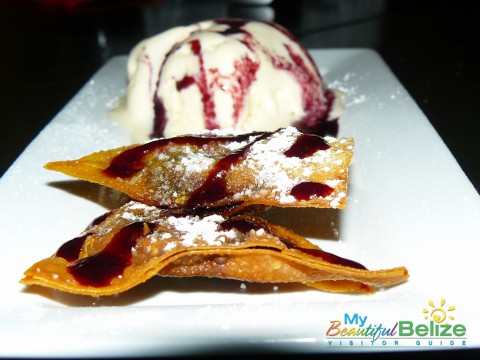 Casa Picasso is serving chocolate filled wontons that have been deep fried and dusted with confectioners sugar, served with a heaping scoop of vanilla ice cream. The heat of the wontons softens the ice cream so that you're scooping up lovely warm bites of wonton and cool ice cream. The wontons are dangerously addictive, and we could quite happily keep eating them, but to our surprise, we're presented with more ice cream flavors. It turns out the kitchen has employed a wonderfully talented young lady whose passion includes making homemade ice cream.
The big surprise is the coconut. Talk about decadent and truly going local. The creamy dessert is flecked throughout with fat flakes of coconut, making for a very delightful treat. Chocolate and Vanilla ice cream is so not mainstream when it's coming out from the kitchen freshly made! We can hardly scoop up the cool creamy dessert fast enough. What a treat indeed.
Adam and Jackie, our gracious hosts, spend some time conversing with us as we listen to the live music by Valentino (now a regular Friday evening feature). Having traveled to Belize a few times, and thoroughly enjoyed the country as a whole, the Feldman's wanted to move and open a business. Originally thinking of a boutique hotel, their plans were slightly averted when Casa Picasso came up for sale. Having worked in the restaurant business before, Jackie envisioned a welcoming restaurant that provided top notch global flavors, while still maintaining its identity. In its heyday, Casa Picasso (which made the Fodor's Choice Winter 2006 list ) was an artful, exciting place to dine, and the Feldman's wanted to restore it to its former glory, and at the same time, add their personal stamp. They have certainly succeeded. Casa Picasso is a beautiful, casually elegant eatery that focuses on excellent food and tasty drinks. It is the place to "Dine Artfully."
To make your reservations, and enjoy wonderful food and elegant ambiance  call 226-4443, or email [email protected]. They are located just south of town on Stingray Street, just past the Crystal Water Plant. You can also log on to their website www.casapicassobelize.com to learn more, especially about their New Year's collaboration with Mathieu's Delicatessen – bring in the New Year with style and divine food!