Learning from one of the best!
Chances are that if you've been on the island, and needed a quick bite for breakfast, lunch or afternoon snack, you may have stepped inside Celi's Deli. Part of the pioneer Holiday Hotel on Barrier Reef Drive, Celi's Deli is manned by a team of efficient, smiling, WONDERFUL ladies who make you feel like you're their favorite 'sweetie', 'darling', 'lovely', etc. We have been fortunate to work right next door of them for almost ten years, and it feels like we have built-in moms and aunts who feed us and make us happy! One constant has been Rosy, a peach of a woman who makes the sweet sugary treats that we occasionally buy (beside the toasty tortillas, Johnny cakes, burritos and sandwiches).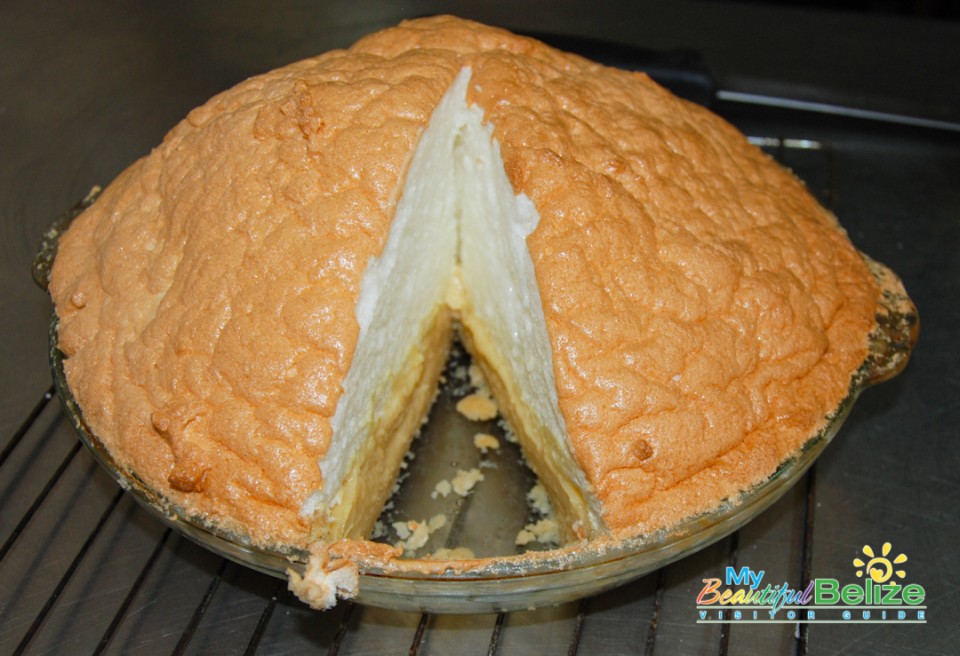 Rosy makes a mean Key Lime Pie that is piled so high with merengue, with a homemade crust and thick, creamy custard that you just cannot resist! After years of watching pie after pie disappear shortly after being put out on display, I had to get into the kitchen and learn her secrets!! This is a perfect pie to make for Mom on Mother's Day. It's also really good for a weekend get together with friends. I mean, really, you don't need me to tell you when to eat a pie – if you can make it and have the ingredients, why not do it and eat it!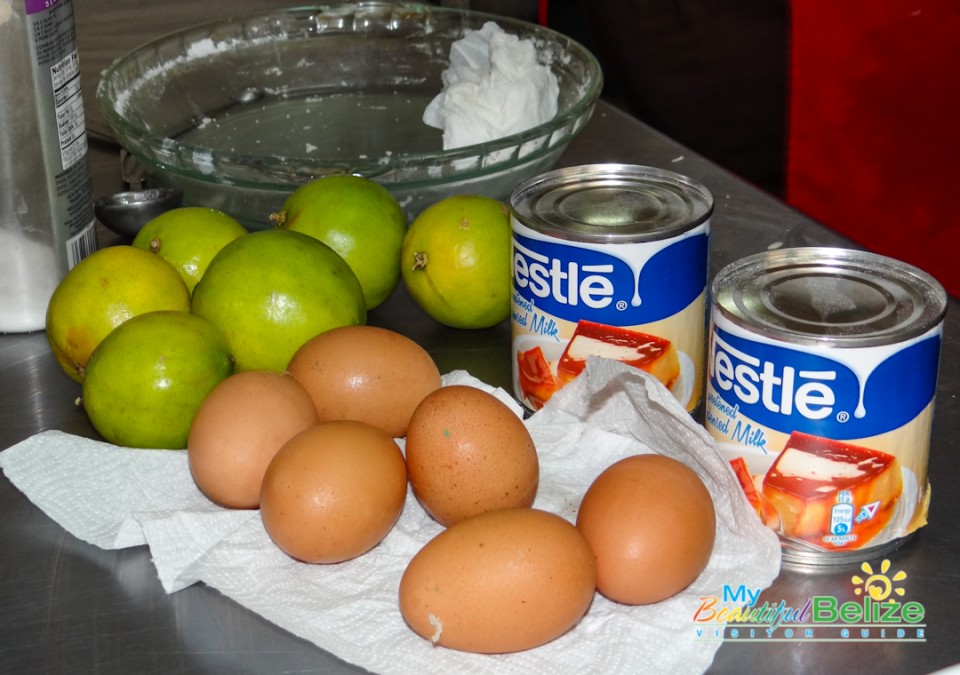 Rosi's Key Lime Pie
Crust:
1 cup all-purpose flour – ¼ cup shortening (Crisco) – 3 tbsp ice cold water
Custard Filling:
2 cans condensed milk – ¾ cup lime juice – 6 egg yolks
Merengue:
6 egg whites – 2 tbsp sugar
Our foray into the kitchen came thanks to the big chief, Miss Celi (thank you!), so we were a little intimidated, until Rosy pulled out the flour, Crisco, 2 butter knives and a pie plate and said, "Here you go."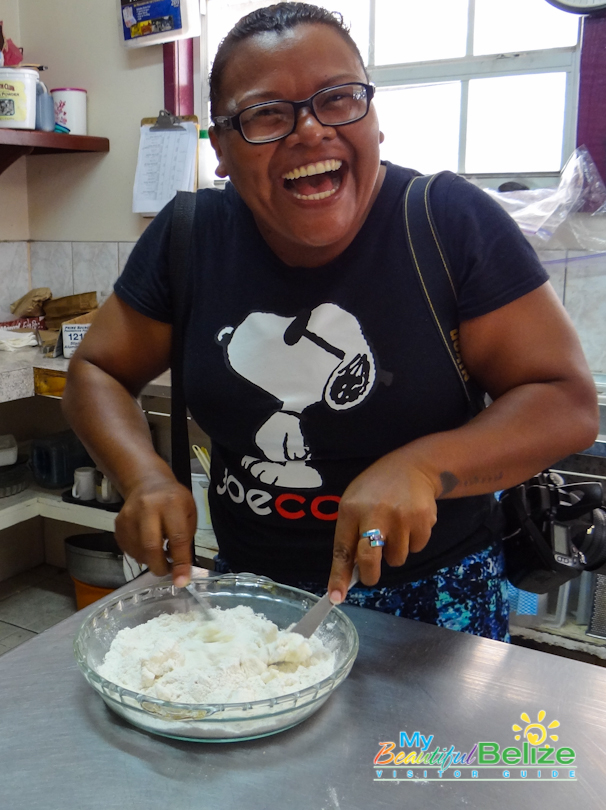 Oh, okay! I guess we were digging right in!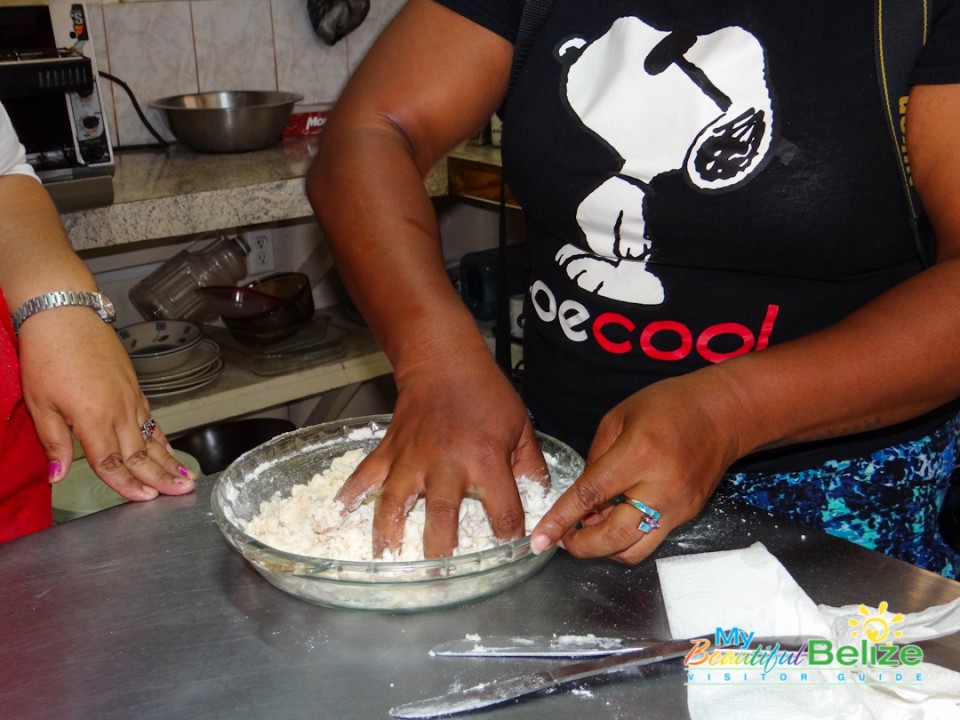 After cutting up the shortening into the flour and blending it properly, she added the ice water. A few quick rolls with my bare hands, and it formed a ball, ready to flatten into a disk to be placed in the fridge to chill.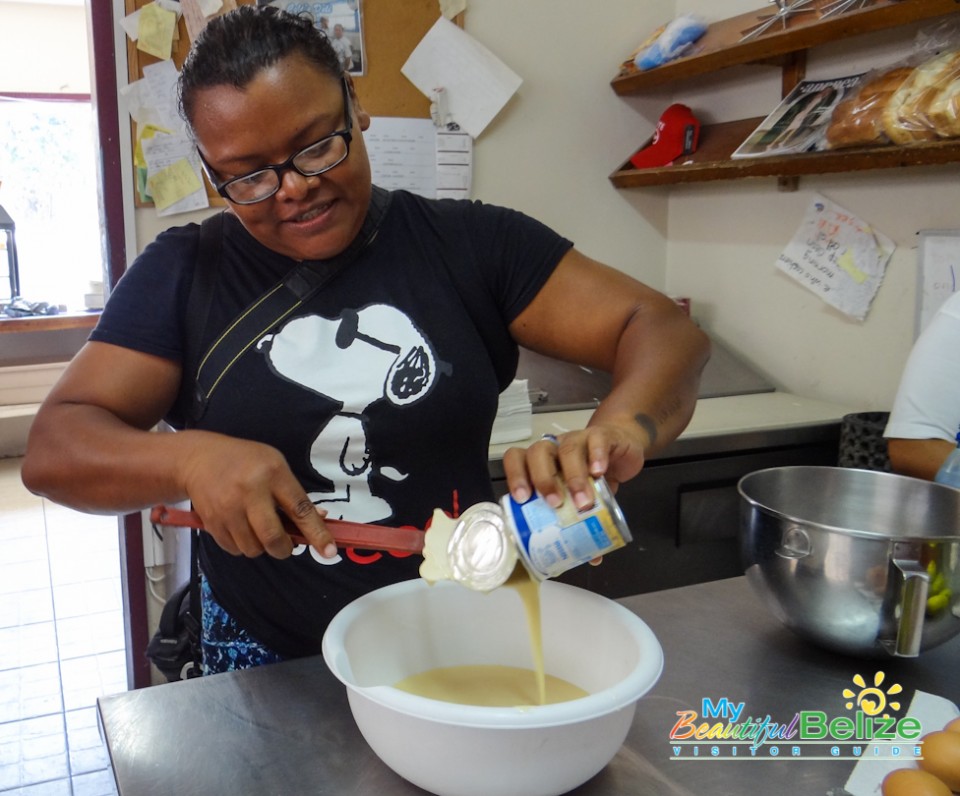 The condensed milk got poured out, then came the painstaking task of separating yolk from whites.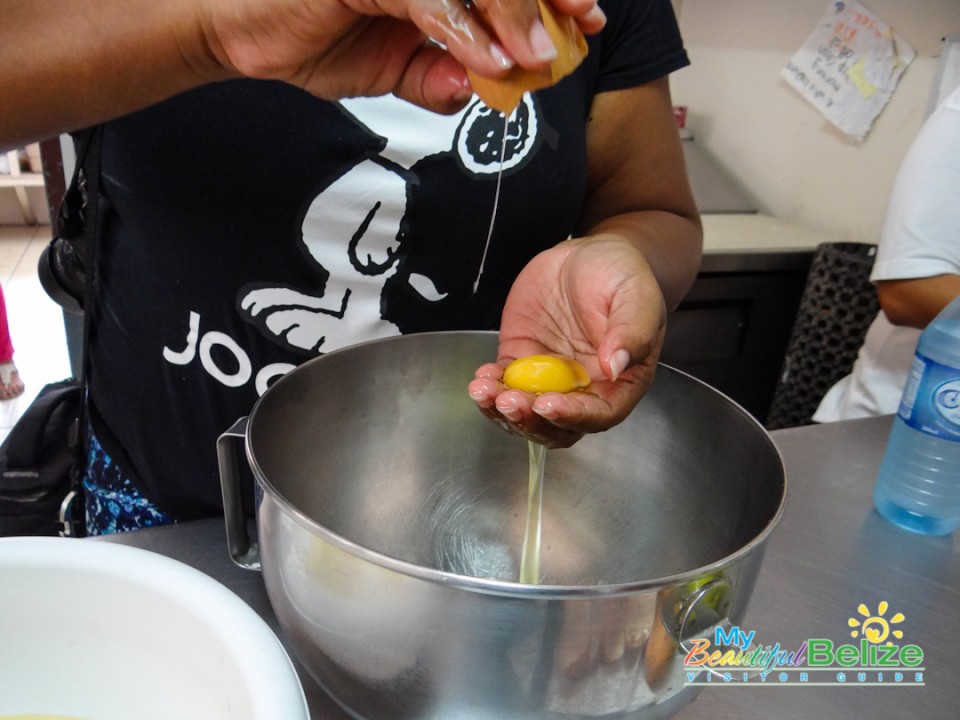 Six separated eggs later, and the yolks were mixed in with the milk.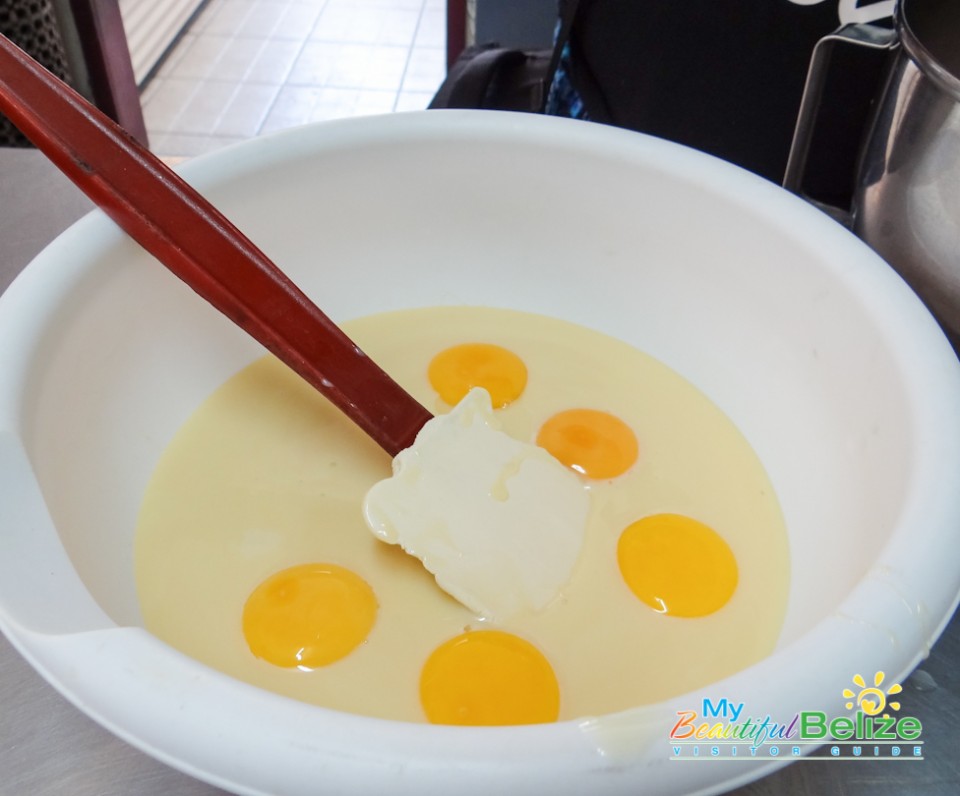 Janelle (finally) stepped in and helped squeeze ¾ cup of lime juice: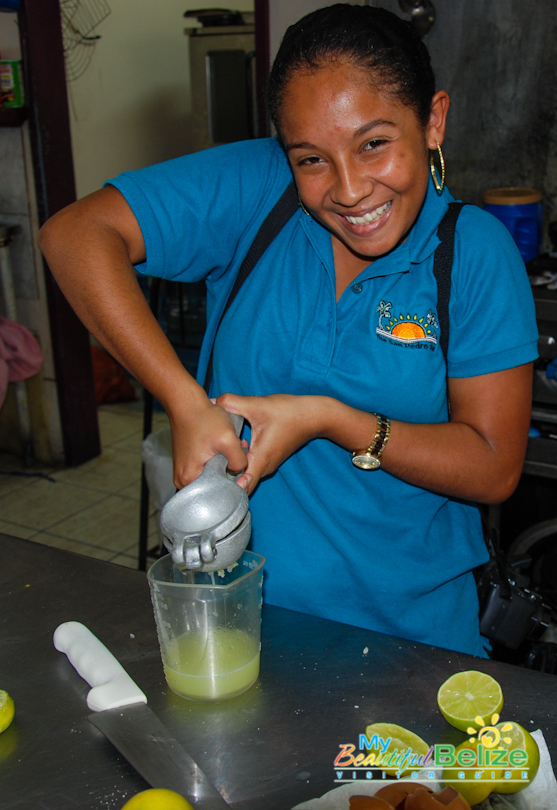 …and that went into the yolk-milk mixture.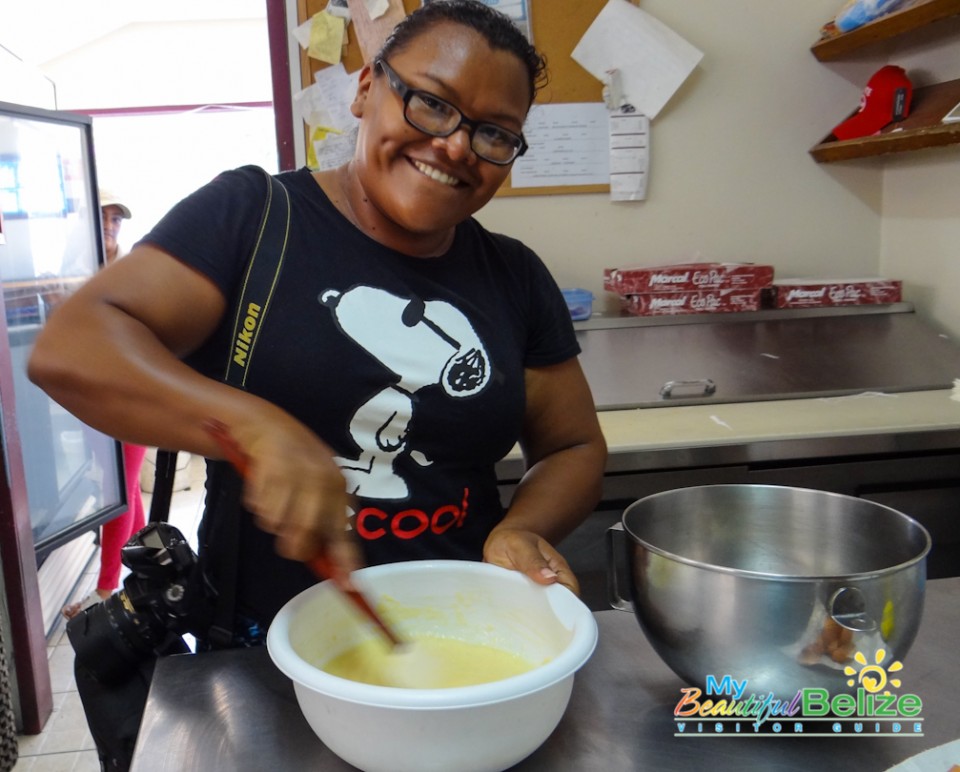 Using a spatula, I folded and mixed it all until it was velvety.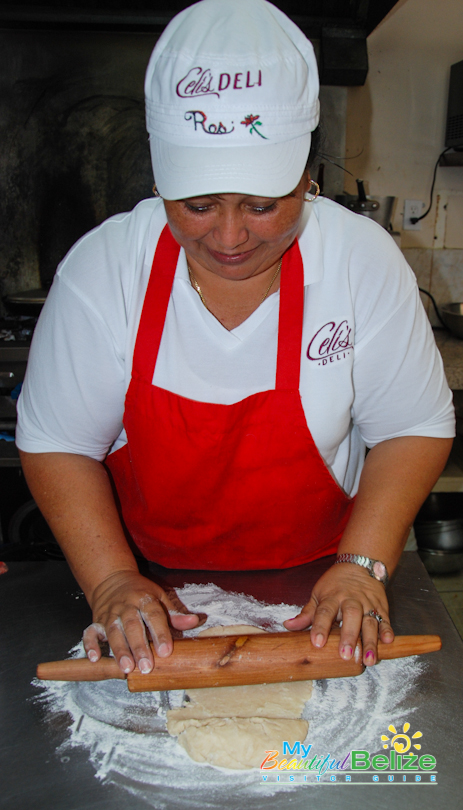 Rosy pulled the dough crust from the fridge, and this was a task we begged her to do for us.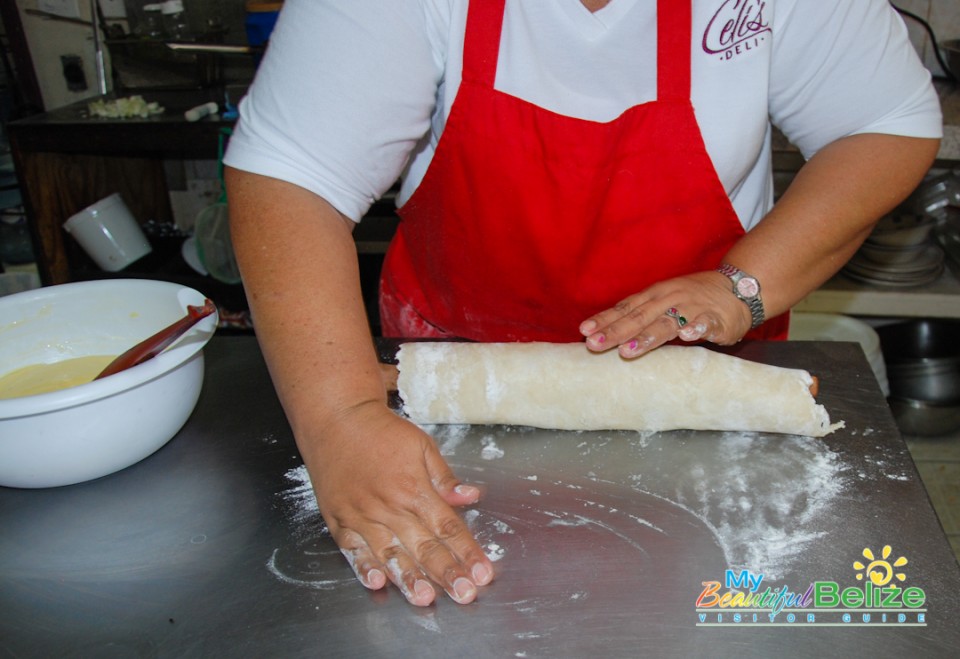 Do YOU want to be responsible for ruining a pie crust? I didn't think so!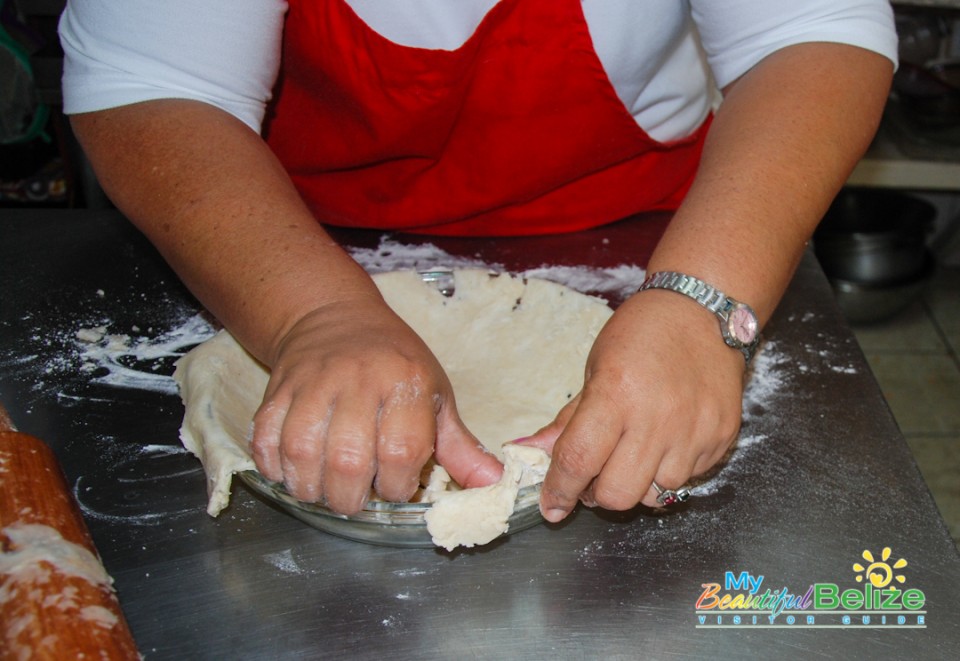 She rolled it out easy as pie (har har) then set it in the plate easily, crimping it and making it fit beautifully before placing in the convection oven to bake for 25 minutes at 325oF.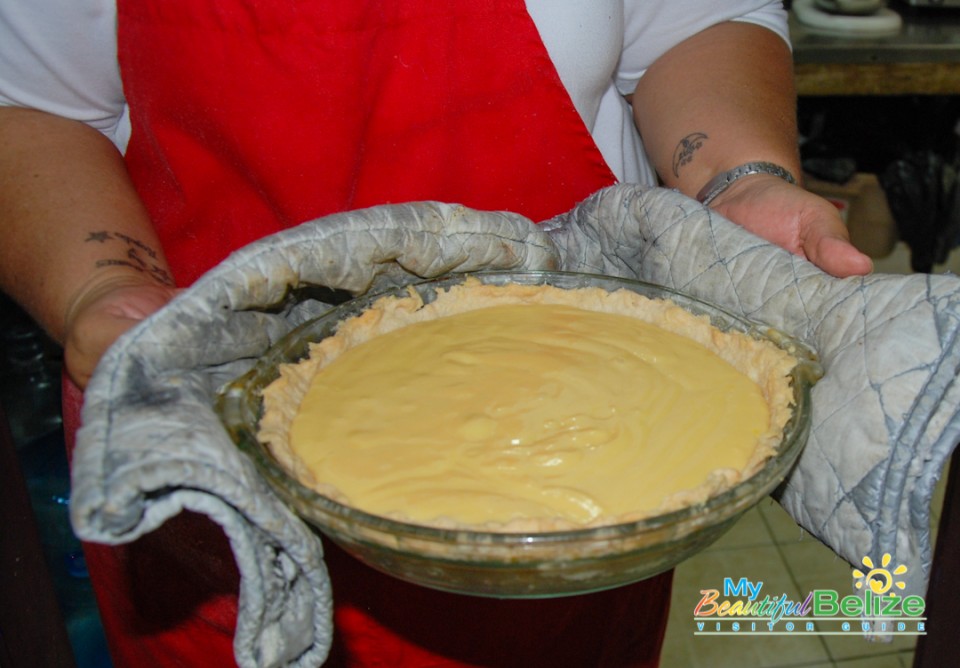 After it baked, the creamy custard filling was poured in, then placed to bake for 14 minutes at 300oF. It was at this time that we proceeded to go crazy licking the spatula and bowl! 😉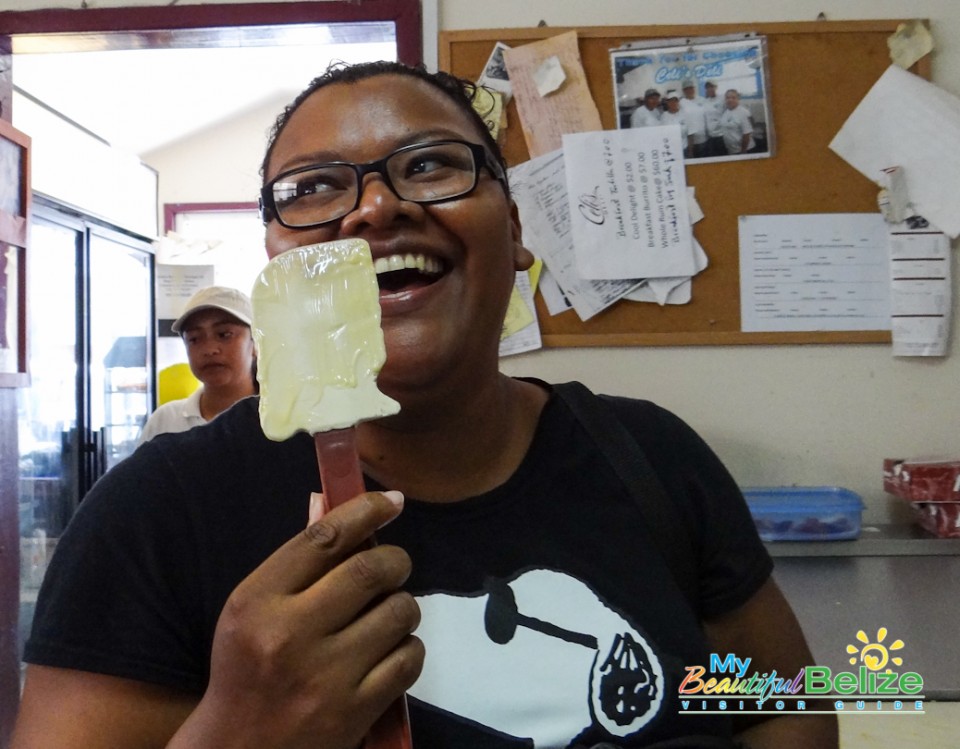 Once the custard baked and set, it was time to beat the egg whites and sugar into oblivion (or to stiff peaks…your call).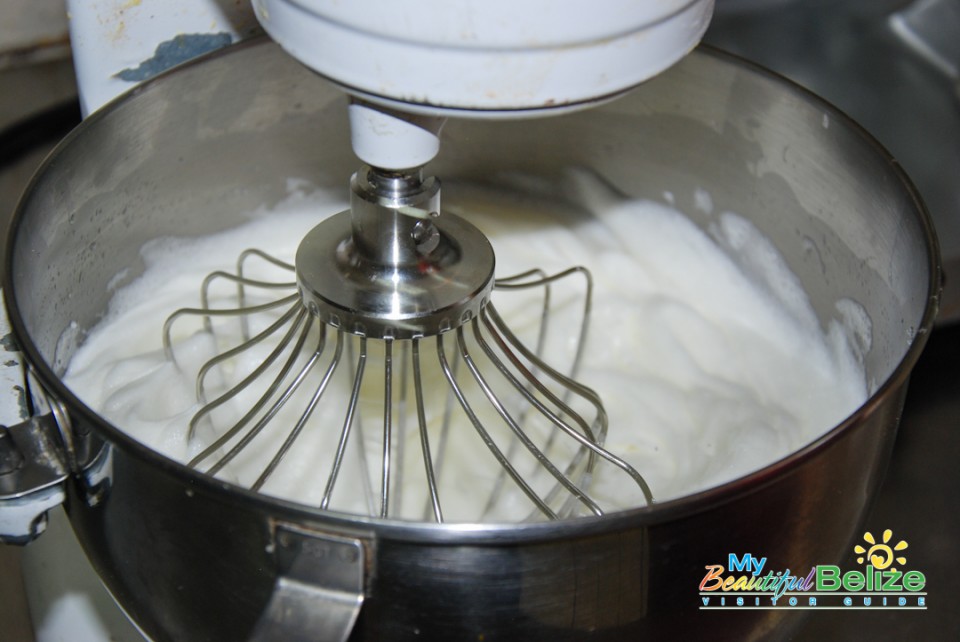 We watched in anticipation as Rosi generously scooped the foamy pillows of egg whites smoothed out a mountainous peak on the pie.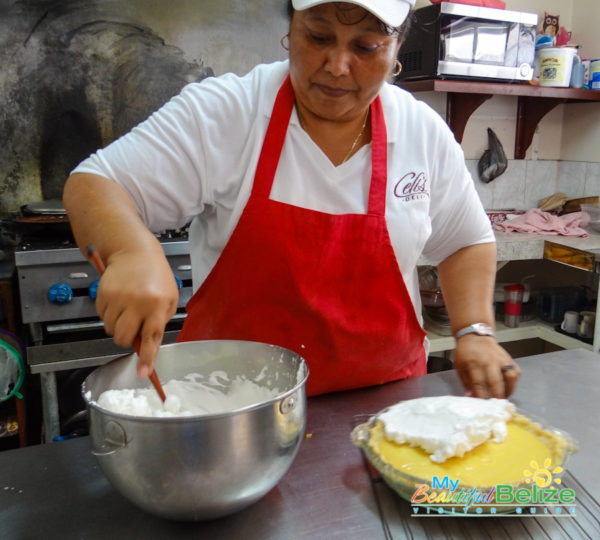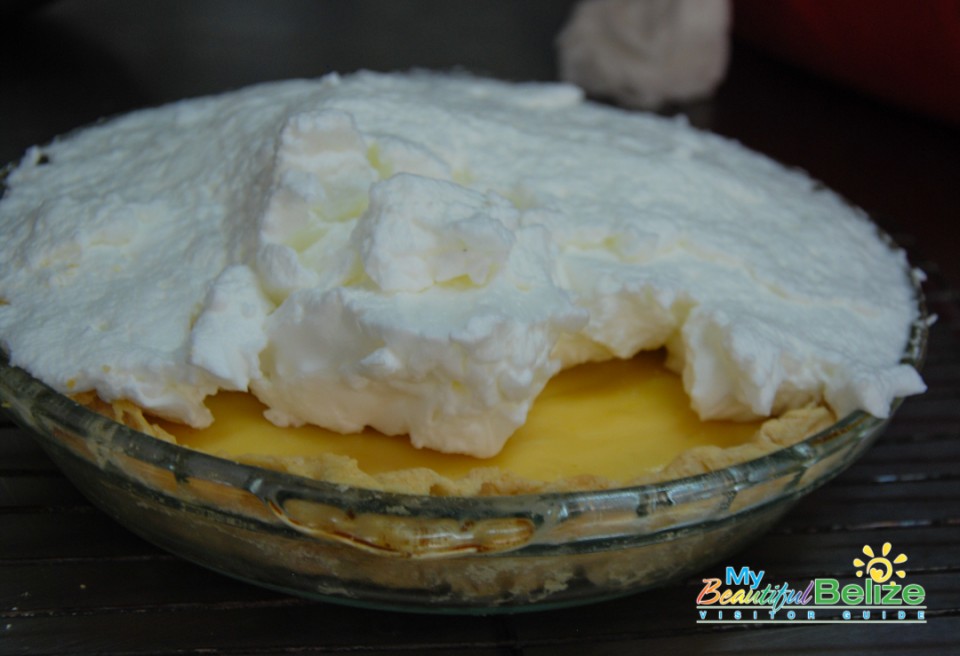 She placed the glorious confection in the oven one last time for 10 minutes at 350oF.
Then Rosi told us to wait an hour. 🙁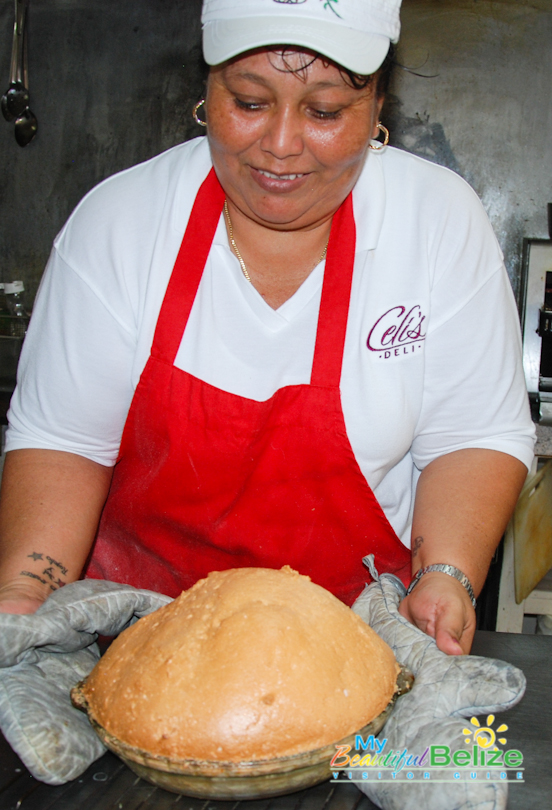 59 minutes later, we were back in the kitchen, eagerly to watch her slice into the heavenly pie, cutting generous slices for the salivating staff at My Beautiful Belize!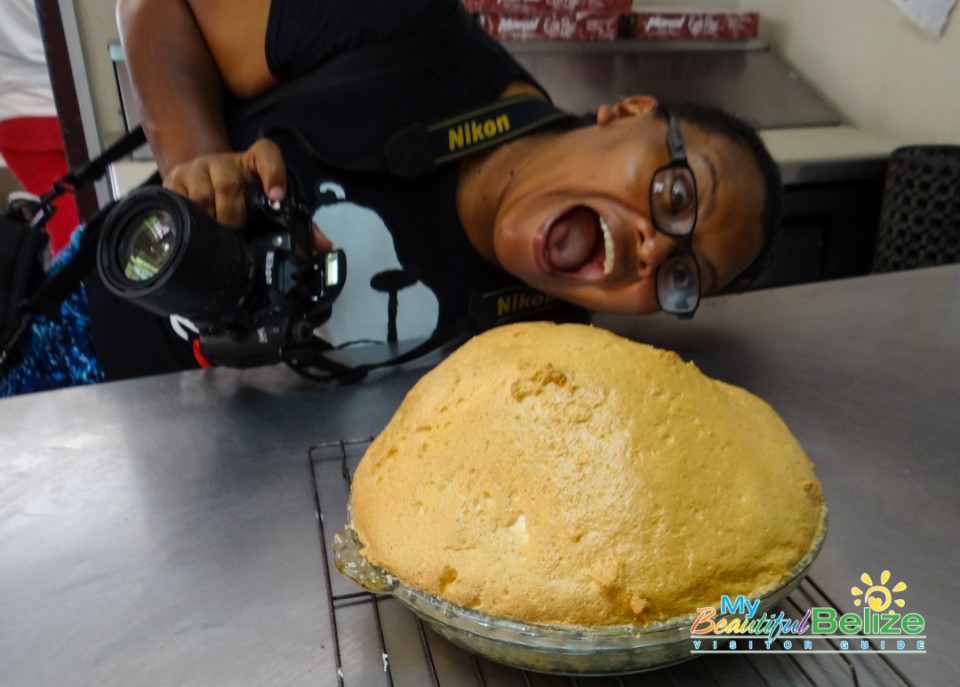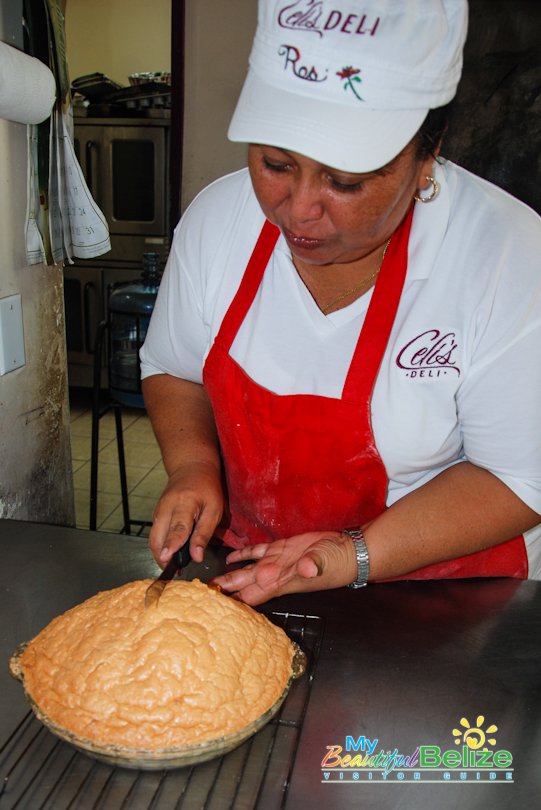 What a delicious pie that was, and how easy was it?!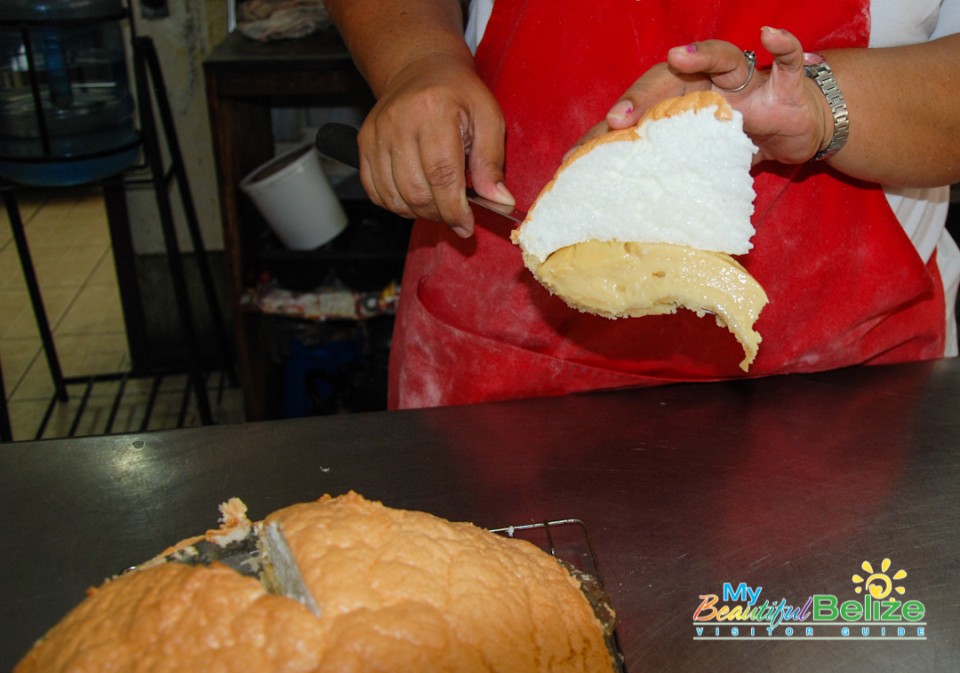 Honestly, the hardest part was waiting for the cooling down process!
The wait was worth it though, so we highly recommend that you make yours today!