It's hard to turn down an invitation to taste-test a bounty of treats alongside a large helping of sunshine and relaxation. So one fateful Friday afternoon, we loaded up the purple lovebug and chugged away to Wet Willy's dock where Di V'u awaited us with open arms.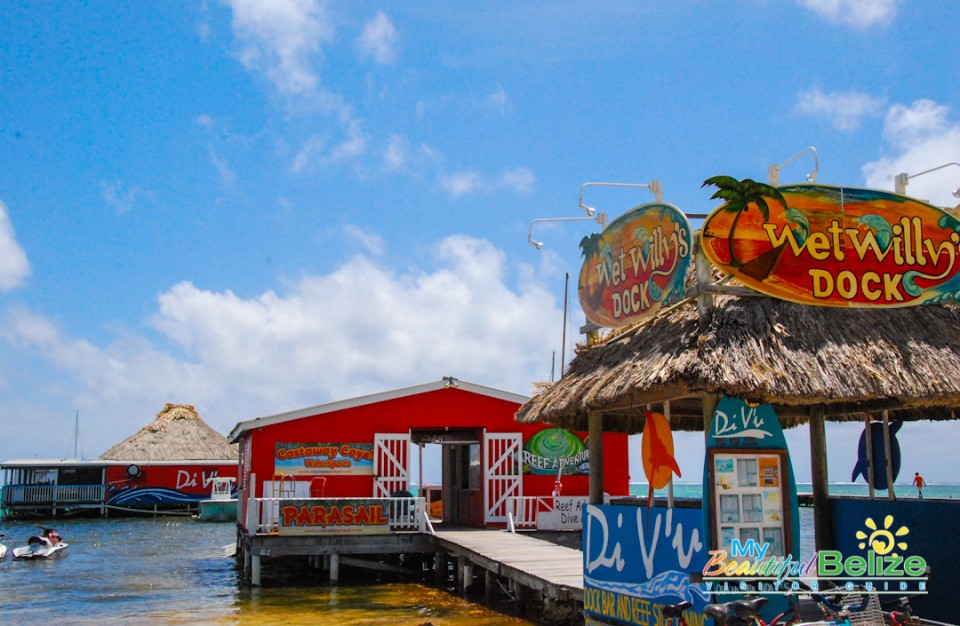 Located on one of the most desirable spots on the water, surrounded by clear blue sea as far as the eye can see, Di V'u is a treat.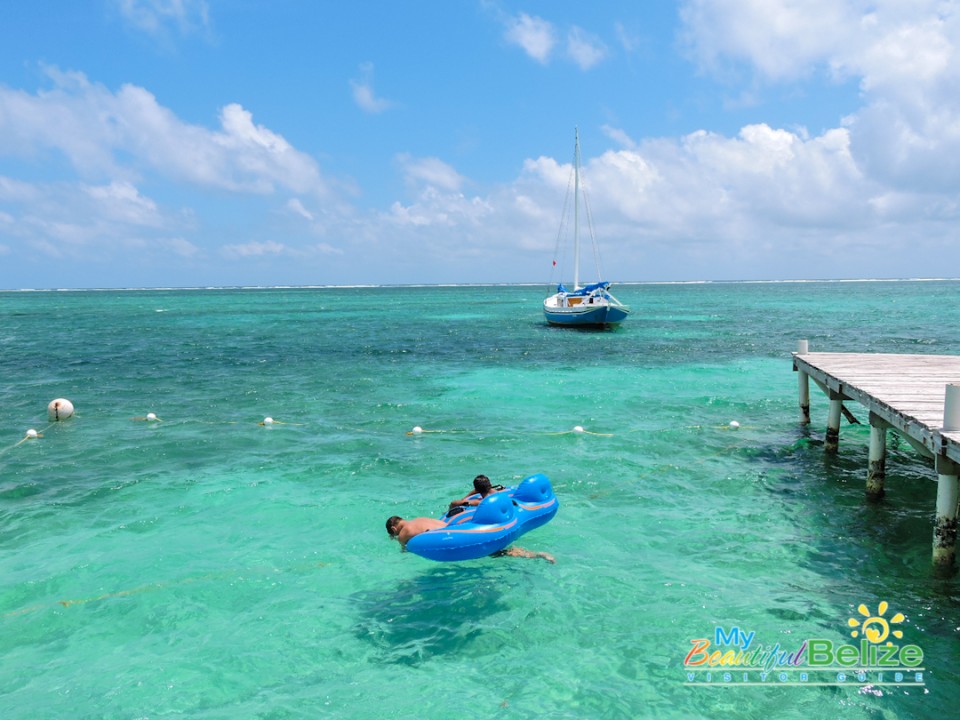 Keian, our adorable bartender, plied us with some refreshing smoothies while we caught our breaths and adjusted to the sunshine and warmth of the Caribbean. (Okay, fine, it was also a few minutes before noon…so happy hour hadn't quite begun!) Fresh fruit blended together for a creamy yet refreshing beverages eased us into the tropical vibe.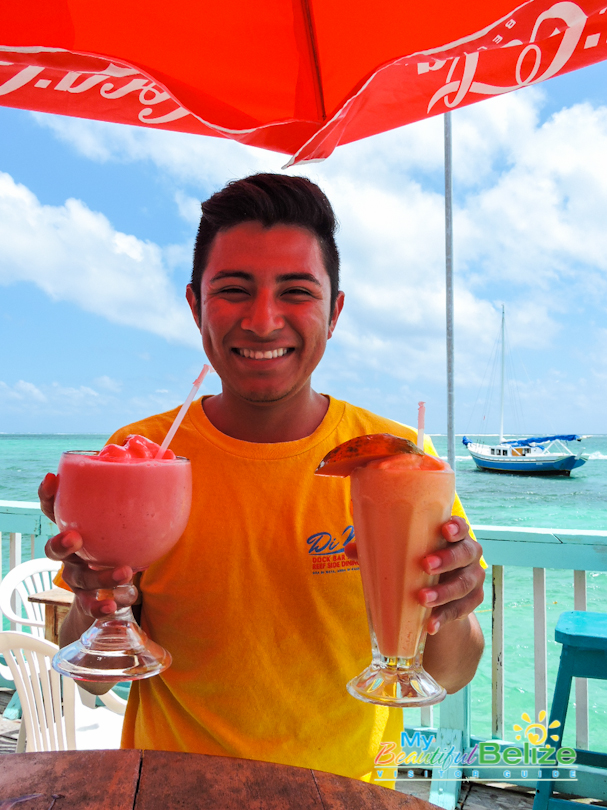 Owner Amanda let us know we were in for quite a treat: we'd be tasting a sample of their menu from breakfast through dinner, AND dessert. Yes, there would be cocktails too…after the lunch course… 😉 But first, we dig into breakfast with their glorious Coconut French Toast.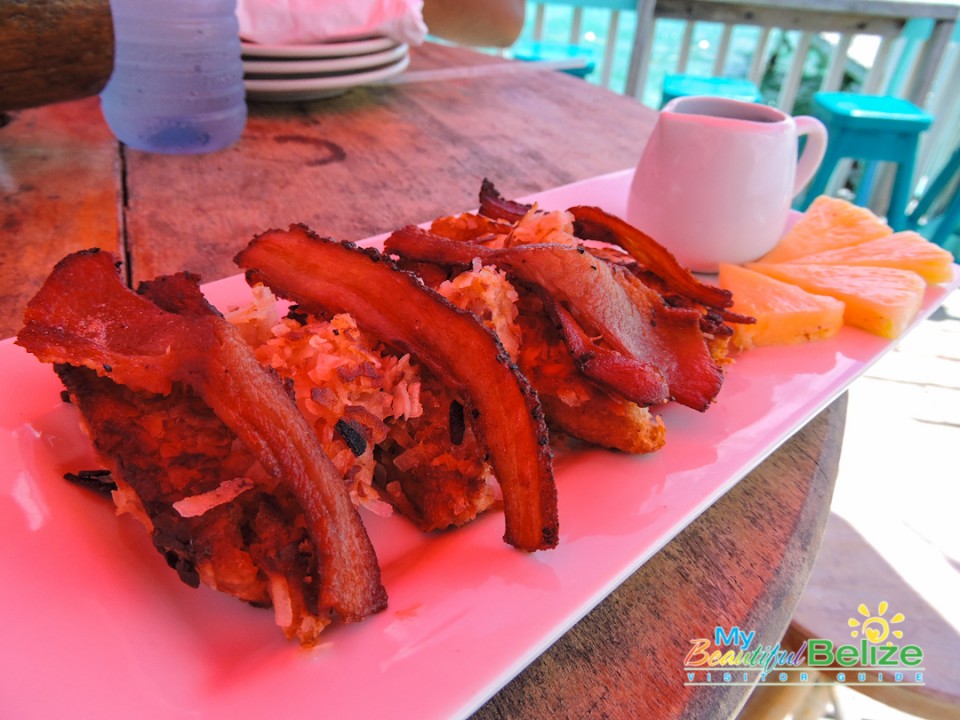 Batter dipped bread had been toasted to golden perfection and rolled in coconut flakes. With a sprinkle of ground cinnamon, thick strips of house-cured bacon layered on top with a drizzle of maple syrup, it was impossible for us to hold back! This twist on the French toast was a clear winner in Tamara's books, as she went for the remaining slice with gusto.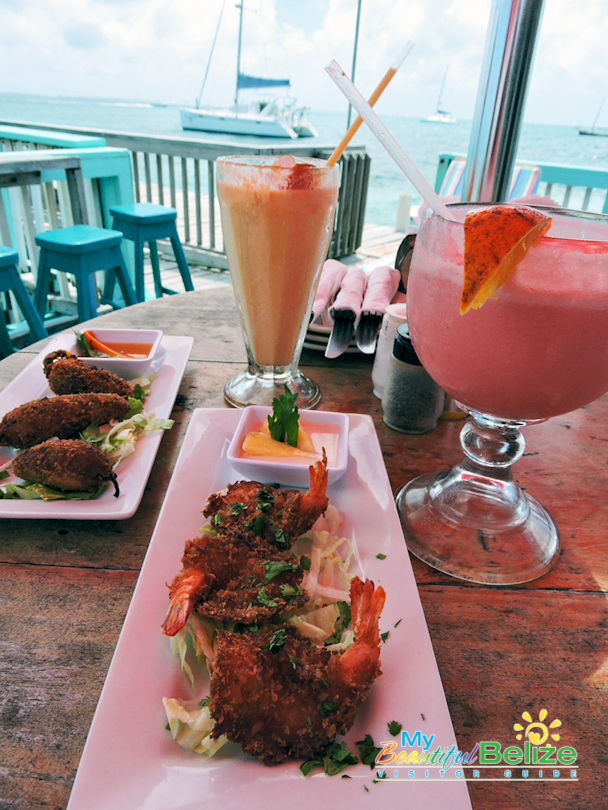 Following that yummy introduction to Di V'u's kitchen was a couple of appetizers: pan-fried butterfly shrimp and jalapeño poppers. Crispy fried shrimp were paired with a sweet creamy piña colada sauce, while the the jalapeño poppers, stuffed with a cream cheese and chicken filling, were paired with a tangy mango sauce to mellow the spicy kick of the pepper. Both were tasty, but the poppers' spice revved it up to my list of favorites. My dining companions seemed to enjoy both appetizers equally, and their appetite for more Di V'u items was teased properly!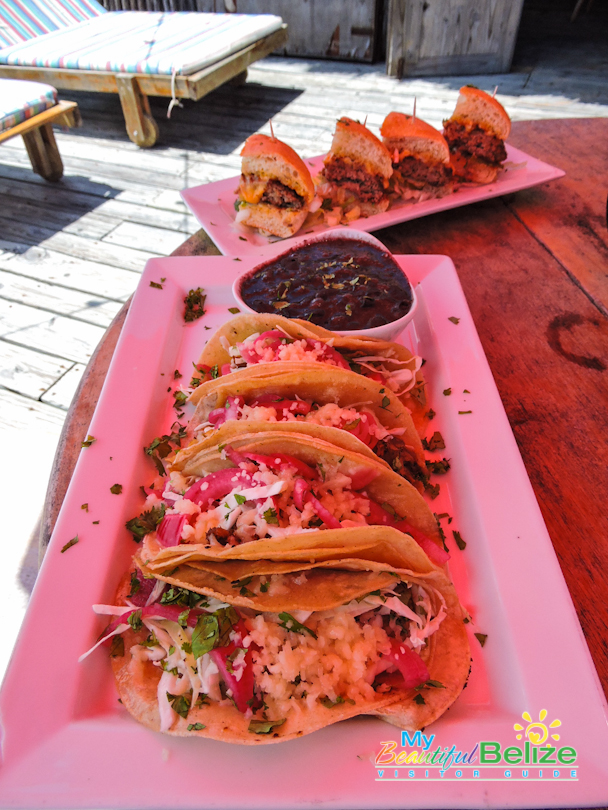 Luckily, the charming Keian arrived right on time with two of the restaurant's top selling lunch items: Pork Carnitas Tacos and the Willy Mac Burger. Holy wow…both dishes were presented beautifully, and we were eager to dig in! Naturally, we gravitated towards the tacos – how could we resist slow cooked pulled pork?! Semi-fried corn tortillas were stuffed with crispy pulled pork and topped with freshly made cabbage slaw, red onions, pico de gallo and queso fresco, not to mention a side of black beans. Yup this was a winner. Mary just couldn't get enough of it!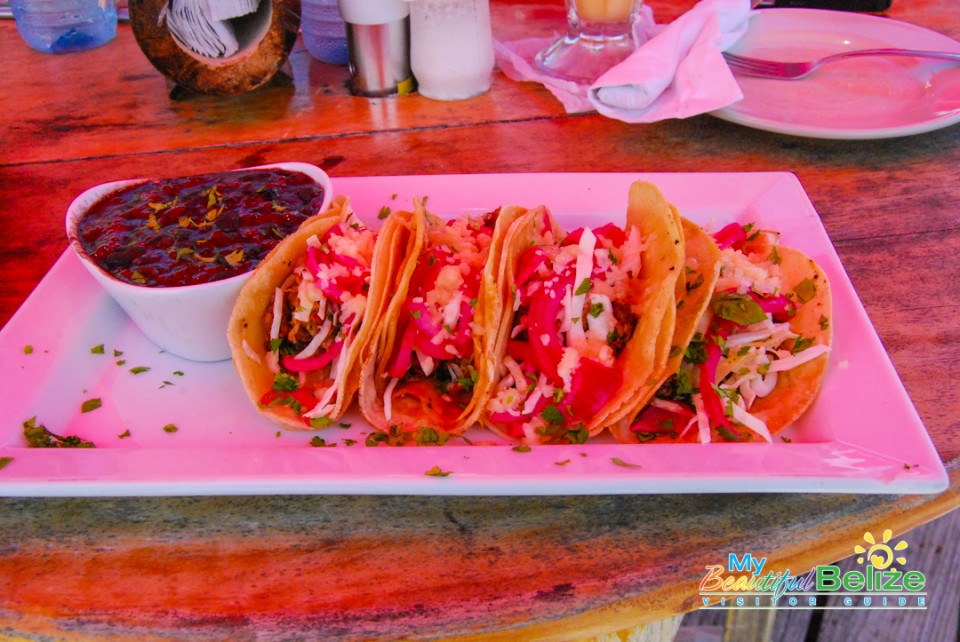 (*Mary here, and yes, I really loved these tacos. Pork is a hard one for me, because while it is meant to be tasty, I find that pork can end up stringy – and almost dry. But not these…they were crispy-good bites of well-seasoned pork that just tasted heavenly!)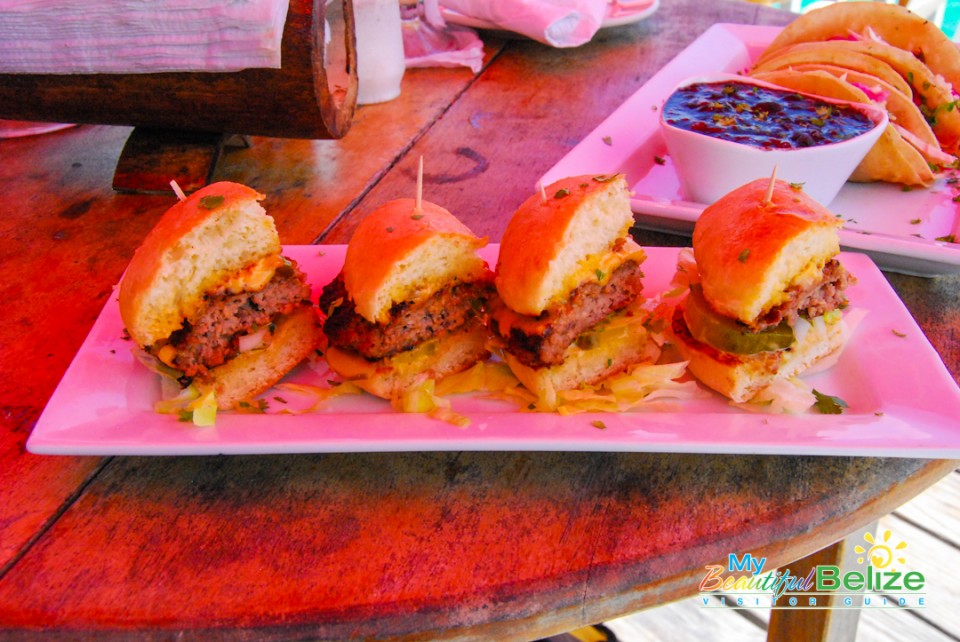 The Willy Mac was a perfectly cooked all beef patty on a toasted house-baked bun with Di V'u's secret sauce, lettuce, American cheese, pickles and onions. It was a classic American-style burger, and our resident American-Belizean (aka Tamara) declared that it was a REALLY GOOD burger. We were too busy licking our fingers and enjoying the delicious beefy goodness! 😉 Yep…lunch was another winner!
Since our journey through Di V'u's menu included dinner, AND technically it was after the lunch hour, we could almost smell the cocktails! Keian to the rescue!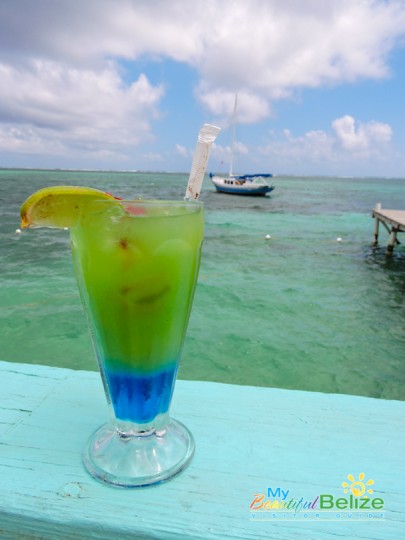 He presented us with Di V'u's signature Coconut Mojito (fresh mint, coconut cream, lime, white rum and a splash of club soda) and the very pretty, but dangerous-sounding Hurricane (gold rum, white rum, orange juice, cranberry juice, pineapple juice and lime juice). WOW – now those were some cocktails to kick the party into gear! And we girls know how to party…hehe. We sipped and compared, with the clear winner for a chill evening being the mojito…and taking the top spot to start a party: the Hurricane. Wowza!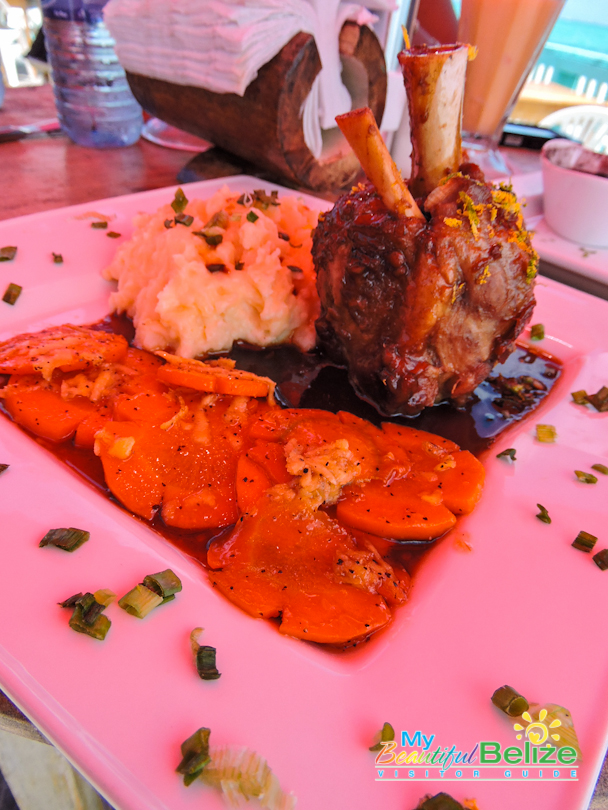 Luckily, dinner arrived to save us from dancing on the tabletops! Chef Chap himself came out and presented us with the magnificent Pineapple Braised Pork Shank. It's one of the newer additions to the menu that has quickly become a top seller, and we can understand why. A perfectly cooked pork shank with a citrus gremolata and a hoisin honey glaze served with whipped potatoes and ginger carrots. So much flavor on a plate, with each bite feeling more and more decadent!!!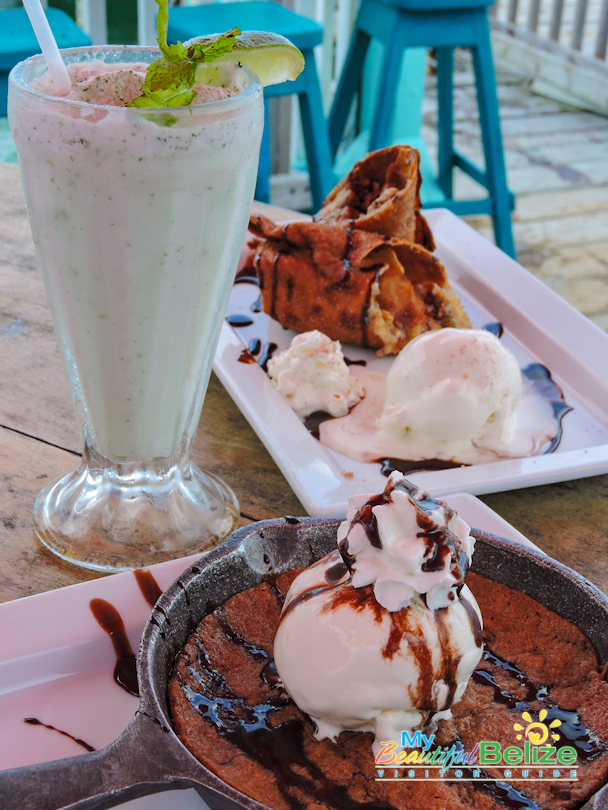 We were being fed to the point of no return, AND we still had dessert left! Time to unbutton our pants to make room cause we were not about to miss out on the sweet treats. Forget the diet, because HELLO Banana Spring Roll!!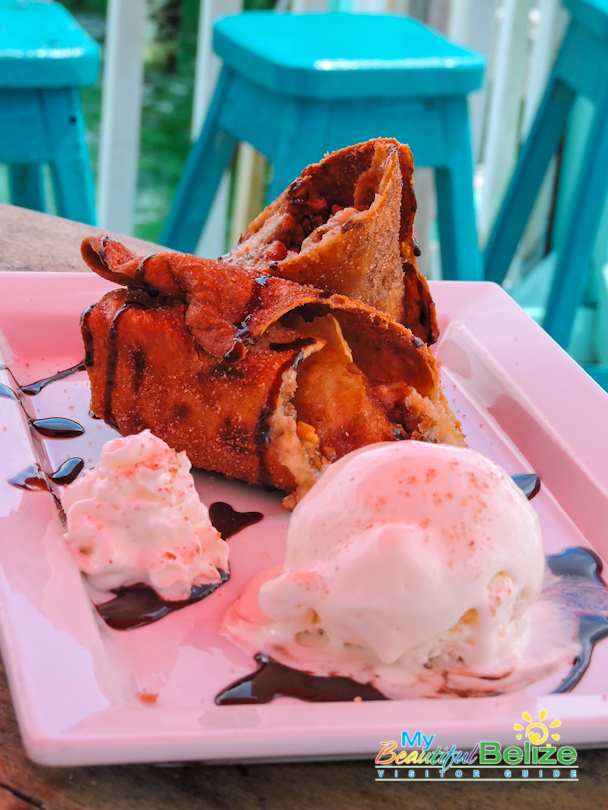 Sliced bananas, white chocolate and candied walnuts rolled in a tortilla and deep fried, then dusted with cinnamon and drizzled with a chocolate sauce. But that's not decadent enough – oh no, top it with a scoop of vanilla ice cream! Good lord we were in heaven!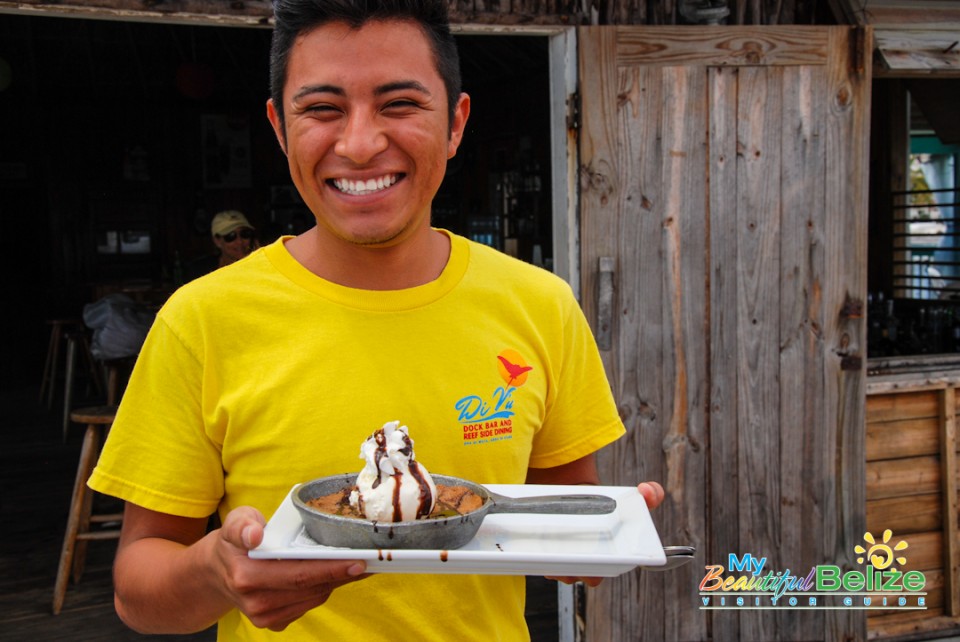 Then paradise arrived, in the form of the Chocolate Chip Cookie Skillet. A HOT chocolate chip cookie topped with vanilla ice cream in its own skillet. I sort of claimed this one as my own – but I shared nicely! Luckily, we were on a deck with lounge chairs to lie on and digest, because after that marathon of eating, it was all we could do to waddle over and crash in a sugar coma!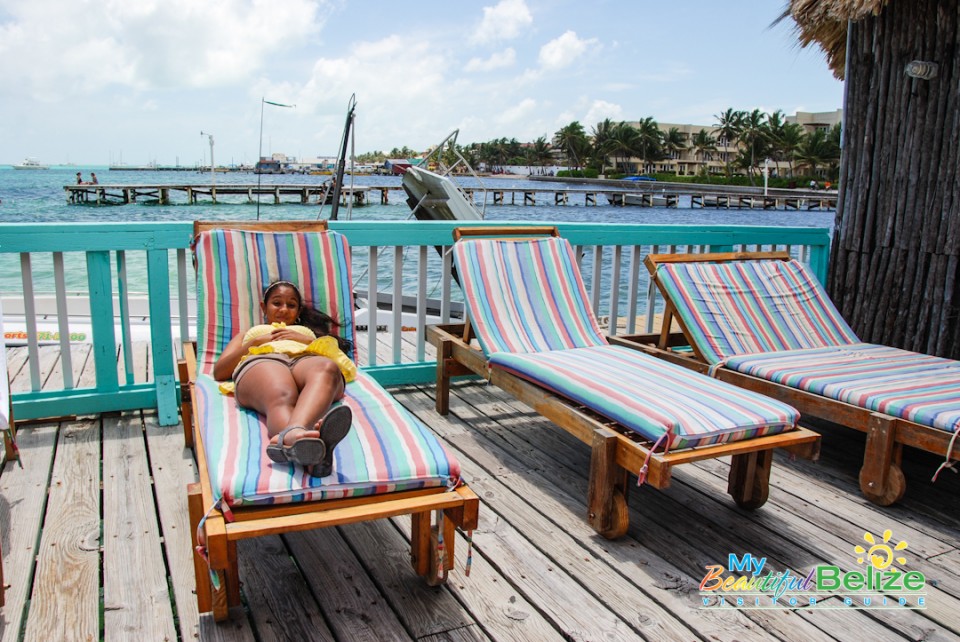 What a hard assignment we had! 😉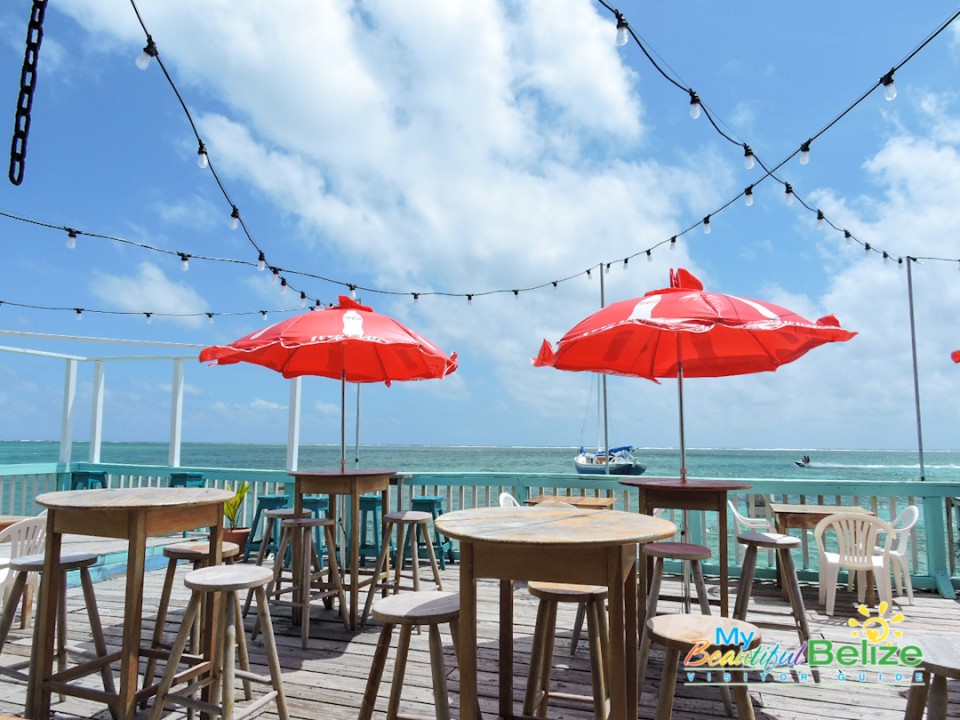 Di V'u is a perfect family restaurant that offers great food, amazing views and a great swimming spot! We were beyond happy with our meals and drinks (of course), and highly recommend you give them a try! They are open every day from 6AM to midnight (Breakfast 6:30AM-11AM and Lunch/Dinner 11AM-9PM). For reservations or inquiries call 226-4136 or email [email protected].