Across the globe, there are non-profit organizations that are dedicated to conservation. Powered by selfless individuals who are dedicated to the cause nearest and dearest to their hearts, there are shining stars within the constellation of people who work hard to make a difference in this troubled world. Be it the preservation of endangered flora and fauna, to keeping native languages, cultures, music and the arts alive, each person is an essential cog in the wheel of conservation.
Belize is blessed with many such organizations, and although it takes a collective group to accomplish the many challenges before them, often there are those who inspire others to share the same commitment. In this monthly series, we spotlight one of these outstanding individuals.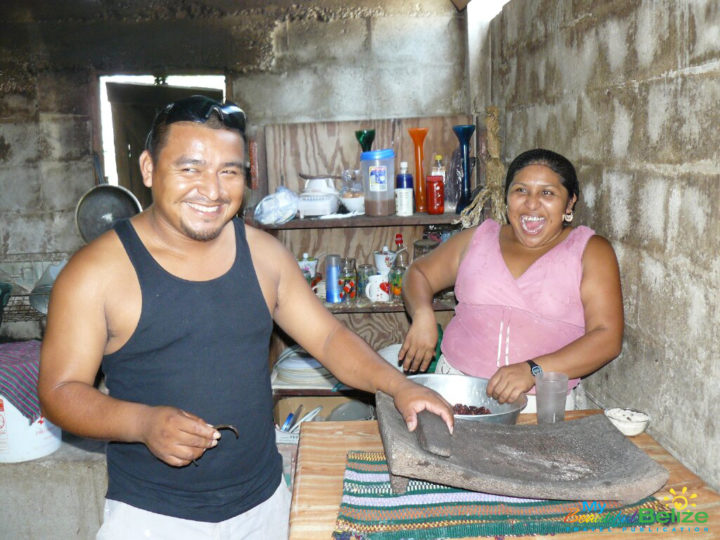 I think it is safe to say that there are not many people on the planet who really appreciate how chocolate is made. As is the case with many agricultural foods we enjoy, the process from crop to the table can be a complicated one, and when it comes to the transformation of the cacao pod to delectable chocolate, the procedure is nothing short of magic. Ingrained within the Maya culture, and once a revered delicacy that only the privileged hierarchy of the Maya civilization could indulge in, thankfully chocolate is now a sweet treat even we common folks can enjoy! One couple, Juan and Abelina Cho have not only embraced their Maya heritage of producing fine chocolate in the Toledo District of Belize but are dedicated to preserving the rich culture that surrounds it through conservation, education and organic crops.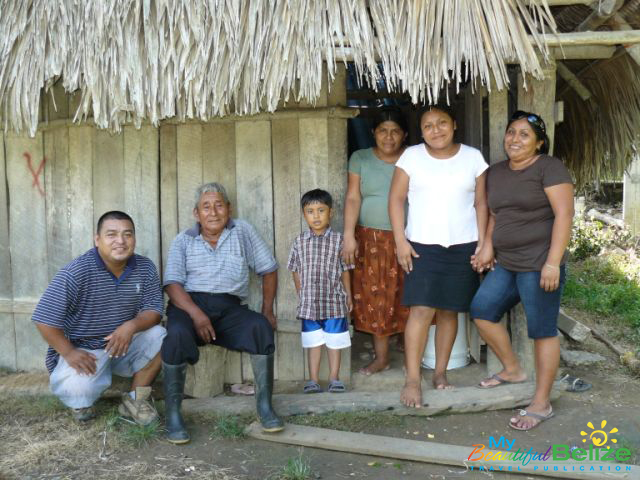 Both from families who have produced cacao to chocolate for generations, Juan is of Mopan and Kekchi Maya descent and was born in the beautiful village of San Pedro Columbia amongst cacao trees and a creek called Creek Cacao. Home to the Lubaantun Archeological Site, Juan's grandparents, and family still live there. Abelina hails from the village and archeological site of Nim Li Punit in Indian Creek. Their royal roots could not be more appropriate for the "Chocolate Queen and King"! This dynamic duo is honored to continue the cacao tradition, and over the years, their tireless work and dedication have grown from modest beginnings to the very successful Ixcacao Maya Belizean Chocolate Company in the village of San Felipe.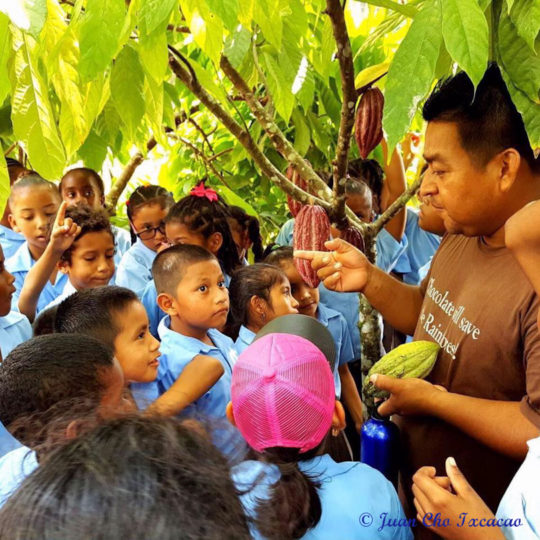 It's been a journey of many challenges, and Juan recalls, "My grandfather says cacao is in my blood, so it is how I feel likewise, however growing up in a family of six it was very challenging for one to experience satisfaction in life. While my parents till the soil early morning to late evening, it was still not enough to sustain themselves or us for the rest of the year. However, growing up on a cacao farm, eating and drinking cacao and vegetables coming from the garden is much more than I can ask for. At the end of each season in September, I would be treated with a chocolate ice cream and father would treat himself to an ice-cold beer. We also planted rice and I used to sneak inside the big trucks to see where the rice would end up. I learned that there must be a way forward out of the challenges of this hard work, and I loved the farming methods too, so how would you separate yourself from something you love but was not satisfied with when growing up? That gave me the answer, and at the age of 12 I immediately went to my garden after school, planting the soil with various vegetables and I would sell my harvest to the teachers."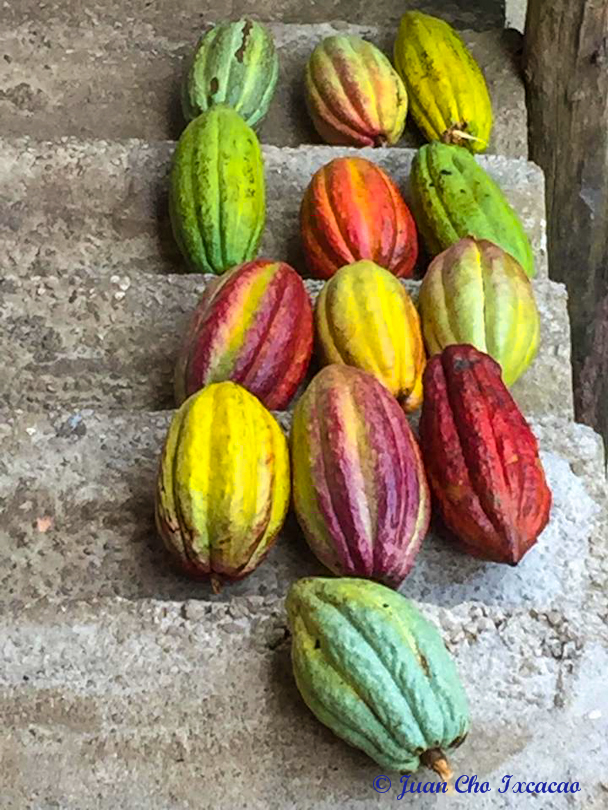 For years Juan, who claims that the rainforest has been his classroom, worked for the Sustainable Harvest International (SHI) program, promoting sustainable and organic farming methods to farmers in Belize, and other countries in Central America. "I loved what I was doing, so much of the program gave me opportunities I am forever grateful of. The challenge was being away from my family and giving my all to the program. I really couldn't make Ixcacao bigger; nonetheless, with no funds to rely on, my job was to generate my weekly income into what I love so much. I resigned in 2011 and sadly SHI in Toledo no longer exists. However the experience I got was of a lifetime, which is what drove me into a sustainable program for my family without any foreign investments or investors," says Juan.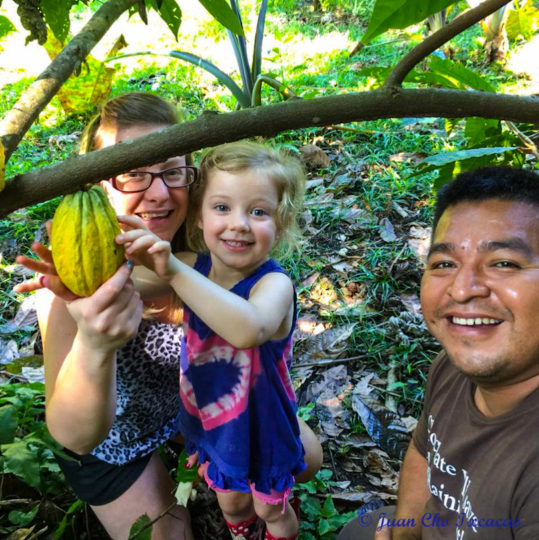 Their family business is more than chocolate, it's a way of life. Everything they make is with organic cacao beans which are grown and harvested on their farm and processed without the use of artificial flavoring or synthetic stabilizers. Proud to be the only Maya owned and operated business in the world, Ixcacao Chocolate hosts tours of their property and engage guests in the traditional process of using a stone "mano y matate" tool that has been passed down from five generations. The cultural heritage experience may even include some of Abelina's magical cooking skills, treating guests to traditional meals like Chocolate Chicken or Chocolate Pork and Fish. Incorporating fresh organic vegetables from their garden and a dash of her amazing charm, she is a master of Maya flavors. It's no wonder her family regards her as Ixcacao – "Queen of Cacao, Goddess of Fertility and Happiness!" They also have onsite accommodations where guests can experience an unforgettable night in their chocolate community.
This family is not only dedicated to making chocolate products but to education, organic agriculture, agroforestry, archaeology, and anthropology. Proclaiming that chocolate will save the rainforest, Juan explains, "Chocolate does not come out of a candy bar wrapper, it comes from a tree. In Belize, the motto on our national flag is "under the shade of the tree I flourish". Our national tree is the mahogany tree – and our cacao trees require shade from other trees like the mahogany tree…75% [shade] in higher elevations and 50% in low lying elevations. Why would I want to slash and burn? Instead, plant according to nature amongst other trees respectively."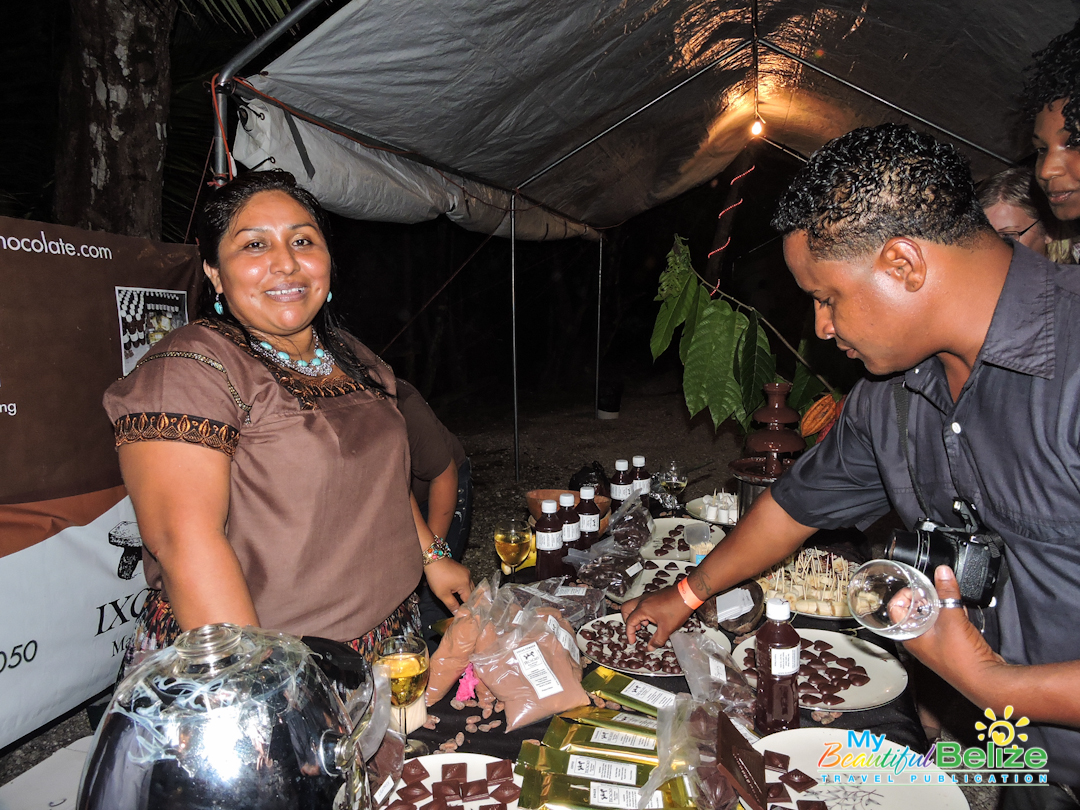 Juan reflects on the growth of the family business. "The birth of Ixcacao is of a lifetime evolvement, between me and Abelina, and today our son Henry and daughter Lucresha are a huge force in the promotional markets and online marketing. I am happy to be my own boss, and thankful to be able to give to my community an employment opportunity that they too can be happy as I am. I am grateful for all the support I get from the hotels, restaurants, tour guides and tour operators in Belize, throughout Belize, and around the world. Giving back to my community is at my top priority, educating students in primary school to the university level."
Be sure to look for the Ixcacao Maya Belize Chocolate booth at the Chocolate Festival of Belize during the weekend of May 18th and if you have the chance a tour of their farm it's a must! For more information please visit their website.