Tucked away on one of the oldest and most prestigious resorts on Ambergris Caye is a restaurant with food as unique as its name. Pineapples Restaurant at Ramon's Village Resort is synonymous with delicious food, so when the My Beautiful Belize gang gets a special invitation to go sample some their signature dishes, it's a unanimous "Yes" around the office.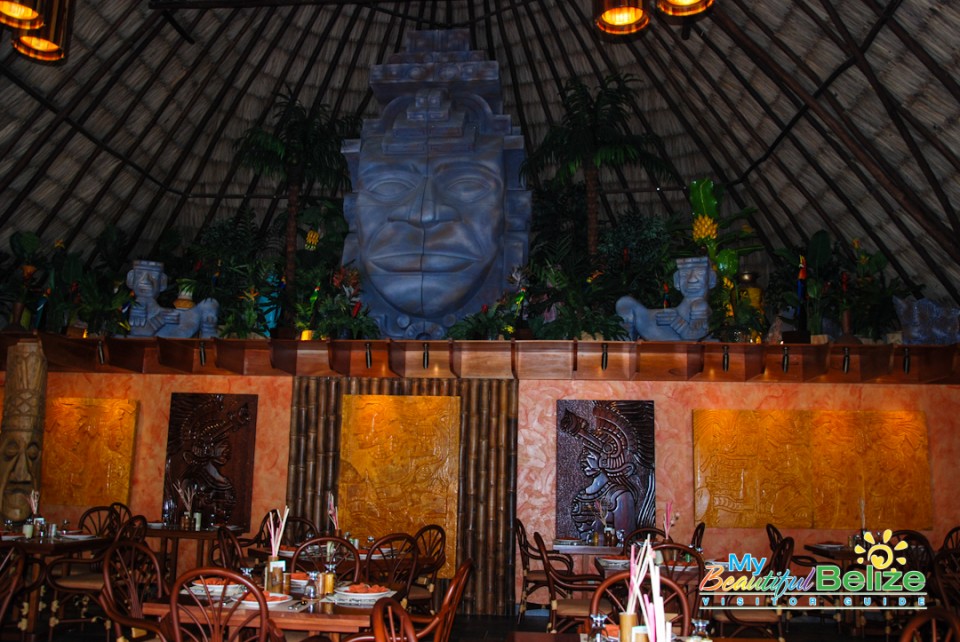 Pineapples atmosphere is quite different from other restaurants. Surrounded by lush vegetation that recreates the ambiance of a Maya village, yet complimented by an astounding view of the Caribbean Sea, the main dining area sits under 35 foot tall thatched roof. But what really caught my eye was a huge Maya stone head and other artifacts displayed at the rear of the room. It is a truly awesome sight! If you'd rather bask under the sun while having lunch or revel in the moonlight while having dinner, opt for the seating on the veranda instead.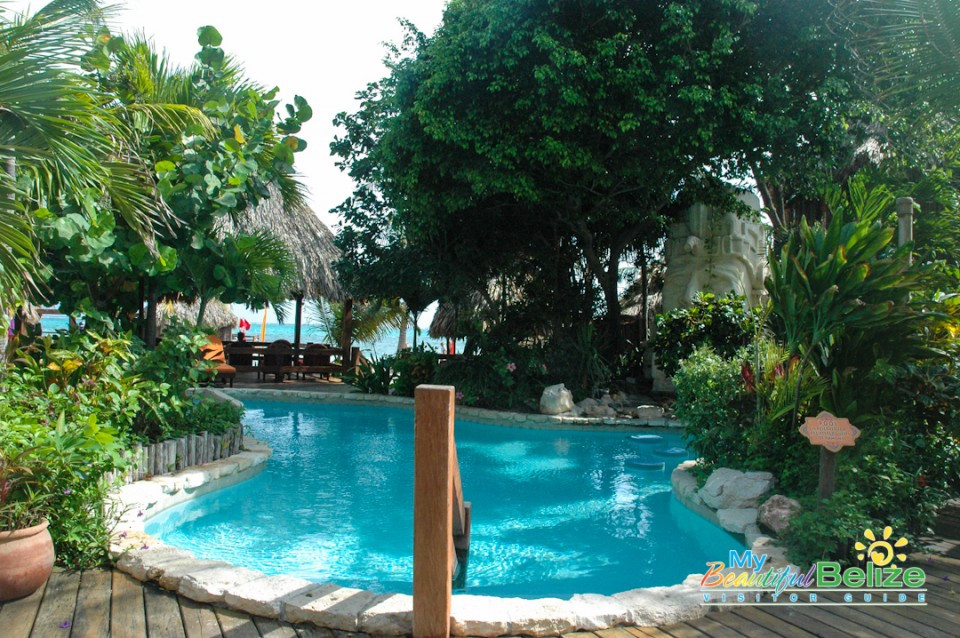 But enough of that! Time to get to the main attraction, FOOD (and dining)! Joining me on this arduous task- oh who am I kidding! I love this part of my job- were Mary, Monique and Dennis. Our friendly waiters took good care of us, and after being seated and properly bibbed, our drink orders were decided.
The menu from the newest installment at Ramons, Tropic Al's Coffee and Smoothie Bar, was practically overwhelming! But in the end, I decided to go with the Pirate's Passion, a tropical blend of cranberries, blueberries, raspberries and strawberries. It was seriously berrylicious! Mary had the Coconut Apple explosion minus the banana, and Monique had the Jungle Jambo. Being a coffee junkie, Dennis got a Café de Chocolate. While we sipped on these drinks, we realized that they could easily be our appetizers! They were so rich and filling!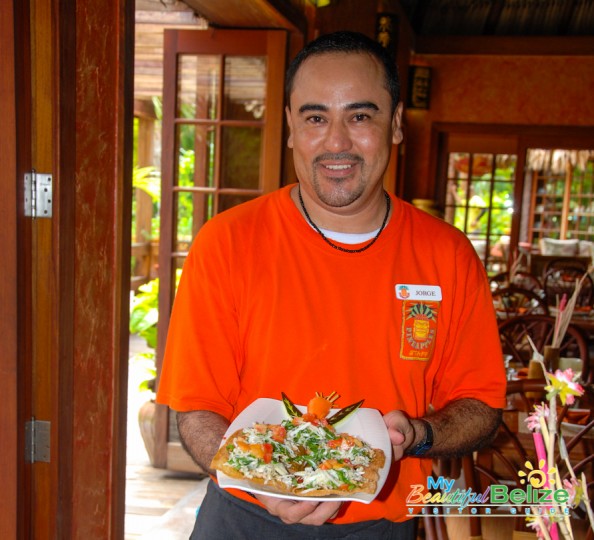 But we went the traditional route and started off with appetizers: Asian inspired chicken wontons. These crispy fried wontons were topped with a fresh veggie slaw and bites of tender chicken drizzled with a tangy sauce. It reminded me of a Mexican tostada, but with a twist! Yum! Yum!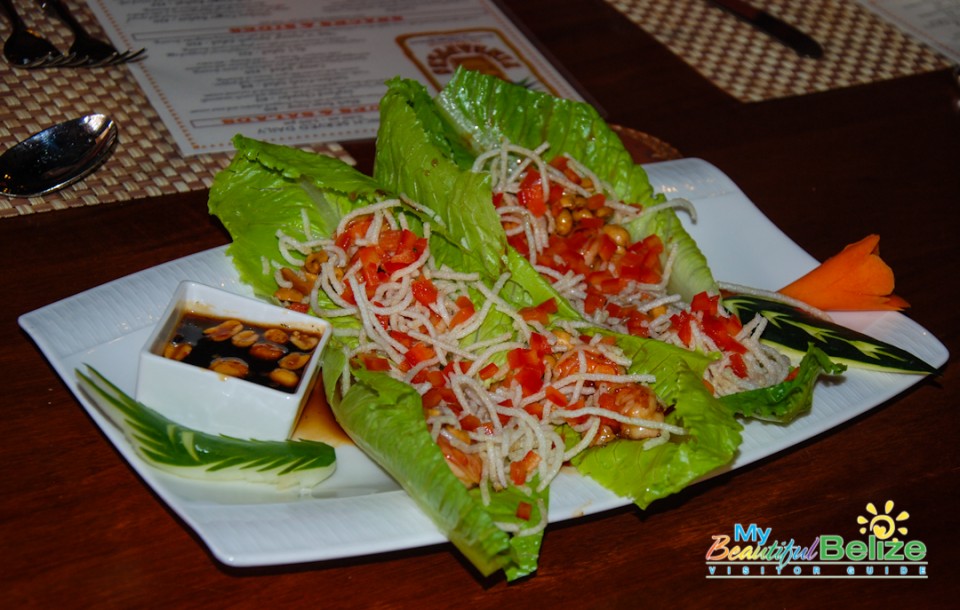 Following the wontons were some shrimp lettuce wraps. Lettuce leaves were fully loaded with juicy pan seared shrimp, fresh diced tomatoes, and fried rice noodles. A sweet and tangy peanut sauce gave it an extra kick, and when we weren't looking, Mary snuck the container to use for the rest of her meal! Tsk, tsk!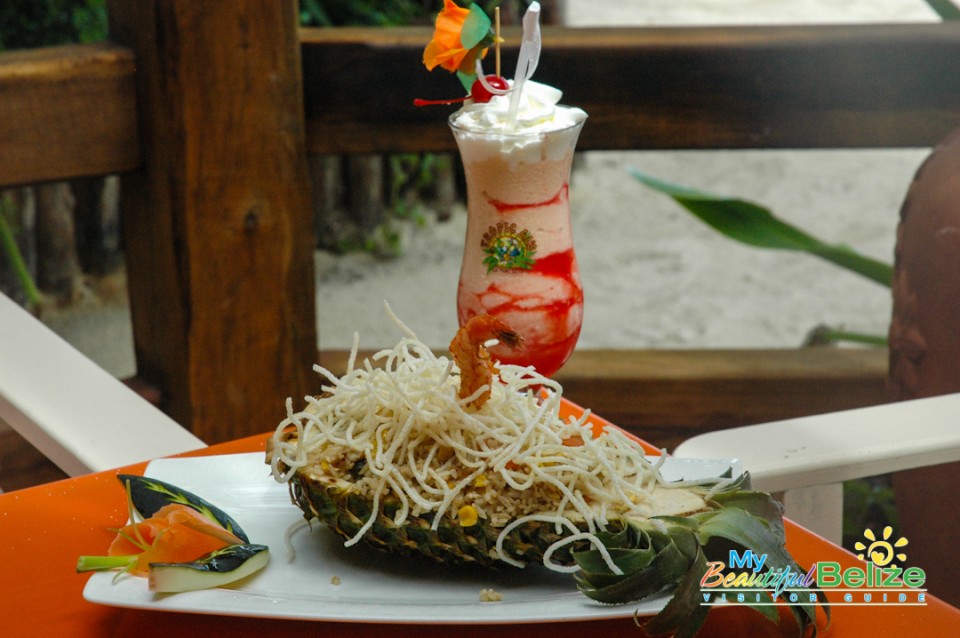 If the appetizers were that delicious, we couldn't wait to taste the entrees! Lucky us, we were treated to two of their iconic dishes: the Pineapple Boat and Steak on a Stone. The Pineapple Boat is a remake of classic fried rice presented in a hollowed out pineapple. The fried rice was jammed packed with yummy goodness like diced pineapples, green beans, eggs and shrimp.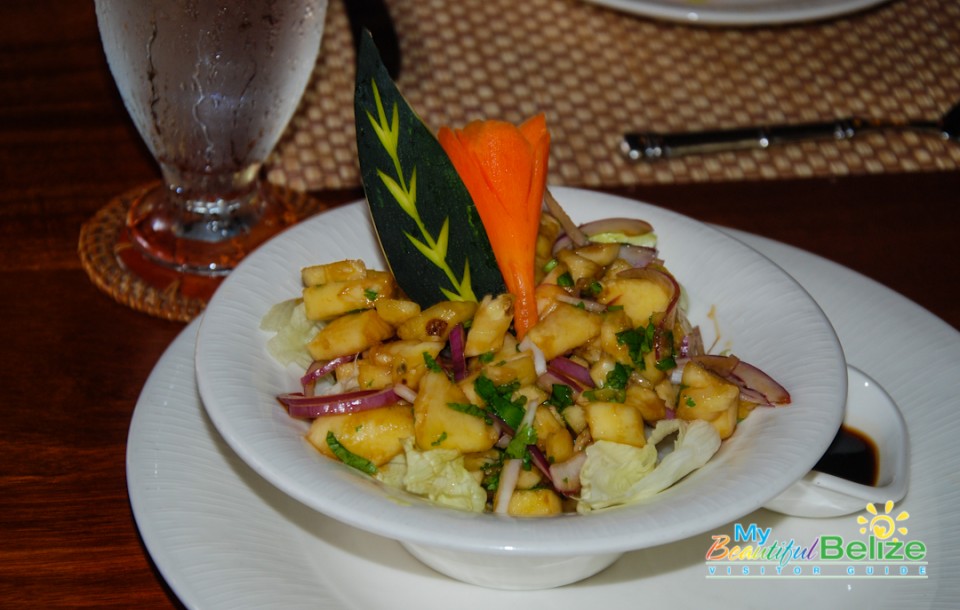 As Dennis doesn't eat much meat but chicken, he enjoyed the accompanying Pineapple Explosion salad. Unlike, Dennis, we have no problem with shrimp, so we dug in and OH MY GOSH was it delicious! I think there was even a hole in the plate, because that fried rice quickly disappeared. Oh well, there came the next dish-yay!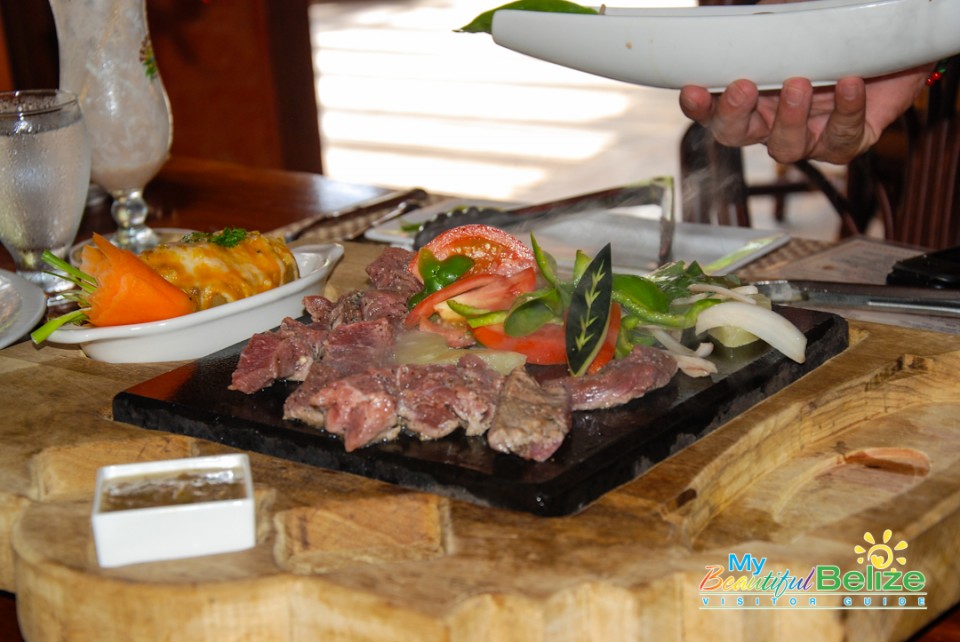 The next dish was the long anticipated Steak on a Stone. Jorge brought over a huge wooden tray with a smoking hot stone on the center. Thin strips of Belizean steak and chopped veggies were offered on the side for us to grill to our likeness.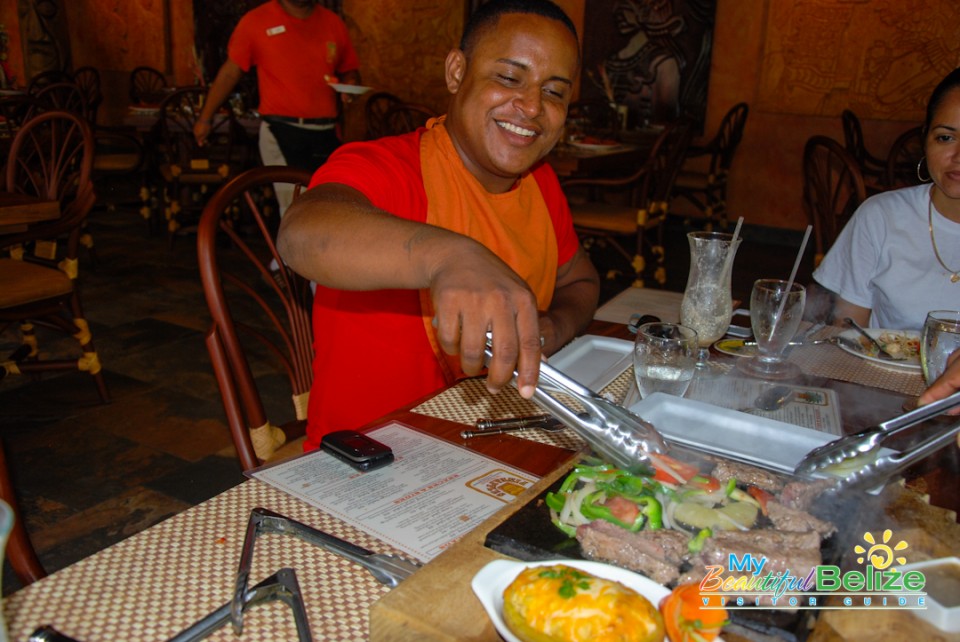 Taking good care of Dennis, they also provided strips of chicken breast so he could partake in the grilling experience. Pineapples sure is an accommodating restaurant!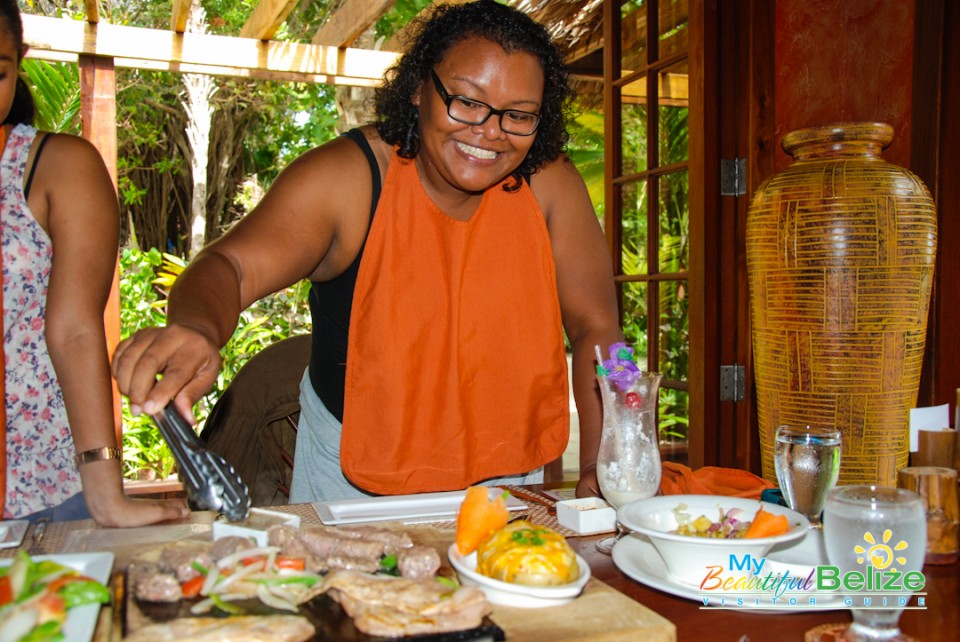 We took turns cooking our own food, which was so much fun! Bur eating it was even better! Accompanied by a loaded, twice baked potato oozing with cheese, and crisp tender veggies, we were about to pass out from all that goodness… so much delicious food. Mmm!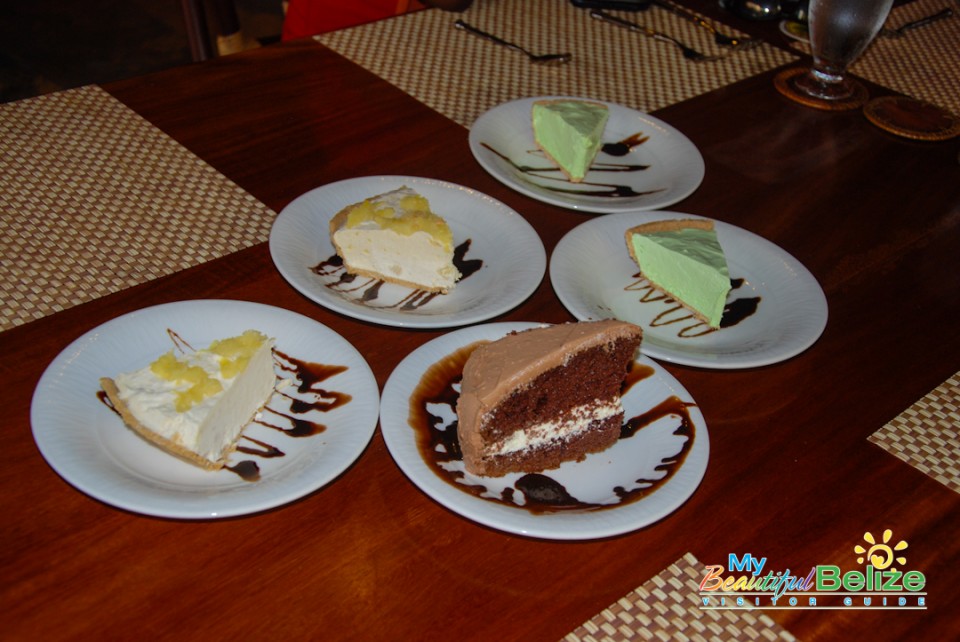 You would think that with all that food we ate we couldn't possibly want any more right? Nope, dessert was up next, perked us right up! It was time to loosen our belts and prepare for sweet heaven. Ooh la la- the options sounded amazing: chocolate cake, frozen pineapple cheese cake, frozen lemon pie, pineapple cobbler and grilled pineapple slices topped with vanilla ice-cream. We couldn't make a choice, so we just had to try them all! Sweet, sweet paradise! We tried everything! Honestly, even though I was stuffed to the max, I couldn't stop eating. In fact the four of us greedily licked our plates clean… no regrets….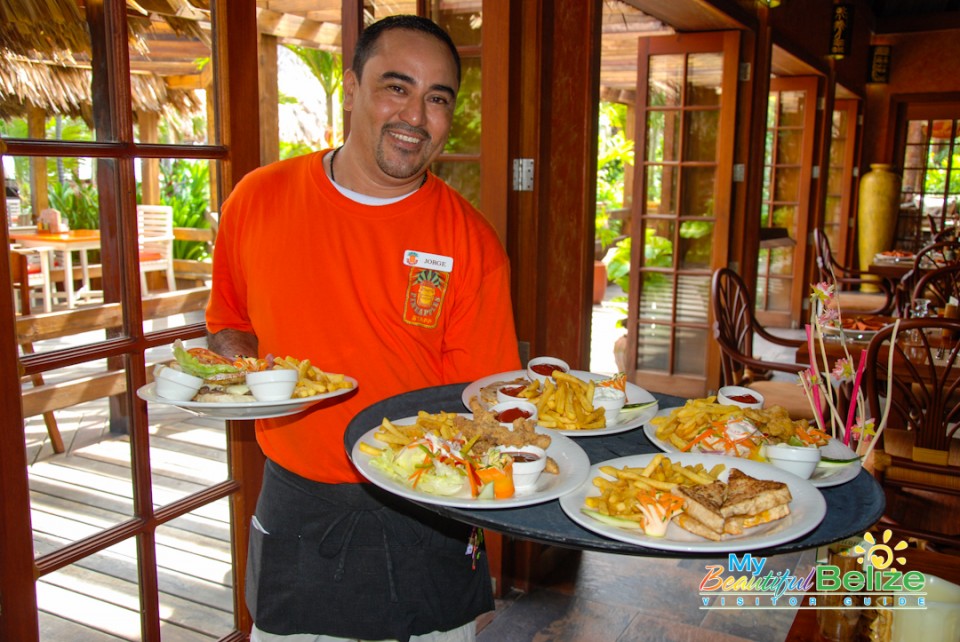 Hats off to chef Rommy Kie and his wonderful staff! We really can't wait to dine there again.
Pineapples serves breakfast, lunch and dinner, you don't have to be a resort guest enjoy a meal there. Stop on by for a dining experience you won't soon forget, don't forget to try Tropic Al's assortment of smoothies and coffee drinks.
To make a reservation call 226-2071.