It was a week-long trip I was glad to be away on. Through the Belize Tourism Board (BTB), I would be travelling to destinations right within the 8,867 sq miles of my homeland, Belize. I was eager to look at my country through the eyes of a tourist, seeing what they saw when they ventured our terrains, falling in love when they snorkeled our renowned waters. I already know our country is without a doubt, beautiful. But what I wanted to know is, just what it is that keeps them coming back to our tiny jewel, time and time again?
My journey began with a 20 minute fight via TropicAir to Belize City. The short flight provided me with a scenic view of the cayes and the iconic barrier reef that vividly contrasted some parts of the blue waters that lay beneath. With my camera, a few changes of clothes, and a spirit ready for adventure, I was prepared to have a week filled with Belizean experiences. Normally we tend to overlook this sort of travel because it's in our own "back yard" but really, we don't need to cross borders for adventures and vacations! Just read on as I share some of my adventures with you;maybe you'll start packing for your very own Belizean adventure!
From the airstrip in the city, we made our way along the winding Western Highway, en-route to Black Rock Lodge in the Cayo District. The unique eco-lodge, nestled in the midst of the Maya Mountains, proved to truly be the perfect get-away- if what you're looking for is some peace and quiet and crisp clean mountain air. The lodge boasted 13 cabins, all offering guests an intimate view of the Macal River that roared below and the canyons that towered above, a view signature to Black Rock.Added amenities included a yoga platform, onsite restaurant and endless outdoor and river activities. Our trip to Cayo also took us to Windy Hill Resort right outside San Ignacio Town. There the warm cabin style cabanas offered the perfect night's rest as each air conditioned cabin came fully equipped with a flat screen cable TV, hot and cold showers, and Wi-Fi. The resort also offered guests the luxury of an infinity pool, equipped fitness center and a stocked bar/ lounge. For dinner we delighted in savory meals at Fuego Bar and Grill. This polished diner style cafe offered delicious cuisine such as shrimp and pork belly fettuccini, signature made steaks and a host of yummy desserts,including an oh-so-delectable guava cheesecake. For breakfast we visited Ko-ox Han'nah. They offered everything from Belizean favorites such as johnny cakes, fry jacks and flour tortillas to more international fare like waffles, pancakes and bagels. Our trip in Cayo ended with a trip to Green Hills Butterfly Ranch and Research Center, wherethe owners showed us around the nursery that was home to a multitude of different butterflies. I could rhapsodize about each experience, but I'll save those stories for later, as I just haveto share with you share with you my surprise destination of the trip.


Unveiling the hidden charm of Belize City (that's right-Belize City!)
To be completely honest Belize City was probably the one locale I was most skeptical about. You see, to me Belize means one of two things: crystalline waters, sandy beaches, and the sharks and rays of the cayes, or the cave tubing, zip lining, and mystic ruins of the lush jungle. These are the places I love and I know visitors love too. I have never found any fascination with the old capital city, with peppered with old colonial buildings or its narrow streets. Boy was I in for an awakening!
To start with, we did not make our way around the city by car, bicycle or even on foot. Oh no-nothing standard would do. Instead, BTB had arranged….wait for it…Horse and Carriage tours! That's right -we toured in style! For the first time ever, I saw beyond the commercial metropolis as Belize Carriage Tours showed me the City's rustic charm.
There is so much rich history beyond the shops and narrow streets. History that spoke to me through the baron Bliss Lighthouse Monument, the rustic Wrigley home with its antique yellow windows, Princess Margaret Drive and the Belize Museum, that housed centuries' worth of displays significant to our nation's past and present. I learnt that the old museum was the country's first prison and to my surprise still had the old bricks and bars that held captive the prisoners of its time. Our guide eventually parked our buggies in front of a marina , where a quick lesson in Belizean Culture 101 awaited us.We were given a brief presentation on natural Belizean remedies, followed by some tasty tamales and sweet "cuttobrut" (or cocobrut), a caramelized coconut treat. This was certainly an experience I'll never forget. Could it be that I was beginning to fall in love with the city? I think so- and you know why? Because Belize City had not been polished to look more appealing to the foreign eye;instead, it was authentic. From the vendors selling goods at the side of the roads, to the narrow streets that led to hidden gems all over the metropolis.
In fact, one such gem was the birthplace of my favorite lager beer, my "liquid gold"- the crispy goodness that is Lighthouse Lager.I was 'forced' to enjoy unlimited free samples- I just had to, since I was on duty.It was-oh you know it was awesome…you don't feel one bit sorry for me, do you? You know what, neither do I!
We also had the pleasure of meeting the man behind the delicious brews himself: Nolan Michael. Nolan is the first Belizean Brew Master for the iconic Belizean brews, taking over from theall-German Brew Masters of before. Bowen and Bowen Factory, thank you for sharing your delicious product so generously!
We also toured Traveller's Liquors, sampling a few delicious concoctions along the way. Come to think of it- it was a very boozy, hazy afternoon. It's any wonder my photos are in focus! The sight of Travellers' barrels lined in a warehouse cooking up the spicy One Barrel was quite heady, and the Rum Creams in a variety of flavors tackled the taste buds. Yum!
To offset all the alcoholic beverages, we had dinner at The Riverside Tavern, where we dined outdoors on their cool, breezy deck. I made much of my choice of delectable appetizer: lamb balls, and for a main course: sautéed chicken with a fresh garden salad. Everything,from the meals to the service, was certainly commendable.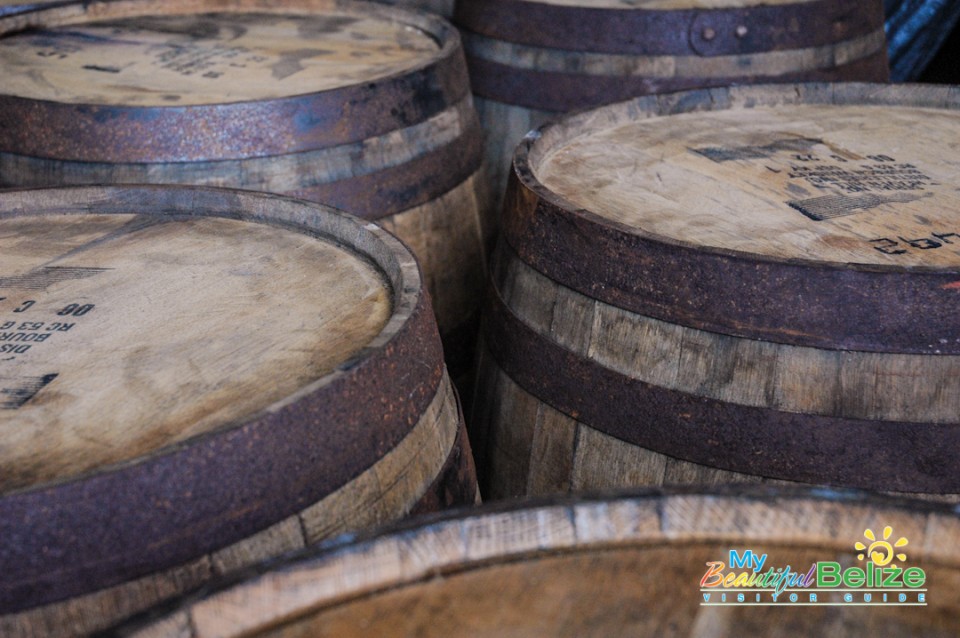 When we all finally convened for a night of peaceful slumber, it was at the Chateau Caribbean. I was thrilled to be spending the night here, as the old colonial style hotel with a view of the marina swept me in to a world of an era long gone. By the end of our trip, Belize City had managed to what to do what I thought was impossible. It didn't have the jungle adventures of Cayoor the 'glamour' of the cayes such as Caye Caulker and San Pedro, but the rough- around-the-edges city has found its way to my heart.Its roots are submerged in deep history, a history that paved the way and made Belize just what it is today. Whenever you are walking around or driving through, think of paying a visit to one of these places- the museum, Bowen and Bowen, Traveller's Rums, Riverside Tavern, or book a tour with Belize Carriage Tours and see the city in a way I can guarantee you've never seen it before. It will give you a glimpse into the hidden beauty of a place whose potential has yet to be tapped.