This is a reprint of our Associate Editor Tia Chocolate's blog post, reminiscing on her Christmases past. As the season draws nearer and nearer, the thoughts of the delicious traditional Belizean meals that will be had has her (and really, all of us) positively salivating in anticipation…
When I was little, I could hardly tell whether it was dense fog or smoke billowing under my window. The sight of my mother's slightly plump figure carrying a headless, bloody chicken under the kitchen roof answered my question. Waking up to mother's cooking is by far one of the best memories I have of her. Food was always delicious, and while learning to cook at the ripe old age of eight was a chore, as the years flew by, and having consumed thousands of tasteless, over-seasoned, greasy food from everywhere else, it was time to embrace what I'd always known. There is nothing like mother's cooking – and I mean, nothing.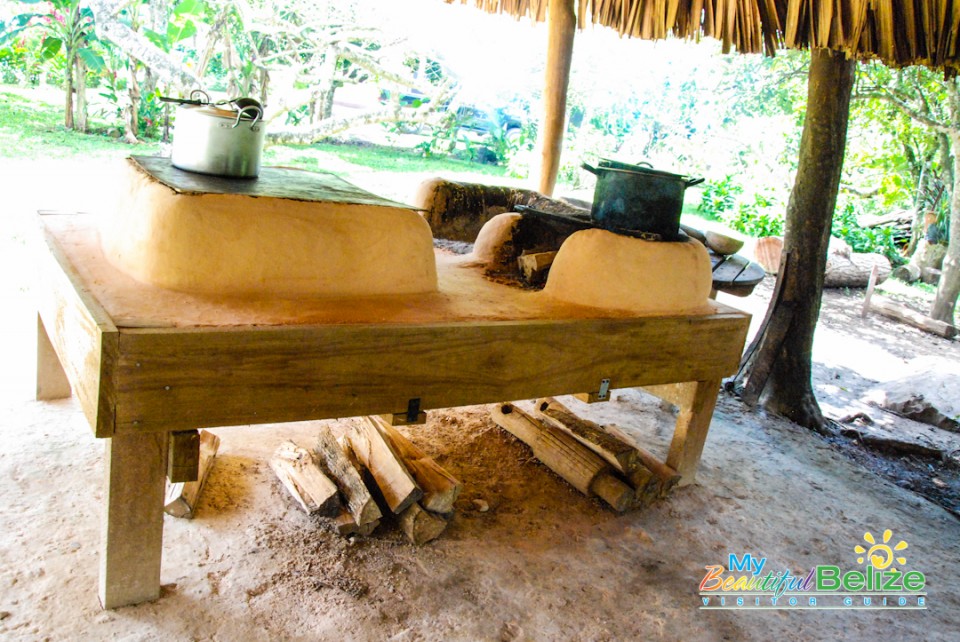 For starters, gas stoves were used as a last resort back home. Everyone preferred eating hot stewed beans from the fogon (fire hearth). Tortillas baked this way have a smoky flavor, and are crisp on the outside, yet soft and chewy inside, the perfect receptacles for beans, meats, even plain cheese or local eggs. Whenever my mother made escabeche, it was at the fogon, and that hearth was the place where we boiled our corn with lime to make masa (corn dough). During sweet potato season even the banana leaves were whole, not all shredded like they were most of the year. The ginger was also growing underground, tender and pungent, waiting to be dug up to join the freshly grated sweet potatoes, butter and sugar, ready to place over banana leaves, and baked over hot coals – the perfect Sweet Potato Poun' (Pone).
There is a season for everything, and back home, Christmas was the best. Bear in mind we had no electricity at home, so the idea of mixers, even the handheld ones, did not even cross the minds of cooks. No ham or turkey, but definitely lots of cake! Those were baked in a regular oven, but everything else would be cooked on the open fire. Once a year, we would get grapes, apples, pears and for the second time of the year, Coca Cola would grace our homes. (Birthdays were the other occasion). Cake and coke was the very definition of the season for us.
My mother only had me, so it was harder work to bake those batches of cakes. Everyone in the family exchanged cakes, and sisters still had a major rivalry going, nibbling at their siblings' cakes, seeing if theirs were better. Waking up early added to the "joy" of the day. I was usually woken at six, when normally I would be allowed to sleep till nine (spoilt brat that I was). My mother would have been up from before, measuring out the ingredients, cleaning all her utensils with boiling water. We had buckets that had been reserved for drinking (rain) water, and those had impeccable lids, and the outside shone as much as the inside. Dishcloths, usually old pillowcases that had been recycled to the kitchen, after much hot water washing and bleaching in the morning dew, were stacked at the ready: little receiving blankets for the steamy cakes fresh out of the oven.
The hardest chore was creaming butter and sugar. The butter was actually margarine, the Victoria brand in the little white tubs with red lids. Sugar was always sifted, to make the creaming process easier, but it still felt like hours' worth of work to get to the creamy stage. After creaming, my mother would mix in the flour, baking powder, vanilla (always imitation) and eggs into a clean bucket. Carnation brand milk would be added, and then the churning process would begin. With a large cooking spoon, I'd work out my arm muscles, mixing and mixing, splattering bits of batter all over, but happy to lick it off, and then mix some more. I remember one particular year; I mixed so vigorously I broke a spoon. It was a joy to have to dive in to retrieve the broken bits, and then licking off all that batter from my arms, though the ensuing tummy ache more than made up for my gluttony.
When the cakes were loaded into the oven, it was time to start planning the rest of the Christmas meal. High on the list were the tamales, which my mother joined her sisters in making. For an entire day, she and my aunts killed chickens that we kids had caught. They cleaned and prepared them, along with the masa and kol (a delightful and spicy red sauce), then wrapped them like Christmas presents, then placed them in the large, blackened pots we called caldero to steam. When they were done with the hundred and fifty or so tamales, they would divide amongst the families, with my mom taking the fewest for her little family of three. It didn't matter, as for days after, we'd have leftovers whenever and wherever we went to visit.
My mom also made delicious rice and beans with baked chicken, plus potato salad to fit the bill. Mmmm! Those were feasts! Sometimes, my mother would make black cake or fruit cake, but she made those in the night after ensuring I was fast asleep. I was only allowed a sliver of the black cake on account of the rum, and I avoided the fruitcake like most intelligent children do. (Honestly, who eats that stuff?)
And speaking of intelligent children, I made sure to offer to run into town to do all the shopping, as the shop owners all gave out treats around Christmas time. Sometimes I went home with more fruit and treats than what I actually paid for, and to be honest, those were my presents. No Christmas tree decorated the home, only the gaudy gold foil banners and tinsel lined the windows, doors and ceiling. With no Christmas tree, there was no need to place presents anywhere, but I got new clothes, new shoes, new socks, things I needed. With food and clothing, and love from my mother and a temporary gentleness within my father, Christmas was a beautifully unspoiled time. So when I find myself itching to bake 'cake from scratch', plus start saving bottles to get a case of soda, and planning ahead for giant meals for my little family of two, I think of my mom, dream of owning a fogon, and enjoy a bit of nostalgia, for that is part of the season for me. Merry Belize Christmas!