Rescuing turtles of Belize!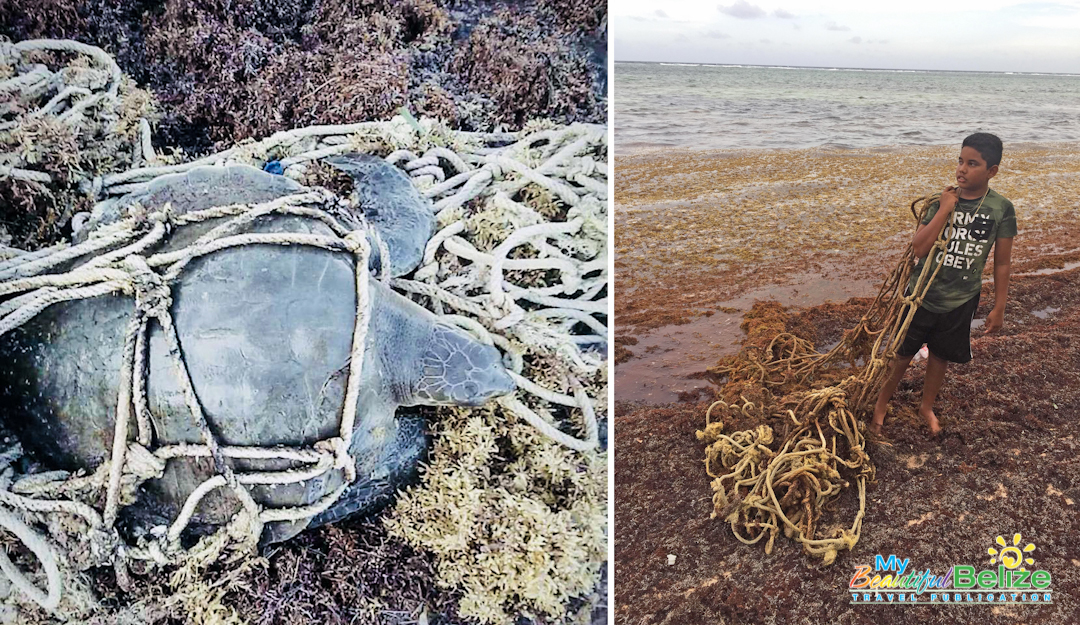 * 12-year-old Jeffrey McPherson was out for a family ride in the Rocky Point area on Ambergris Caye when he and his stepfather Ezekiel saw what appeared to be a large mass in the water. Eagle-eyed Jeffrey swore he saw a fin or flipper move, so he insisted they look closer. It's a good thing they did, because that lump turned out to be an Olive Ridley turtle trapped within a loose net that weighed close to 15 pounds!
After disentangling the net from around the turtle, Jeffrey and his family set the marine creature free. Interestingly enough, Olive Ridleys are not common in Belize. They are mostly found in the tropical regions of the Pacific, Atlantic, and Indian Oceans. In the Pacific, it prefers beaches of Mexico south to Colombia. Jeffrey's rescued turtle is apparently only the second one registered in Belize!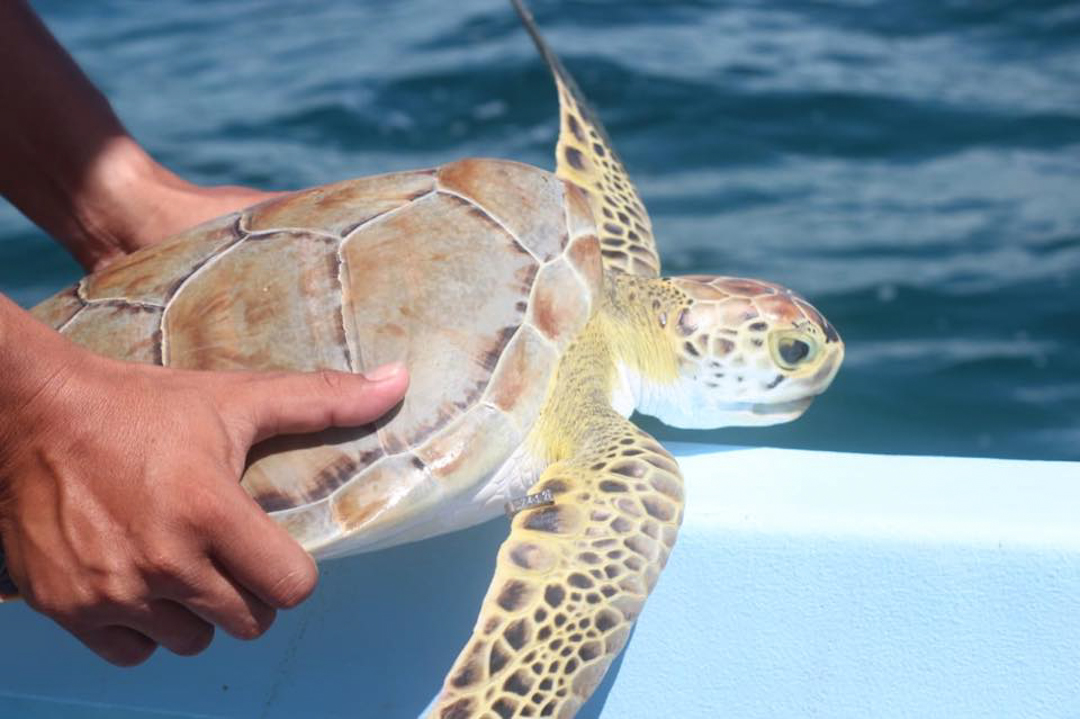 * Oceana in Belize was alerted that a sea turtle had been removed from a ghost fishing net in the Corozal Bay Area late August. Ryan Rivera, Oceana's field rep for the northern district took the call and housed the turtle overnight before transporting it for release in the Hol Chan Marine Reserve on Ambergris Caye.
Thanks to Tropic Air, "Flipping" the turtle, as he was dubbed, was flown over to San Pedro Town, where he was assessed, tagged and declared safe for release by Hol Chan biologists and rangers. Another day, another rescue for our precious Marine resources!
Fish Right, Eat Right – Restaurants step up to the 'plate' and serve sustainable seafood
The first restaurants to sign up to the Fish Right Eat Right initiative are Blue Water Grill, Elvi's Kitchen, Wild Mango's Restaurant, and Fido's Courtyard in San Pedro Town. These restaurants have been officially certified by the Wildlife Conservation Society and Oceana Belize. The establishments promote sustainable fishing by adhering to certain rules and regulations and use the OurFish App to track seafood purchases.
Besides being in full legal compliance with the Fisheries Act of Belize, certified restaurants must also subscribe to certain best practices that promote sustainable fisheries in Belize. Essentially, these restaurants, and those to come after, are ensuring that the fish they serve have been caught in a sustainable manner, while supporting the fishermen who take the initiative to fish right, and educating customers on the value of eating properly sourced food.
Learn more about the Fish Right Eat Right Program (including the criteria for certification) at https://www.fishrighteatright.com/
Remembering Dr. Alan Rabinowitz and his contributions to the Cockscomb Jaguar Reserve

Every once in a generation, you discover someone whose impact on humanity is so great that wrapping your mind around their contributions takes your breath away. One such man who Belizeans honor is visionary scientist Dr. Alan Rabinowitz, who after a battle with cancer, passed away on August 5, 2018.
Time Magazine once called him "the Indiana Jones of wildlife protection", due to his work at the Wildlife Conservation Society (WCS), gaining international renown for his research on jaguars, tigers, rhinos, bears, raccoons, leopards, leopard cats and civets. He worked for nearly three decades at WCS before moving to Panthera, a wild-cat conservation organization that he co-founded in 2006 and, until his illness, led as chief executive.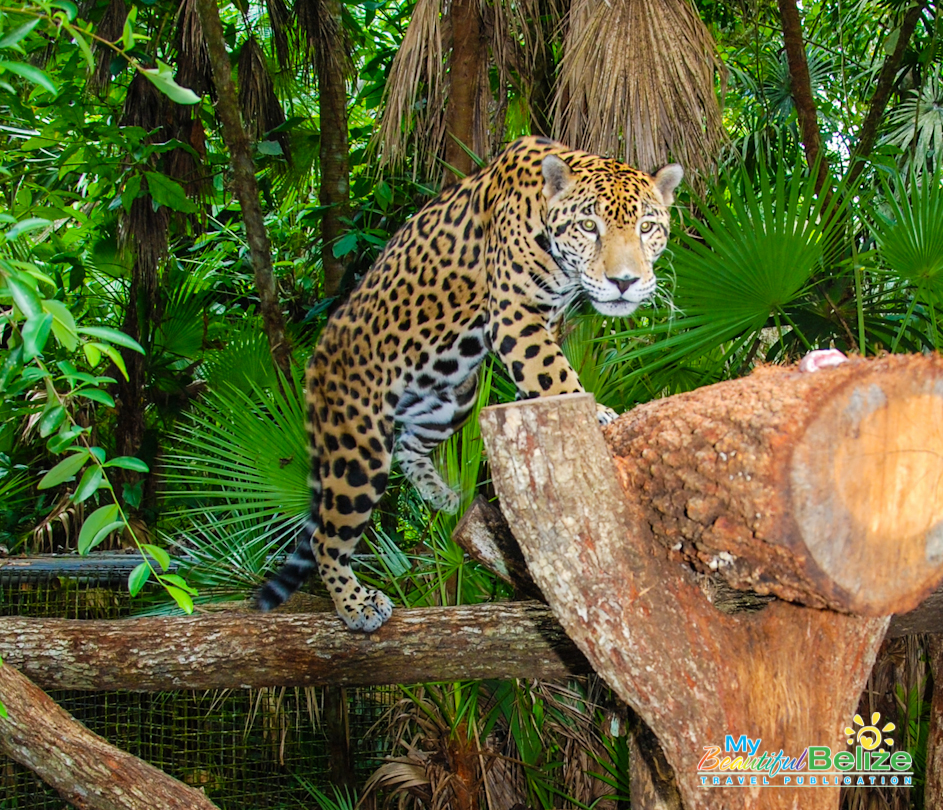 In Belize, his work was credited with spurring the creation of the Cockscomb Basin Wildlife Sanctuary, the world's first jaguar preserve. But Dr. Rabinowitz also "went beyond the science," as he also worked to convince foreign governments and local populations of the importance of protecting animals, especially those that are seen as a nuisance, threat or a lucrative source of fur. Conservationist George Schaller, who serves as vice chair of Panthera's science council said of Rabinowitz, "It takes passionate people like Alan to be on the ground in these countries, sometimes for several years, to reach the trust of the government and convince them to protect something.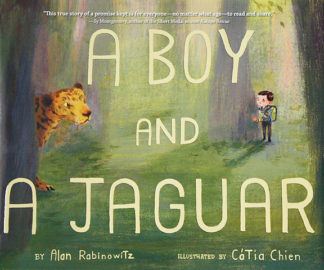 And that's not what you train for as a scientist."
Dr. Rabinowitz wrote more than 100 scientific articles and several books for a popular audience, including "Jaguar: Struggle and Triumph in the Jungles of Belize" (1986) — published the same year he succeeded in establishing the jaguar preserve in that country — and "A Boy and a Jaguar" (2014), an autobiographical children's book. The jaguars of Belize roar in mourning their champion, joining those of us who felt and continue to feel the impact of his works throughout the country.