Coconut oil is as synonymous to Belizean Cuisine as the tropical sea is to the Caribbean. While we surely enjoy every aspect of the coconut – its refreshingly sweet water, succulent meat and even use its husk and shell for crafts; the oil has to be my favorite use of this versatile drupe.
Used in everything from stews to pastries and of course, our delicious Rice & Beans – coconut oil is a staple in most households – used to create that perfect family meal.
This natural oil gives off a tropical aroma to kitchens across the country, and a true taste of Belize to your meal.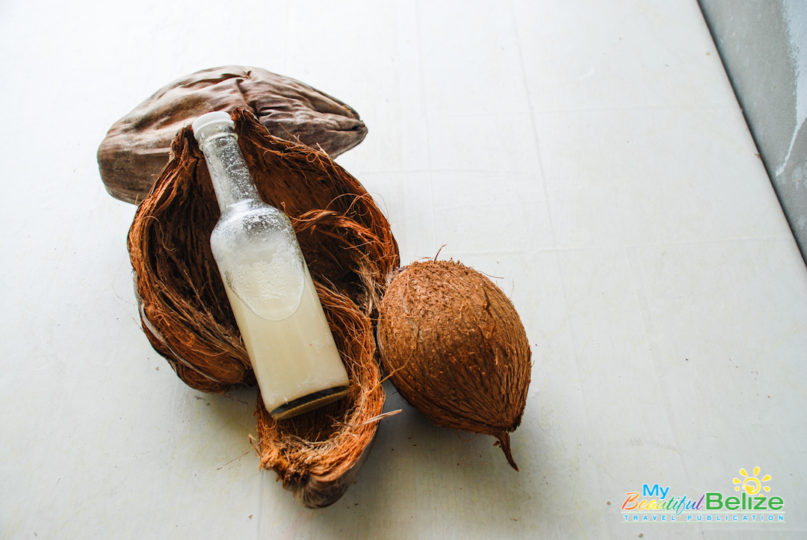 Ingredients:
• Mature coconuts
Directions:
• Husk dried mature coconuts until only the shell remains.
• Split shell in half using a sharp cleaver or machete; coconut will still have some water in it, this can be collected for other uses.
• Scrape the meat out of the coconut shell using a spoon or scraper.
• Shred the coconut meat in a food processor; some of the coconut water can be added to moisten the mixture.
• Squeeze the mixture using a cloth or strainer, letting the milk pour into a pot for boiling.
• Boil the strained liquid, stirring constantly until the water has evaporated and the oil separates.
• Pour the oil into a glass container; let cool.
The coconut oil is now ready to use in all your favorite dishes.
Pure coconut oil will harden in cold temperatures, but easily melts once warmed up.