The last time I held a brush was to dust cobwebs off some items, not to dip in paint and create a masterpiece. Yet there I was, swiping brushstrokes across the canvas in an attempt to recreate a sample image. Oh yes, my inner Matisse was just begging to come out…oh…oops, painted over the line…maybe I'm more like a Monet? Oh…whoopsie…was that the wrong color? Yikes…!!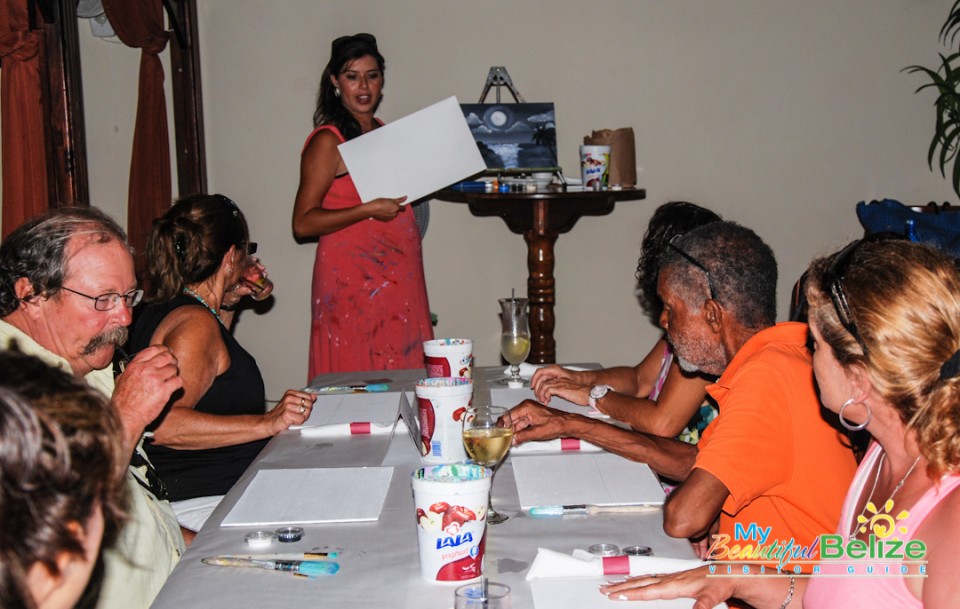 What I was actually doing was sitting at Black Orchid Restaurant, enjoying its fabulous ambiance and listening to Melody Sanchez-Wolfe's instructions on recreating one of her pieces: a full moon over the water, framed by palm trees in silhouette, and a dock with a palapa in the foreground. My artist pal Monique had joined me for drinks and delicious appetizers, and between the two of us, we hoped to come up with something worthy of display. I mean, I failed Art in junior college. I hear no-one fails art, but I think we all know I'm special…(ha!) so between the two of us, there should be something worthy of display, right?

But back to the class: Splash 'n' Paint is a super-fun experience that is led by Melody, a local artist and gallery owner. She has been offering these classes on the island for a while, alternating between Feliz Bar across the bridge, and Crazy Canucks in town. Those wanting to try their hand at painting and possibly make their own souvenir can join in on the classes. What's not to love about getting to be creative, especially when you can add drinks and snacks to the mix! Throw in the possibilities of meeting new people or reconnecting with friends on a regular basis, while doing something so enjoyable, well, it's no wonder the classes are so popular!
Black Orchid Restaurant decided to do something a little different to offer a little variety to the routine, and so Splash n Paint took on a new dimension. With appetizer service and a free drink ticket, those who signed up got to enjoy the delicious creations of Chef Judyann Horton, while sipping drinks made by her husband Tom. The saying 'watching paint dry', is often used to describe boring…but not this time!
Each new addition to the canvas before us required a quick stop to let the paint dry, and each time, waitresses would come by plying us with delicious treats that Judyann and Hortense sent from the kitchen. Clouds, then stars, the moon and its reflection, and finally, some palm leaves/trees took shape under our brushstrokes, while appetizer after appetizer kept coming as well. From warm, comforting Seafood bisque with shrimp bites, to fresh Snapper Samplers, sweet Teriyaki Chicken and totally fun (and delicious) Lasagna meatball samplers with marinara sauce, our taste buds were very happy!
Final touches were placed on the canvases, and Melody was thrilled to have led her first black and white painting class. Everyone's approach was different, but when we finally all convened to one big table for a great mix of conversations, we all agreed, it was incredibly fun and rewarding to be able to meet new people, dine on delicious food, while learning a new skill (though some certainly had practice!). The final treat of the night was a delicious chocolate mousse with a shot of port. Dessert is always such a treat, and this particular slice was utter heaven. Light, sweet and perfectly paired with the port, the last course of the night was the right touch to cap off an evening of fun.
Of course, Black Orchid Restaurant is also available for non-painting diners! As we discovered on previous visits, from pasta to seared steaks to seafood, Chef Judyann brings out delicious flavors from fresh ingredients – focusing on the perfect blends to make each bite worth savoring and lingering on. If you're looking for a casual and leisurely date at Black Orchid, try their Sangria Sunday Brunch. You just can't go wrong!
Black Orchid is located south past the WASA/Croc pond; for dinner reservations, call 206-2441.