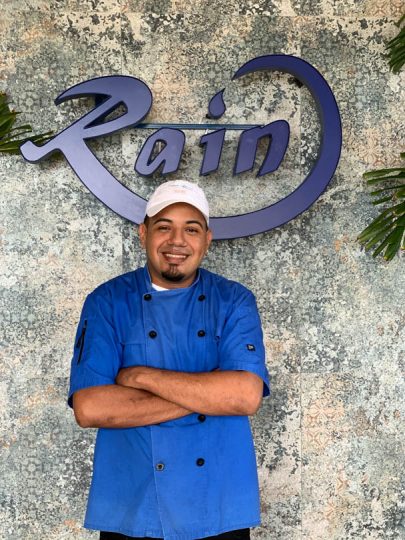 Visitors often tell us that their favorite part of Belize is her people. They talk about how friendly and open Belizeans are, welcoming them warmly to our shores and showing them the absolute best of Belize. With that in mind, we present to you some of those friendly favorites.
Chances are, you will meet them during your travels and experience the warmth and hospitality that make them stand out to us too!
Frank Varma
The Head Chef at Rain Restaurant and Rooftop Terrace, Frank is a young, passionate member of the Belizean Culinary World. Professionally he has worked in a kitchen for eight years, but as he says, "I've been playing with fire and food since I was a little kid." Favoring cuisines that taste like home, through his culinary journey Frank has grasped the skills of fusing local and cultural flavors with international techniques to recreate dishes that reminds him of everything he grew up eating.
A self-described "food fanatic", Frank is eager to share his cooking with everyone. "Being a chef opens your mind and taste buds to diverse foods from around the world. At the same time, I want to share the flavors I am comfortable with… food for the soul!"
Taste Frank Varma's culinary creations at Rain located at Caribeville just north of Sir Barry Bowen Bridge in San Pedro Town. If you find the meal exceptional, ask to meet the chef and let him share his Belizean Smile with you!