Ambergris Caye is never short on surprises, and an afternoon golf cart ride can be one you may never forget. From breathtaking panoramas of the Caribbean Sea to lush and blooming flora, this is one of the best ways to explore and discover La Isla Bonita.
A recent Sunday afternoon drive took us to the southern end of the island, where the less inhabited area lends lovely beachside views and its share of properties posted for sale which we fantasize about buying…SOMEDAY, sigh. While driving I'm always on the lookout for birds (who says you have to keep your eyes on the road?) and along the way we spot an enormous Osprey nest with a majestic parent standing sentinel nearby. Bonus!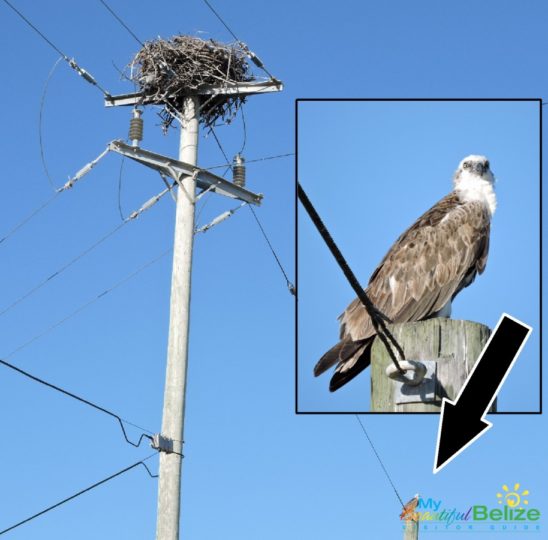 But the real birding bonus lies just around the corner, when in a cleared area near Tarpon Bay the wetlands have attracted a crowd of grazing birds of all sizes and colors.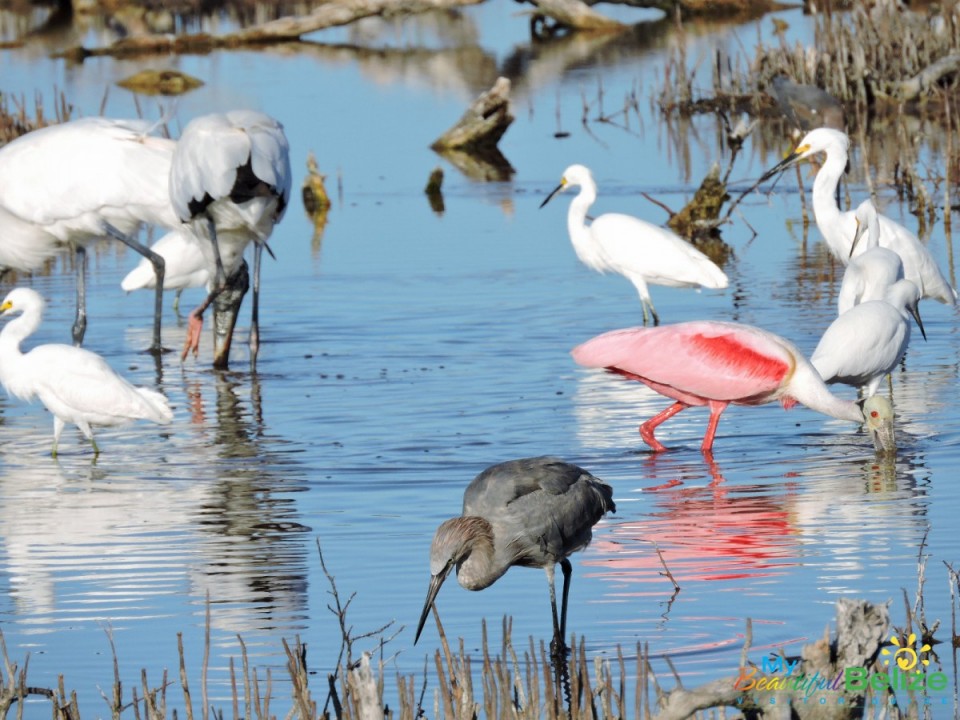 The largest of them all are the impressive Wood Storks which stand more than three feet high. According to my handy dandy Birds of Belize Checklist issued by the Belize Audubon Society, they are considered not only uncommon for this area (I have seen them once before in roughly the same area) but are listed as a species of conservation concern. I especially love these big birds because they are the signature "baby delivery storks" fabled from years ago. I can just envision one soaring through the sky, dangling a little bundle of joy from his massive beak!
Much to my delight I also spot another favorite bird of mine, a bright pink Roseate Spoonbill methodically sieving the water in search of a tasty meal.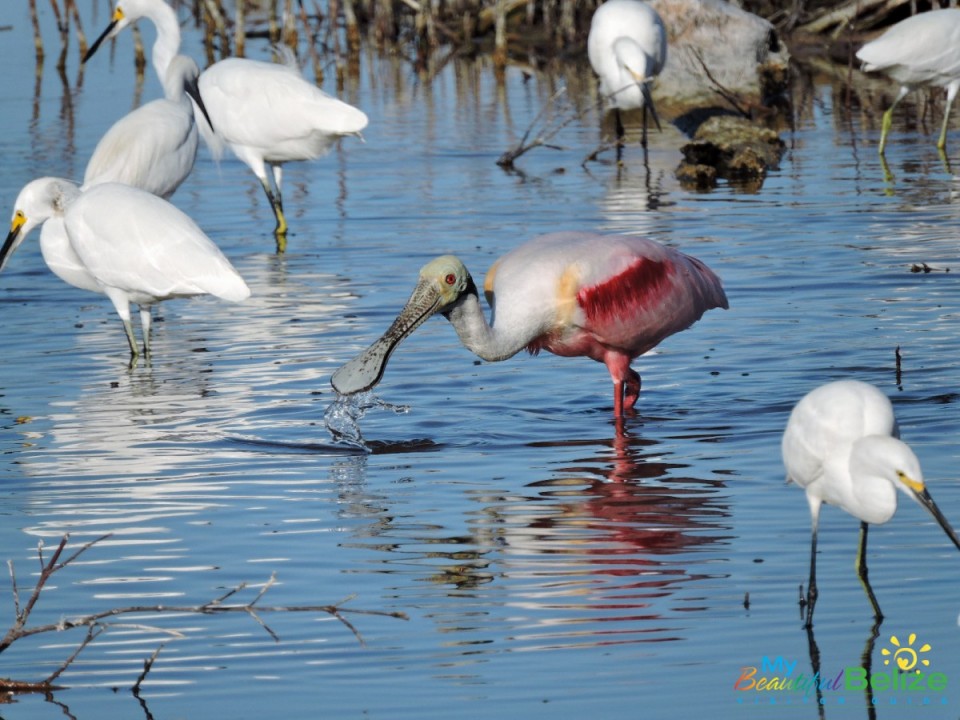 Like the American flamingo, their pink color is diet-derived, which primarily consists of organisms such as shrimp and algae that are high in pigments called carotenoids. These carotenoids are the same pigments that cause shrimp to turn from gray to pink when we boil them! Cool, huh?
Another treat? Spotting a gorgeous male Blue-winged Teal with an entourage of females, paddling around like they owned the place. It hardly seems fair that the male is the prettiest one out of the bunch!
I also see White Ibis young and old, Snowy Egrets, Tri-Colored and Green Herons, a Reddish Egret which I mistake for a Little Blue Heron at first, and long-legged shore birds like Killdeer and Wilson's Plover.
Perhaps the most amazing thing about this is the fact that we never left our golf cart! From the side of the road we spent a good hour marveling at this avian spectacle while the birds went about their business of feeding.
It is days like these that confirm how fortunate I am to share this island with such amazing wildlife. So often my recreating takes me below the tropical waters to swim with the fishes, but on this day my close encounters with Caribbean creatures was well above the surface of the cool waters surrounding La Isla Bonita, and what a rare treat it was!