Every now and then, you come across one of those unexpected cozy locations that end up being one of the experiences you enjoy the most. That unsuspecting bar tucked away on a normal street, not too far from the downtown scene, that offers its own unique charm and ambiance that gives you not only a sense of enjoyment, but also a sense of comfort and a cool vibe that allows you to just sit back and relax. Average Joe's is one of those places; a bar where both tourists and locals alike can be at ease, kicking back while having a couple cold beers, making friends, and chatting about their day, their vacation, what's happening around town, and all those fun experiences we know and love here in San Pedro.
AJ's offers live music just about every night of the week, except on Tuesdays, when they are closed, and on Sundays when the mic opens up for weekly karaoke. Depending on when you go, you will get the chance to listen to local musicians and bands like All Cayed Up, Barefoot Skinny or Valentino, and even get the chance to rock at the tribute to The Man in Black himself on Thursdays with 'Johnny Cash, Live'. Rest assured if the vibe is right and you just got to get up and show your moves, Joe's got you covered; they'll even move the chairs and tables out the way for you so you can get your groove on unimpeded. This isn't the type of place people go just to be seen; it's the place to relax, sit back, get comfortable and be one with the other 'average' Jane's and Joe's who just want to enjoy the good vibes. No gimmicks here; just good hearty fun and the perfect mix for a good evening…cold beers, jamming sounds, good food, and regular people just having a good time.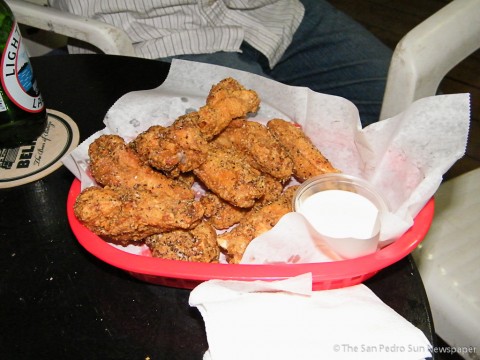 So…Cold beers? Check. Live bands jamming all through the week? Check. Weekly karaoke on Sundays? Check. Food? No problems there! Hot wing lovers rejoice… with 16 different flavors to choose from, it's a wing lover's dream come true. Feast on flavours such as Lemon Pepper, Teriyaki, Spicy BBQ, Sweet Chilli, Spicy Mango Mild, Medium, Hot, Hot Hot, and for the adventurous ones…Bad Ass HOT!!! Joe's is the king of wings in San Pedro, and if you're there be sure the try everyone's all-time favourite, the 'Salt and Peppa' Wings. You won't be disappointed. Even if you're not into the wings and things Average Joe's has still got you covered with some killer hot dogs, or as they are known there at Joe's, 'Dawgs'! As the slogan says 'Dawgs, Glorious Dawgs", Joe serves up island favourites like the Killer Cheddar Bacon Dawg, German Chilli Dawg, the Dixie Dawg AKA The Chilli Sandwich (the Dawg without a Dawg) and of course Joe's famous Chilli Cheese Dawgs.  Then there's the Ditch Dawg; a 100% all beef dawg smothered in ooey-gooey home-made Mac and Cheese, the perfect balance of two great comfort foods in one. You can even top it off with bacon for a mouth-watering guilty pleasure that'll have you smiling ear to ear.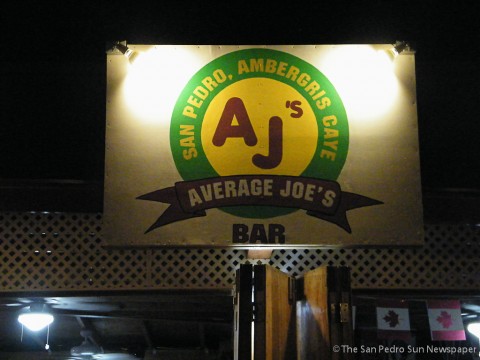 If you're looking for a good time surrounded by regular guys and gals simply out to have some fun, without the hassle of deafening music and blinding lights, Joe's is a great place to unwind. Open Wednesday's to Monday's from 11AM to midnight, you can always find a good place to relax in San Pedro if you head over to Average Joe's. You'll be surprised to see just how fun 'average' can be!