Visiting the old capital, Belize City, always brings about such a sense of nostalgia. Growing up I spent a lot of time in there, attracted to the more historical aspects of the fast-modernizing city. From colonial style homes to the old pieces of metal work displayed in the round-about on the Northern Highway, Belize has a transcending "Old" feel. There's no wonder why I always find myself gravitating to Old Belize!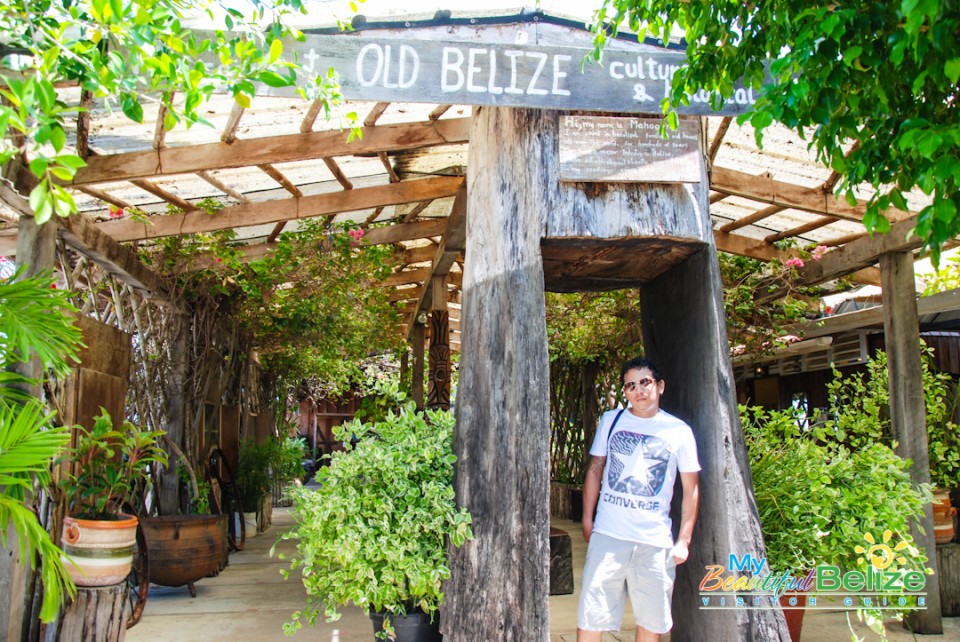 I have so much great memories of Old Belize- I have been there a few times, but I'm still eager to visit again. Located five miles on the George Price Highway (a 15-20 minute drive from the city, depending on the traffic), Old Belize provides a crash course on Belizean History to anyone looking to play and learn at the same time.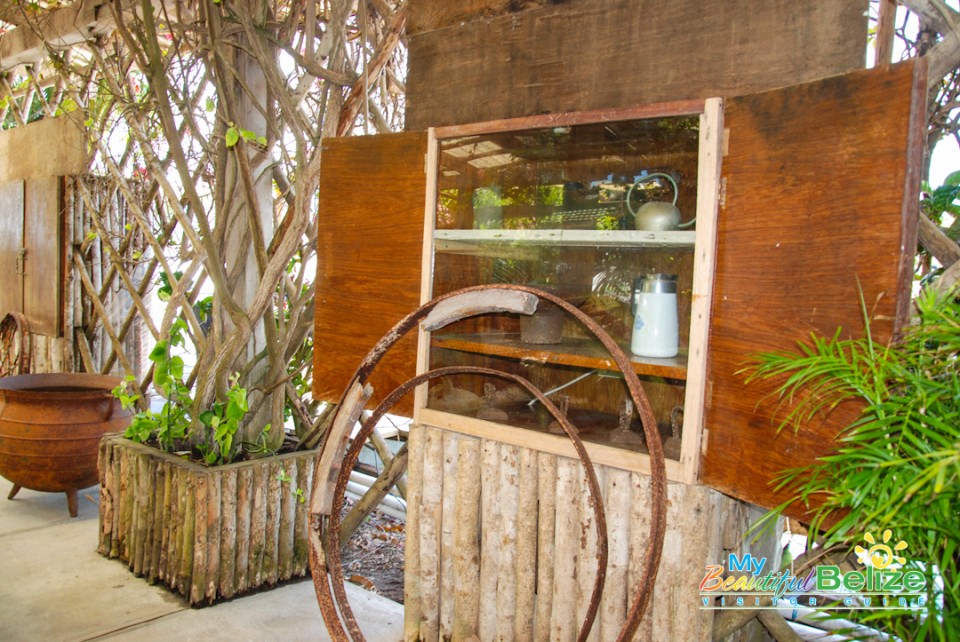 It's a fun place to get away with family, or in my case, my better half Samii. Old Belize is a museum, beach, marina, gift shop, restaurant and BAR all in one! Sound like a place you want to go, doesn't it?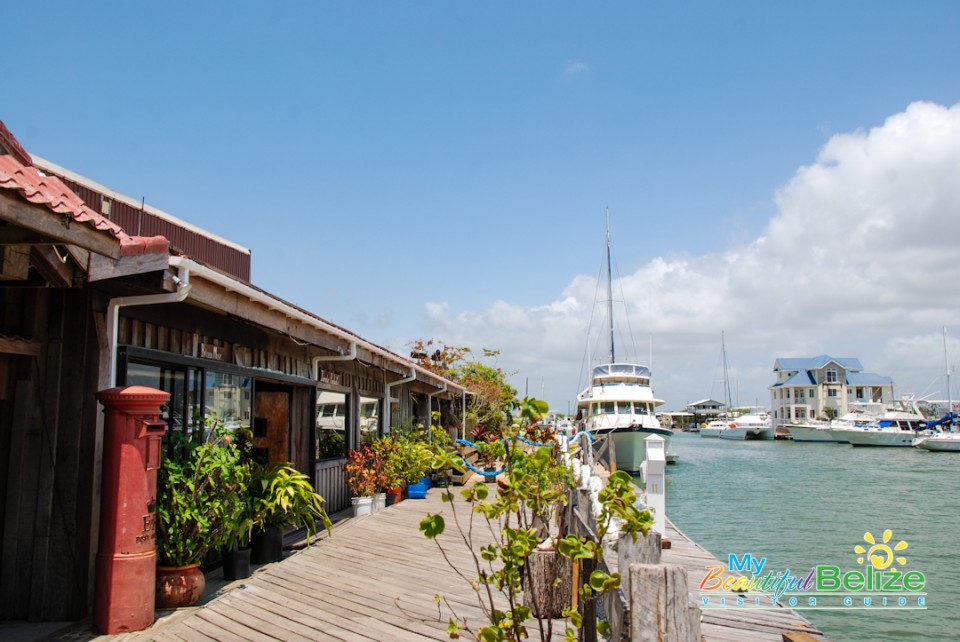 While we were there to enjoy ALL that Old Belize has to offer, our highlight was the museum. Samii had never being there and was excited to get the full experience. After paying our $5BZ entrance fee we head into the museum- honestly it's more like an exhibit.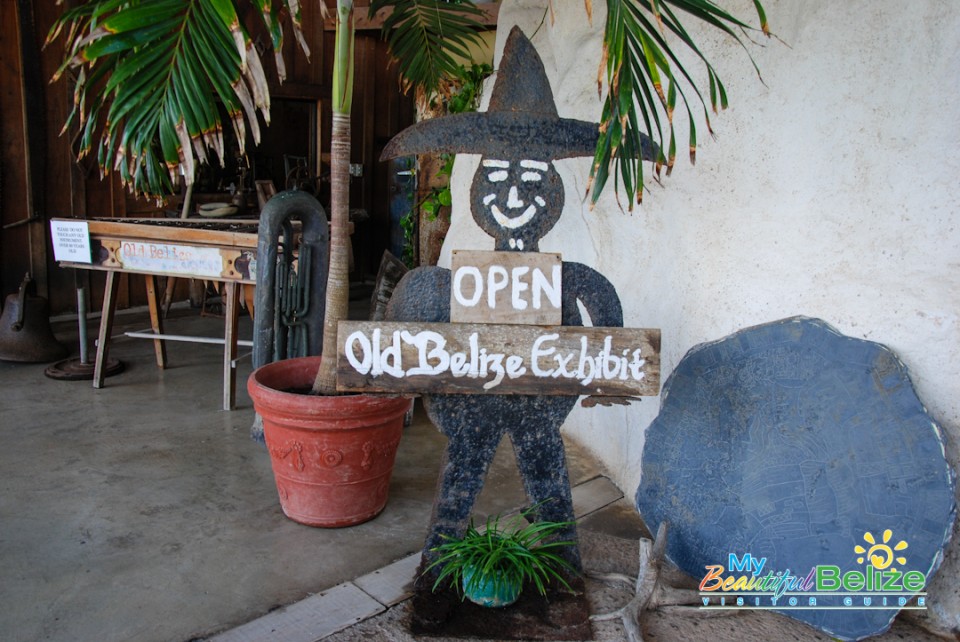 It a self-given tour, so don't expect anyone to guide you. The fascinating culture and intriguing history of Belize come to life in beautifully, realistic, colorful displays.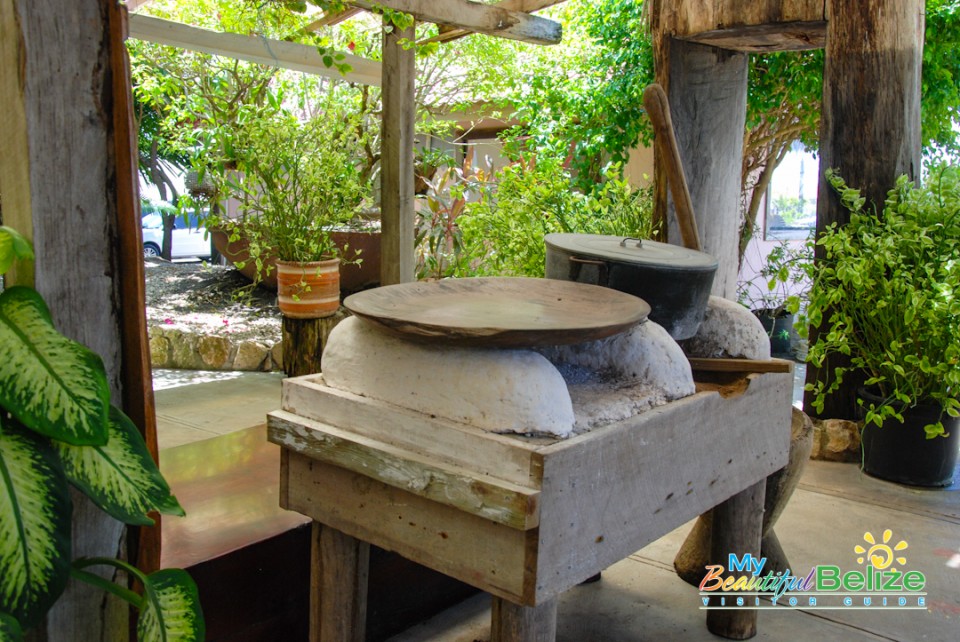 Upon entering, you are greeted with the heart of Belize, the lush rainforest. Throughout the first exhibit there are descriptions of the more distinguishable flora of Belize. After taking a couple pictures in the indoor-cave, it is time to move on to the next exhibit which honors our ancestors, the Mayas.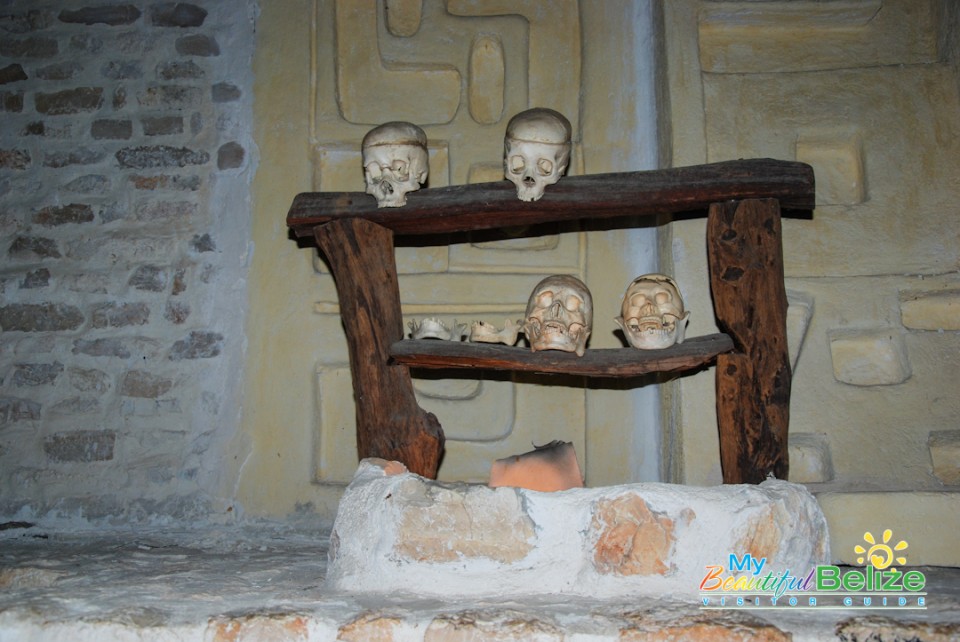 You can see everything from hand painted hieroglyphics, model thatch homes, stone carvings and even a couple of skulls. The focal point of this exhibit is a huge Maya stone carving of a face looking down at burial tomb complete with a full skeleton.
An exhibit dedicated to the first industry in Belize is next. In this room, you get a glimpse of the logging and chicle (chewing gum) industry.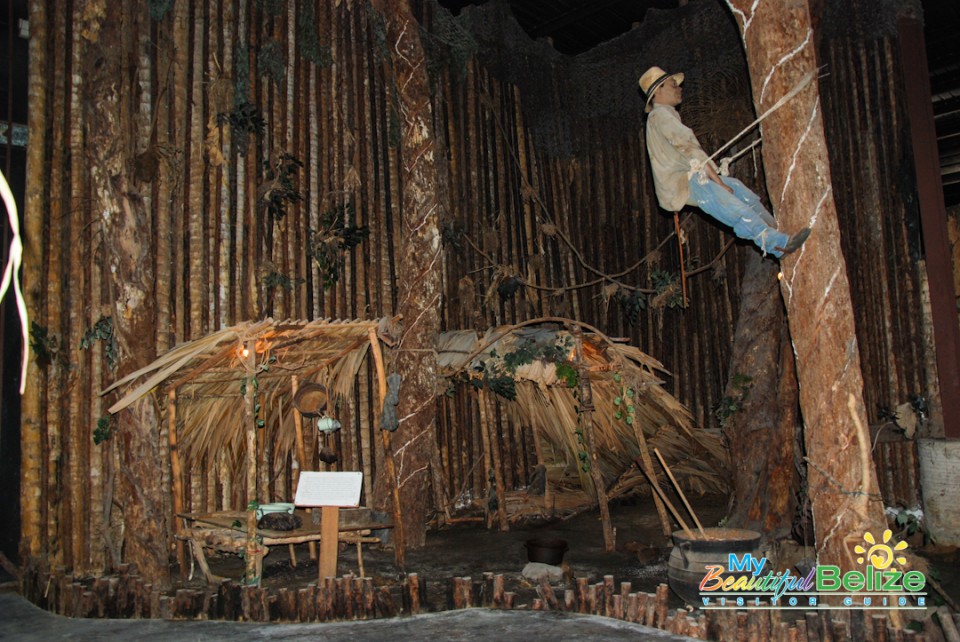 By looks the looks of it, loggers and chicleros were very hard workers. The tools and machinery in the display are all real, so if you touch, please be careful.
And yes you are allowed to touch! Samii was getting too comfortable with some of the tools, so I knew it was time to move on!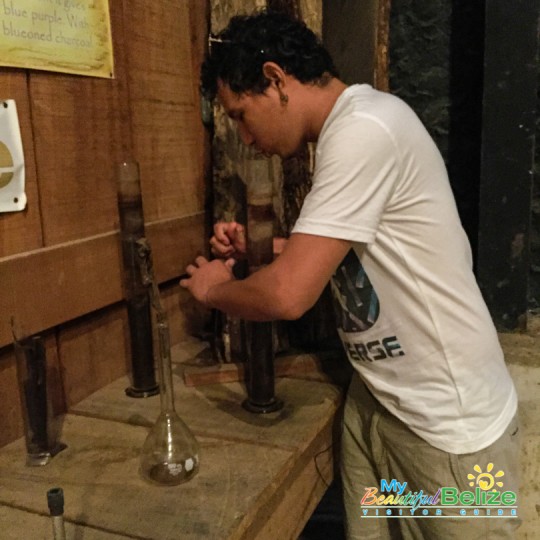 The last leg of the tour is a display of a street in colonial Belize (1800's). Oh what a beautiful era! As we walked down the street, we could feel the memories of old Belize lingering.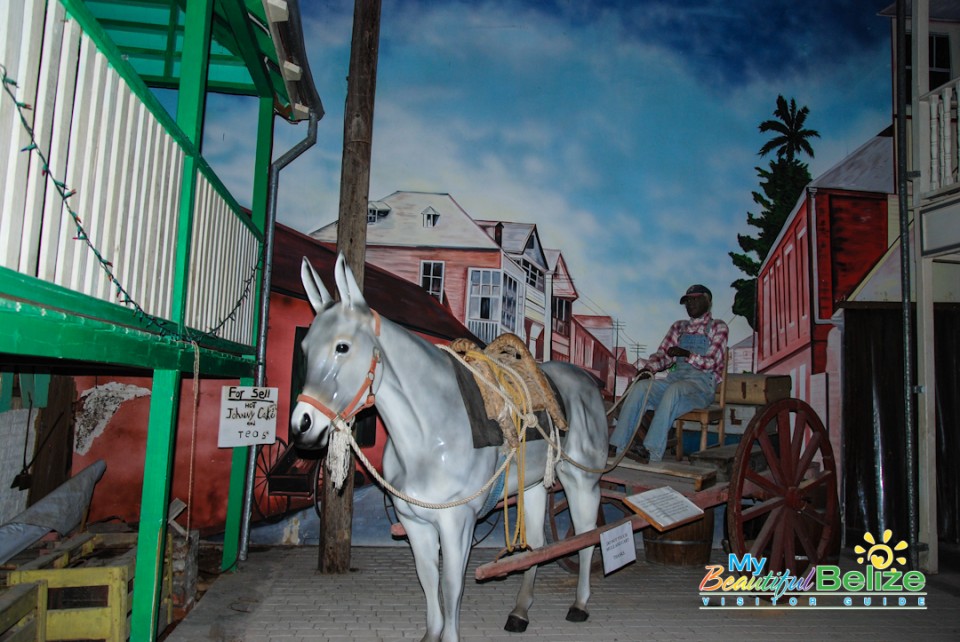 Samii checked out the local bar, but unfortunately they were all out of booze.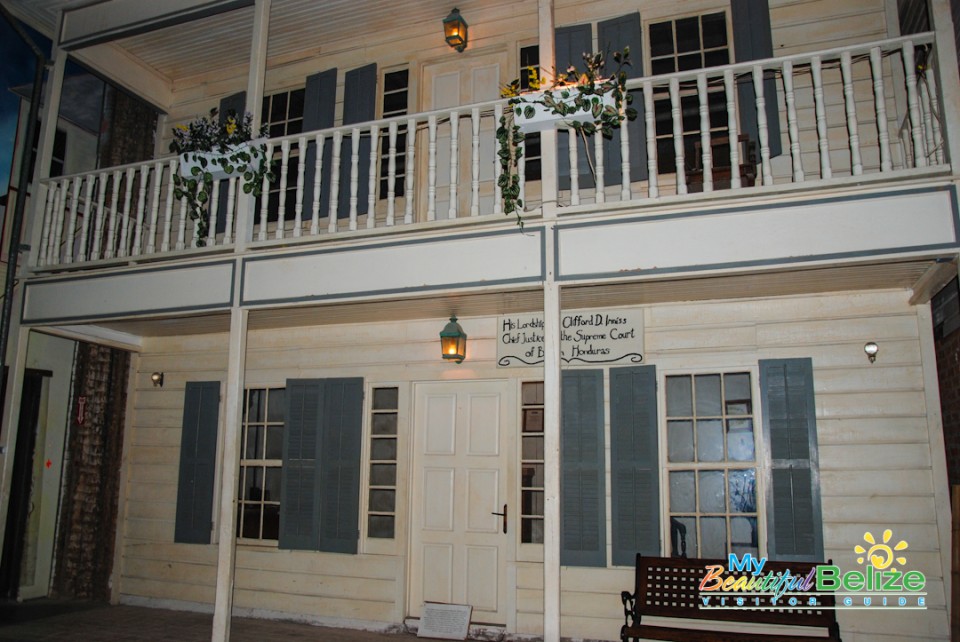 After poking my head into all the windows to get a glimpse of the interior (most of the doors were locked 🙁 ), it was time to leave the exhibit.


At the end of the tour, you're led right to the gift shop, which has great trinkets to bring back home. I had too much fun there myself, but lunch time beckoned and we headed over to the restaurant, where we enjoyed a great view of the harbor and Cucumber Beach. Lunch was superb and reasonably priced. I had a shrimp Alfredo pasta while Samii had a Mexican chorizo burger- something for everyone! Of course, our lunch was accompanied by some drinks- daiquiris anyone?
Full and happy we took a stroll through the beach before we had to leave. Cucumber Beach is definitely a great place to spend an afternoon with the family. It has colorful beach chairs, inner tubes, a rope swing and even a 90-foot long water slide called the Slippery Conch! I could foresee a great weekend splashing and playing there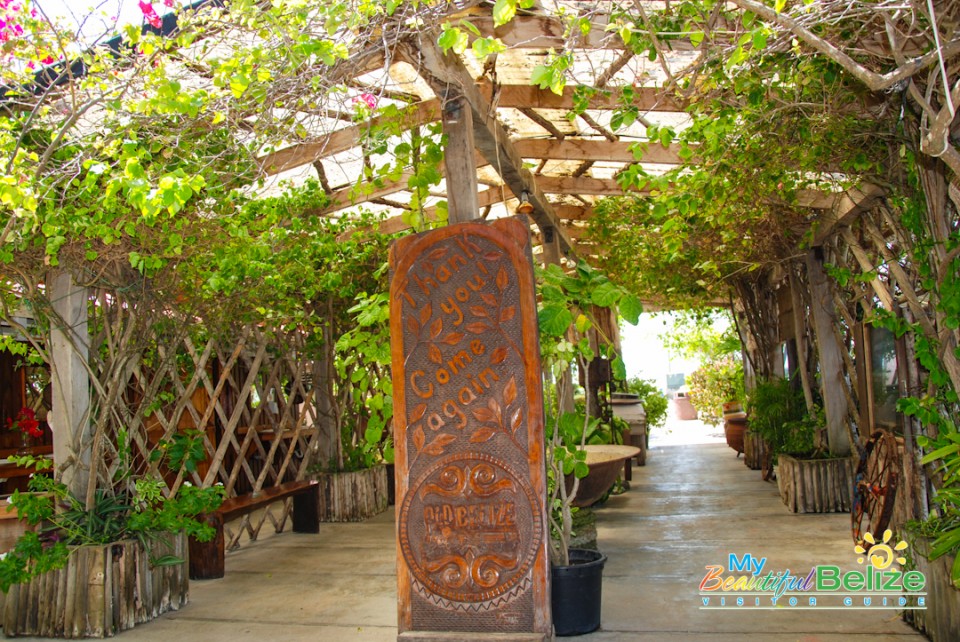 Old Belize is a great place to rekindle your love for Belize's past, while enjoying an atmosphere of history, fun and great food. This place certainly makes for unforgettable experiences.
To find out more on Old Belize call 501-222-4129, email [email protected] or visit their website at www.oldbelize.com.