I love mangoes in all its forms: stringy, fleshy, sweet, tart, spicy, fragrant, tiny, big-as-my-head…I just have an innate love and appreciation for the delicious fruits.
My earliest memories of this mango love involved my father, a giant black mango tree, a bucket, and a hammock. My father had decided to climb our mango tree and fill a bucket for us to snack on. The fruit was heavy that season, and the green mangoes had started speckling with black, with rosy blushes that meant extra sweet flesh inside. Skipping along, chubby and half naked, six-year-old me could hardly climb past the first branch, so I sat with the bucket and watched as my father scrambled from branch to branch, snapping off fruits and throwing them down to me.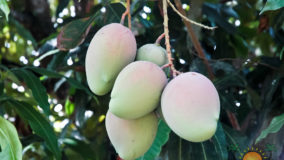 Of course you know what happened next. The first fruit landed in my hands, and immediately went to my mouth. The second one landed in the bucket, the next in my mouth…and so on. Finally, the bucket was full, and my dad joined me on the branch, and we sat and ate a few more, before finally heading into the house. I was full, and very sleepy, so I went to the hammock, and swung fast and high. Over and over again, I kept swinging, until…well, no need to go into gory details, but suffice to say that thankfully, that experience did not mar my love for the yummy fruits.
Now, grown up, and fully dressed (most of the time), it was time to go to Hopkins for Mango Fest! From the moment I heard of the festival, I secretly began hoping I would be assigned to cover it. Not only am I a lover of Mangoes, but Hopkins has held a little spot in my heart since my one day quick visit a few years ago. It was time to try and explore it some more; and what better way than to do so while munching on that delicious, seasonal fruit?
Joining me was Chris, another mango fiend. Our foray into the adventure south of the country included trying to decide on a bus schedule, taxis, planes and boat rides. It is certainly not an easy trek to make, but oh man, is it ever worth it! From our early morning ride via Caye Caulker Water Taxi, to the quick Tropic Air flight from Belize City, within two hours, we were in Dangriga, Stann Creek. A 45-minute drive down to Hopkins provided for much scenic views, and what struck us most was the sight of the giant mango trees in nearly every yard. It seems that the mainlanders also share the love for the fruit. One thing struck us, as we watched tree after tree, bent under the weight of their fruit – the fruit looked young, and certainly not ready for consumption. Hmm…that would be a concern. Mango Fest can't be a true 'fest if there are no mangoes!
With fingers crossed, we arrive at our hotel (that's a great story we have to share with you at a later date), and after a quick freshening up, we head on out to the fair grounds.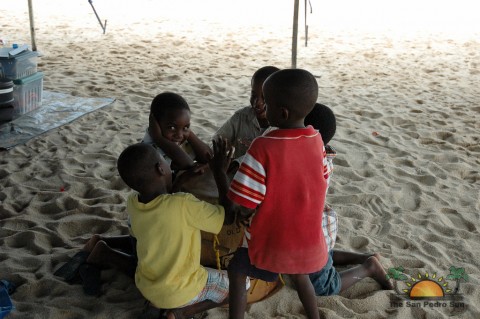 Hopkins is a small and truly warm community. Like most village festivals, the local flair is evident. Under the tents and thatch open air palapa; there were stalls and vendors displaying their wares. From local art, drumming kids and adults alike, to restaurants offering their delicious fare, it was a community event. But the mangoes were rather scarce. The late rains that followed a hot and dry season seem to have held back the crop. But that certainly wasn't going to stop the party, and Hopkins certainly knows to embrace its visitors.
Entrepreneurs and restaurateurs made do with the small crop they had, whipping up lionfish-mango ceviche, mango gazpacho, mango juice, mango chutney, ideal, pies, cakes and gelato. There was even slow cooked beef burger with a mango BBQ sauce with green mango slaw. Chris was in heaven, biting into his big burger! We then walked around the fair grounds, munching first on some ceviche, and dabbling a bit into the mango pie. I held off on the sweets, preferring my mangoes whole and unfussed-with. Where were those damned fruits I traveled so many miles for?! One stall had a few of the beauties on display, and I circled their booth like a hawk, waiting for the opportunity to buy it once the fair was over. Someone took pity on me it seems, for soon, I chanced upon a man selling a bag of ripe, fragrant mangoes for $5 a bag! Finally, I had my mangoes! I could leave Hopkins now, knowing that I had accomplished my mission.
In the black bag were all kinds of mangoes with long-forgotten names, but who called out to me with their spicy, tangy fragrance. I was suddenly everyone's best friend, and I gritted my teeth as I shared with an adorable young boy, and then a very happy cameraman. As I envisioned a line of beggars in front of me, I selfishly thought of walking to the hotel to drop off the bag so no-one could take any more. But I am certainly a little bit more grown up now, so instead, I smiled and shared a few more, and THEN, went off to put the remaining fruit away and prepare for a stroll around Hopkins.
With the fair still going strong, with mango races, volleyball games and great drumming in the background, we took to the beach to watch, stopping to dip in the water, cooling off and enjoying the family-friendly fair. A clip-clopping sound alerts us down the beach, and what do you know! Two horses were galloping down the beach, young boys riding astride the beasts as they kicked up sand and splashed in the water. It is such a great scene, and one of many that Hopkins has to offer. After that excitement, we decide to hit the streets and see what Hopkins is about.
A quiet village, with a predominantly Garifuna population, Hopkins is super laid back, and lush. We note the giant mango trees laden with fruit – so close, yet so far! We are disappointed that we haven't been making mango angels on the beach, and so we look to drown our sorrows in one of the many available watering holes. That, as the story goes, is that. Until next time, we shall regale you with a tale of our stay at Hopkins Inn, and our adventures after dark in sleepy Hopkins.