I think it's safe to say that barbeque is a staple around here. There's just something about grilled and smoky meats that has us licking our chops! One place that offers a taste like no other is Lazy Croc BBQ Smokehouse. I might even be so bold to as to say it is one of the best on the island- especially when it comes to good ole Southern style BBQ!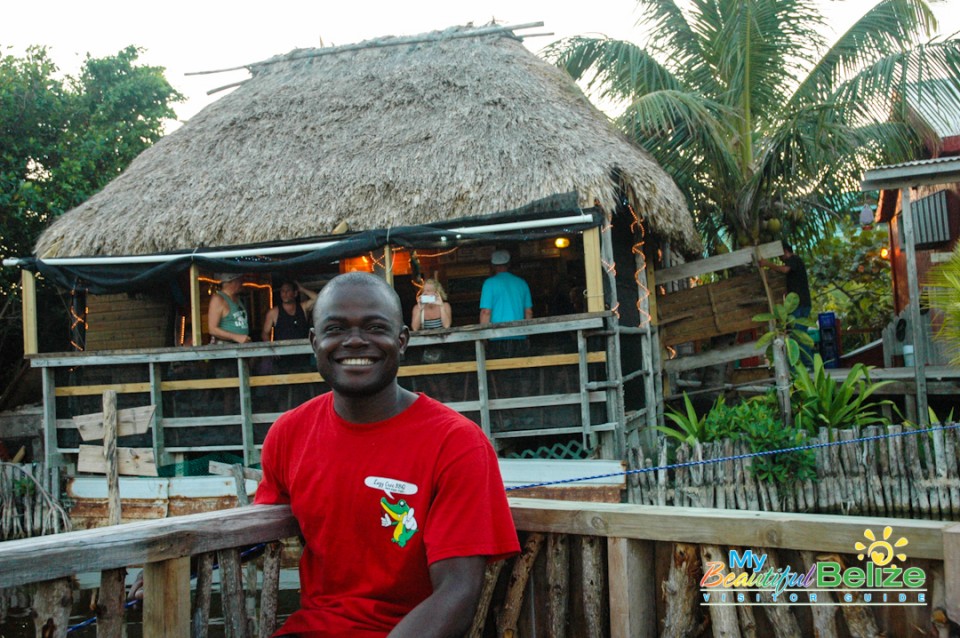 Located just a couple miles north of the bridge, Lazy Croc serves up some true, finger-licking smoked dishes: baby back pork ribs, BBQ chicken, smoked fried chicken (yes, I said smoked), and plenty more. As a matter of fact, my mouth is watering just thinking about all the yummy goodness. Owner Christiano has really added to Lazy Croc's menu, and its location!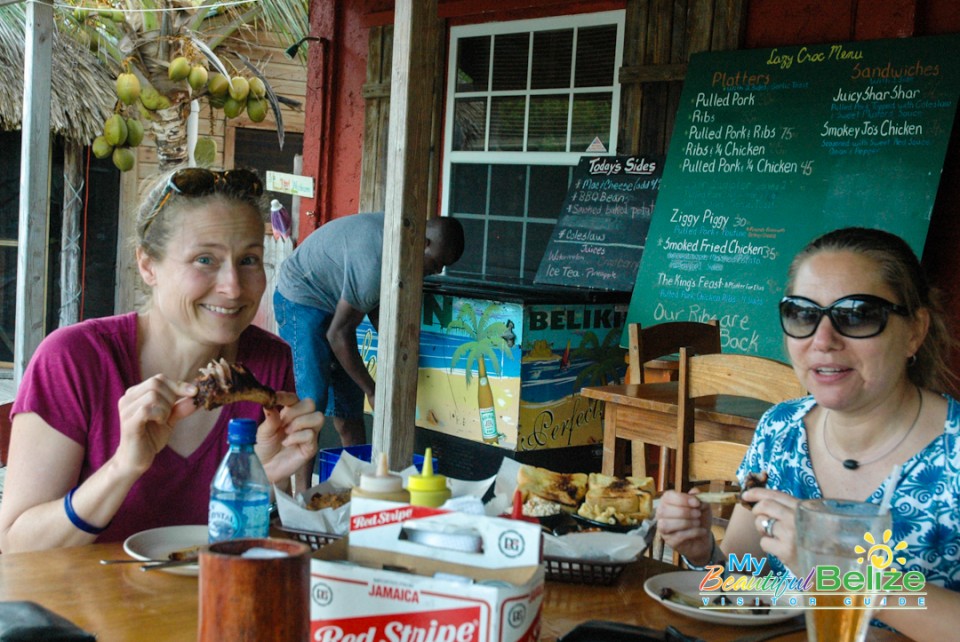 With two wooden patios overlooking one of the island's many salt water lagoons, which is also home to Jaws the resident crocodile, Lazy Croc is the perfect place for both a great meal and sightseeing. Unfortunately, my partner in crime, Monique, and I didn't get to see the croc Jaws; regulars say he's a bit shy with newcomers. Nevertheless, we got our wildlife fix spotting several green iguanas and various birds; however don't bother asking me the names because I'm not a birder like some people (side-eyes the boss). We enjoyed the atmosphere and the sightseeing from the comfort of our reserved seating on the "Huckleberry Ferry." Yes, the Huckleberry Ferry – I swear that's what it's really called! It's a picnic table set atop a floating platform that takes customers on a smooth ride from one end of the lagoon to the other, all while they enjoy their meal and take in the scenery. Very idyllic and indeed, unique and fun.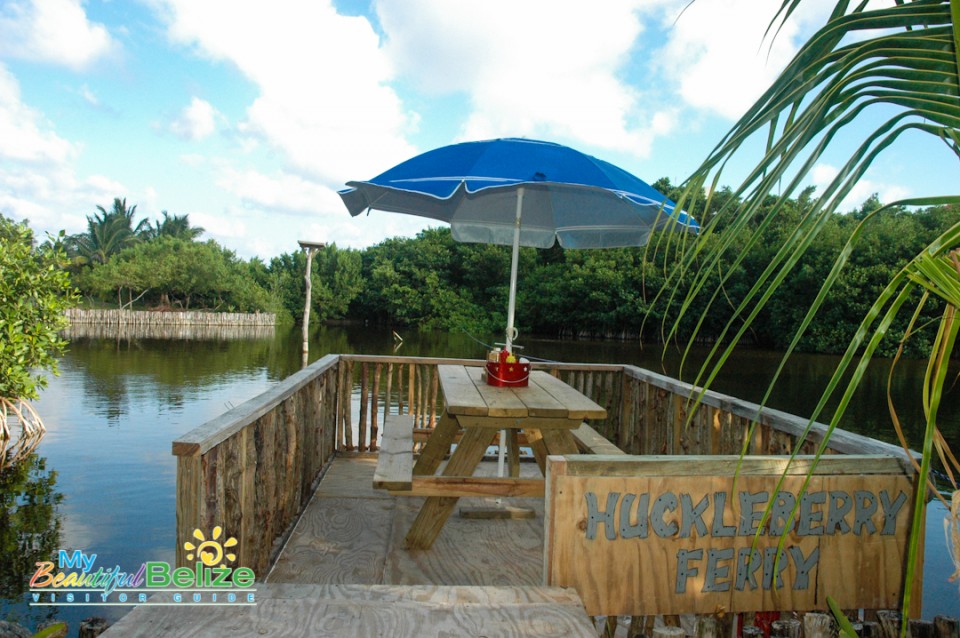 But enough talk of the atmosphere, it's time for the main attraction: THE FOOD! Let's talk about fried pickles. Yep, that's right, fried pickles. Perfectly cut slices of premium pickles, lightly battered and fried golden brown. Dipped in a homemade smoked Chipotle sauce, and that crunchy, salty, sour, spicy goodness has us off to a delicious start!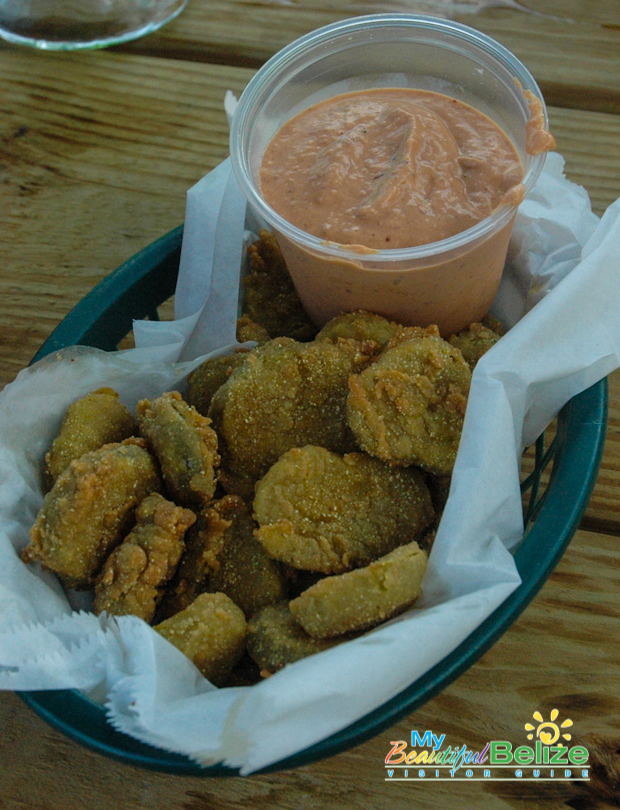 When "The King's Feast" lands on out table, we give up all pretense of being ladylike. I mean, it was ON! A tribute to the King (Elvis Presley), it was a mammoth platter of pulled pork, baby back ribs, smoked fried chicken and an assortment of sides, including smoked baked beans, smoked potato, coleslaw, jalapeno mac and cheese with bacon fat, and four slices of freshly baked bread. The choir angels sang loudly at its arrival, for the portions were VERY generous. I'm not kidding when I say that this platter could have easily fed a family of four comfortably. So it was extra hilarious that the task of eating this behemoth fell to the two smallest* employees of The San Pedro Sun! Not one to back down from a challenge, we dug in, and OH MY GOODNESS it was great! Monique went rib crazy, while I had a little of everything. My personal favorite was the mac and cheese – hellooooo bacon fat! But that doesn't take away points from the pork or chicken or ribs, because oh man, they were all smoky good! Talk about a most excellent BBQ!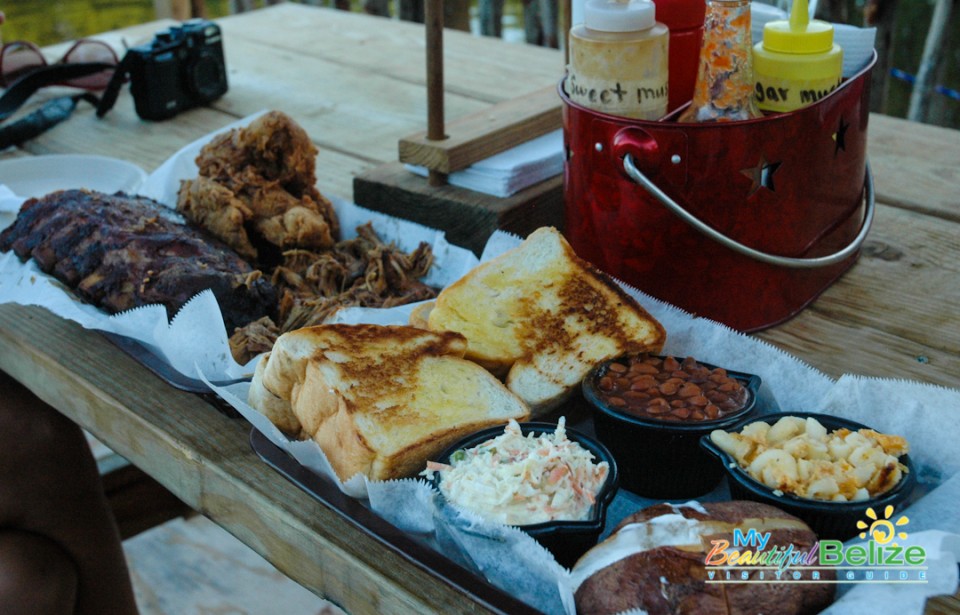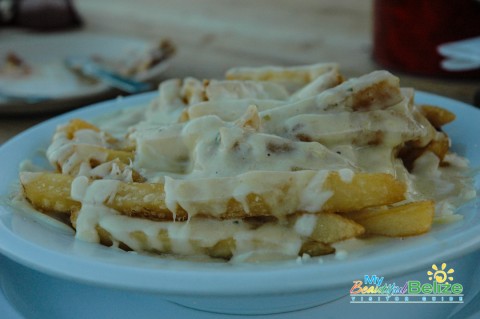 Speaking of piggies, by the end of the meal, WE felt like were ready for the smoker we were so stuffed. But oh, no! Christiano decided to test our mettle further by sending a platter of Poutine. A layer of pulled pork topped with french-fries and drenched in bacon, jalapeno and mozzarella cheese sauce. What an insane explosion of flavors! And even though we were stuffed, but our hearts screamed for fries…so we dug in again. (Is there a medal given out for eating like a champ? Because I'll take one!).
Feeling 20 pounds heavier, we waddled back to our carts after one major eating frenzy, already planning our next trip. (At some point we would have to eat again – not anytime soon, but we would eventually…right?!) But don't just take our word for it, the next time you're in the mood for some BBQ, be sure to head over to Lazy Croc. Bring your appetite and be sure to check the 'diet' at the door, because it's a lot of food, and it's damn good!
Lazy Croc is open from Tuesday to Sunday from 11AM to 7PM. For reservations call 226-4015 – and do ask about dining on the Huckleberry Ferry!
*This statement is approved by the 'non-small' employees at The San Pedro Sun/My Beautiful Belize.