The last time I told you a story about Hopkins, I had been on the hunt for mangoes. We may not have found the elusive fruits this year, but there was a gem of a hotel we stayed in that I have to share with you. Hopkins Inn, a small, delightfully cozy inn run by Greg and Rita Duke is the perfect place to hang one's hat/sarong/flipflops/ whatever, and enjoy some real peace and quiet. Heck, we're already planning a return trip – if only to catch the breakfast that Rita serves to guests between 7 and 9AM. (We slept in, so really, our stay was incomplete!)
Getting to Hopkins and Hopkins Inn was an adventure: we flew in via Tropic Air to the municipal airstrip, where we boarded a separate plane that flew us to Dangriga, in the southern Stann Creek District. From there, it was a matter of either getting a private vehicle to drive us down or calling a taxi to pick us up, or taking the southern-run bus, which would drop us off at the junction where a four-mile stretch of bumpy road would lead to Hopkins. We opted for the kind offer of a ride from someone planning to head into Hopkins – for a reduced rate, and decided we'd play it by ear to return. We were aiming for adventure, and this couldn't be more of one if it tried!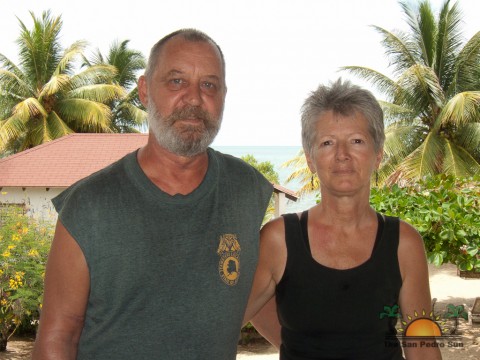 Our drivers were friends with Greg and Rita, so they delivered us in one piece directly at the Inn, and smiles and hugs were the perfect welcome. Greg showed us to our rooms, a clean, efficient cabaña containing the perfect amount of space and just what I needed to relax. Hardwood ceilings and trim look fresh against the simple white walls accented by driftwood art. A nice double bed, table with two chairs to enjoy morning coffee or a snack indoors, a small refrigerator to keep beverages cold, and a coffeemaker complete with some coffee!! I could wake up and survive the day – yahoo! Clothes went directly in the spacious closet, and after a quick change in the efficient bathroom we were ready to hit the beach.
While other luxury resorts claim to be part of Hopkins, the real deal Hopkins is hardly a mile long. It is an incredibly delicious slice of heaven on the beach, beautifully clean and quiet. The rustle of leaves and brush of branches against each other; the occasional dog bark, or horses galloping down and into the water are the sounds that fill the air every so often. Mostly though, it is whisper-quiet. So used are we to hear the sound of boats zooming up and down our waters, and the sound of the hundred or so golf carts, taxis and motorbikes zipping down our streets at all hours of the day and night on Ambergris Caye, it's refreshing and almost eerie how quiet Hopkins was. It took perhaps an hour to realize that we were not in a vacuum – and another few minutes to hit the gorgeous stretch of brown-sugar sand, breezes and tropical flowers, NO DOCKS, just water, sand and sun.
We explored, enjoying the shady nooks offered by the large, flourishing almond and coconut trees. The enterprising couple have made it really easy to relax, placing wooden lounge chairs at various shady spots. I curl up on one under the large almond then head to the one on the patch of sunshine by the beach. I flop on the sand; I bury my toes in the sand and wait for the water to wash it clean. It's like being a child all over – exploring and getting to know a new spot, finding the perfect place for fun, making a mental note to come back later to play.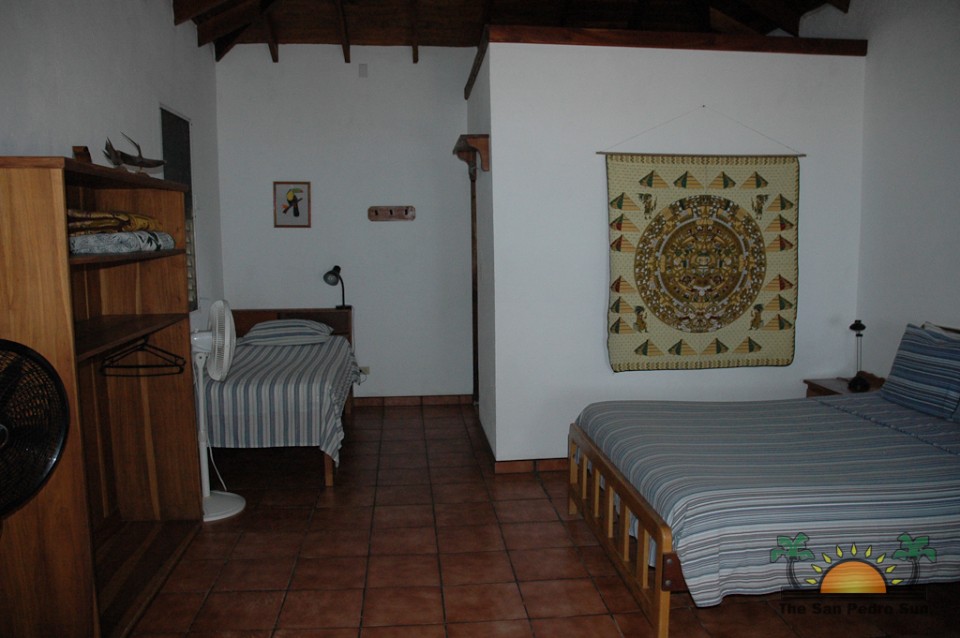 Being at Hopkins Inn means we have all this great space to enjoy – close enough to the beach, near the convenience store and a stumble or two away is the Windschief Bar, where we could potentially order a few margaritas or Belize's pride, the Belikins. But, we're on our best behavior (ha!), at least until we've done our part and enjoyed the Mango Fest – which was our main objective for the day (the night is a different story).
After we'd experienced the cultural and festive aspects of the Mango Festival, we were on the hunt for some downtime, before we went out to find the party. Greg suggested a few places to eat, including Innie's. After we showered and dressed, we hit the street and took a power walk. The weather hadn't been too cooperative, so we were dodging showers on the way to Innie's. Unfortunately, they were closed (considering the town festival was just wrapping up, can't say we blamed them for needing to rest). Hungry, and now increasingly thirsty, we decided to get another helping hand from Greg. We'd heard of Driftwood earlier in the day, so images of gourmet food replaced local fare in our heads. With his approval, and after a quick call for a taxi, we headed north of our resort to find some grub. By then, the rain and wind had picked up, but by god we were going to have a good time! The bar/eatery was unassuming, with a picnic table out front, and good seating indoors for many, many patrons. We had to sit at the bar, where our lovely bartender/waitress kept us amused. Our favorite game was the: "How much booze can we put in one drink?" Seriously, there's video evidence of a rum punch being concocted, and we counted five bottles, and a heavy hand was pouring! I made the mistake of asking for a rum and soda, and encountered a cough inducing mix that tried its darndest to put hair on my chest. Proudly, I survived it, but then I switched to beer.
I swear even the Belikins were stronger in Hopkins! With this enthusiastic approach to the libations, we were curious and excited to try the meals – they could only be super fantastic and flavorful. Well, they were: deliciously fresh blackened grouper with mango salsa, accompanied by hand made french fries. After weeks of withholding the carbs, I opted for the burrito, filled with oodles of delicious black beans and spicy mango salsa, melty cheese and chicken. Wrapped in a humongous flour tortilla, this was heaven on a plate. The clean, salt air, refreshing beers, that earlier rum, all the walking and exploring – they added up to a hearty appetite. Silence reined for a few minutes while we stuffed our faces. As we ate, people came in and out, picking up their boxes of pizza to go. The scents, despite our delicious meals in front of us, were tantalizing. Knowing we would regret not ordering one, we asked for a small one. Driftwood is known for its handmade, gourmet pizzas, and it would have been a crime not to enjoy at least one. The thin, crispy crust pizza was topped with delicious black olives, mushrooms and meats. It was small enough that we could call it a savory dessert (we'll take dessert any way we can), so it was the perfect ending to our delicious meal. Our taxi picked us up yet again, and we were soon on our way back to the inn. Not ready to tuck in to the comfortable bed, we decide to traipse over to Windschief, trying out their margaritas and rum libations.
While we're deep into the second margarita, Greg meanders over and we have a scintillating conversation about Hopkins, its people and gorgeous location. With promises to be up early enough for breakfast, we then stumble our way in the dark (tiny flashlight in hand) and off to our bedrooms. Within half an hour, the storm that had been brewing all day hits with fervor, and to the sound of thunder, and the flicker of lightning, la-la land beckons, and we snooze safely away at Hopkins Inn. Nestled in sleepy Hopkins since 1994, when Greg and Rita chose to make Belize their home, Hopkins Inn has been providing comfort to travelers who seek relaxation and enjoyment. To book your stay, visit http://www.hopkinsinn.com or call them at 523-7283.