Underwater adventures abound off the shores of Ambergris Caye with each site a beautiful and unique look at marine life along the Meso-American Barrier Reef. One snorkeling and dive spot that offers an exceptional view of pristine habitat and creatures protected to the point that they emanate health and happiness is the world renowned Hol Chan Marine Reserve. Officially established in 1897, and by far the most popular site in the area, the reserve is located off the southern tip of the caye, just a short 15-20 minute boat ride from San Pedro Town. Hol Chan means "little channel" in Mayan, and it is the dramatic coral walls that border this narrow, 30 foot-deep channel, as well as the coral and sea grass perimeter that offers spectacular snorkeling and diving.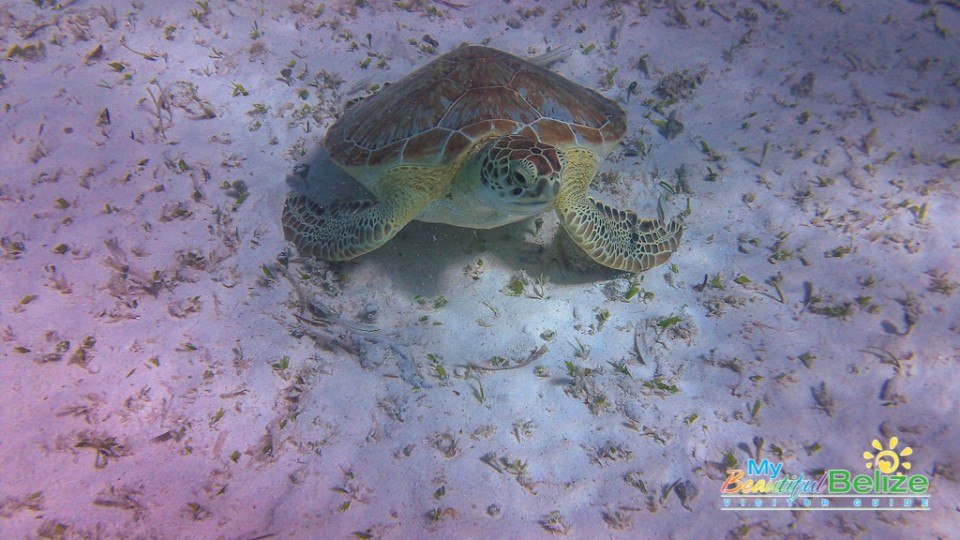 The quality of your experience at Hol Chan depends a lot on what adventure company you choose to go with. Some guides are just more passionate and knowledgeable about the area than others, and the ones who know the fish by their first name and where they live can assure you an amazing aquatic adventure. They must be dedicated to your safety as well, and guide you along the way while making sure you have marvelous creature encounters with turtles, eels, eagle and southern rays, trunk fish, trumpet fish, butterfly fish, squirrel fish, tangs, barracudas, crabs, parrot fish, wrasses, star fish, squid, damsels, groupers large and small, grunts, jacks, conch and perhaps a nurse shark or two! Some lucky folks have even spotted dolphins and manatee while exploring the site! There are many outstanding tour companies that operate from San Pedro offering fishing tours, mainland excursions, snorkel day trips with beach barbecues diving and more. One such company is Belize Diving Adventures.
Owned and operated by Everette Anderson and Enes Ramirez- Anderson, Belize Diving Adventures caters to all snorkelers and divers' skills and comfort levels. They base their approach to business on the three 'E's', "Education, Entertainment and Ensuring Safety." Widely respected in the industry, the Belize Tourism Board recognized Enes Ramirez- Anderson with the 2010 Tour Guide of the Year award and the family operated business has received several TripAdvisor accolades as well.
During our snorkel trip to Hol Chan with the Belize Diving Adventures crew, we were given a little history about the area and were properly informed about safety before entering the clear, warm Caribbean water. Everette's brother Darrel lead the group, offering life jackets to those who wanted them and always towing a life ring while in the water, just in case someone wanted to "tag" along or take a break from swimming. Within minutes we were treading water with turtles and Darrel was quick to spot sea creatures that the untrained eye might have missed, a green moray eel residing within the coral or a yellow stingray, camouflaged the color of sand. The exhilarating tour took close to an hour and not one moment of that time was spent looking at anything but underwater magnificence.
The afternoon tour also took us to another snorkeling landmark, Shark Ray Alley. There is nothing as exciting as sharing the water with nurse sharks and southern rays! As long as you are in the company of a good guide the encounter is quite safe and for most of us a once in a lifetime experience. Amazingly enough this excursion only took three hours; from 2 till 5PM. Here in lies the beauty of Ambergris Caye, with the reef in close proximity, these adventures are easy to experience and reasonably priced.
The Belize Diving Adventures shop is located just north of the Belize Yacht Club between Coconut Drive and the beach. The shop is prepared to accommodate practically every need and arrange your tours. If you only go on ONE snorkel trip while visiting La Isla Bonita, a trip to Hol Chan is a must! For more information please visit their website at www.belizedivingadventures.net.