You can't help but feel lucky when you are at Captain Morgan's Retreat, undoubtedly one of the most popular beach resorts on Ambergris Caye.As if their three pools (each thoughtfully furnished with their own bar), tropical-tastic rooms and casitas, scrumptious restaurant and super friendly and attentive staff weren't enough to make you feel like a winner, you can take that winning aura and Lady Luck over to their elegant Vegas-style Captain's Casino and continue to feel like you hit the jackpot!

Whether you claim to be a gambler or not (I THOUGHT I was in the NOT category), you're sure to have fun at this slice of glitz and glamour right here on La Isla Bonita because the fun is irresistible!Who would have thought that putting $5US into a slot machine would keep me thoroughly entertained while winning and losing enough to play for almost an hour! Of course the courtesy cocktails graciously provided while I crossed my fingers and toes for a row of matching diamonds, cherries or 7's to align on my next spin added to the fun of it all! Although they have over 40 slot machines to choose from, your gambling activities are not limited to what some call the "one-armed bandit".
There are card tables where contenders gather to try their hand at Blackjack, Texas Hold-Em', Pokerand other games, while a Roulette table is set up for those who want to spin their way to winning. Their stylish bar hosts several video Poker games embedded into the countertop and there's even a Chess table for those who prefer a more sophisticated method of gambling! The walls are adorned with a variety of high definition flat screen TV's, all airing international sports and on Friday nights they have a DJ and dance starting at 9PM. Different days of the week offer special promos and they even have poolside Blackjack on Tuesday, Thursday and Sunday afternoons, how fun is that! Nothing like soaking up the sun while gazing at the Caribbean and trying your hand at 21!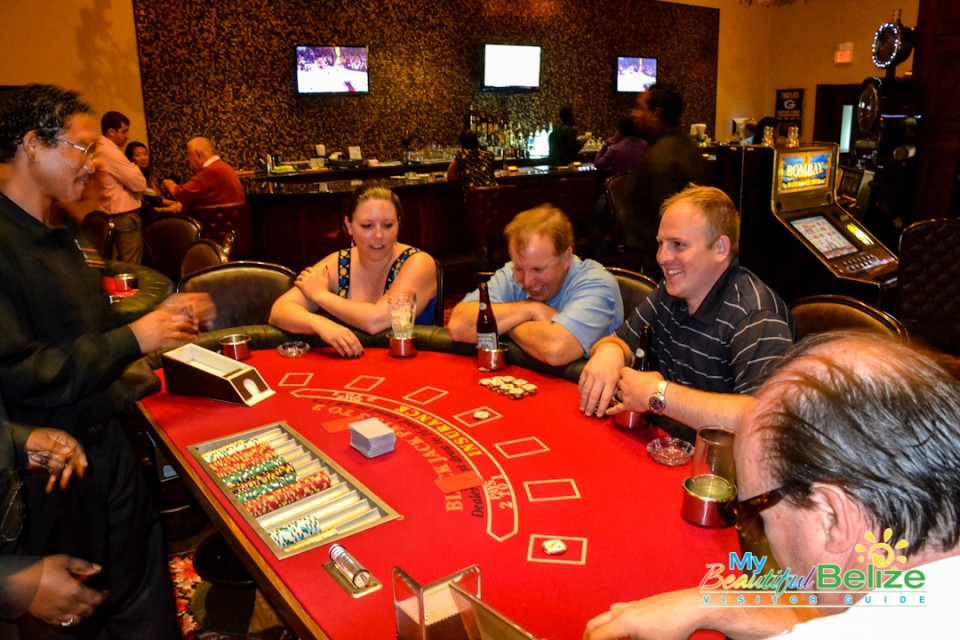 Captain's Casino is the only casino of its type on Ambergris Caye and you don't have to be a guest at the resort to enjoy it. Free boat transportation is offered nightly from Fido's Dock at 7, 9 and 11PM with regular boats scheduled to return throughout the evening. Food service is available as well as complimentary drinks while you play. For more information please call 226-2207/2567 or check out their website at www.captainmorgans.com. Regardless of what game is your fancy, everyone's a winner at Captains Casino!