Gary P. Nunn's Fifth-Annual Victoria House Series
September 7, 2017

-

September 10, 2017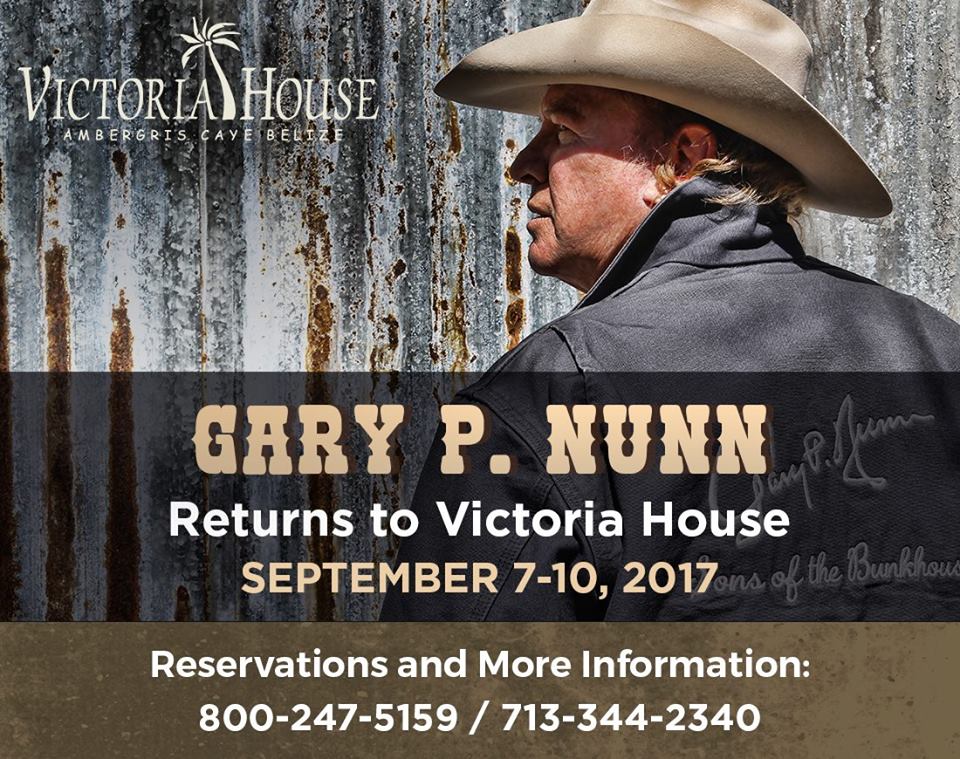 We are pleased and excited to host the one-and-only Gary P. Nunn once again this September!
The Lone Star Icon returns for his fifth series of shows at Victoria House in five years, playing intimate shows at Victoria House September 7–10, 2017.
One of progressive country music's founding fathers, Gary P. Nunn has been taking Texas country to the world for over 40 years, possibly most famous for "London Homesick Blues" (the iconic theme song for Austin City Limits for two decades). Nunn has twice been honored by Texas Governors: once by 1985 Governor Mark White as Official Ambassador to the World and again by 2007 Governor Rick Perry as The Music Ambassador of Texas!
We look forward to Gary's visits every year. He brings such a wonderful Texas vibe to Ambergris Caye when he visits.
If you're interested in joining us for the occasion, contact our reservations office at 800-247-5159 / 713-344-2340 to reserve or for more information. We always sell out during his dates, so don't delay!
We'll see you in September!
*****
GARY P. NUNN AWARDS & HONORS
2007 – Honored by Govenor Rick Perry as the "The Music Ambassador of Texas"
2004 – Inducted into the Texas Hall of Fame
1995 – Added to the West Texas Walk of Fame in Lubbock, Texas; as part of the festivities, Gary was also honored by the Lubbock Civic Center as wel as the mayor and city council of Lubbock, the chamber of commerce, and others in conjunction with the opening of the Buddy Holly Museum.
1991 – Given a Citation of Recognition by the Oklahoma House of Representatives for his contribution to the preservation of the unique Southwestern style of music.
1990 – Received an Award of Appreciation by the San Antonio chapter of the Texas Music Association (along with other artists such as ZZ Top, Moe Bandy and Tish Hinojosa).
Honored by the Texas Department of Commerce and Tourism, chosen to be included in the department's list of Lone Star Greats . This award was created to recognize individuals in the State of Texas that they deem to be leaders in the fields of art, athletics and music.
1985 – Designated Official Ambassador to the World by Texas Governor Mark White.
Event Navigation