7th Annual International Festival of Culture
May 5, 2017

-

May 7, 2017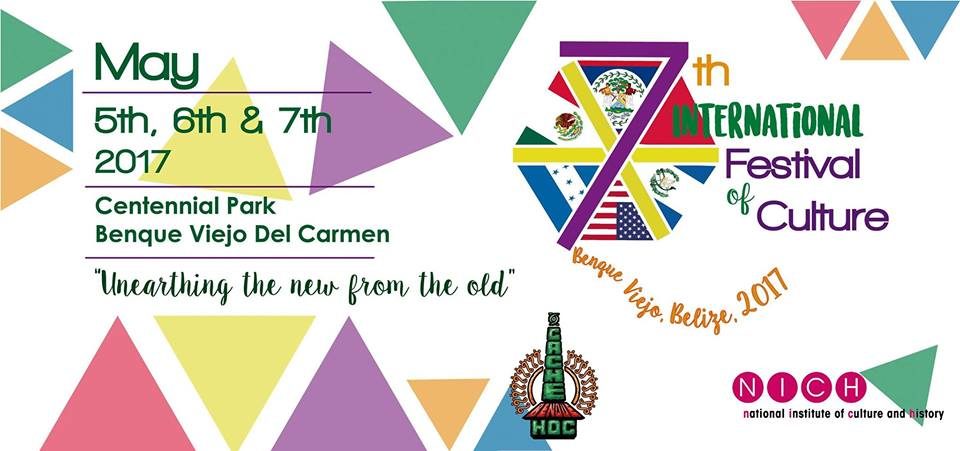 The Community of Artists for Cultural & Historical Endeavours (CACHE) and Benque House of Culture present the 7th Annual International Festival of Culture. This FREE festival will highlight artists from Belize and Central America. The festivities begin on Thursday at 7:30 p.m. with the launching of the publication "A Historical Walk through Benque" and continue on Friday with the official opening at 7:30 p.m. with the Ballet Folclórico "Orquidea Negra" and "Yo Creek Maya Naay." The festival will be opened by H.E. Mr. Carlos Quesnel, Ambassador of Mexico to Belize.
Saturday, 9:00 a.m. to 4:00 p.m., is dedicated to workshops including: Music and Dance with presenters from Belize and Honduras; Prose and Poetry with the participation of writers and poets from Belize, Honduras, Guatemala and Mexico; Writing – A Forum "The Writer as inspiration for national unity, self-confidence, and pride," and Graffiti Mural Workshop with artists from Belize and Guatemala. Festivities continue Saturday night with Ballet performances from "Oro Verde" of Honduras and Trio "Avispones Huastecos" of Mexico, followed by Ascenthium Rock Band of Belize.
Sunday features an all-day Arts and Craft/Culture EXPO starting at 9:00a.m. Special presentations start at 2:00p.m. with the Yo-Creek Ek'Balam Poktapok Team, the Benque Viejo Marching Band, the Ballet "Oro Verde" of Honduras, the Trio "Avispones Huastecos" of Mexico, stilt walkers from "Caracol Jade" and the Benque Viejo Marimba Youths "Los Hijos del West."
This Free festival is made possible through the voluntary work of CACHE and the support of local businesses, NICH, and the Embassy of Mexico. If you would like to contribute to this and other cultural activities of CACHE, or if you would like more information about this festival, please call House of Culture at 823-2697 or inbox at FB CACHE Benque.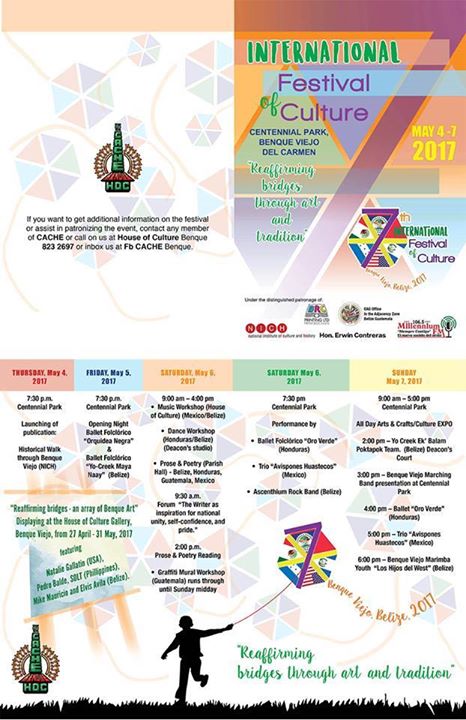 Event Navigation