2-Day Summer Camp for the Visually Impaired
August 23, 2018 @ 9:00 am

-

August 24, 2018 @ 12:00 pm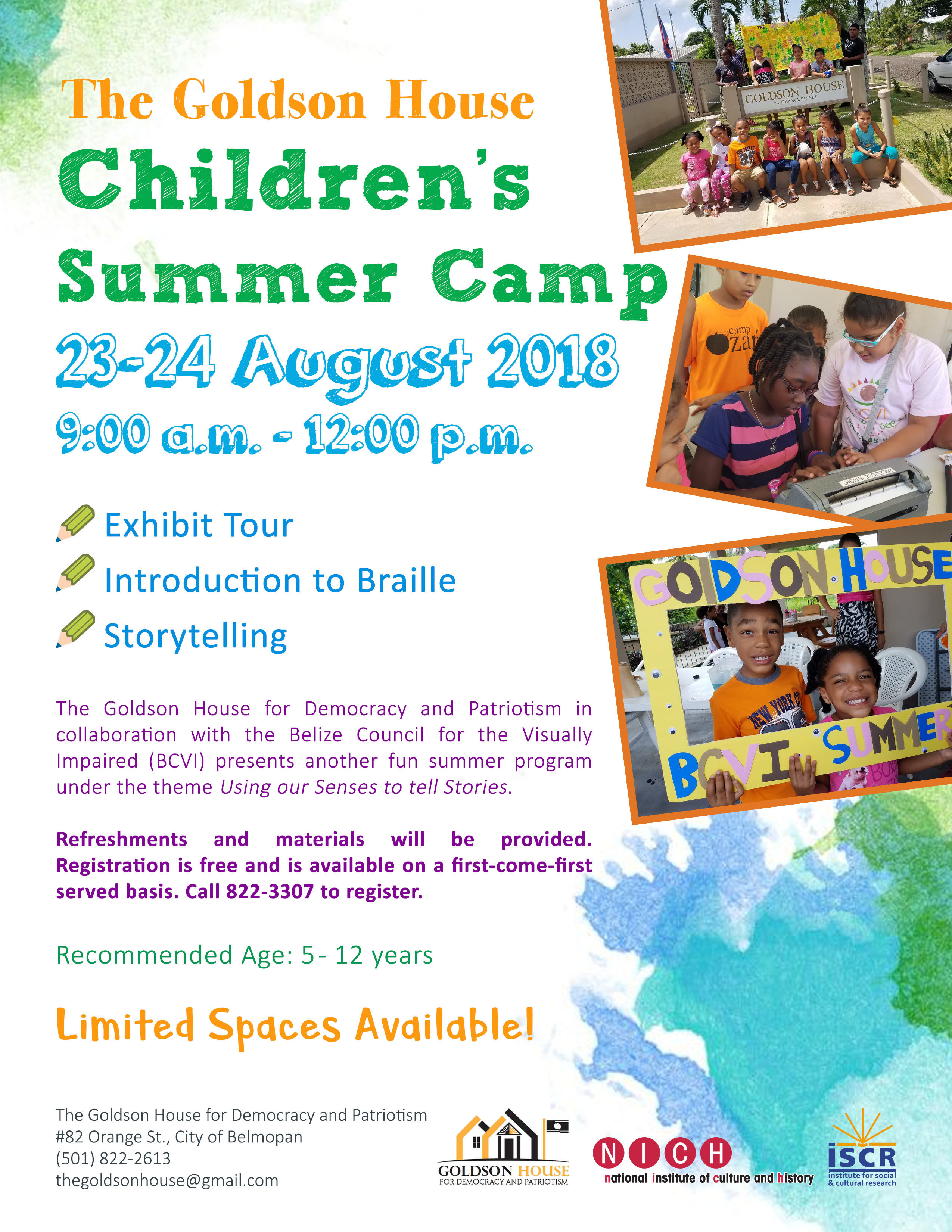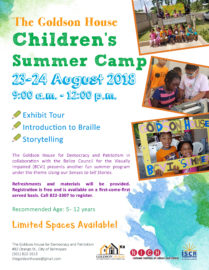 The National Institute of Culture and History (NICH) through The Institute for Social and Cultural Research (ISCR) and The Goldson House for Democracy and Patriotism to host a two day summer camp with the Belize Council for the Visually Impaired (BCVI).  The Goldson House has been collaborating with the BCVI since 2017 when it hosted their first joint Summer Program.  This year's program will take place from August 23-24, from 9:00 a.m.- 12:00 p.m.  Children from BCVI and the surrounding areas will be joining us and others are invited to explore "Using our Senses to Tell Stories".
The Goldson House, located at 82 Orange Street Belmopan, is collaborating with Belize Council for the Visually Impaired (BCVI) to have a presentations on:
Listening
Story Creation and Story Telling
Exploring the Senses of Touch and Taste
Using our Senses to Better Describe Things
and a BCVI Presentation on How to Read Braille
Children who are visually impaired will be at the summer camp along with the employees of BCVI. The camp will be free of cost.  Interested adults and children are invited to come and learn about the challenges of the blind in our society and get perspective on the sensitivities of the blind in Belize.
Details
Start:

August 23, 2018 @ 9:00 am

End:

August 24, 2018 @ 12:00 pm

Event Category:
Read our previous issue
Yes, we've been there, done that, and even gone back for more in some cases! Read our past issues and see why we can't get enough of My Beautiful Belize.
January (PDF)