South Water Caye 35 minutes off the coast of Dangriga. South Water Caye encompasses and amazing 15-acre coral island atop the barrier reef. Divers can practically swim to the drop-offs from shore.
South Water Caye is located in the middle of South Water Caye Reserve, which is the largest marine reserve with 185 square miles, including all the surrounding waters and islands. This area of the Belize barrier reef was protected for the diversity of marine habitats and life. From the rich mangrove roots of the numerous cayes, vast sea grass beds, shallow coral reefs, coral mounds outside of the barrier reef to the vertical walled drop off, this region is home to both large marine life like turtles and eagle rays, and the most colorful corals and small fish.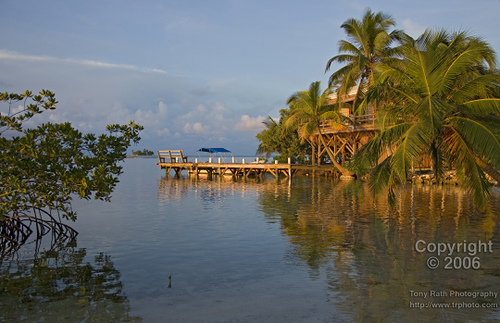 South Water Caye has good off-the-beaten-reef diving and snorkeling in a stunning tropical setting, and the beach at the southern end of the island is one of Belize's sandy beauties. The reef is only a short swim from shore.