I'm not a picky eater- in fact, I'll try anything at least once! But really I like being given the choice to customize my own meals. So when I hear that there is a build-your-own café in San Pedro, I jump on that jolly train immediately. Coconut Café is one of the newer establishments around town and allows patrons the opportunity to pick what they want in their pizzas, paninis, sandwiches and even their egg platters. Sounds like my kind of joint!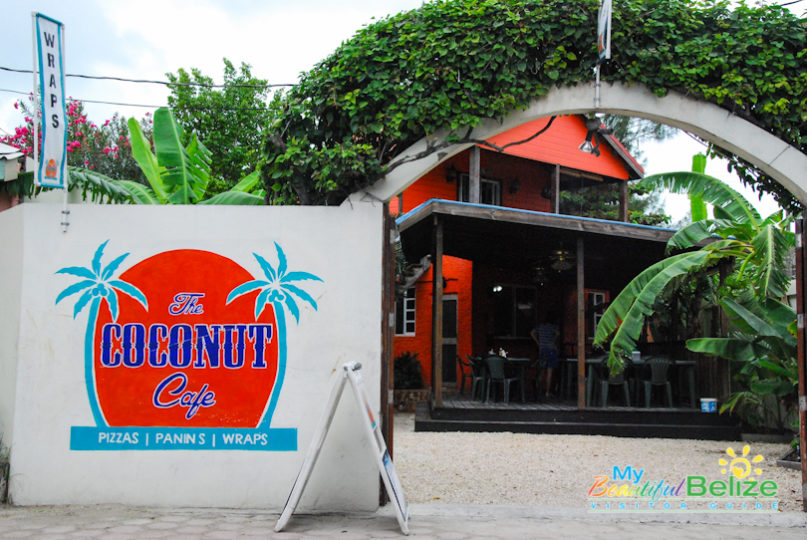 The Coconut Café is the perfect spot for breakfast, brunch, lunch or even just to take a delicious coffee break. It's located in Coconut Drive directly across Ramon's Village Resort, and is the brainchild of Donna Ehart and Timm Crouch who moved to the island from Kansas in 2014. Both being coffee lovers, they wanted to create a business that would give patrons the opportunity to enjoy a cup of joe and have an accompanying tasty treat in a calm and peaceful setting. They call their cooking 'American classics with a Belizean twist', with the added opportunity to create it yourself.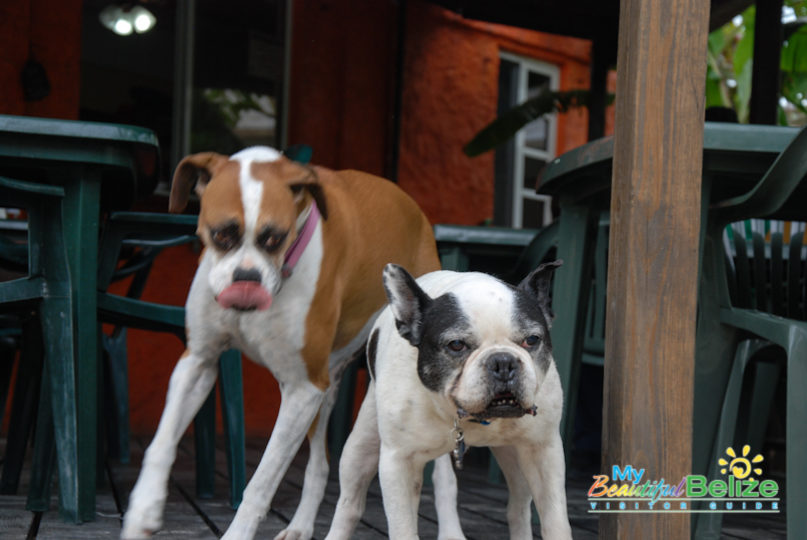 Dennis and I stopped in for lunch and were greeted by two of the cutest doggies! They were in heaven at Coconut Café, with its open air tropical ambience. It felt really homey, like a fun back yard to let loose and relax- and its pet friendly too!
Once settled in our comfy seats in the shade, we started with some fresh smoothies: a banana-pineapple for Dennis, and a strawberry-pineapple for me. They were refreshing and super tasty and hit the spot on a hot afternoon! Our meal was definitely off to a good start.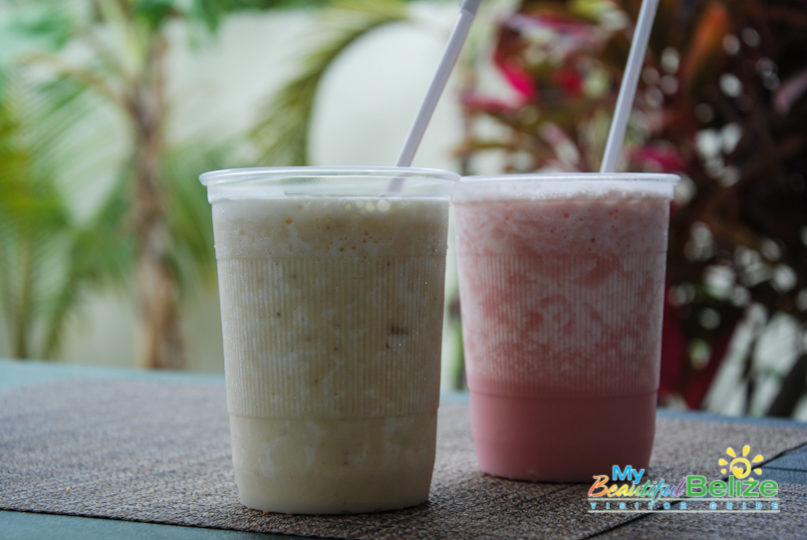 Chef David then presented us with a breakfast classic- scrambled eggs, thick strips crispy bacon, refried black beans, tomato salsa and two made to order flour tortillas. Even though it was after 1PM, I dug in as if it was my first meal of the day- after all as we've established time and time again, breakfast can be eaten any time of day! And this dish would start anyone's day off just right- it was hearty and delicious!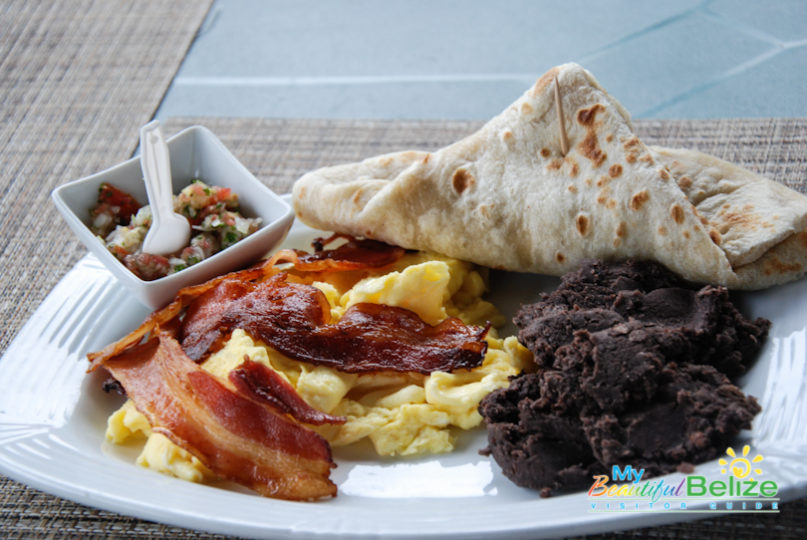 We faced more dishes ahead, including the special 8" Panini. A fresh baked roll seasoned with olive oil, salt and pepper was filled with mozzarella cheese, parmesan cheese and ham, then grilled to perfection. A sandwich is goof but a grilled sandwich? Elevated!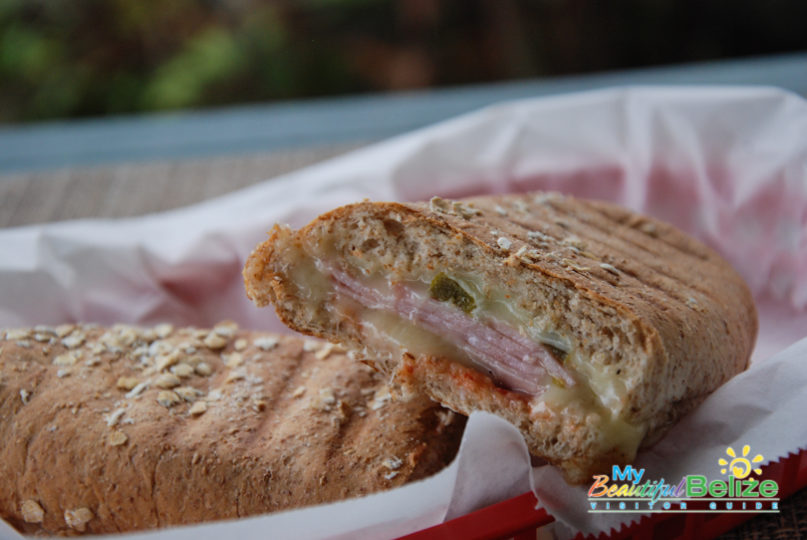 And following that was one of my favorite food groups: PIZZA! And not just any ordinary pizza, a PERSONAL pizza with premium peperoni, fresh mozzarella cheese and Coconut Café's traditional pizza sauce all over a glorious homemade crust. Cheese, ooey-gooey cheese… such tasty goodness… mmm…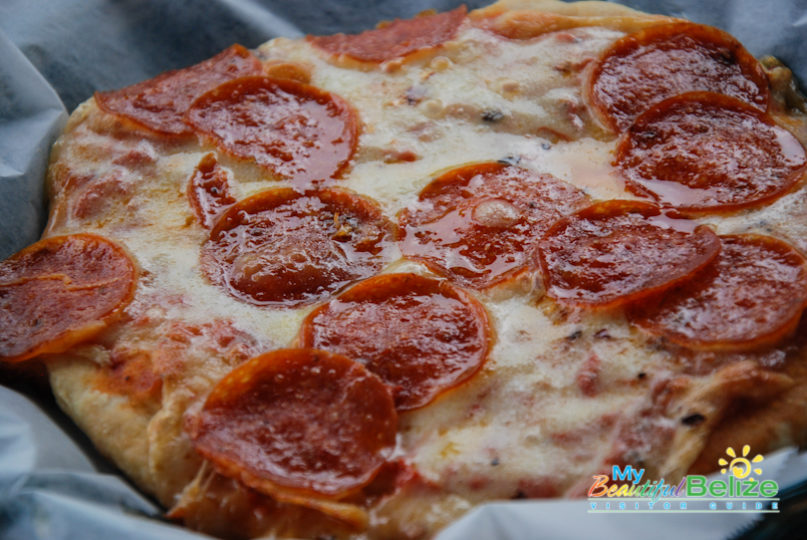 I thought long and hard about my walk- nay, my waddle- back to the office as we still had to tackle one more dish! And it was a monster! Especially since the super huge Monster burrito is one extra-large flour tortilla wrapped around what felt like a pound of seasoned shredded chicken, refried beans, cheddar cheese, tomatoes, onions and salsa! Dear lord- now that's what I call a burrito! Between Dennis and I, we somehow managed to finish- and enjoy- the monster burrito, but any thoughts of dinner flew away!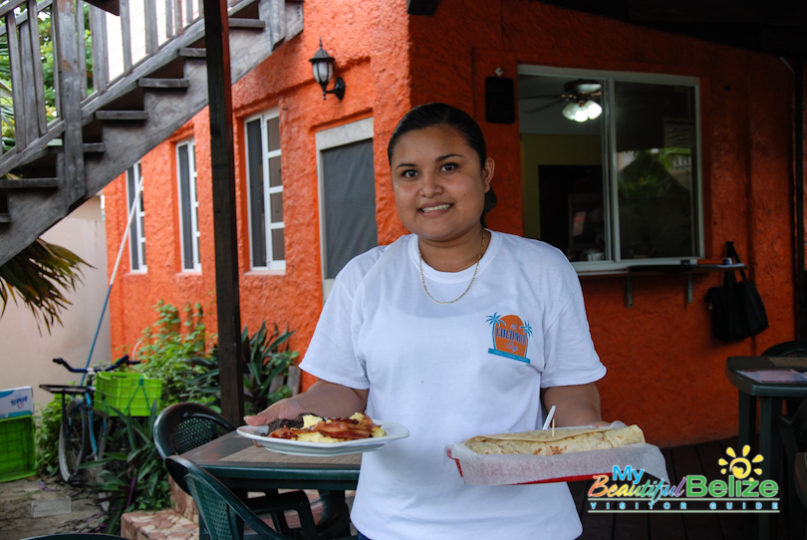 Coconut Café certainly hot the spot. With the dreams of a big nap awaiting us, we bid adieu.
Coconut Café is open daily, except Wednesdays, from 7AM to 3PM. To learn more about the build-your-own experience visit their website at www.coconutcafebelize.com.