You know we wouldn't want to be in the same body of water as this fish. Hence, we're quite relieved to find out that this fish was caught in a country quite a few (thousand) miles away from Belize's waters. Well, come on, we already have to deal with the Lionfish! Those fangs are the stuff of nightmares – so we're equally impressed at Wil's utter lack of fear holding that giant sucker (bad pun intended).
The impressive catch will be featured in a fly fishing film to be released in fall of 2013. To which we say: well it better!!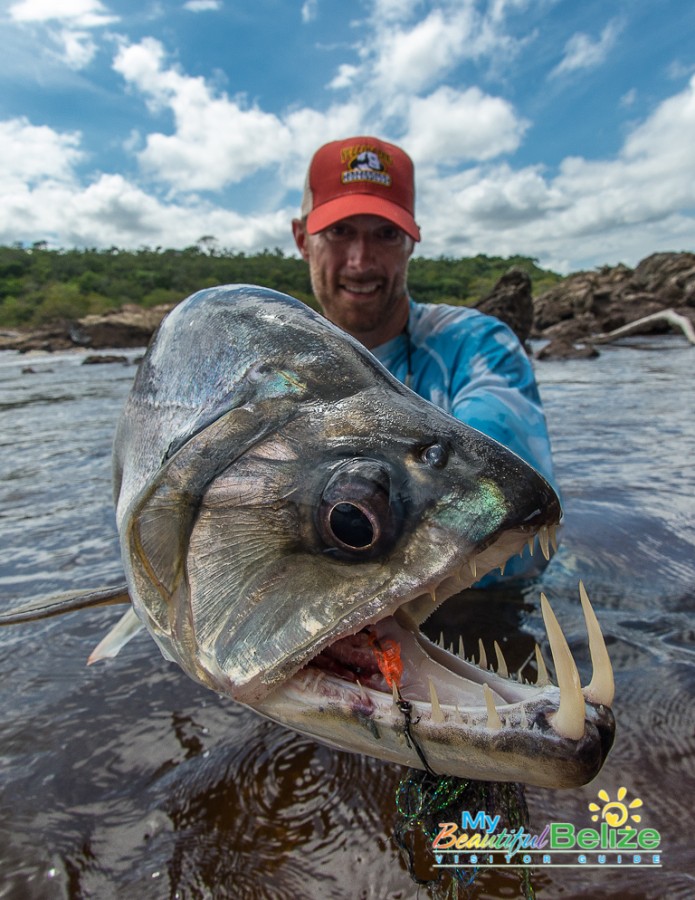 Wil Flack, local resident and owner of Tres Pescados Fly Shop in San Pedro Town, can proudly say he caught a trophy Payara. The Payara is a native fish of the Orinoco River in Venezuela and is locally known as the "vampire fish" that is because of the very prominent pair of fangs protruding from its lower jaw. This "massive" fish was caught during filming for "Way Point", a production of Confluence Films.
The trophy size fish was caught at Uraima Falls, and Flack will be featured in the film as part of the fishing adventures in Venezuela. Flack admitted that it was a tough catch. "This is not a normal fly-fishing fish, since it can strain the body when it's time to reel it in," but Flack won that round, and has the photos to prove it."I'm really excited, the photos look real good. I worked with an unbelievable videographer, Denver Miller. It was a pleasure working with the whole crew. I think it is going to be a great segment, I'm excited to see the finished production," said Flack on his experience at Venezuela.
Confluence Films produces films on fly-fishing adventures from across the globe, exploring remote waters and documenting different fish species. Producer, Jim Klug is part of the board of Turneffe Atoll Trust in Belize and is the founder and director of Operations for Yellow Dog Fly fishing Adventures. Directing Confluence Films is Chris Patterson, who has produced a number of award winning adventure films for National Geographic and NBC. Patterson was also the action cameraman for the movie "Inception", which premiered in 2010 and featured Leonardo DiCaprio. Confluence Films' previous productions include Drift and Rise and Connect, each film uniquely different to the next.
Confluence Films' current project will be a collection of individual stories shot around the world in both fresh and salt water. Way Points will showcase fishing adventures in some of the most remote water of the world. Salt water fishing was done at an uninhabited atoll that lies approximately 350 miles north of the island of Mauritius in the Indian Ocean. The atoll is commonly known as St. Brandon's, and it houses bonefish, giant trevally and Indo-Pacific permit. Other places being filmed include Chile, Venezuela and Idaho in the United States of America (USA).
Filming will continue at Chile in the coming weeks. Way Point is scheduled to premiere November 8th in Montana in the USA.