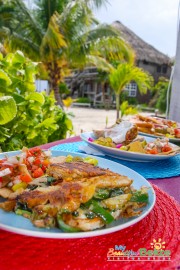 Several years ago musician and self-professed beach-bum Jimmy Buffet, who once was a mainstay on Ambergris Caye, penned a song dedicated to cheeseburgers in paradise. Although there's no telling if he found the inspiration for his song while visiting our island home, there is a new sandwich café in San Pedro that calls for a re-write of the once popular jingle…perhaps something that goes like:
Grilled cheese sandwich in paradise (paradise)
MELTing the days away with a Gouda Buddha slice (paradise)
Especially loving the Green Acres to be precise (paradise)
Forget the burger, forget the rice,
I'm just a Royal With Cheese in paradise…
Ah yes, the new, ever so appropriately named café MELT (Guerrilla Cheese MELT Belize to be exact) has even the most musically challenged breaking into song of praise and adoration. Not a Buffet fan? How about giving a new meaning to the old Modern English song, "I'll stop the world and MELT with you"? Sure it sounds cheesy, but these artisan grilled cheese sandwiches boldly go where no sandwich has gone before, taking your taste buds to infinity and beyond! Living up to their playful names, the Green Acres is veggie loaded grilled sandwich with delicious sautéed spinach, onions, tomatoes, peppers, mushrooms and a three cheese blend, while the Gouda Buddha is piled high with sinfully gooey Gouda cheese and caramelized onions. MELT masters Glenn and Linda have not only creatively crafted over a dozen cheesy-pleasey masterpiece sandwiches served on fresh baked- bread with imported cheeses, but also offer a palate of fresh salads, wraps and appetizers.
If the thought of melted cheese sends your cholesterol count running for cover, MELT also offers delicious, healthy alternatives. The Eastern wrap, filled with brown rice, madras chicken, mango chutney, cilantro, onions, yogurt and tomato is a taste sensation with every bite and the chutney steals the show with a sweet and spicy kick. Add a fresh fruit smoothie and you are having a guilt-free meal that your taste buds will never suspect is actually GOOD for you! Offering breakfast all day, MELT also serves a healthy granola bowl complete with fresh fruit and island made yogurt. Their menu includes a variety of breakfast bagel options as well as favorite egg mainstays, French toast and Huevos Rancheros, yum!
With bellies gloriously full of ooey-gooey decadence, it was time for The San Pedro Sun staff to chat with the Big Cheese Glenn. Blessed with a warm smile and a great sense of humor, the MELT man was happy to share with us the story behind the concept of the cafe. Of course inquiring minds wanted to know just how did they come up with the revolutionary name, Guerrilla Cheese MELT Belize?  We could tell by Glenn's grin that this was the question he had been waiting to answer! Mr. MELT proceeds to tell us, "We were toying around with an idea for the name, something playing on the word cheese and the spot that we were at, at the time, there was a Che Guevara poster on the wall. So I thought, OK…cheese-C h e- so why don't we do like CHE.ese and then guerrilla, like guerilla cheese since he [Che] was all about guerilla warfare." Glenn then smiles and adds, "Of course at this point we were well in to two full bottles of rum…but of course we were writing this all down! So we decided we would try that, we decided guerilla cheese was kind of too much, so we started to come up with a list of all the things associated with a grilled cheese, we're like melted, melts, melt whatever…so we decided to stick with melted and toned down the guerrilla cheese and then Belize, it all kind of rhymes, Guerrilla Cheese MELT Belize. The guys who are painting the front are going to add the big CHE.ese  where Che Guevara's head is, completing the concept."
Associating Che Guevara with grilled cheese sandwiches may seem like a rebellious idea; who would have thought the two had so much in common?  Like Guevara, MELT is leading a revolution, a grilled cheese sandwich revolution that is, freeing us from the oppressive ho-hum two slices of bread with gloppy cheese inside. Once you try one of their sandwiches you will find yourself joining the cause, yes, the grilled cheese sandwich revolution as begun, with MELT as the fearless leader!
MELT is located at Exotic Caye Resort below the Yoga Room on Coconut Drive and is open for breakfast and lunch from 7am until 2pm Monday through Saturday.