Life on La Isla Bonita is full of unique and colorful encounters that we often experience each day. Sometimes it's the little things that can make my day, like spotting a new bloom on the hibiscus plant in my yard or marveling at the coconuts that are collecting on my tree. Other times I can be genuinely moved, like after weeks of watching a pair of osprey tend to their massive nest on my daily commute to work I notice for the first time a gray fluff-ball of a baby bird poking his head out of the nest. It's not just the flora and fauna that can delight me but the people, places and food as well. There are some folks who I see on the street that I have been waving to for eight years and even though I know not their name I know their smile. And there are favorite swimming holes, restaurants and beachside bars that I gravitate to, each offering something that I have grown to like immensely. We all have favorite places to go, be it the best stretch of beach for a BBQ, to the restaurant that dishes up the best ceviche or the bar that has the best happy hour. So, what is the next best thing to having a favorite? Sharing it with friends! Allow me to share with you just a few of my favorite things…who knows, maybe we have something in common!
Wet Willy's Seafood Saturdays
One of my new favorite ways to spend a Saturday afternoon…how can you beat swimming with the fishes off the dock at one of the best bathing holes in San Pedro, listening to great live music by Dennis Wolfe and the Usual Suspects and devouring delicious seafood while knocking down a few cold Belikins or a refreshing rum punch? The covered deck seating is the perfect place to take in the beach and reef scene while sea breeze keeps you cool. Seafood Saturday offers an amazing deal of 20 peel-and-eat shrimp for just ten bucks, and the tangy cocktail sauce that comes with the perfectly seasoned shrimp will put a zing in your step! How about a beautifully prepared lobster tail served with melted butter and crunchy crostini for just $16! Super fresh and melt-in-your-mouth lobster; this has to be one of the best deals on the island right now. Add a basket of homemade French fries or a side of macaroni and cheese with jalapeno and bacon and life just don't get better than that!
Bougainvillea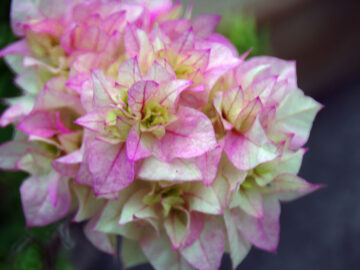 Showcasing vibrant colors that kaleidoscope from brilliant pink to white, yellow, gold, salmon and every shade of purple, these happy plants shower La Isla with cascading colors. Often thriving as wild, unattended plants I love that their brilliant "blooms" are really leaves that surround the true flower within, which is a small delicate trumpet-like white flower. I especially love it when several plants with different colors tangle together to make a confetti of tropical Caribbean colors. They bloom all year round, draping over fences, decorating rooftops and bursting from flower pots. Native to Central and South America, to me this floral ambassador is synonymous with Belize, be it on the island or the lush landscapes of the mainland, I never tire of its lively colors.
Estel's Dine by the Sea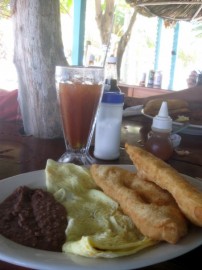 Breakfast served all day? Now you're talkin'! Estel's Dine by the Sea has been a beachside mainstay for as long as I can remember. With a sandy floor and a laidback ocean view, the menu is a chalkboard of choices, including local favorites like Belizean scrambled eggs with sweet peppers, onions and tomatoes served with a crispy hot fry jack; the epitome of deep fried tortilla dough puffed to a heavenly crunch. Besides the usual breakfast necessities of huge burritos of steak and eggs, their all day lunch menu boasts a burger that my Mom (who has lived here for decades) says is the best on the island, and if Nana say's its good then 'nuff said! Add a spicy Bloody Mary to the mix and you will soon be looking for a hammock to nap away your full and happy belly.
Hermit Crabs
Ok, I just think these little dudes are super cute and I am often caught off guard when I notice a small seashell traveling across my sandy street. They kind of have a comical "tough guy" look to them, when they peep out of their shell with beady little eyeballs popping out, one oversized claw and funky feelers leading the way. I don't see them around so much anymore and have to wonder why not? Can overdevelopment even affect the unlikely crab? Sometimes when I learn something cool about an animal they become even more endearing to me. Did you know that several hermit crab species, both terrestrial and marine, use "vacancy chains" to find new shells: when a new, bigger shell becomes available, hermit crabs gather around it and form a kind of queue from largest to smallest. When the largest crab moves into the new shell, the second biggest crab moves into the newly vacated shell, thereby making its previous shell available to the third crab, and so on, how clever is that? Now whenever I see a hermit crab I have to wonder if he participated in one of these ingenious shell swaps! Now that would be something to see!
Happy Hour at Caprice Bar and Grill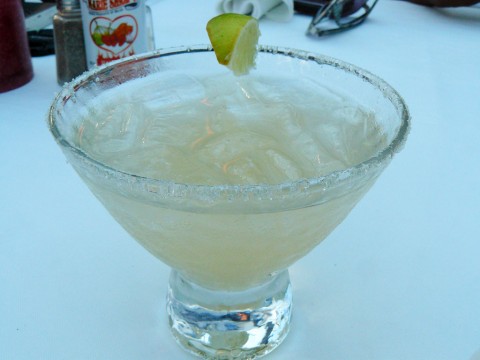 For those who know me I am always on a margarita mission…lookin' for my lost shaker of salt (hmm sounds like a song) and the best Mexican libation around without mortgaging the farm to have a couple cocktails. After my extensive research I am happy to report that THE BEST deal on margaritas is the happy hour at Caprice Bar & Grill at the Holiday Hotel. Although El Divino has a killer two-for-one margarita deal on Tuesdays, how can you beat half price margaritas for only six bucks five days a week, on Monday through Friday from 4pm – 6pm? Located just across the street from our office (how convenient is that?) at the Holiday Hotel on Barrier Reef Drive this island landmark just gets better and better. For me, and the staff at The Sun (when I am feeling generous and I hate to drink alone) we get to enjoy tasty, refreshing well-made margaritas and still have money for the cab ride home! They have other daily happy hour specials that are worth checking out and their new ambience is super inviting and relaxing.