Mr. Peetaz Brukdong Bram, Belize City
December 14, 2017 @ 5:00 pm

-

December 16, 2017 @ 10:00 pm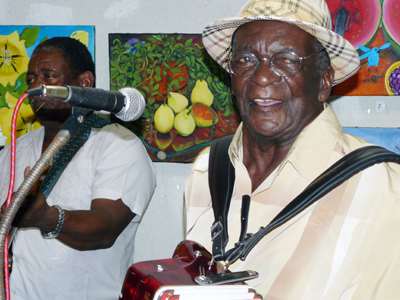 The Belize City House of Culture and Downtown Rejuvenation project in collaboration with NICH and Love FM will bring to you the Mr. Peetaz Brukdong Bram on December 14th through 16th – All happening behind the historic Court House next to the wharf. This event will combine some of the best traditional Creole cultural foods, drinks and music. Bring your friends and family and get into the Christmas spirit the old-fashioned way!
In 2009, a film titled Three Kings premiered at the Belize Film Festival, highlighting the works of three legendary Belizean musicians: Mr. Peters, Mr. Florencio Mes and Paul Nabor. Mr. Peters and his Boom and Chime band performed live to the delight of attendees. While he passed away in 2010, Mr. Peetaz remains an icon in Belize's musical culture.
What is the history behind the Bram?
"It is the end of the rainy season and the beginning of the Christmas season. The mahogany workers are coming home from camp to families they have not seen for months. The women and children are looking forward to the festivities ahead. What made those festivities in the Christmas season so exciting? The Bram, of course. And what, might you ask, is the Bram? The Bram is a spree traditionally done during the Christmas season. It is like an exodus of people dancing in the streets from one house to the next, the goal of which is to spread the merrymaking by singing, dancing and playing music at each house as a sign of good cheer. Traditionally, bramming occurred in Belize City (old Belize Town) and in the villages along the Belize River Valley; and later in most other Kriol (Creole) communities in Belize. As urban Belize City embraced less traditional Christmas celebrations, the Bram became relegated to the countryside where it still relishes a critical presence……."