Hanal Pixan
October 28, 2017 @ 7:00 pm

-

11:00 pm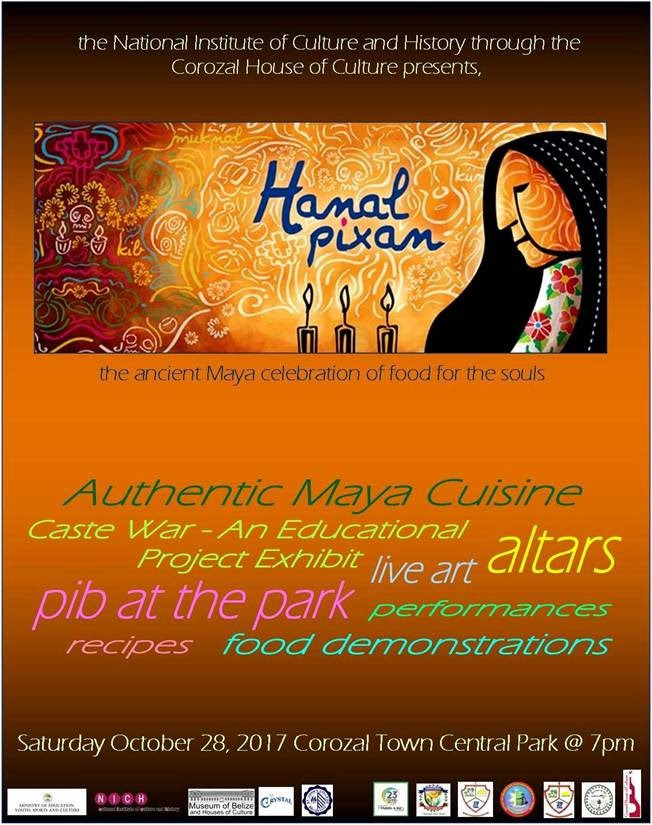 The National Institute of Culture and History, through the Museum of Belize and the Corozal House of Culture cordially invite you to experience the Maya culture with Hanal Pixan.
Hanal Pixan, which translates to "food for the souls", will take place Saturday October 28th at the Corozal Town Central Park. This fun and family centered event will be a display of the Maya's ancient tradition of honouring the dearly departed.
This event will highlight several facets of Mayan culture and traditions. This is a wonderful opportunity to come and see altars, experience cultural performances, view an educational exhibit about the Caste War, enjoy the food demonstrations, partake in live art, savor pib at the park and so much more. The culinary delight of the night is the ability to taste our tangible heritage with authentic Maya cuisine. Hanal Pixan is a fantastic cultural experience for the whole family.
We look forward to you joining us for the opening ceremony and explanation of this deeply rooted tradition beginning at 7 PM on Saturday October 28th in the Corozal Town Central Park.
For more information contact Debra Wilkes at 422-0071
Event Navigation