5th Annual Yoga & Meditation Vacation in Belize
February 4, 2017

-

February 11, 2017
Escape winter, relax, and nourish body, mind and spirit at the beautiful, peaceful Ak'bol Yoga Retreat Center and Eco resort on the tropical island of Ambergris Caye.
Belize (the former British Honduras) is located in Central America and is about five hours from Chicago via plane. English is commonly spoken, and the dollar is widely accepted. The peaceful cultural melting pot of Belize is home to unspoiled beaches and jungles as well as the second largest barrier reef in the world.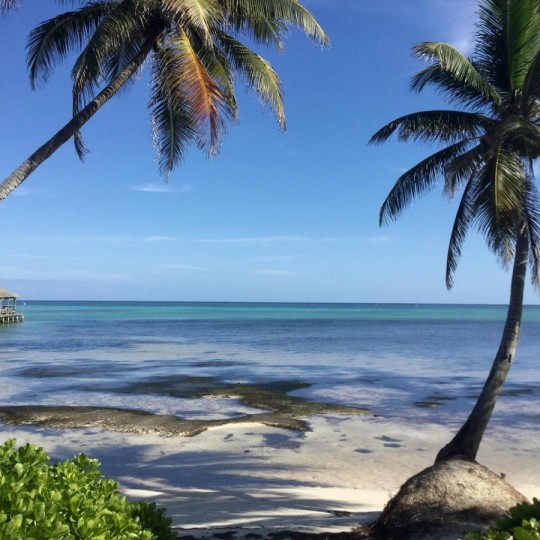 We will practice yoga twice a day on an exquisitely handcrafted platform at the end of a pier, surrounded by the Caribbean Sea. The morning practice is more active, while the afternoons will be more relaxing and meditative. Our focus will be the eight limbs of yoga – a comprehensive system that includes postures, breathing, chanting and meditation, and is designed to quiet the mind so that we can experience the peace and bliss that is our birthright. Our primary practice will be Dharma Yoga, which adapts well to all levels (even raw beginners). Variations will be given so that all levels feel comfortable / challenged. This retreat is suitable for all levels.
Our comfortable accommodations include eco-chic locally-crafted cabanas just steps from the sea, and affordable, Maya-inspired Village Rooms next to a beautiful lagoon. Our meals will be fresh, locally-sourced ayurvedic (healing) vegetarian cuisine that satisfies all six tastes and received rave reviews on previous trips – even from meat eaters.
Between classes, you may arrange a snorkeling trip, a massage, a sailboat ride, diving trips, parasailing, cave tubing, excursions to Mayan ruins, a bike or boat trip to town, and more. Or you may simply stay on Ak'bol's peaceful, healing grounds – which include a pool, three yoga studios, and a large beachfront.
Kali Om (ERYT-500) has been teaching yoga since 1998 and is a disciple of Sri Dharma Mittra, with whom she completed 200, 500 and 800-hour teacher trainings. She also studied five times in India with ashtanga master Sri K. Pattabhi Jois and completed trainings with Manju Pattabhi Jois and Suddha Weixler. In addition, she is certified in Therapeutic Yoga, Yoga Nidra, Seniors' Yoga, Gentle/Restorative Yoga, Prental Yoga, Psychic Development and Hormone Yoga Therapy for Menopause. Her "Beyond the Mat" column appears in Yoga Chicago magazine.
Registration is open! Details at www.yogikaliom.com
Event Navigation